LA's best dishes: Sub sandwich smackdown
Old-school Bay Cities challenges Ink Sack newcomer in a sub sandwich battle between the Godmother vs. the Godfather. May the best sandwich win our best dishes title!
The sub sandwich is at once simple and complicated. While the components of the lunchtime two-fister are simple—bread, meat, cheese, mustard, mayo—the toppings are numerous and variable.
RECOMMENDED: More of LA's best dishes
The always-mobbed Bay Cities' is lined with those stalking out one item: the Godmother. The bang-for-your-buck Godmother ($5.75, small) piles on Genoa salami, mortadella, coppa, ham and prosciutto with Provolone cheese and mild or spicy peppers in between freshly baked chewy, crusty bread. We've seen elfin-like girls plow through giant torpedoes with the gusto of a lumberjack.
Restaurants, Sandwich shops
We were curious to find out if star chef Michael Voltaggio's Spanish Godfather ($6)—named in homage to chef Jose Andrés—could touch the Italian deli reigning champ. About half the size of a Bay Cities' small, the Godfather stars air-dried, imported Serrano ham, red chorizo, Manchego cheese and lomo (dry-cured pork loin) all dressed up with spicy peppers and olive tapenade.
Winner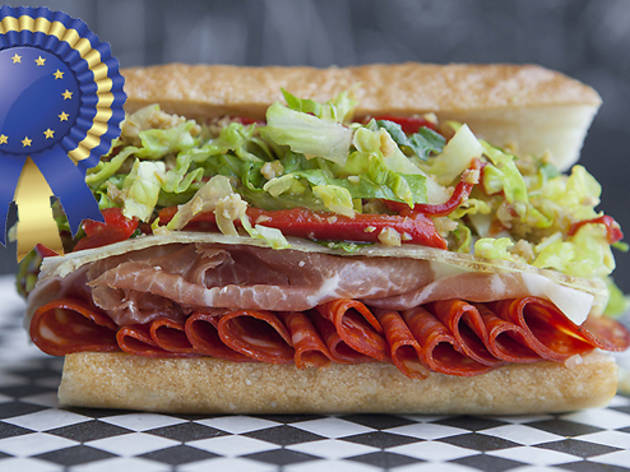 Restaurants, Sandwich shops
We were so ready to hate this fancy-pants version—and look how small it compares. But even at the same price point, we'd take Voltaggio's imported meats and Manchego marriage over the Godmother any day. Overthrowing the sammie that we knew and loved, the Spanish Godfather is the new reigning monarch. It's a sandwich rite of passage.