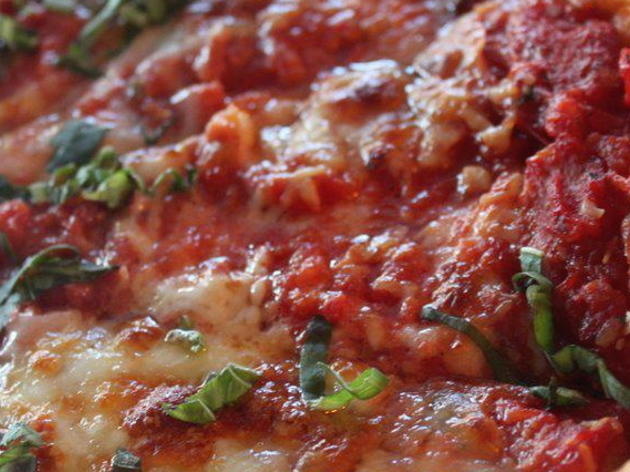 Time Out says
The Chicago deep dish at Masa of Echo Park is the real deal, folks. You've got your 2" deep pan, your fresh cornmeal crust, your cheesy sauces and chunky fillings for days. The cozy, family-owned vibe at Masa matched with an irresistible menu of classic Italian and Chicago-style edibles (vegan options too!) turns an average night out to dinner into a hug on the inside and out. Wash down your za with a bottle of pinot, and don't forget dessert. If all goes well, you'll be rolling out of there like a hunk of stuffed crust.
Details
Address:
1800 W Sunset Blvd
Los Angeles
90026

Price:
$12.95-$16.95
Contact:
Opening hours:
Mon-Thu 11am-11pm; Fri 11am-midnight; Sat 8am-midnight; Sun 8am-11pm
Do you own this business?
Average User Rating
4.3 / 5
Rating Breakdown
5 star:

5

4 star:

4

3 star:

2

2 star:

0

1 star:

0
Marrying into an Italian family from Chicago, I had to learn good deep dish fast. And my husband swears by Masa of Echo Park's version of it. They also have my favorite dessert of all time - chocolate creme brulee. This spot is perfect for dinner before a show at The Echo or further drinking at one of the bars on Sunset Blvd.
A Chicagoans home away from home. Amazing food, staff, and grandma's kitchen decor.
I never expected to get the taste of real Chicago deep dish pizza in L.A., but Masa has done that for me. I can't speak for any of their other entrees, but their Lots of Meat deep dish is BOMB. Yes, it takes almost exactly 40 minutes for it to be made. Yes, it is doughy and intense and different from any other type of pizza a Los Angeleno is used to, but it's so good. The sauce is rich but not too acidic, the cheese is thick, and the sausage is seasoned just right. I could wax poetic for hours. Totally worth the wait. My party of 3 was seated promptly and immediately put in our pizza order because we were on a tight schedule. As we waited, we munched on 2 starters - the artichoke dip and bruschetta. The artichoke dip was just how I like it - heavier on the artichoke than the cheese and served with the most delicious of bread (like the bread was so good we asked for another loaf to take home). The bruschetta similarly delivered. The toasts were crunchy on the edges but soft in the middle and the tomatoes were SO garlicky (which we loved). On a side note, we had a not so great experience in that my friend's pasta entree failed to come out on time and then when it finally did arrived it was not prepared the way she ordered. Ultimately, we just cancelled the order because we were out of time. Yes, it was irritating, but our waiter (shout out to Chris!) was so apologetic and accommodating, that we still left feeling like the experience had been good all around. Human error happens, especially when a restaurant is at its busiest, but that gives superior customer service it's time to shine. Masa has that. I'll definitely be back.
Pretty much the best thing you can do in Echo Park is see an early show at the Echo or Plex (typically the early show will end around 10), have a few beers, bounce all around--and then head over to Masa to order a pie before the kitchen closes down. Settle in with a drink, talk to your companion about the awesome show you just saw and be starving by the time your giant, decadent pizza arrives on your red-and-white checkered tablecloth.
It's pretty cute that their pizzas are named after streets in the neighborhood. I'm not a big fan of thick crust in general (c'mon, I want to eat pizza, not a mountain of bread), so I always just get their regular pizzas which are so flavorful. If you do have your heart set on their signature deep dish pizza, it does take something like 30 minutes to make so I'd recommend putting in the order while you wait for a table. You'll definitely have leftovers to take home.
I turned 22 a few months after I moved to LA from Chicago. I didn't have many friends in the city, but I knew that I could find a reliable companion in deep dish pizza. Someone at work recommended that I check this place out and it passed the "knowing what the real thing tastes like" test with flying colors. We went in with a cocky attitude that there was no way LA could do deep dish right, but we were wrong. Definitely check this place out. It'll knock you to the ground (because that's what more than one slice of deep dish will do to anyone).
Masa isn't my favorite deep dish spot in LA - that award goes to Hollywood Pies - but I really like the old-school atmosphere here. It's a great place to bring your parents, a date or have a birthday party (especially since those pies will feed a ton of people), and I really like their tiramisu.

Okay, okay, everyone comes here for the deep dish. And it's not bad! But what Masa does even better are its thin crust pies. That may not be your thing, but if it is! Know that Masa excels at crispy, flavorful pizza that won't leave you feeling like you ate a brick. Their salads are also top-notch, and splitting one of each is a great date meal. The place also serves up a pretty respectable breakfast and is one of the few places in Echo Park that's actually open before 10am.