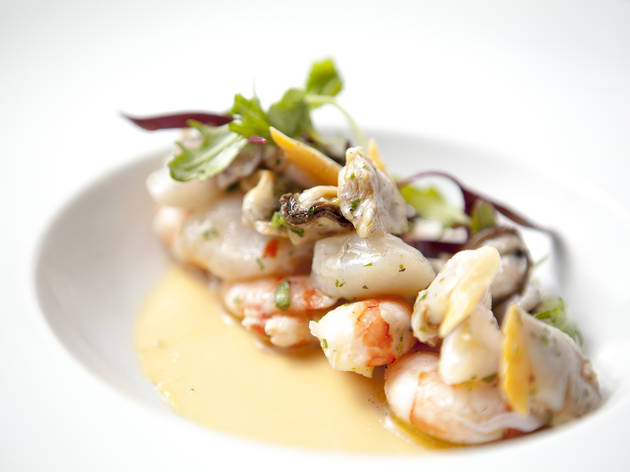 1/9
Photograph: Jakob N. Layman
Sapori di mare at Osteria Drago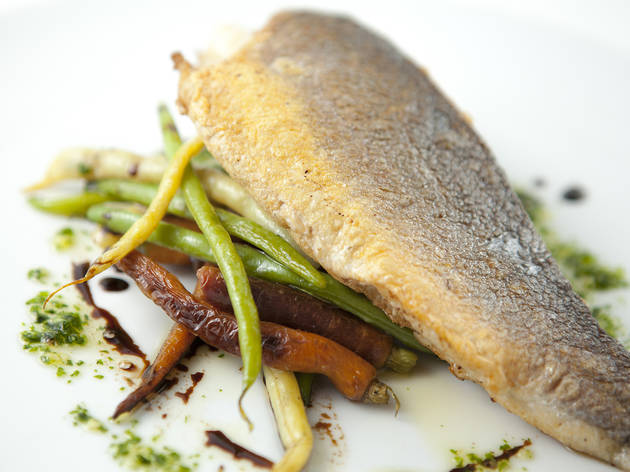 2/9
Photograph: Jakob N. Layman
Branzino at Osteria Drago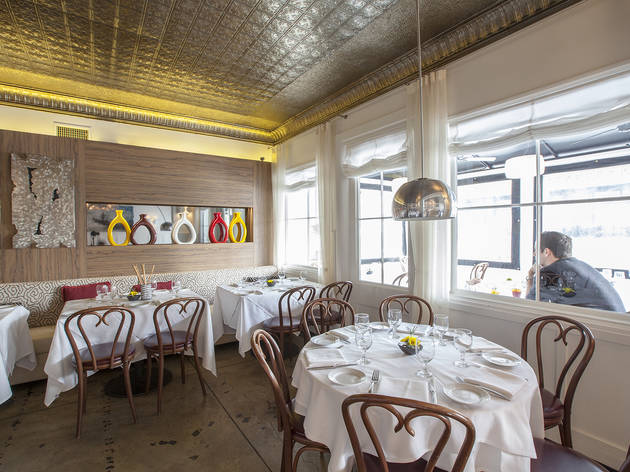 3/9
Photograph: Jakob N. Layman
Osteria Drago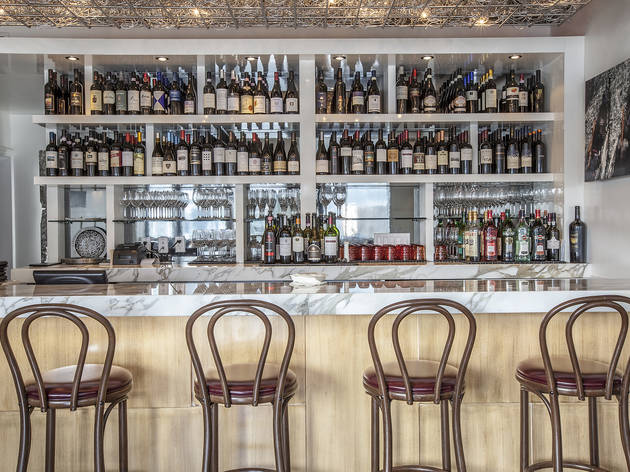 4/9
Photograph: Jakob N. Layman
Osteria Drago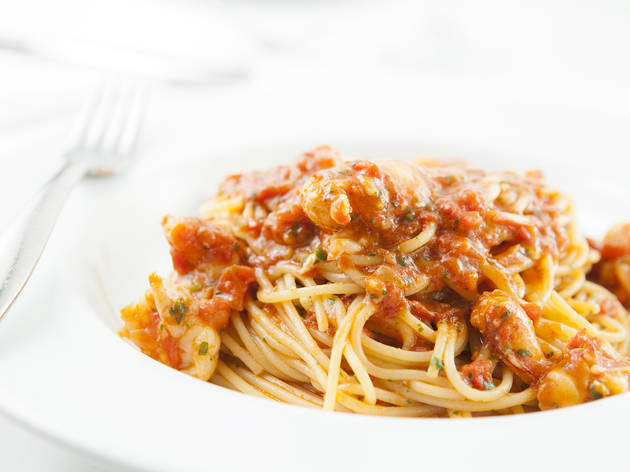 5/9
Photograph: Jakob N. Layman
Lobster spaghetti at Osteria Drago
6/9
Photograph: Jakob N. Layman
Osteria Drago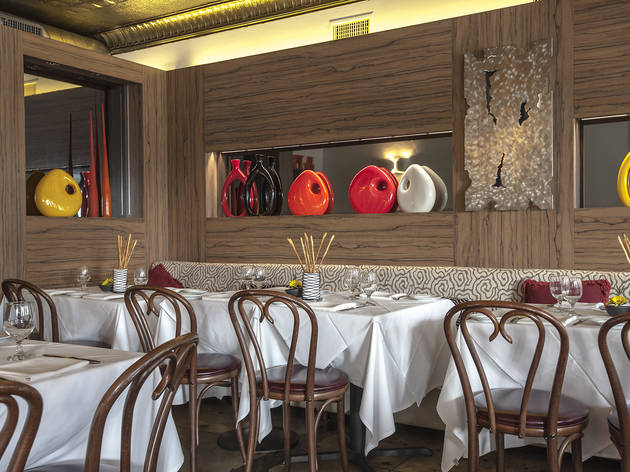 7/9
Photograph: Jakob N. Layman
Osteria Drago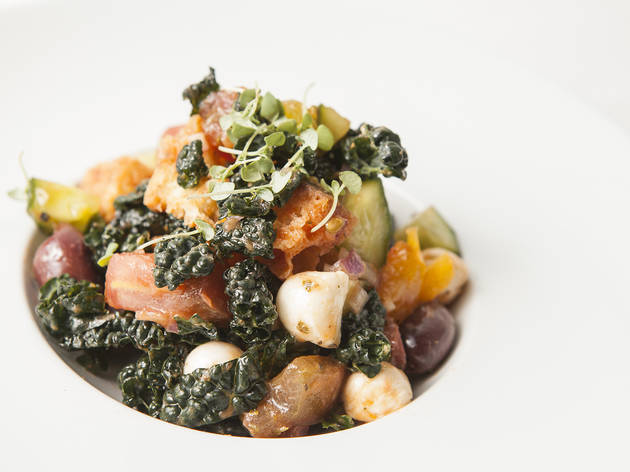 8/9
Photograph: Jakob N. Layman
Panzanella salad at Osteria Drago
9/9
Photograph: Jakob N. Layman
Osteria Drago
Perhaps it's the 10-year history Il Sole left behind, but the new Osteria Drago—a fresh and modernized take on chef Celestino Drago's now shuttered Enoteca Drago—feels slightly incongruous in the cottage-like fixture on Sunset Boulevard. In an effort to relinquish that memory and the feeling of déjà vu, Drago has reorganized and re-outfitted the three-room eatery with contemporary lighting fixtures and a series of decorative vases that some might describe as gaudy.
But what's most important is what lands on the plate: Chef de cuisine Evan Gotanda executes a better than solid modern Italian menu that's rooted in California. (Where else are you going to find a panzanella salad with kale as its base green?) Osteria Drago is not your tried-and-true, red sauce joint; rather, dishes are lighter and more composed with standouts of seafood preparations such as the sapore di mare ($16), a starter composed of a delicate, chilled sea urchin custard topped with a tangle of perfectly poached frutti di mare. A special of spaghetti and lobster ($48)—huge chunks of fresh lobster meat tossed in a lightly piquant tomato sauce—was fragrant and deliciously flavorful, if a touch too sweet, but a hearty play on meat and potatoes, the duo of rib eye and short ribs over baby potatoes and wimpy chanterelles ($34), was under seasoned and would've benefited from a new plating aesthetic. Luckily, a perfectly cooked, crispy-skinned branzino fillet saved the day.
Osteria Drago picks up where Il Sole left off, introducing a more inspired, seasonal Italian menu and top-notch service rarely found in this city. It's just as pricey as Il Sole, so don't expect to leave without spending at least $75 a head, excluding drinks. And while the space may feel all too familiar, Drago has successfully made it his own.
What to eat: A signature dish is the sapore di mare—a chilled sea urchin custard topped with squid, shrimp, and scallops tossed in a zippy citrus vinaigrette that's not to be missed. With skin as crispy as a potato chip, the branzino ($34) is a great lighter option served over a bed of colorful heirloom carrots and haricots verts. The one dessert to try here is the torta marjolaine ($8): Similar to a dacquoise with layers of hazelnut cake, meringue and cream, it's on the heavier side, but addictively good.
Where to sit: The shoebox-sized restaurant is divided into three attached rooms. There's a sleek bar up front to serve as a lounge area and, off to the right, is the main dining room where tables are squeezed in along banquettes. Anywhere is a good place to land; however, during warmer months, the outdoor patio with seating along Sunset Boulevard is the perfect place to see and be seen.
What to drink: You could start with an aperitif, like the Jezebel ($8), made with Lillet, rose water, Prosecco and rhubarb bitters or dive right into a glass or bottle of mostly Italian wines. As for beer, there are a few Italian selections and craft beers by bottle.
Conversation Piece: Drago's latest pays tribute to its predecessor by preserving Il Sole's original tile floor at the entrance. But, don't' be confused. It may read "Il Sole," but the light now shines on Osteria Drago.
Venue name:
Osteria Drago (CLOSED)
Contact:
Address:
8741 Sunset Blvd
Los Angeles


Opening hours:
11:30am-2:30pm, 5:30-11pm Mon-Fri; 5:30-11pm Sat-Sun
Do you own this business?
You may be interested in: