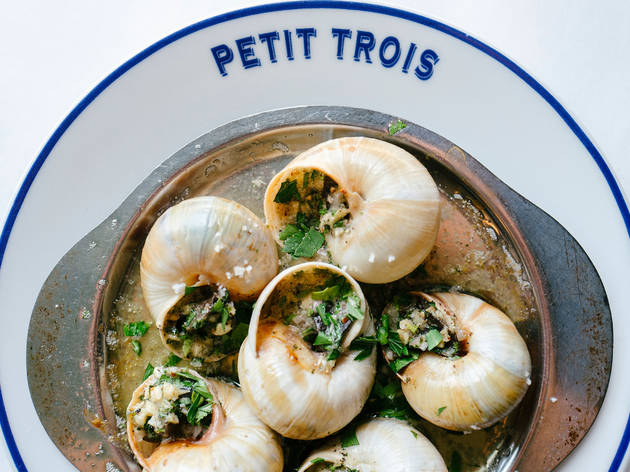 1/11
Photograph: Jesse Hsu
Burgundy escargots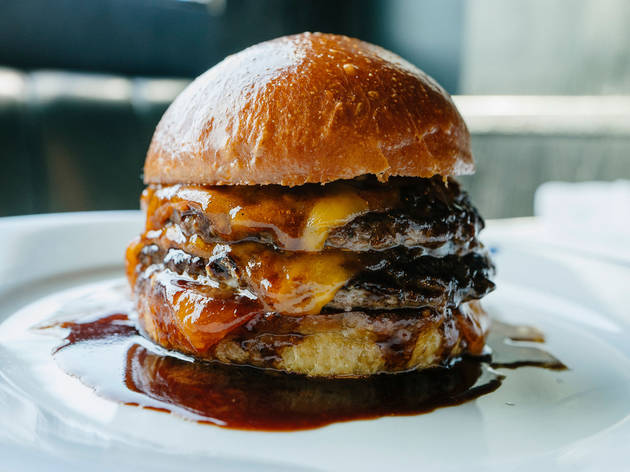 2/11
Photograph: Jesse Hsu
The Big Mec double cheeseburger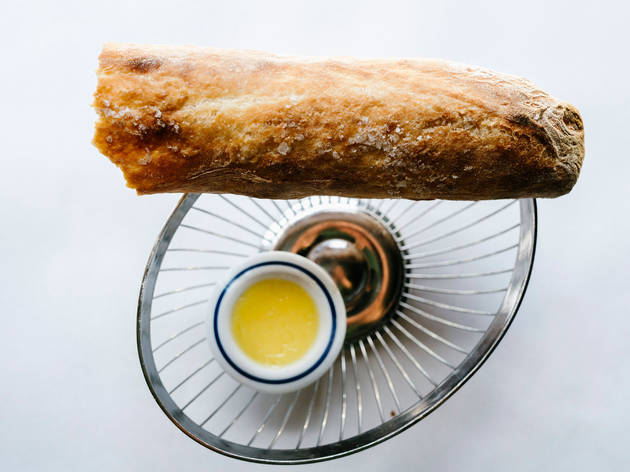 3/11
Photograph: Jesse Hsu
Baguette with butter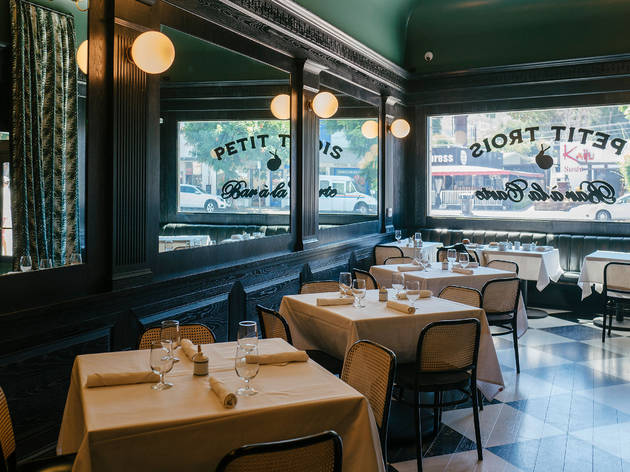 4/11
Photograph: Jesse Hsu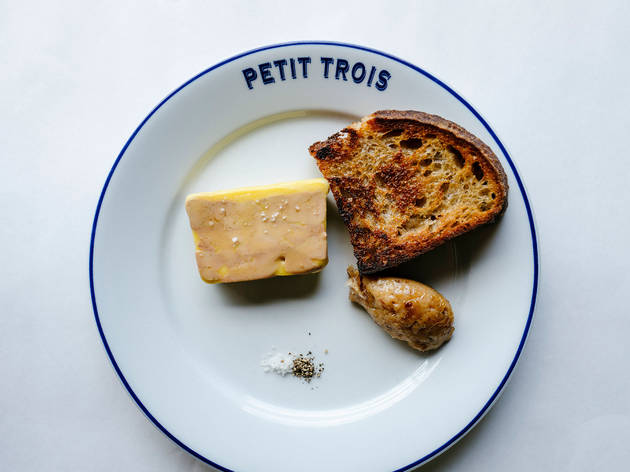 5/11
Photograph: Jesse Hsu
Foie gras terrine with date butter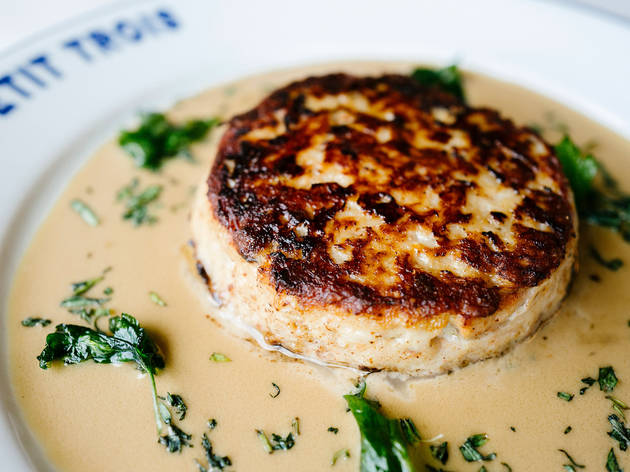 6/11
Photograph: Jesse Hsu
Crab cake in mustard sauce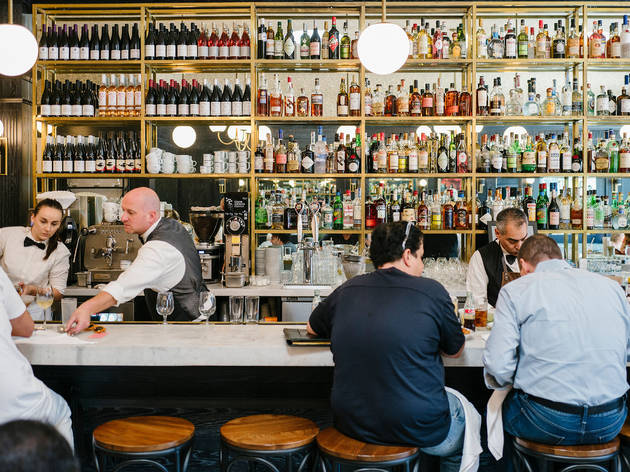 7/11
Photograph: Jesse Hsu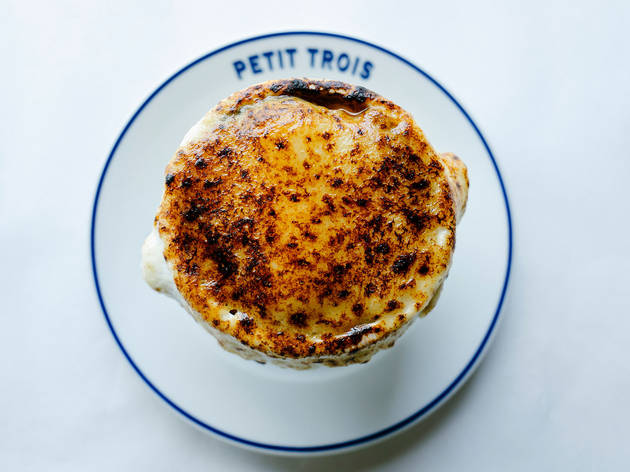 8/11
Photograph: Jesse Hsu
French onion soup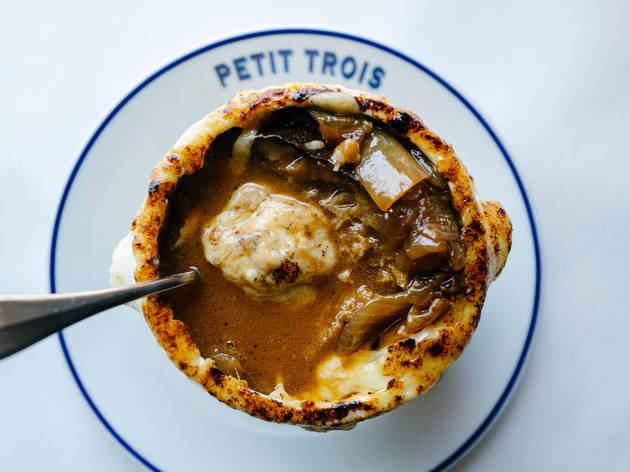 9/11
Photograph: Jesse Hsu
French onion soup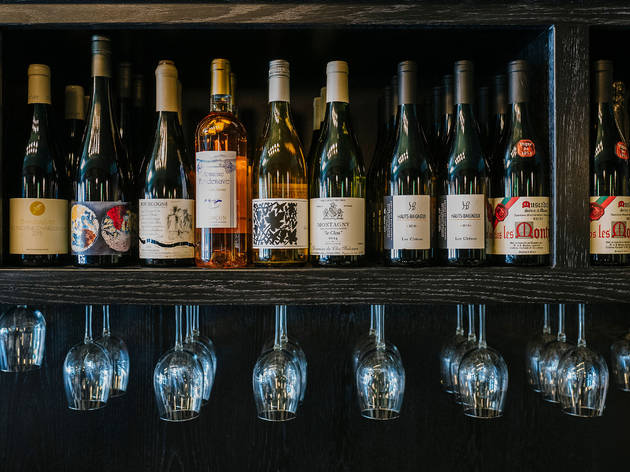 10/11
Photograph: Jesse Hsu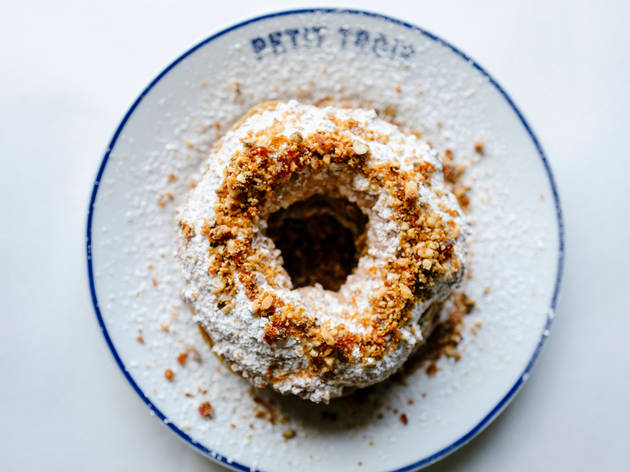 11/11
Photograph: Jesse Hsu
A dessert of Paris Brest
Time Out says
Ludo Lefebvre's acclaimed French bistro hits the Valley, and feels far from revolutionary.
When a chef as determinedly idiosyncratic and successful as Ludo Lefebvre opens a new restaurant, it's bound to come under equally determined examination. Unfortunately, under such scrutiny—over the course of three visits—Sherman Oaks' new Petit Trois proved to be a pale imitation of the restaurant that made Lefebvre one of L.A.'s most revered culinary names.
Inconsistency abounded both with the food, which ranged from more than competent to abject, and with the service—which ranged from friendly, to a breakfast where I became convinced that none of the bewildered servers had set foot in a restaurant before that very morning.
Dinner begins well enough with the arrival of a pleasingly authentic baguette, and a portion of superb butter made for the restaurant by cheesemonger Jean-Yves Bordier, before the arrival of some of the classics that helped establish Lefebvre's reputation on the West Coast. The foie gras terrine ($35) is as good as you are likely to find in the city. The French onion soup ($15) had the rich, hot broth bubbling through a topping of broiled gruyère cheese. The Burgundy escargots ($21) came doused with melted butter and laced with enough garlic to ward off the undead.
Unfortunately, the cooking from that point was much more uneven. The egg atop a simple frisée-lardons salad ($15) is designed to be broken so the yolk can coat the leaves; here, it came cooked until almost solid. A crab cake ($25), while pleasingly high on seafood and low on filler, came with enough salt to make me lay down my fork after a couple of bites. And the only connection between the Croque-Madame ($23) and Michelin quality was that the sandwich had been left so long under the pass that it had congealed to the texture of a tire.
We accordingly sent back dishes, and their replacements were much better—which demonstrates that there are people in the kitchen who know what they are doing. Indeed, the arrival of another famed Lefebvre dish, the Big Mec double cheeseburger ($25), was as good as it's always been and came accompanied by perfectly crunchy frites. One suspects that the kitchen simply wouldn't dare get that one wrong.
The confit fried chicken ($26) had been overcooked to dryness and came served with an overdressed salad to hide the fact. Filet mignon was used as the main component in steak frites ($38), and while not a favorite cut of mine, if one does offer a steak with almost zero flavor, one should at least cook it properly. I will leave the fact that four out of five of the steaks ordered when I joined a larger group had to be taken off our check as evidence that Petit Trois Valley is still figuring out this fact.
The same can be said about desserts of chocolate soufflé ($18), which on one occasion had split to a grainy consistency, and on another, had failed to rise more than a few millimeters above the rim of the ramekin. That the enigmatic soufflé doesn't always rise is to be understood; that a kitchen would send one out when it's flatter than a drive through the Midwest is not. A vanilla Napoleon ($10) was better.
The service at Petit Trois Valley is still finding its feet. At best, it can lead to protracted periods of trying to catch a server's eye, and at worst, as at the aforementioned breakfast, the notion of customer-server interaction appeared an alien concept to most everyone, resulting in lengthy waits to order, receive our food and claim our check at the end of the meal.
Petit Trois Valley is already proving to be popular. It is, after all, a new restaurant from one of the most rightfully lauded chefs in the country. However, for it to maintain success past the "Ludo has a new restaurant, we must try it" stage, he's going to have to more rigorously impose the high standards and levels of excellence that have made his reputation thus far.
VITALS
WHERE TO SIT
The seats at a small kitchen counter and bar are a fun way to see the restaurant in action at a busy time. If you're a couple, try to get a table along the edges of the main dining room, where you can watch what's going on. If you are a larger party, you may find yourself at awkwardly placed larger tables in the center of the dining room or relegated to a less-welcoming annex.
WHAT TO EAT
You are best staying on the "Ludo Classique" trail and sticking with dishes like the well-made Burgundy escargots, the Big Mec and the trout almondine ($32).
WHAT TO DRINK
The bar is the one area of the restaurant that seems immediately up to speed: Classics like dry martinis and Rob Roys are made terrifically well, and selections from their own cocktail list such as the Beauty School Drop Out ($14) received plaudits from all who tried them. The wine list is small, but the markups are fair and the selection is well-tailored to fit the menu.
Details
Address:
13705 Ventura Boulevard
Sherman Oaks
91423

Contact:
Opening hours:
8am-10pm, daily
Do you own this business?
Best selling Time Out Offers