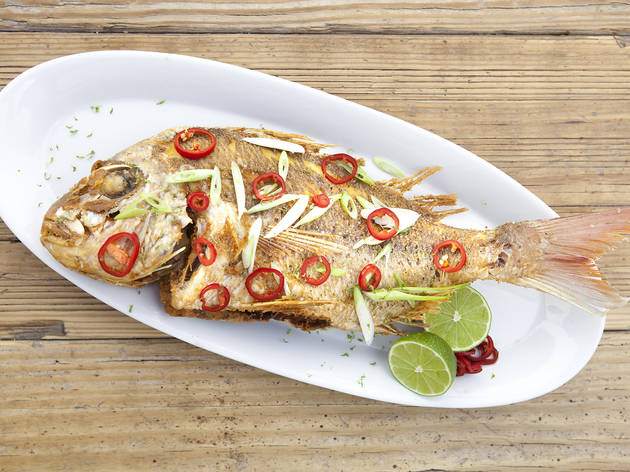 1/12
Photograph: Jakob N. Layman
Whole fried red snapper at Salt Air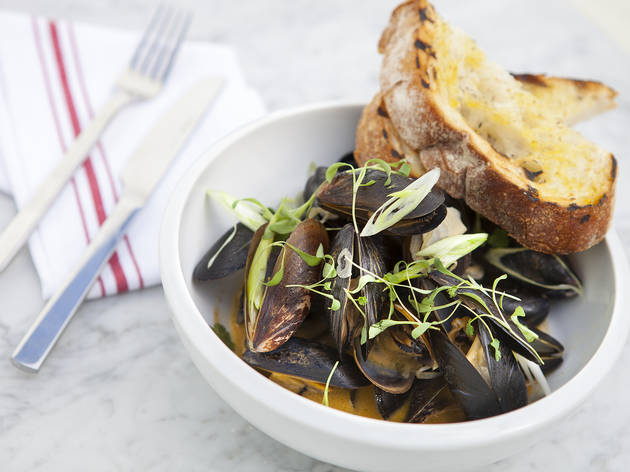 2/12
Photograph: Jakob N. Layman
Mussels at Salt Air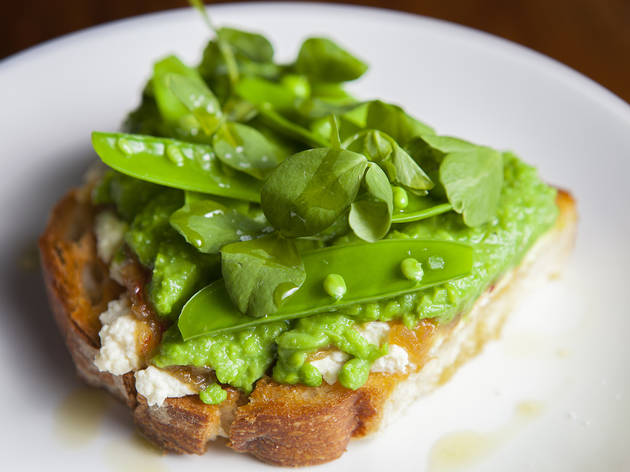 3/12
Photograph: Jakob N. Layman
Pea toast at Salt Air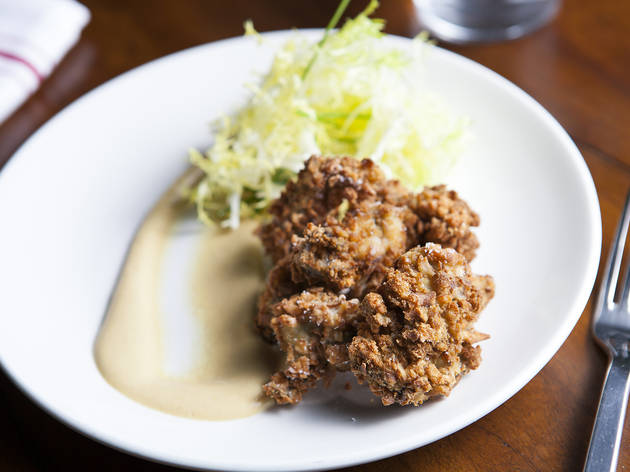 4/12
Photograph: Jakob N. Layman
Pretzel-crusted fried oysters with miso mustard at Salt Air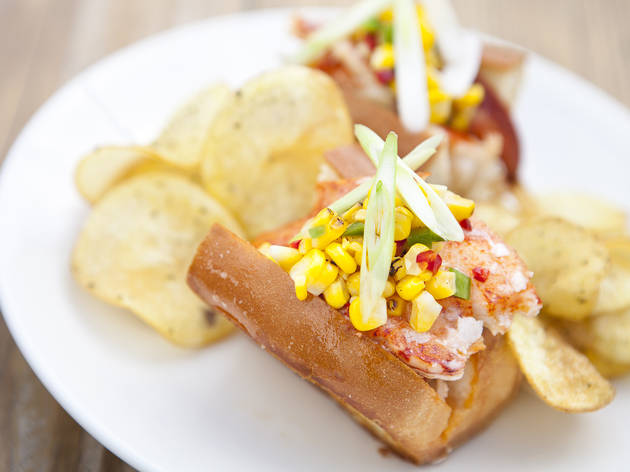 5/12
Photograph: Jakob N. Layman
Lobster roll at Salt Air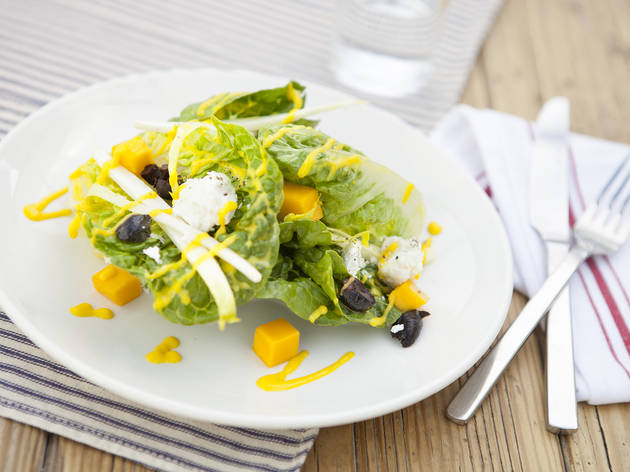 6/12
Photograph: Jakob N. Layman
Little Gem lettuce with goat cheese, mango and kalamata olives at Salt Air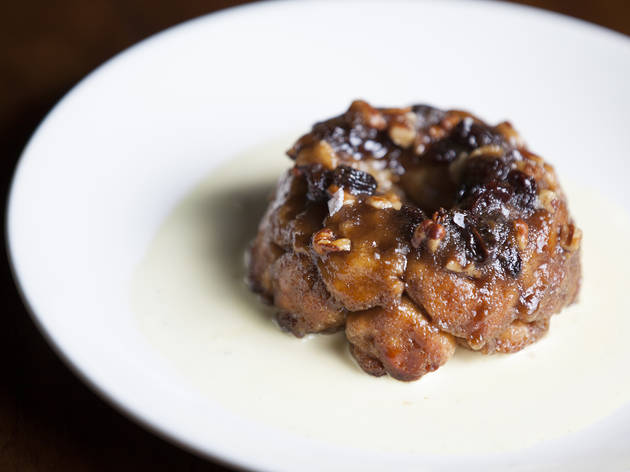 7/12
Photograph: Jakob N. Layman
Monkey bread at Salt Air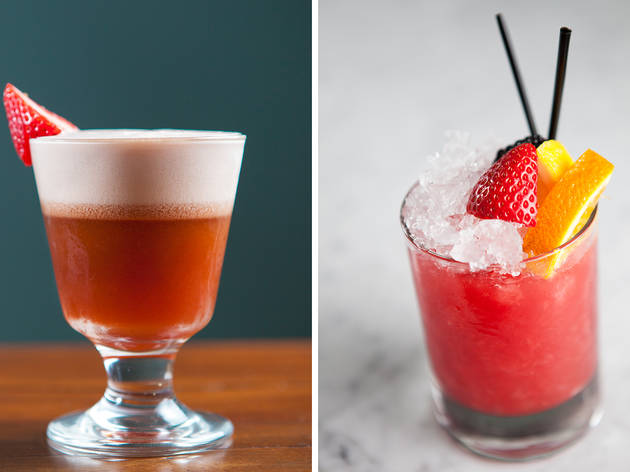 8/12
Photograph: Jakob N. Layman
From left to right: The Sour and the Shandy at Salt Air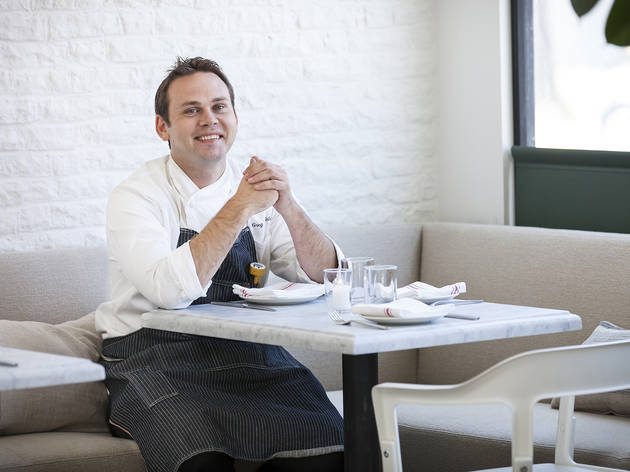 9/12
Photograph: Jakob N. Layman
Chef Greg Daniels of Salt Air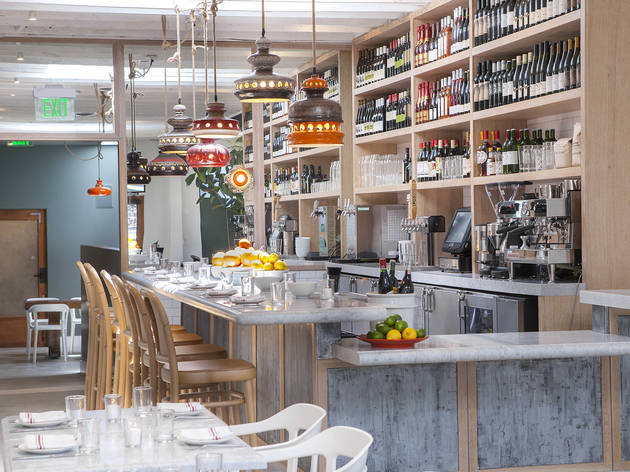 10/12
Photograph: Jakob N. Layman
The bar at Salt Air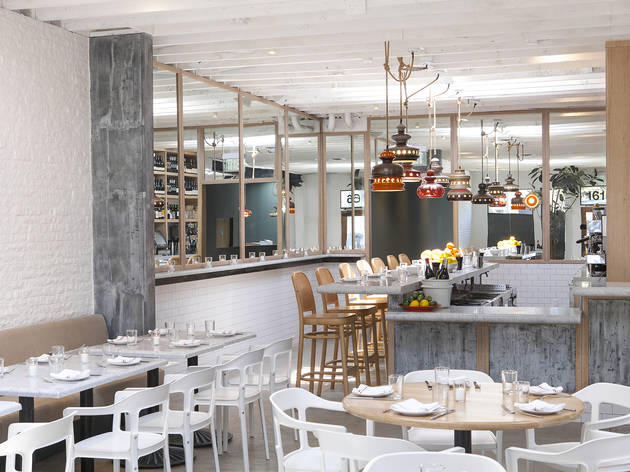 11/12
Photograph: Jakob N. Layman
Salt Air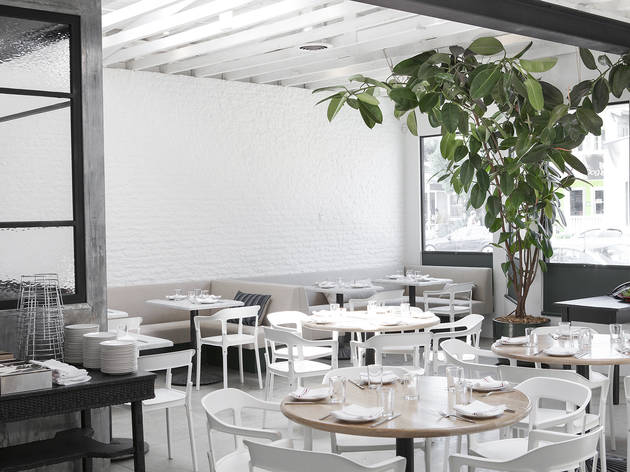 12/12
Photograph: Jakob N. Layman
Salt Air
Now that the gastropub bubble has finally burst, we can finally focus on something the Los Angeles food world actually needs: No, not the cronut, but reliable seafood options. The latest in this trend of upscale, seafood-centric menus of oysters, lobster rolls and the like is Salt Air. The Venice restaurant is set in an airy, stark white space that's at once refined and beach-y enough to feel right at home on Abbot Kinney. Like other new seafood spots (Connie and Ted's, Littlefork, Fishing with Dynamite), the geographic muse here is New England—try, for the example, the acceptable, if requisite, Connecticut-style lobster roll ($20). But the dishes here have pointed, thoughtful Southern Californian inflections: The flaky salmon ($21) is perfectly poached in olive oil and served with summery shelling beans and charred shishito peppers for bite. Surely the conceit of the refined seafood shack will get tiresome (if it hasn't already), but we wouldn't be surprised if trendy locals with the wherewithal and the appetite keep Salt Air afloat well after the current trend gives way to the food of the next moment.
Vitals
Eat this: Most tables have at least one order of the light, crispy fish skin chips ($6)—the pescatarian's equivalent of chicharrones—served with smoked onion dip and harissa, which, though good on their own, can overwhelm the delicate flavor of the chips. And while this is a seafood restaurant, even vegetarians will be happy here: The hearty veggie burger ($12), with mushrooms, lentils and avocado, would satisfy a carnivore. Finally, don't leave without ordering the warm, sticky-sweet Monkey Bread ($8) for dessert.
Drink this: Salt Air does not have a full liquor license, but it does well with what it does have: In addition to a variety of wines (reds, whites, rosés, sparkling) and a short list of bottled and beers on tap from Strand Brewing Company and other craft brewers, you also can have a creative beer-based cocktails like the Shandy ($11), with a sour beer, passion fruit, honey and lemon.
Sit here: Most seats in the dining area will give you a nice view of the pretty restaurant and its pretty clientele. Note that the bar is set back from the dining room, so grab seats there if you'd like to get away from the crowd.
Conversation piece: Before coming to Salt Air, chef Greg Daniels was the executive sous chef as Jean-Georges Vongerichten's Perry St restaurant in New York City.
Venue name:
Salt Air
Contact:
Address:
1616 Abbot Kinney Blvd
Los Angeles
90291

Opening hours:
Sun-Tue 5-10pm; Wed, Thu 5-11pm; Fri, Sat 5pm-midnight
Do you own this business?
You may be interested in:
Rating Breakdown
5 star:

0

4 star:

0

3 star:

0

2 star:

0

1 star:

3
I waited several days before posting this review because I wanted my feelings to mellow somewhat. We were on foot. We wanted sea food. We decided to give this place a try even though it was kind of pricey. The menu was limited to ten or twelve items. We ordered an appetizer of poached shrimp. There were five or six raw shrimp. If they were poached, it was for less than a minute. The salmon was $27 or thereabout. Two of us ordered it. It was a 4 ounce filet served with four or five carrots, some swirls and a couple dabs of sauce. One of us ordered a bowl of soup for $10 or $12. The flavor was good, but I couldn't enjoy it because I felt like an idiot for getting so thoroughly fleeced. At the waiter's suggestion we ordered French fries. I think we paid about $6 for those. We drank water. Our bill before tip was $98 for Two entrees, one side, one appetizer, and a bowl of soup. Every other restaurant we ate at this week was packed. This place, although small, never made it to half full for the hour or so that we were there. How this place can stay open is beyond me. Pretentious is an understatement. We will not return.
This place is as pretentious as it is cold. A "seafood restaurant" with no cultural grounding at all. The waitresses are mentally vacant and static and all look the same. Our waitress Sortia? Sofia? Soshreea? Not sure as she barely paid attention until she realized we were going to order something expensive thus garnering her more tips. Ugh. What a predictable and unattractive bore. We won't be coming here again as the staff was as limited as the menu. Who wants to pay for that? Negative stars.