1/10
Photograph: Alyse Gilbert
Arancini at The Independence
2/10
Photograph: Alyse Gilbert
Stuffed Idaho trout at The Independence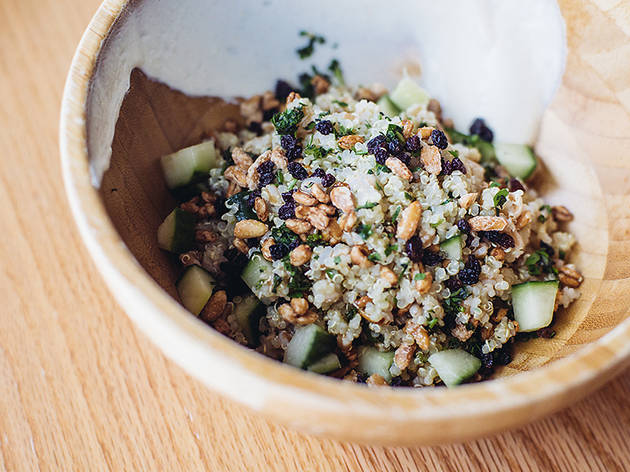 3/10
Photograph: Alyse Gilbert
Farro & quinoa at The Independence
4/10
Photograph: Alyse Gilbert
Sawtelle at The Independence
5/10
Photograph: Alyse Gilbert
Venison ragu at The Independence
6/10
Photograph: Alyse Gilbert
Raspberry tart with fennel at The Independence
7/10
Photograph: Alyse Gilbert
The Independence
8/10
Photograph: Alyse Gilbert
The Independence
9/10
Photograph: Alyse Gilbert
The Independence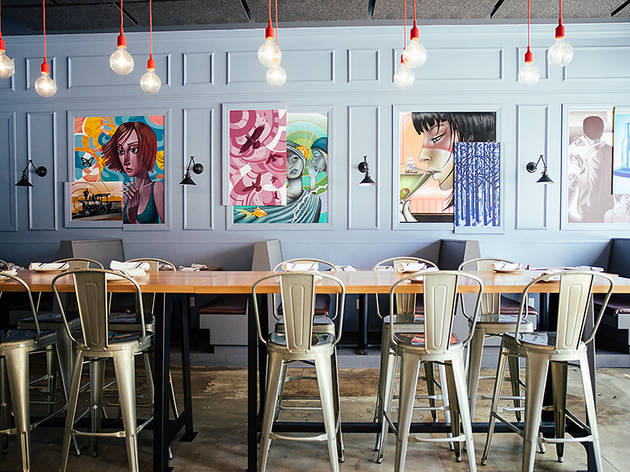 10/10
Photograph: Alyse Gilbert
The Independence
On the corner of Broadway and Second St in Santa Monica, The Independence is a bustling, inviting restaurant, where graffiti-esque murals decorate the walls and a lengthy bar serves as a workable first date spot. It's loud here, but it's loud most places these days, and the din comes more from groups of friends catching up as opposed to blaring music.
Chef Tom Block's inclusive menu might be the reason for The Independence's popularity: there's something for most everyone here, from burgers and chili fries to venison ragu and smoked whitefish toast. There are vegetables (cauliflower, of course) and cheese boards, and the ubiquitous kale salad. And while you may roll your eyes at the dishes that you have had three, four, five times elsewhere, you'll want to order them at The Independence—because, unfortunately, the more inventive dishes are largely a miss.
That bowl of cauliflower, filled with romanesco, purple and white varieties, is a solid pick, spiced with thai chili for a kick of heat. There are plenty of salads here, too, but the farro and quinoa is the best. A swath of yogurt lines the bowl, providing a cool component to the mix of puffed barley and cucumber, currants and candied pine nuts. What of the arancini, though, an appetizer that is almost guaranteed success with it's fried exterior and decadent filling? Eh. There is something bizarre about Block's version, which features butternut squash, rice and taleggio fondue, a combination that leaves an unpleasant and almost sour aftertaste despite a hit of honey. Skip the venison ragu, too, which arrived as a gelatinous lump of pappardelle, and was without the mention of truffles that appeared on the menu.
FOMO is ever-present when dining, and I was experiencing a serious case of it at The Independence as I looked over at my neighbor's Angus burger dripping with Gruyère. Still, the stuffed Idaho trout is enjoyable enough, despite its peculiar plating: a whole, flaky fish, accented by a few streaks of kabocha purée and maybe ten green beans. It's reliable, a dish that would appease Santa Monica tourists and locals alike—but maybe that's the issue with this place. It's a little too all-encompassing, a little too generic and, ultimately, the food is a little too boring to be anything more than just OK.
Vitals
What to Eat: The cauliflower ($8). The farro and quinoa ($12). The stuffed Idaho trout ($23).
What to Drink: Among the cocktails, wine and beer that The Independence offers, a separate "Mocktails" section makes their drinks menu a little more unique. The alcohol-free concoctions are named after popular LA spots, like Runyon, made with citrus, cilantro, honey ginger syrup and ginger beer; and Venice, highlighting market vegetables, lime, worchester sauce, hot sauce and ginger. Want to get a buzz going? Forego the lackluster alcoholic cocktails for local beer—Monkish, Eagle Rock and Smog City are all represented here.
Where to Sit: If your plan is to stop by for a beer and a bite, sit at the long bar or one of the high-tops that line a wall looking out onto Broadway. Groups will do better at the larger tables on either side of the bar.
Venue name:
The Independence
Contact:
Address:
205 Broadway
Los Angeles
90401

Opening hours:
Mon 5-10pm; Tue-Thu Noon-10pm; Fri, Sat Noon-11pm; Sun Noon-10pm
Do you own this business?
Rating Breakdown
5 star:

0

4 star:

0

3 star:

0

2 star:

0

1 star:

1
The food is OKAY. The service is terrible. The staff think very highly of themselves and are very eager to dismiss anyone who doesn't meet their high standards. Definitely not a place to go with a group of friends, they will rush you out for taking up too much space and an increase in noise volume. The spot looks cute, but I would not recommend going here.