1/18
Photograph: Jakob N. Layman
Tacos al pastor de Jerry at Tinga Santa Monica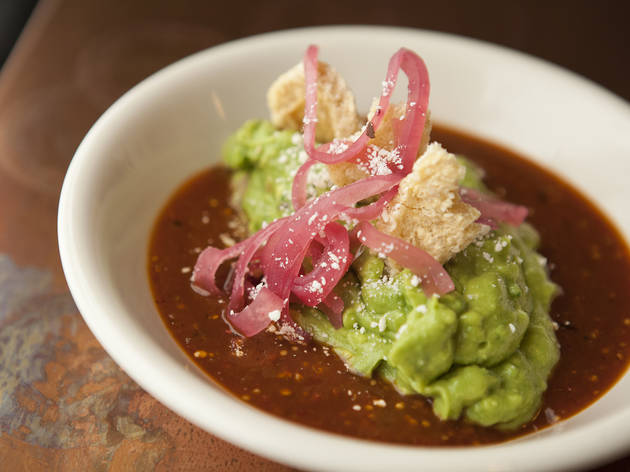 2/18
Photograph: Jakob N. Layman
Nueske bacon guacamole with chicharones at Tinga Santa Monica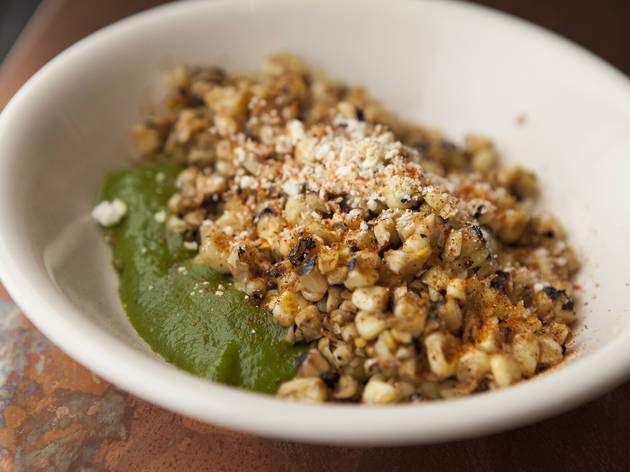 3/18
Photograph: Jakob N. Layman
Elote Especial at Tinga Santa Monica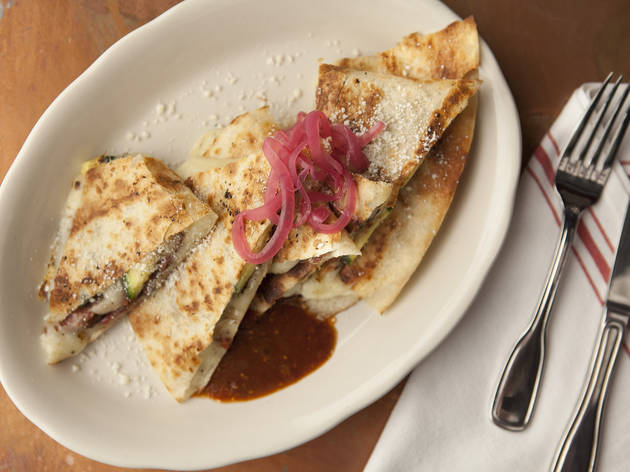 4/18
Photograph: Jakob N. Layman
Pastram-adilla at Tinga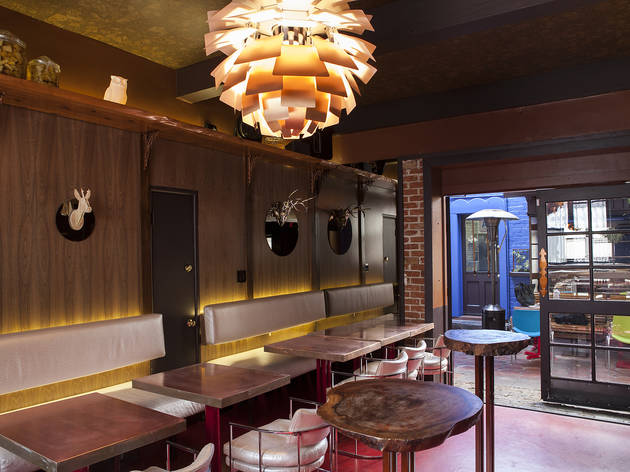 5/18
Photograph: Jakob N. Layman
Tinga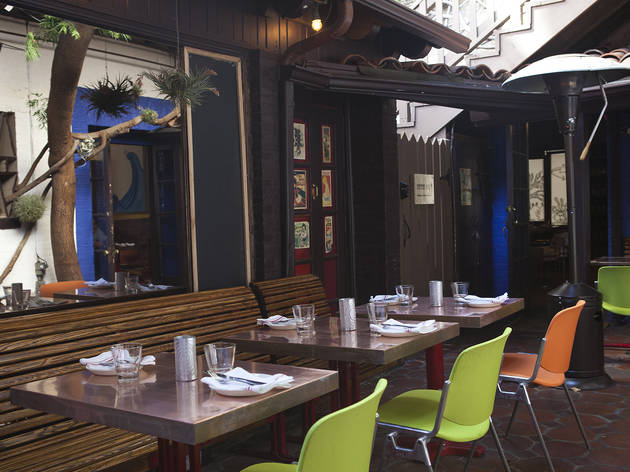 6/18
Photograph: Jakob N. Layman
Tinga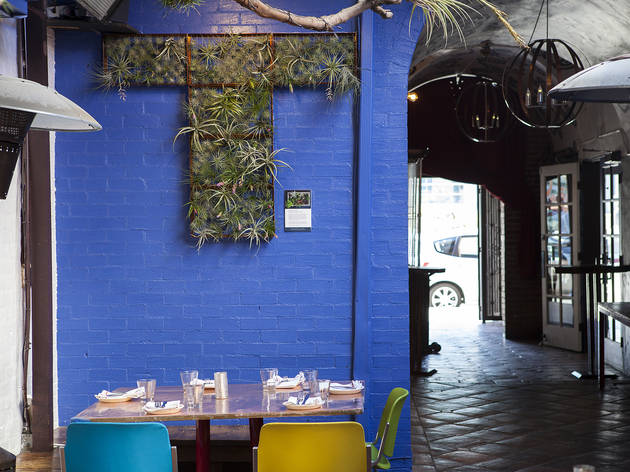 7/18
Photograph: Jakob N. Layman
Tinga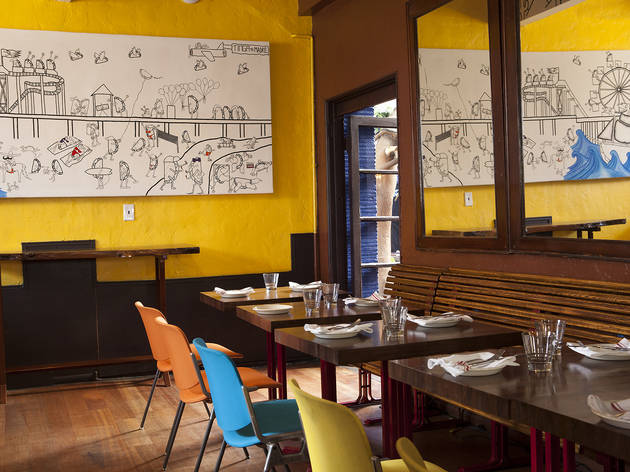 8/18
Photograph: Jakob N. Layman
Tinga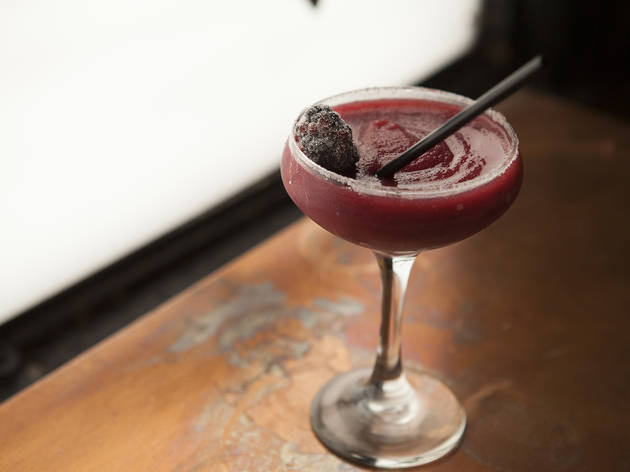 9/18
Photograph: Jakob N. Layman
Smokin' Hot Mez-ican at Tinga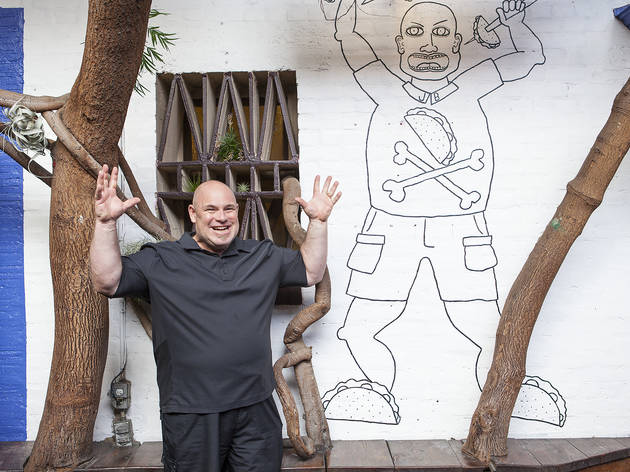 10/18
Photograph: Jakob N. Layman
Chef Jerry Baker at Tinga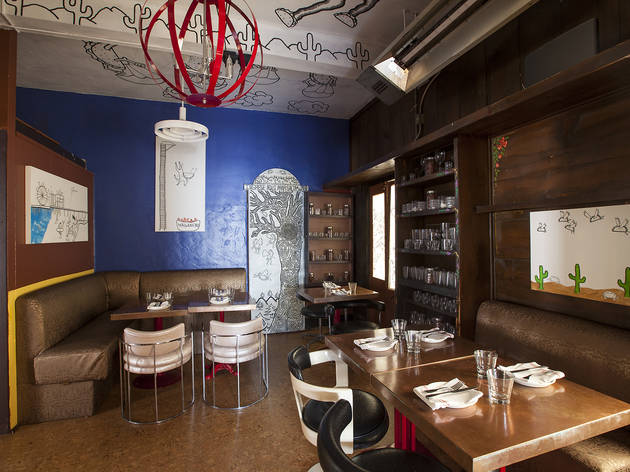 11/18
Photograph: Jakob N. Layman
Tinga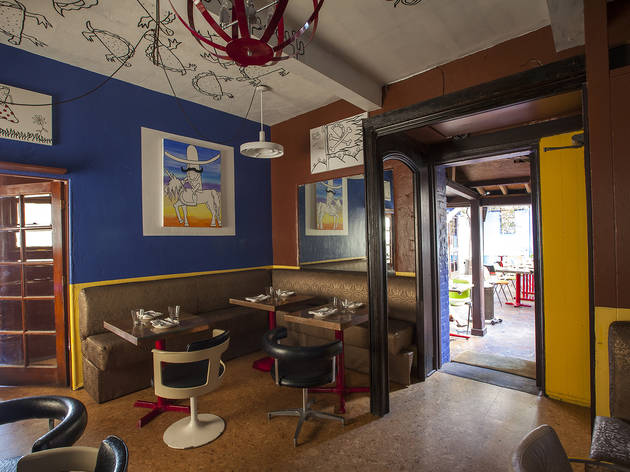 12/18
Photograph: Jakob N. Layman
Tinga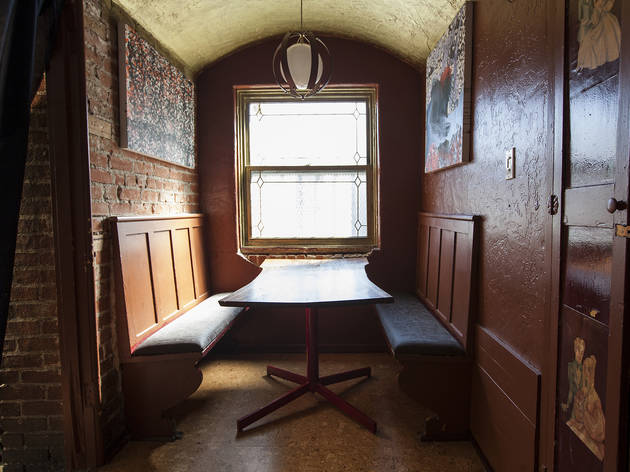 13/18
Photograph: Jakob N. Layman
Tinga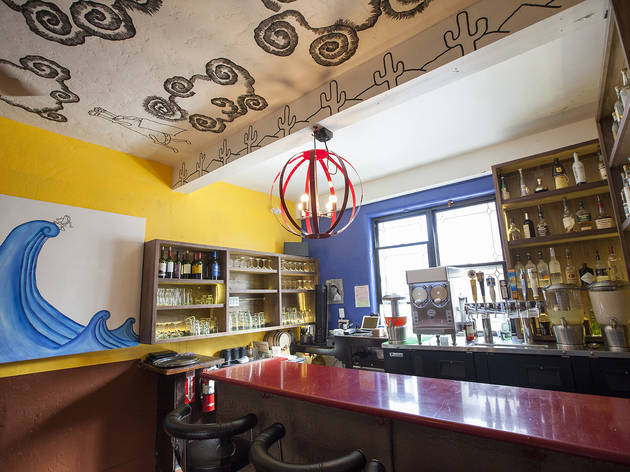 14/18
Photograph: Jakob N. Layman
Tinga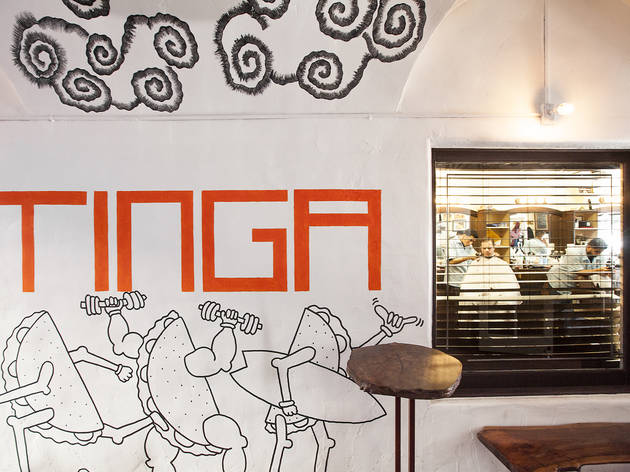 15/18
Photograph: Jakob N. Layman
Tinga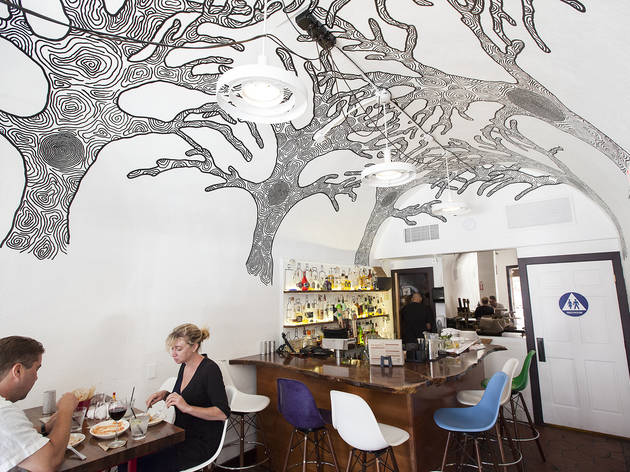 16/18
Photograph: Jakob N. Layman
Tinga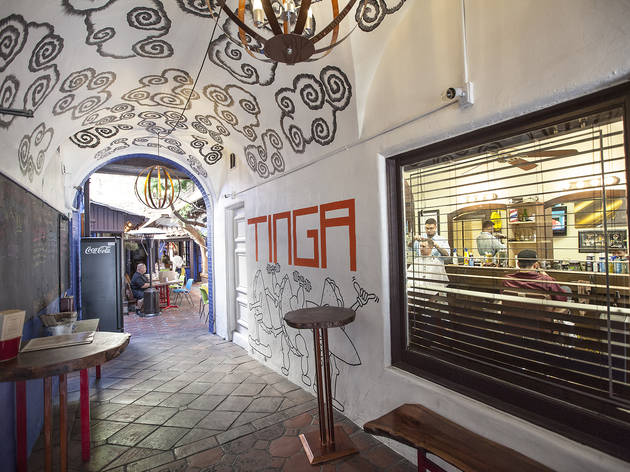 17/18
Photograph: Jakob N. Layman
Tinga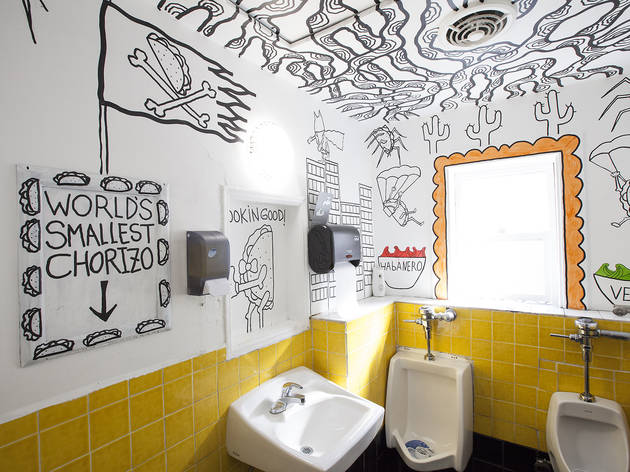 18/18
Photograph: Jakob N. Layman
Tinga
Review
When the "artisan taquería" Tinga opened in a tiny space on La Brea in 2010, it was an interesting distraction from the street tacos reigning supreme at that moment: Tinga's tacos were unabashedly more refined, upscale and cheesier than almost anything off the most popular trucks, with the prices to match. Three years later, Tinga's expression of the taco has not only persisted, but it also has just expanded westward. Tinga's Santa Monica outpost is a sprawling, multi-room funhouse: There's a bar everywhere you turn (three in total), all of which flank a beautiful courtyard that makes for great patio dining. As for the food, the tinga here ($7.75 for two) doesn't quite match the intensely flavorful version at Guisados, and the tacos al pastor de Jerry ($8.75 for two)—named after chef Jerry Baker, pineapple-marinated pork is topped with pineapple-lime salsa and Scotch bonnet peppers—won't replace your love of Leo's. But that's almost all besides the point: When the atmosphere of a parking lot won't do, Tinga fills in nicely, especially on a side of town that could use more great taquerias, artisan or otherwise.
Vitals
Eat this: In addition to tacos, try the Elote Especial ($5.25), a take on the classic Mexican-style corn, with grilled sweet corn off the cob, a kick of lime, crema, chili and poblano purée.
Drink this: With three well-stocked bars, there's everything here from frozen margaritas—try the Dirty Hor-chata, spiked with espresso and rum ($10)—to creative cocktails. Tequila lovers should ask about the tequila tasting flights.
Sit here: During these warm summer days and nights, eat and drink on the patio. On evenings when the crowd is light, sit at any one of the three bars and let a friendly bartender help you pick out a choice drink.
Conversation piece: Before Tinga moved in, the space belonged to 30-plus-year-old Santa Monica institution Renee's Courtyard and Café. —Tien Nguyen (August 14, 2013)
---
Westsiders mourned the shuttering of Renee's Courtyard Cafe, but Santa Monica's beloved watering hole has transformed into a destination for tacos, cocktails and overall good time. The multi-room bar/restaurant/patio/happy-hour venue is Tinga's second outpost—the original is a tiny storefront that opened on La Brea Avenue in 2010. The famed courtyard is now the site of alfresco lunch and dinner seating for a crowd of mostly locals. The menu includes not so ordinary tacos from chef Jerry Baker's signature al pastor ($8.75 for two) with Caribbean-spiced pork, grilled pineapple lime salsa and Scotch Bonnet peppers and an umami-rich braised short rib ($8.75 for two) marinated in ginger and shiitake mushroom to non-meat options such as Papas Bravas ($7.75 for two) with potatoes, poblano peppers, pickled radish and vegan-friendly chickpea and broccoli "falafel" taco ($8.85 for two). Fill up on other original creations such as pastrami and Gruyère-filled quesadilla ($11.95) and guac ($10.50) spiked with smoked bacon and crunchy chicharrón. Thirsty? Cocktails warrant as much attention as the grub with an extensive list of concoctions shaken, on the rocks, barrel-aged and frozen—nothing says stay-cation like an ice-blended margarita. —Katherine Kims (May 20, 2013)
Venue name:
Tinga Santa Monica (CLOSED)
Address:
522 Wilshire Blvd
Los Angeles


Opening hours:
Daily 5:30pm-2am
Do you own this business?