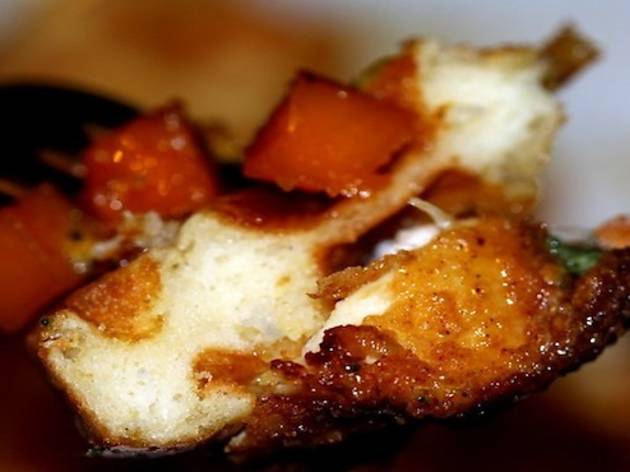 Wash down your pulled pork sandwich and Willet Bourbon with a dose of LA history, why don't you? The generous, lodge-esque space that houses Hollywood's Wood and Vine is in fact the 1923 Taft building, once home to the first offices of Charlie Chaplin and Academy of Motion Picture Arts and Sciences. Sink inconspicuously into a tufted leather chair to enjoy a wittily titled cocktail or aged whiskey; or book the place for your upcoming event—Wood and Vine feels cozy enough to host an intimate party of 10, but spacious enough for a stampede of up to 250. Their handsome menu, which includes a vegetarian friendly section, will make your Hollywood dining experience all the sweeter.
Venue name:
Wood & Vine
Contact:
Address:
6280 Hollywood Blvd
Los Angeles
90028

Opening hours:
Mon-Wed 5:30pm-midnight; Thu, Fri 5:30pm-2am; Sat 3pm-2am; Sun 3-10pm
Price:
$31 to $50
Do you own this business?
Average User Rating
3.7 / 5
Rating Breakdown
5 star:

2

4 star:

0

3 star:

0

2 star:

0

1 star:

1
Wood & Vine is a great place to go for some chicken and waffles and a good selection of whiskey. Right in the thick of tourist central, it still feels upscale when you step in. This is a great place to stop for pre dinner or post drinks after seeing a show at the Pantages.

HORRENDOUS SERVICE. Foodie beware. This place does not care for it's patrons. We came here for a birthday dinner. After being shown the upstairs which was packed and loud we asked for the patio, since this is one of the things the restaurant is known for, and we were brought outside which was quite and nice. We sat and began to choose our food when we were told they were out of all sliders, every kind that they offer. So we chose the steak and pork chop. We then waited 10 minutes as our drinks were finally brought out to the table. A few minutes later a man walked out and told the birthday boy that he could not have his steak well done and would either have to order something else or eat it medium. (At 35 I believe my friend knows how he likes his steak. He told me he does not eat anything bloody for it makes his stomach turn thinking about it.) Being that my friend does not eat pork or fish, and cares about his health, he was left with no choices for his birthday meal (everything on the menu otherwise is either filled with pork, in which after the steak there was no way we were going to ask with anything minus the pork, or truly unhealthy). When we asked to speak with the chef or manager the man instructed us he was the manager, that he wouldn't let us speak to the chef, he wouldn't give us his or the chef's name, and was very rude. I brought up the fact that the chefs name was on the menu and as I was bringing out my camera phone to take a picture of the Chef's name the manager grabbed my menu, turned his back on us, and walked away. I will add I dine at the finest restaurants in the world and even at Cut (back when I ate red meat) I have ordered my steak any way I like and it is brought to the table with a smile. Even Wolfgang himself has came out many a time as I enjoyed my well done steak to smile and chat. If you enjoy eating your food your way and do not like to be forced to eat what someone else tells you to then stay clear of this tragedy. Another smear mark on the LA restaurant scene that will be gone as fast as the rest. With service and style like this no one will even remember this place in a couple of years. On a side note as I waited for a table at Providence I overheard a woman at the bar speaking of the great food scene back home, how wonderful the bartender was, and that it was terrible she had to suffer working in a place like LA where the restaurants are so horrendous, terrible service, loud atmosphere, inconsistent food, bad management, no owner onsite, careless staff and on and on. I was offend at first being that I am an Angel born and raised here… and proud… but at this time I had to hang my head. The woman was right. Places like Wood and Vine are just the example of how a place that could be great will never be due to it's existence in a world where management doesn't care about it's patrons, food is never stocked proper and always running out, service is mediocre at best, the musics so loud the staff can't even hear you order, the food comes out different every time you order it... I can go on and on but I just wanted to let you know I know food, I know service, I know this place is horrible and you should never visit for food. Cool drink atmosphere if you want a drink but the service is so bad you can find 100 better places for a drink where you will not be supporting this way of restauranting in LA.