Heads up! We're working hard to be accurate – but these are unusual times, so please always check before heading out.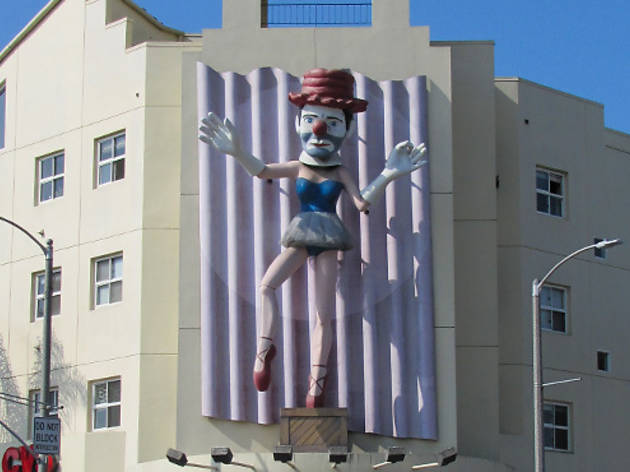 1/10
Photograph: Trevor Mattea/Flickr
The icon: The massive half graceful ballerina, half manly clown sculpture by Jonathan Borofsky watching over a Venice street corner.What you'll need: Blue tutu, white gloves, ballet shoes, bowler hat, red clown nose, white make-up, blue crop top or corset, 5 o'clock shadow and the delicate stance of a ballerina.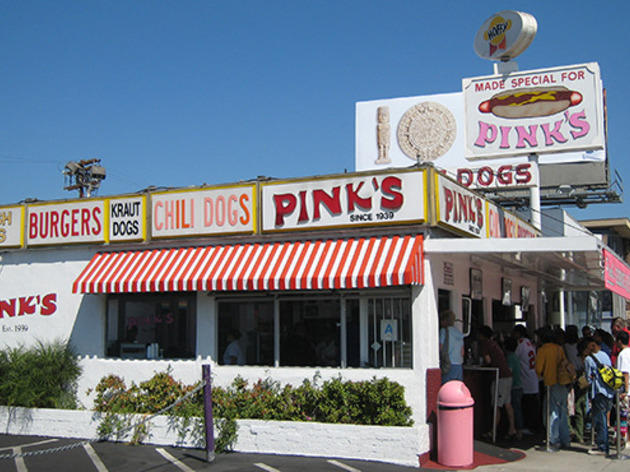 2/10
Photograph: Dan Leveille
The icon: The most legendary hot dog stand in all of LA that always has a super long line of eager tourists.What you'll need: Brown sweatshirt, red beanie, red hot dog-shaped oval cut out of felt and pinned to your sweatshirt with a drawn mustard squiggle, and must have at least 3 friends dressed as tourists following you around at all times.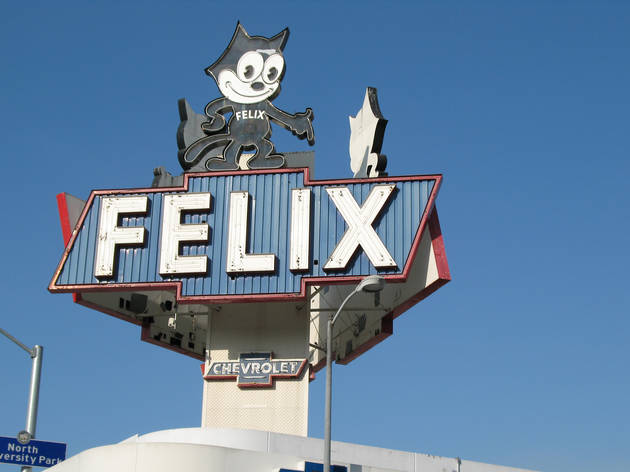 3/10
Photograph: Courtesy Flickr
The icon: The iconic oversized cartoon feline atop the Chevrolet dealership in Downtown.What you'll need: Black cat ears, black and white onesie, genuine smile, and a Hot Wheel version of a Chevrolet in your hand at all times.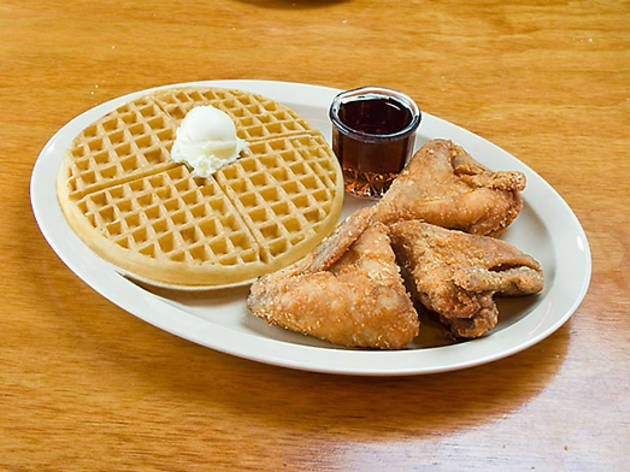 4/10
Photograph: Courtesy Roscoe's House of Chicken 'n Waffles
The icon: The masters of crunchy fried chicken and sweet buttery waffles that cure the worst hangovers and late night cravings by perfectly pairing sweet and salty.What you'll need: White t-shirt and white shorts with white feathers glued all over, orange stockings, red bandana around neck, and white/orange/yellow Converse for the chicken. And for the waffles: square cardboard cut-out hanging around neck with a drawn grid of waffle lines.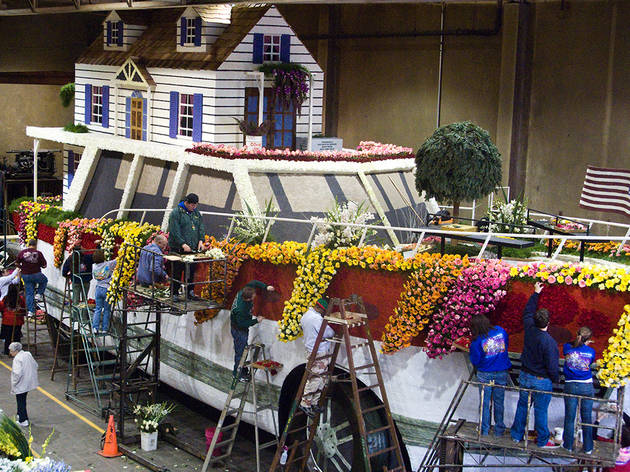 5/10
Photograph: Courtesy Flickr
The icon: The elaborate floral floats that parade down Pasadena streets on the first day of each year.What you'll need: Obnoxious amount of roses pasted all over yourself (the less we see of you, the better) and family-friendly music constantly blasting on your phone, a frozen grin that makes your cheeks ache and, of course, a royal wave.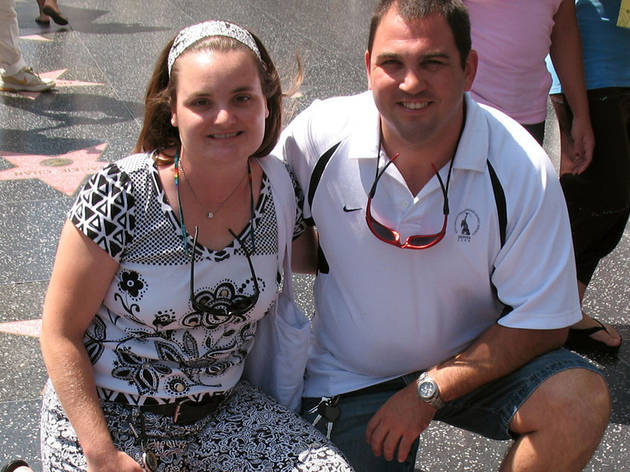 6/10
Photograph: Courtesy Flickr
The icon: The starry-eyed Hollywood enthusiasts that perhaps share just as much love for this city as native Angelenos—bless their hearts. Their constant presence, found in different hubs across the city: Hollywood Blvd, Third Street Promenade, The Grove, Rodeo Drive, basically makes them a landmark on their own.What you'll need: Abercrombie and Fitch t-shirt, fanny pack, Pumas, visor, camera, star tour maps in hand, and a selfie stick.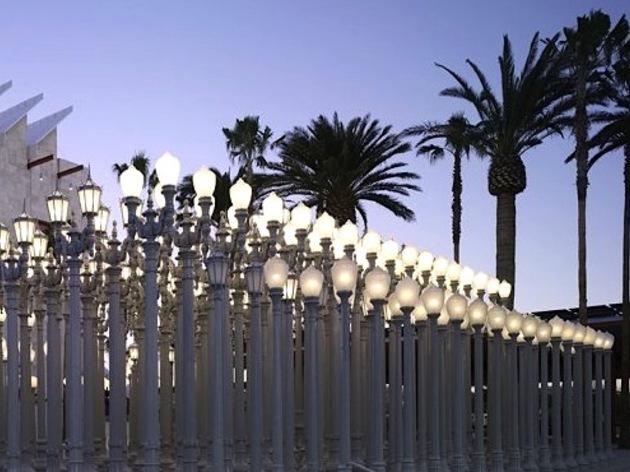 7/10
Photo courtesy LACMA
The icon: The mesmerizing array of lamp posts standing at the front of the LACMA museum and the backdrop of a million (Instagram, wedding, profile picture) photo ops.What you'll need: Light gray pants, tight long-sleeve gray shirt, gray shoes, gel to shape hair upwards in a lamppost direction, white spray paint to color hair, and must carry flashlight below chin at all times. Most effective with groups of friends of varying heights, all dressed the same.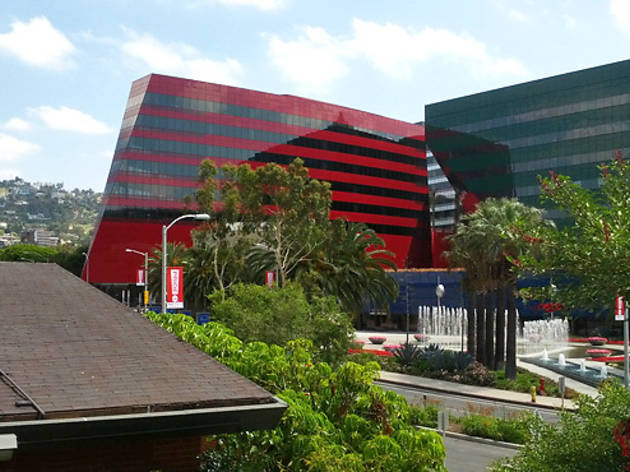 8/10
Photograph: Michael Juliano
The icon: The most colorful and perhaps one of the most beautiful buildings in all of Los Angeles (depending whom you ask). What you'll need: Red shirt, green shorts, blue high socks and Converse—it's all about color blocking to represent the PDC's three distinct buildings.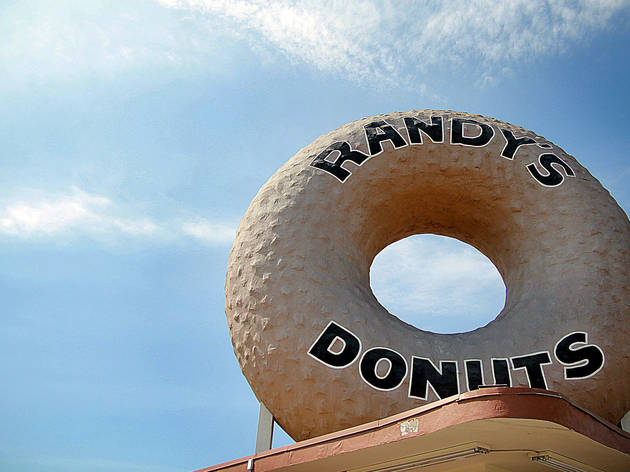 9/10
Photograph: Courtesy Randy's Donuts
The icon: The massive donut that sits on top of the tiny donut shop and triggers sweet cravings from miles away.What you'll need: Tan-colored inner tube, wire (or a thin metal hanger) to hang said floatie around your neck, black Sharpie to write "Randy's Donuts" across the tube, all while holding a generous glass of milk and mug of coffee in each hand.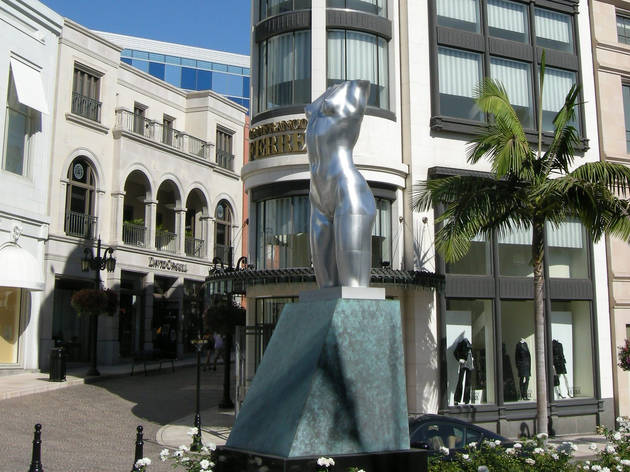 10/10
The icon: The striking silver statue of the—ahem, "ideal"—female physique, officially known as Robert Graham's Torso sculpture, catches the eyes of the many pedestrians on Rodeo Drive.What you'll need: Tin foil to wrap around yourself from bust to knee (don't let anyone think you're a Chipotle burrito). Bam! You're done and this might be the easiest and possibly the most vain costume yet.
10 last-minute Halloween costumes inspired by LA landmarks
Break away from the cliche costumes this year with these fun and easy DIY ideas based on neighborhood landmarks
best city in the nation
, why not pay homage to the
taco-eating
, sunset-loving,
juice cleansing
characters of this city by embodying one of its
landmarks
? A nod to any of our friendly
local celebs
would be a good choice, but for something worthy of a standing ovation, check out this list of Halloween costume ideas inspired by our fair city.
RECOMMENDED: See more of our Halloween recommendations, including haunted houses, parties, trick-or-treating and more.