The best L.A. Christmas ornaments
Pick up these L.A.-centric ornaments to show your love for the city (or maybe just your fondness for our sports teams)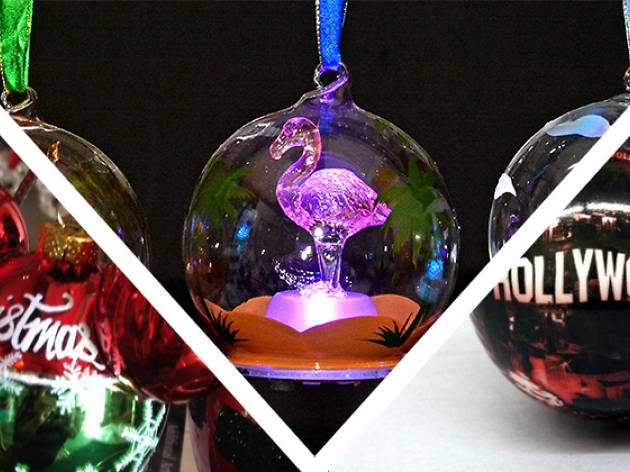 Los Angeles may have the nickname of "Tinseltown," but during the holidays, it's all about the ornaments (and the Christmas lights). Whether you're a tourist in town looking for a keepsake or you just love this city, there are ornaments out there that will show your L.A. pride by hanging front and center on your Christmas tree each year. Here's a list of the best ornaments that can be found at some of Los Angeles' most popular attractions, as well as ornaments that can be purchased online but well-represent this beloved city.
RECOMMENDED: Our guide to Christmas in Los Angeles
Best Los Angeles Christmas ornaments
Inspired by Vincent van Gogh's Irises, one of the most popular paintings at the J. Paul Getty Museum, Irises Hand-Painted Glass Ornament is an original piece that can be purchased at the museum or online. It's one of the museum's most popular Christmas items year after year (it's currently back ordered). But thankfully, the museum has added two new ornaments to its collection this year. The first, is a multi-colored hand-blown Murano glass ornament (Murano glass is made on the Venetian island of Murano). The other, is the Golden Orb Ornament, made with mouth-blown in borosilicate glass surrounding a golden orb in the center.

Irises Hand-Painted Glass Ornament, 3-inches in diameter, $25

Golden Orb Ornament, 5-inches in diameter, $18

Murano Harlequin Glass Ornament, 3-inches in diameter, $55


Photograph: Courtesy the Getty
With so many events now taking place at the Queen Mary in Los Angeles, particularly their upcoming Chill event, you may be hanging around the old cruise ship more than usual this winter. Whether you're looking for a keepsake or just love shiny treasures, this Queen Mary Ornament is a good fit. Gold plated, 3.5"L x 2.5"H, $19.99



Photograph: Courtesy the Queen Mary
The Mickey Mouse head shaped Disneyland ornament is reportedly a favorite among the park's guests. For a small fee (about $3 a word) you can get the ornament engraved with whatever you'd like—a name, date or special phrase. You can purchase this ornament at a number of the shops, including Disneyland's China Closet, California Adventure's Julius Katz & Sons, Downtown Disne'ys World of Disney Store or online. $19.95, plus engravement fee


Photograph: Courtesy Disneyland
In honor of their annual Grinchmas event—a holiday celebration that runs now through January 1 and brings Who-ville to life at Universal Studios Hollywood with performances and decorations—various stores inside the theme park and Universal Studio Store are selling a variety of Grinchmas ornaments. There are sculpted characters like the one seen here as well as traditional balls. So if you or someone in your family loves the film, Universal, or just needs a reminder not to be a Grinch this Christmas, consider one of these ornaments. $15.95-$17.95


Photograph: Courtesy Universal Studios
Though the Aquarium of the Pacific doesn't have whales, if you're in the area there's a good chance you may have caught a glimpse of some migrating offshore. This little ornament is a great reminder if so, and a pretty cute consolation prize if not. $18.99


Photograph: Nelly Missios
Though you can't take any of the animals home from the L.A. Zoo, you can take home an animal-themed ornament from the gift shop, including an elephant, aligators and lions. And if you still need to get into the Christmas spirit, head to L.A. Zoo Lights—just don't forget to stop and pick up an ornament on your way out. $12.99-$19.99



Photograph: Tad Motoyama
Aside from Hollywood, the most well-known area of L.A. is likely Beverly Hills, so why not have an ornament representing the richy zip code hanging on your tree? This Noble Gems Los Angeles glass cityscape ornament can be found at a variety of retailers around Southern California and beyond. Prices vary



Photograph: Courtesy Kurt Adler
The Haas Brothers, Simon and Nikolai, created this ornament exclusively for LACMA. According to the museum's website, "For this ornament, a balloon covered in curing resin is expanded and contracted. The moving latex forces the soft resin to form a beautiful natural pattern, similar to the way fingers and toes wrinkle in water." The ornament is available at the LACMA Store in a variety of colors. 7 inches, $20

Photograph: Courtesy LACMA
If you don't bleed Dodgers blue, and red is more your color of choice, this cute Anaheim Angels ornament could be a good fit. Is there room for both on your tree? 4-inches by 4-inches, $6.99, plus shipping



Photograph: Courtesy MLB
Not all hockey fans are dudes. The L.A. Kings know that, and this ornament of a Kings-themed high heel goes to show it. 3-inches tall. $8.99, plus shipping



Photograph: Courtesy the NHL
"Won't you guide my Lakers tonight?" Lakers fans are probably expressing these sentiments this season, so the Los Angeles Lakers Reindeer with Sign ornament is a perfect fit right now. $7.99, plus shipping



Photograph: Courtesy FansEdge
Is Blake Griffin yours or someone you knows favorite player? Then this Blake Griffin LA Clippers Player Elf Ornament is for you. 4-inches tall, $9.99 plus shipping



Photograph: Courtesy FansEdge
With a boutique and factory in Los Angeles, Valerie Confections is as LA as it gets. Now you can get an Ornament Box from the company that features hand-molded chocolates, wrapped in bright foil to give a holiday feel. To hang or to eat? 16 pieces in the box, $75



Photograph: Courtesy Valerie Confections
Need to buy some gifts to put under the tree?
Once you have your tree all set up, use our gift guide to get some presents under it!
More to explore