Where to see Christmas lights in Los Angeles
Simplify your search for Christmas lights in Los Angeles with these must-see neighborhoods and landmarks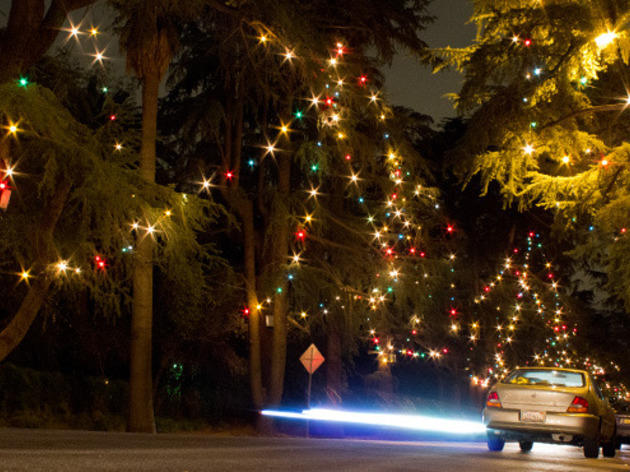 You've probably heard it before: How can we celebrate the holidays here when it's warm in December? Well, first of all, it's cold by LA standards. But there's also plenty of holiday cheer if you know where to see Christmas lights in Los Angeles. In between a deluge of Christmas activities and frantic shopping trips—you've consulted our holiday gift guide, right?—take the time to check out these twinkling neighborhoods. Just make sure to bring along an extra sweatshirt and some patience: not even Christmas lights can escape LA traffic.
RECOMMENDED: Christmas in Los Angeles
10 places to see Christmas lights in Los Angeles
Christmas Tree Lane
While LA might lure in visitors with breezy palm trees, the city is no slouch when it comes to conifers. Case in point: This grand, mile-long driveway of cedars in Altadena becomes blanketed in lights each holiday as it transforms into Christmas Tree Lane. Take a majestic cruise down the hill after it lights up the second Saturday in December (Dec 12, festival at 2pm, lighting at 6pm), and while we'd like to tell you to dim your headlights, that would be illegal.
Beverly Hills
We won't get into which city is better in the NY vs. LA fight (hint: LA), but we will admit that Los Angeles has no true holiday counterpart to New York's 5th Avenue. That said, we do have Beverly Hills. Plenty of neighborhoods modestly decorate their main drags for the holidays, but nobody has quite as much pomp and spectacle as Beverly Hills. Lights swirl around the palm trees that line Rodeo Drive, up the steps of Via Rodeo, over the span of Wilshire Boulevard and onto the extravagent Beverly Wilshire.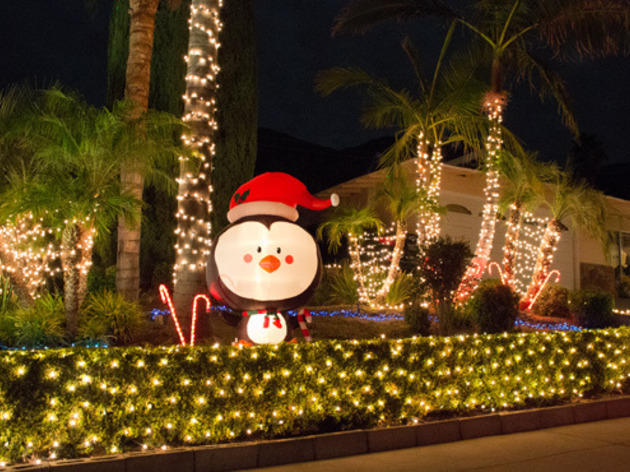 Upper Hastings Ranch
The sloping grid of ranch-style homes in Upper Hastings Ranch is a scenic spot in its own right, but its legacy rests in the decades-old holiday display coordinated among homeowners. Each block of the Pasadena neighborhood decorates according to a different theme; one street might be lined with light-up candy canes while another is flanked by an army of inflatable Santas. After an official lighting in early December, you can cruise around the twinkling foothill community until the new year.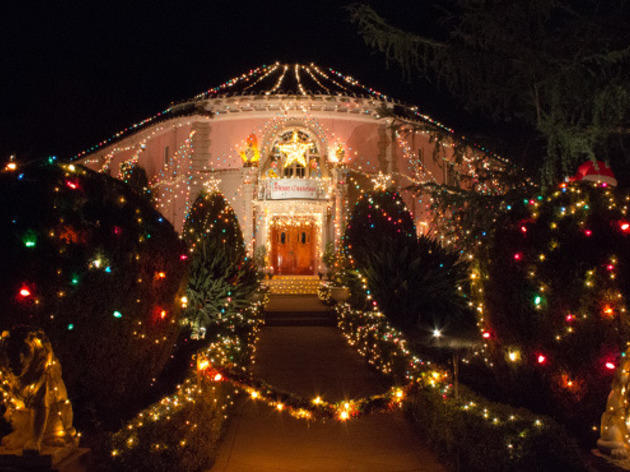 Balian House
"Balian" may revive memories of red-striped ice cream cups for LAUSD alumni, but today the family name is most closely tied to its Mediterranean Revival mansion in Altadena. Each Christmas busloads of visitors flock to the house to see thousands of lights elegantly draped across its corner plot. The destination has its fair share of campy elements—oversized, wooden nativity animals and the near-constant strobe of light-up toy vendors—but that first gasp-worthy glimpse as you turn off of Allen Avenue makes the house a must-visit. There's plenty of street parking along the residential streets (be courteous) and Christmas Tree Lane is only a few blocks away.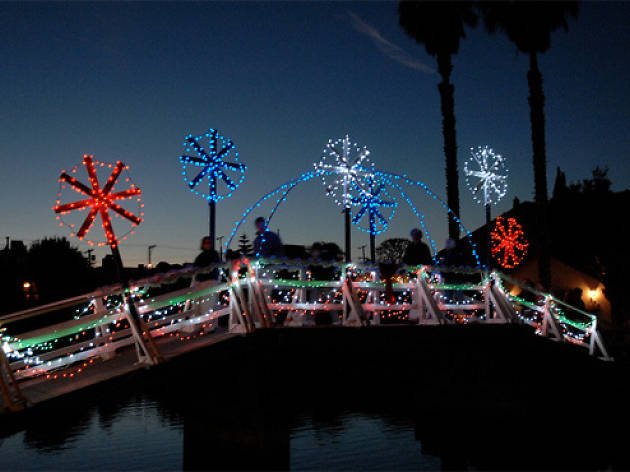 Venice Canals
Free of the boardwalk's grunge and Abbot Kinney's pretense, the Venice canals are an idyllic slice of LA living made all the more charming by the Christmas lights that line its bridges each year. Leave your car a few blocks away to avoid the narrow, one-way Dell Avenue, and take a stroll through the shimmering neighborhood. For a more offbeat holiday, make sure to come out for the canals' long-running and gleefully irreverent boat parade (date TBA).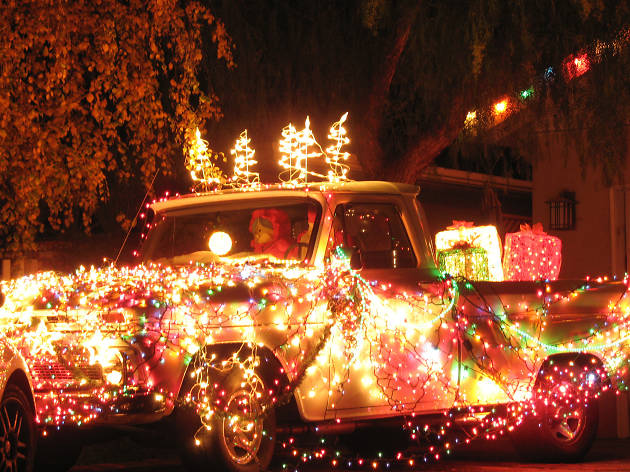 Candy Cane Lane
We all like showing off to our neighbors, but the homeowners behind Candy Cane Lane take it to the extreme. For over 60 years, these eight blocks—centered around Lubao and Oxnard Streets in Woodland Hills—have been blanketed in lights. The displays light up starting the second Saturday in December and last through the end of the year.



Sleepy Hollow Christmas Lights Extravaganza
Sometimes you simply want to see as many lights as possible, and Torrance's Sleepy Hollow neighborhood surely delivers. Follow the stream of brake lights overflowing from Robert Road for a trek through this visual overload. Starting in early December, seemingly every tree, house and lawn becomes blanketed in an electric bill-dizzying degree. The display runs every night from 6 to 10pm, starting in early December up until New Year's Day, and you can walk the few blocks if you'd prefer (park on the PCH, Calle Mayor or Prospect Avenue).
After going dark in 2009, holiday lights return to Griffith Park—this time at the LA Zoo. Whereas the old DWP Holiday Lights brought motorists careening through the park's windy roads, the zoo's fest will find visitors trekking through the front half of the festively illuminated grounds on foot. Though most of the animals will be asleep, you will be able to see reindeer and sit for a photo with Santa. Standout displays include elephant statues animated with projection mapping, a twinkly light tunnel and "ZOOray for Hollywood," a festive interpretation of LA landmarks.
Read more
Feel as though you've escaped to a small-town fishing village with the 52nd anniversary of the Marina Del Rey Boat Parade. Bring a blanket and gather around Fisherman's Village or the Burton Chace Park to watch as the 70 boats glide through the marina with holiday lights and decorations in competition. Categories include Best Theme, Best Animation, Best Band, Best Lights and more. The festivities begin at 5:55pm with fireworks, and the boat parade starts at 6pm, rain or shine.
Read more
Ah, the joys of Christmas in a Mediterranean climate, where boat owners can deck out their ships in holiday lights and set sail without the impediment of icy weather. For the 107th year, the Newport Beach Christmas Boat Parade is doing just that as over 100 decorated vessels parade around a 14-mile circuit in the Newport Harbor. You can see the parade for free during each of the five nights, but there are also reserved seats and dining packages available for purchase.
Read more