Holiday gift guide: Gift basket ideas you will love
Check out our gift guide of creative gift basket ideas, and treat someone to one of these fun and unusual packages.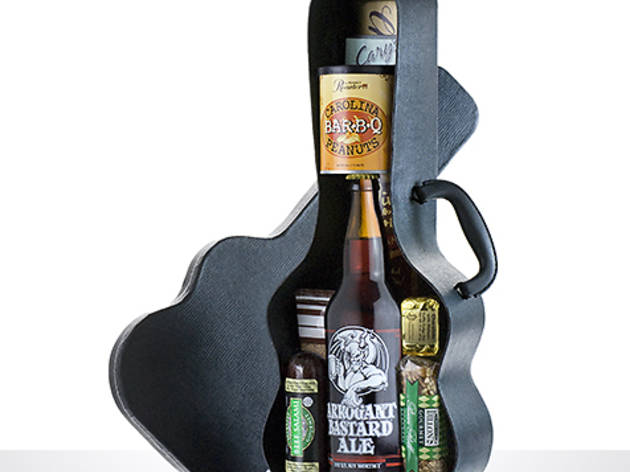 1/10
Guitar beer basket, $65, at pleasantsurprises.com This miniature guitar case comes packed with a pint of Stone Arrogant Bastard Ale, Sparrer beef salami, Carolina Bar-B-Q peanuts, a Chocolove milk-chocolate bar, Dillon's Gourmet Pecan Roll and Fancy Chocolate Divinity, John Kelly chocolate chipotle truffle fudge, chocolate-dipped almond biscotti and Cary's of Oregon milk-chocolate almond English toffee.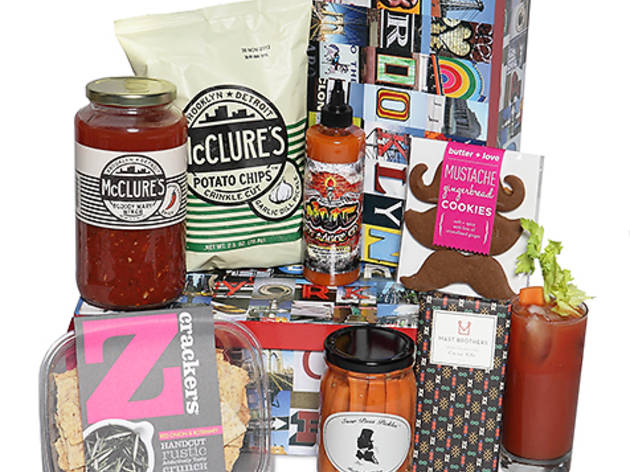 2/10
Chelsea Market Baskets Brooklyn Boys gift box, $78, at chelseamarketbaskets.com Presented in a keepsake box featuring photographs from New York artist Grégoire Ganter, this package highlights the up-and-coming artisanal food purveyors of Kings County. It contains Asian-spiced ginger carrots from Sour Puss Pickles, rosemary-flavored snacks from Z Crackers, a Mast Brothers chocolate bar, mustache-shaped gingerbread cookies from Butter + Love, NYC Hotsauce Company sauce, and garlic-and-dill potato chips and Bloody Mary mix from McClure's.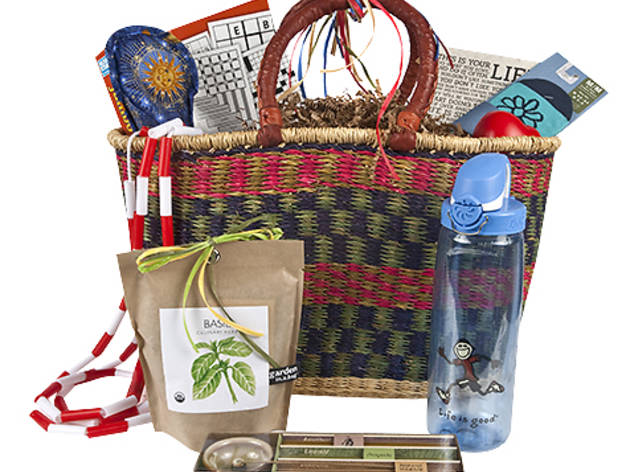 3/10
Photograph: Michael Skigen
It's Only Natural Gifts build-your-own gift basket, prices vary, at itsonlynaturalgifts.com This eco-conscious website lets you create your own basket with organic and natural goods. There are more than 300 options to choose from, including organic fruits, sweets, meats, condiments, pastas, coffees and much more. We're partial to the nonperishable items, like the organic soap and bath products, natural candles, note cards, journals, garden tools and home accessories. Package the loot in a handmade African market basket ($35) or a canvas tote you can customize with an image of your choice ($20).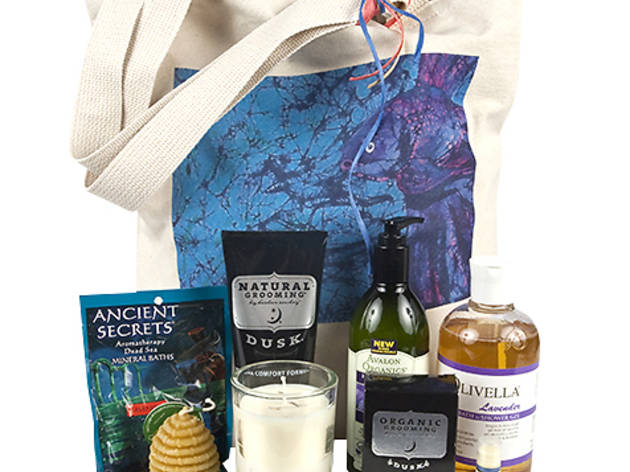 4/10
Photograph: Michael Skigen
It's Only Natural Gifts build-your-own gift bag Artist Series, $75, at itsonlynaturalgifts.com Choose a canvas bag with an artists' print ($22) and fill it with Olivella Lavender Bath and Shower Gel, Ancient Secrets Lavender Bath Salts, Sunturtle Naturals Lip Balm, Avalon body lotion, a Bee Healthy natural beeswax candle, Herban Cowboy men's organic grooming soap and shave cream, and a Zum Glow soy candle.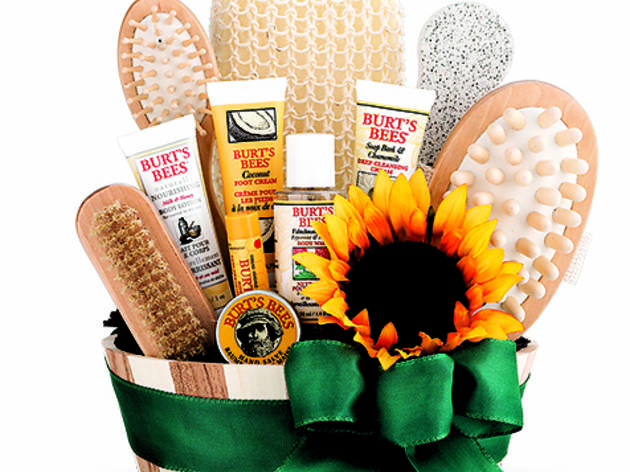 5/10
Bath & Body Invigoration sauna bucket filled with premium Burt's Bees products and spa essentials, $30, at gifttree.com This keepsake spa bucket is adorned with a personalized satin ribbon ($8) and silk sunflower, and filled with Burt's Bees Peppermint & Rosemary body wash, Milk & Honey body lotion, Beeswax lip balm, Coconut foot cream, Soap Bark & Chamomile deep cleansing cream, hand salve and spa utensils (loofah, pumice stone, massaging brush, nail brush, hairbrush).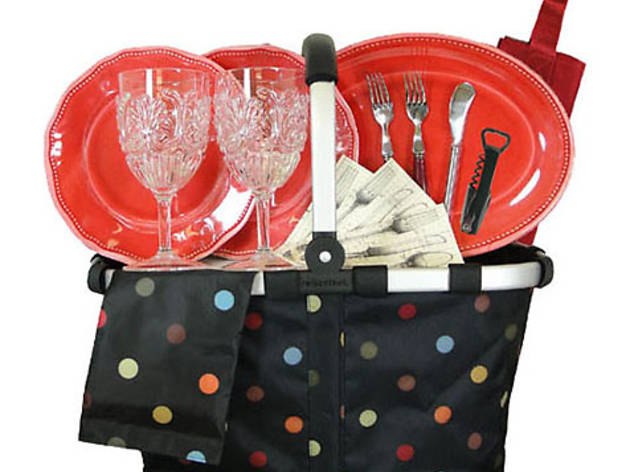 6/10
Touch of Europe picnic gift basket, $170, at touchofeurope.net A polka-dot Reisenthel picnic basket is packed with a Reisenthel bottle bag and mini maxi shopper, two Le Cadeaux melamine dinner plates, a Le Cadeaux melamine platter, two Le Cadeaux break-resistant wine glasses, two French Design forks, an olive wood spreader, a pack of napkins with a cutlery motif, and a wine and bottle opener.
7/10
Bedford Cheese Shop the Board gift basket, $60, at bedfordcheeseshop.com The grouping from this local fromage emporium includes a wooden cutting board, cheese knife, two ⅓-pound pieces of cheese, a jar of mustard and box of crackers.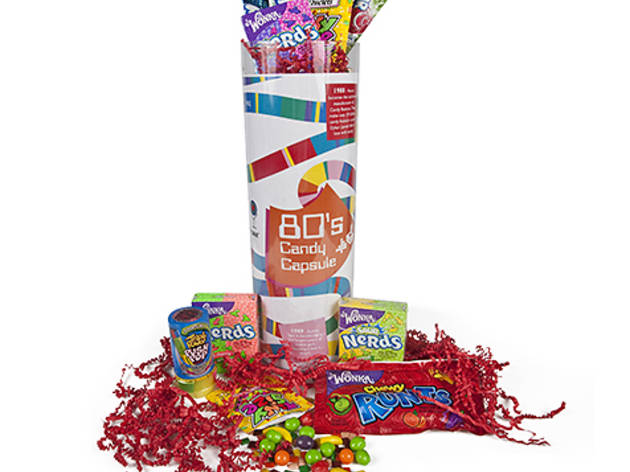 8/10
Photograph: Michael Skigen
Dylan's Candy Bar '80s Time Capsule, $40, at dylanscandybar.com Nostalgia can be sweet thanks to this towering bin filled with Airheads, Nerds, Push Pops, Bubble Tape, Big League Chew, Chicklets, Runts and all the other candy you grew up on.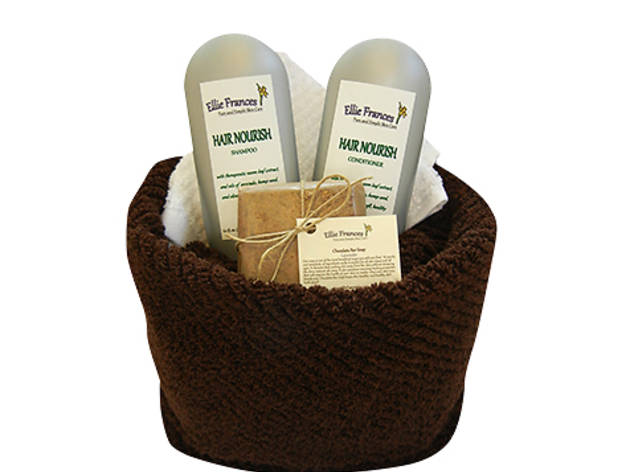 9/10
EllieFrances Healthy Hair bath-towel gift basket, $33, at elliefrances.etsy.com The basket for this beauty bundle is actually a full-size bath towel; inside is Hair Nourish shampoo and conditioner and Chocalata Bar Soap.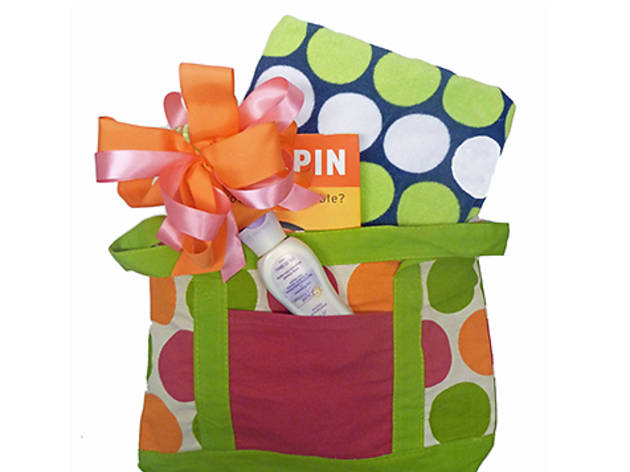 10/10
Book and Beach Bouquet, $75, at bookbouquet.com Know someone going on a tropical holiday? Send them off with this warm-weather companion, which includes a beach towel, SPF 25 sunscreen, eco-friendly tote bag and best-selling book of your choice (there are currently 20 different titles to choose from).
Prepackaged baskets can be boring, so for our gift guide, we found ten out-of-the-box gift basket ideas that make the perfect present. These unique gifts include a guitar-shaped box for guys, beauty products any woman would love and Brooklyn-based grub that'll appeal to the expats on your list.
Recommended: Complete holiday gift guide