The best shops in Silver Lake
Silver Lake is home to some of the best shopping on the Eastside—here are the neighborhood's top boutiques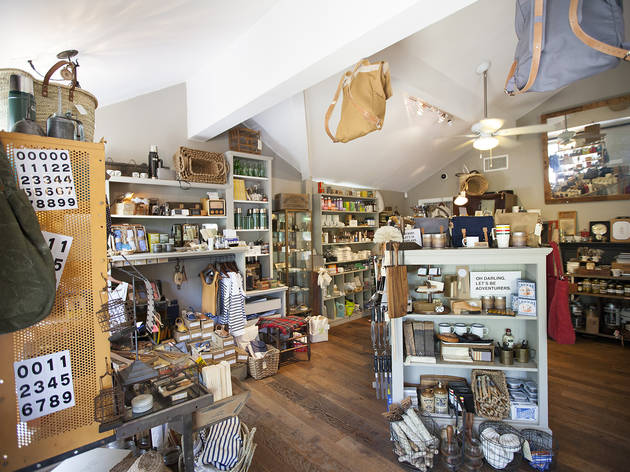 It may not be as renowned as Rodeo Drive or Abbot Kinney, but Silver Lake has some serious shopping chops, and more than enough stores to keep you busy for an afternoon, no matter what it is you're looking to buy. From vintage threads to custom bikes, there's tons to peruse in this 'hood—and, luckily, a number of coffee shops where you can refuel during your spree. We've listed our top shops for clothing and accessories as well as home goods, records, booze and more, but the boutiques go on and on, so use this as a starting point and shop 'til you drop (or until the stores close).
RECOMMENDED: See more in our neighborhood guide to Silver Lake.
Indulge your inner lush at Barkeeper, a shop fully dedicated to, well, keeping a well-stocked bar. In addition to top-shelf and rare liquors, you'll find vintage glassware, libation accessories (think: themed swivel sticks, oversized ice cube trays, a colorful array of cocktail guides) and a massive offering of bitters—tasting encouraged. The goods here are solid, but the service is notoriously crotchety.
Read more
Walk down a wooden pathway to a veritable secret garden: an outdoor courtyard with a babbling fountain, vine-covered trellis, hanging lanterns and wooden benches. Enter the intimate tea room, where Spice Station houses its signature blends and rare teas from across the globe, or head into the station proper—an aromatic room stocked floor to ceiling with colorful jars containing more than 250 different spices, plus an extensive array of dish-specific blends (such as Poseidon's Catch, great on white fish). You could (and can) spend hours here, unscrewing jars, sniffing and tasting, or creating blends of your own.
Read more
This comic book and graphic novel shop has shelf upon shelf of illustrated stories as well as beautiful art books and local zines. If you're into on-page art and illustration, this is the place to go—the shopkeepers will geek out with you over the newest issue of Aquaman or the sophomore effort of a graphic novelist. They can also recommend great stuff for first-timers and gift suggestions for anyone on your list.
Read more
Vacation Vinyl offers the usual selection of records, plus an extensive array of cassette tapes. The shop specializes in punk, metal and experimental music, but don't worry, they'll also have that Hall & Oates album you've been searching for. Keep an ear open for live shows in the space and leave them a note if you're searching for a hard-to-find record—chances are, they can help.
Read more
This shop boasts sleek frames, colorful components and a friendly, knowledgeable (and dreamy) staff. Buy a bike, a kit, a water bottle—they even sell small-batch cold brew and some pretty rockin' socks and patches. There's no bike snobbery here—come in for repairs, parts, or to get outfitted with a brand new ride. And speaking of rides, the shop organizes 'em regularly—inquire within for details.
Read more
If you have a knack for classic American-made goods, this Detroit-based flagship store is your new one-stop shop. Nestled within Silver Lake's ever-growing neighborhood of boutique-style stores and eateries, this polished spot offers classically designed bicycles, quality leather goods, fancy watches and other polished trinkets for the old soul.
Read more
Rickety porch steps lead into an old house-turned-shop, every inch of which is covered with beautiful refurbished guitars, ukes and banjos. Ask Reuben, the owner, to show you some rare antique string instruments or the latest banjo he's made out of an end table. It's the perfect spot to go for repairs or to buy a new (or old) instrument.
Read more
Stockroom sells a wide array of unique, ahem, intimate outfits. But if you're looking for lingerie, move along—this shop specializes in the rubber mask, ball-gag, leather whip and latex variety of intimate accessories. That's not to say the shop isn't high-end—the place is spotless, organized and has some of the most encyclopedic employees we've found in the industry. Stockroom also has a mezzanine floor with all sorts of sex toys, plugs, wands, lubes and other items to get you in the mood regardless of whether or not BDSM is your thing. Tip: Be sure to check out the shop's classy selection of erotic fiction.
Read more
This sweet shop carries an adorable selection of independent brands—everything from woodland creature stuffed animals to baby backpacks and bathing suits—tucked into a small, narrow shop that feels more suited for kid-sized humans than their parents. Peruse books, toys, hand-carved figurines and hand-lettered cards—everything here is small and whimsical, and you don't need a kid in your life to shop here.
Read more