Trend watch: Stylish gym bags for men and women
These fashion-forward men's and women's gym bags in our trend watch will help you schlep your workout gear in style.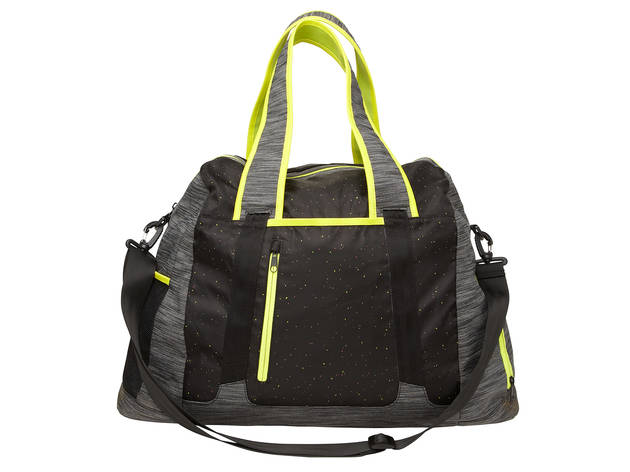 1/7
Part of California surf brand Roxy's debut collection of fashionable yet performance-driven women's activewear, this durable heathered-Cordura tote is well suited for workouts both indoors and alfresco. A side-zip shoe compartment keeps smelly sneakers contained, while fitness-mat-carrying clips allow yogis on the go to keep their hands free. The on-trend neon trim and subtle splatter-print panels provide the seasonless bag with a touch of whimsy. Roxy Pull Rank duffel, $88, available Jan 10 atroxy.com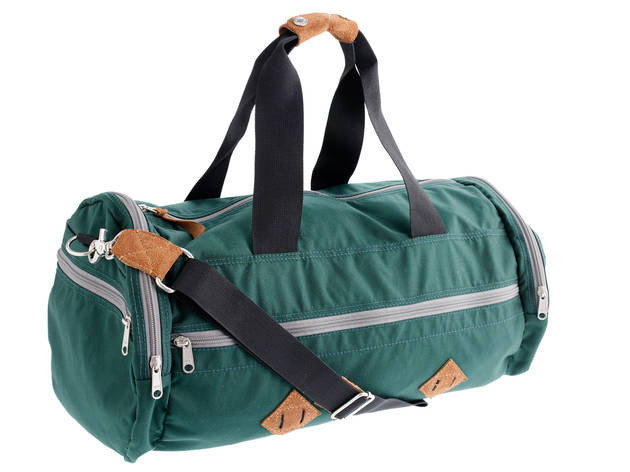 2/7
Channel the golden age of pumping iron with this '70s-inspired coated-nylon duffel. Ample exterior pockets allow you to quarantine postworkout gear from the main pouch, but it's the suede carabiner patches we find truly ingenious. You won't have to worry about spillage from hooked-on bottles ruining your bag, either—it's crafted from water-resistant fabric. J.Crew Bryson gym bag, $70, at jcrew.com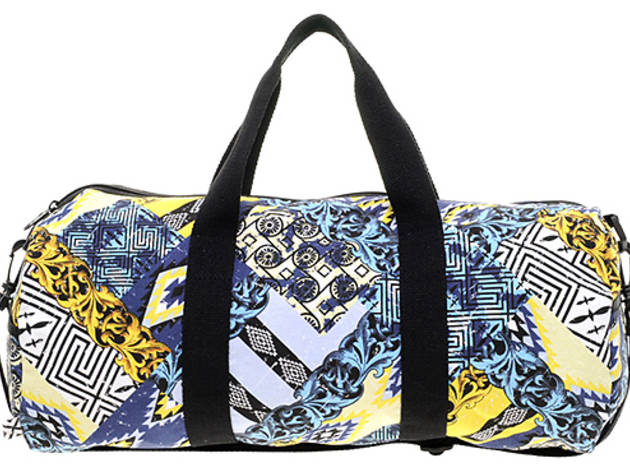 3/7
You'll never have trouble distinguishing your bag from the sea of boring black totes at the gym with this flamboyantly patterned cotton duffel. Its adjustable cross-body strap makes it easy to travel with—ideally on overnight trips to Vegas or Burning Man. Asos House Party patterned barrel bag, $44, at us.asos.com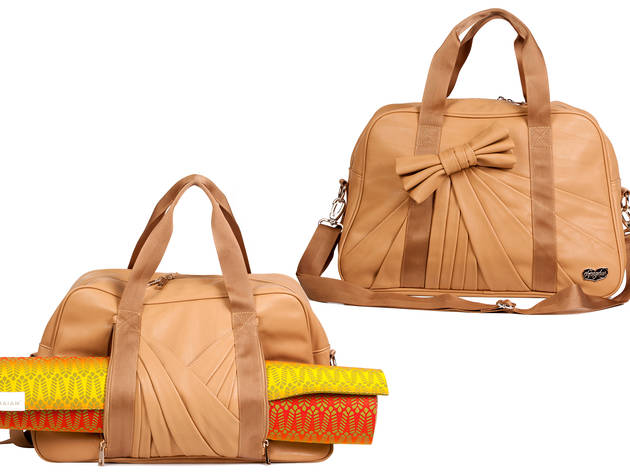 4/7
After a fruitless search for a chic, roomy gym bag, San Francisco fitness and Pilates instructor Cassey Ho created this unapologetically girly carryall. Pleats and a bow make the vegan-leather tote look like a normal purse, but don't let such feminine details deceive you: Workout-friendly features—including a yoga-mat holder, lock loop, clear jewelry pouch and two mesh water-bottle pockets—confirm its athletic intentions. oGorgeous Beverly Bow Tie carryall gym bag, $134 (normally $149), at ogorgeous.com. Use code "TIMEOUT" at checkout to receive this discount through Jan 15.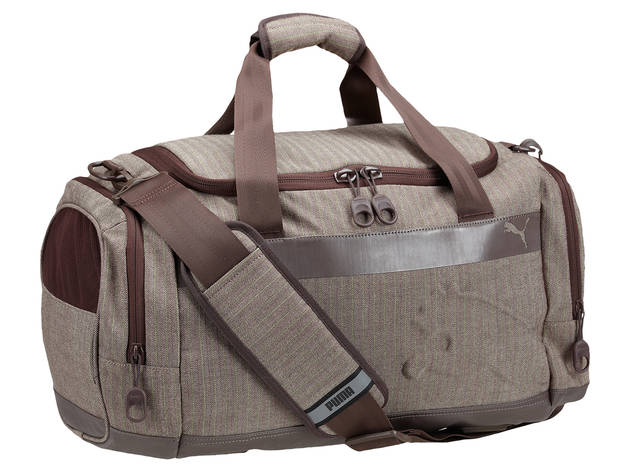 5/7
If you're one of those motivated types who hits the gym directly before or after work, this roomy carrier will help you lug your gear in an inconspicuous way. Its herringbone exterior is spiffy enough for the office, and a ventilated side pocket allows you to stash your sneakers without offending your cubemate. Puma Blueprint duffel bag, $70, at Puma (shop.puma.com)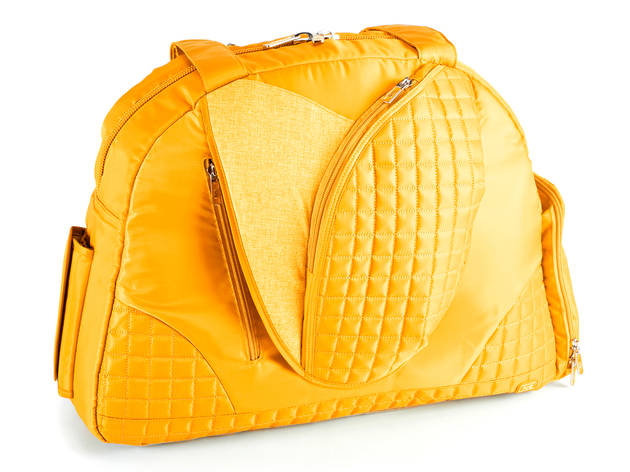 6/7
Photograph: Matthew Plexman
The cheerful color and futuristic waffle-quilted texture of this water-repellent bag initially grabbed our attention, but its intuitive details—padded pockets for gadgets, a removable key fob, a built-in ring holder—prove there's more than meets the eye. Other smart features include an easy-to-wipe-down coated bottom and a streamlined loop for carrying a yoga mat or jacket. Lug Cartwheel fitness/overnight bag, $76 (normally $95), at luglife.com. Use code "TONY" at checkout to receive this discount through Jan 31.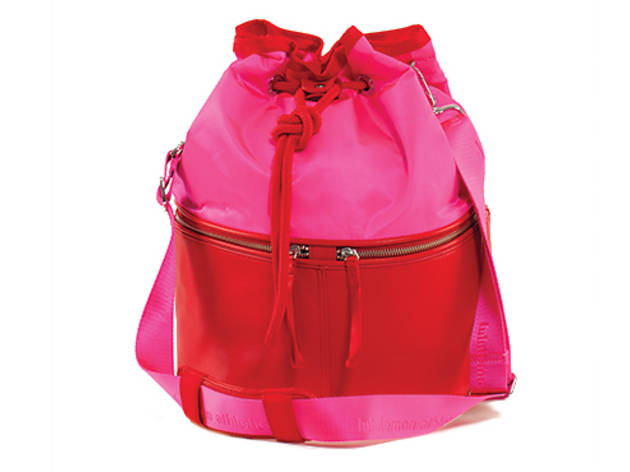 7/7
Photograph: Derrick Belcham
Our mouths dropped when we realized that this trendy color-block bucket bag was designed for athletic activities. In addition to helping you seamlessly transition from the yoga studio to the street, the durable carryall (said to be capable of supporting 50 pounds of gear) belies its compact, locker-friendly size with tons of compartments, including a removable pouch for toting jewelry, socks and keys to class. Lululemon Athletica Method bag, $138, at Lululemon, locations throughout the city; visit lululemon.com
The beginning of the new year inevitably brings countless resolutions to workout more and get back in shape. Kick-start your winter fitness routine with these stylish gym bags in our latest trend watch for both sexes. Options include on-trend neon and colorblock styles from Roxy and Lululemon, classic caryalls from Puma and J.Crew, and loudly-printed duffels from JanSport and Asos.
Follow Cristina Velocci on Twitter: @cvelocci