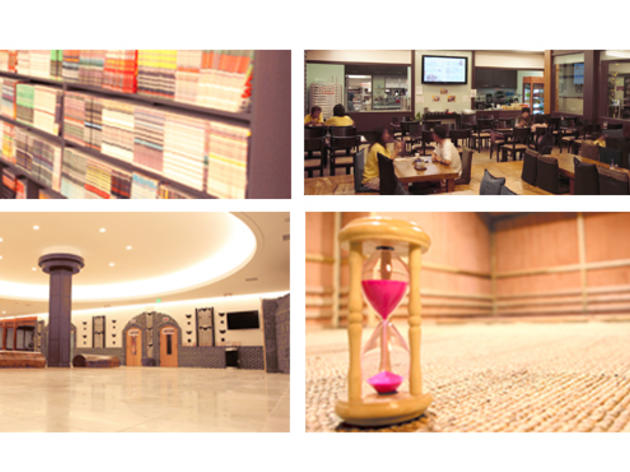 There are Korean saunas—a classic LA experience—and then there's Wi. The 24-hour mega spa is the Disneyland of Koreatown saunas—families and children included, to the lament of those looking for a relaxing experience—complete with treatment rooms, five different heated rooms, hot tubs, dry and steam saunas, TV lounge area, restaurant, library and sleeping rooms. Couples and groups laze (and sweat) in the co-ed jimjilbang—the dress code is oversized T-shirts and khaki shorts—before heading into separate men and women's areas where clothing is not allowed and a body scrub is a must do for baby soft skin.

RECOMMENDED: Korean spas
Venue name:
Wi Spa
Contact:
Address:
2700 Wilshire Blvd
Los Angeles


Opening hours:
24 hours
Do you own this business?
Rating Breakdown
5 star:

3

4 star:

0

3 star:

0

2 star:

0

1 star:

0
Wi Spa is one of many, many Korean spas in LA. It's set apart by, first and foremost, it's $15 entry fee on Tuesday, but also it's vast co-ed floor complete with a computer lounge, a library of manga, heated marble floors for napping and a cafeteria serving up fresh bibimbap and ramen. Also, it's the only spa I know of that has a clay ball sauna, which is by far the most fun. Jade sauna? Boring. Salt sauna? Yawn. Wi has those too, but the clay sauna is filled with tiny, warm balls of clay, about a foot deep, which means you can lay down and nestle into them, pile them in top of you, and essentially burrow into a warm, healing heap of clay for as long as you can sweat it out. There's also a bulgama, a sweat lodge heated to 235 degrees that I'm too scared to go into, partially because I might pass out and partially because there are always older Korean men holding court in there. Are they the Korean mob?! I feel like if I overheard the wrong thing they'd have to kill me by locking me in there. Nope, I'll stick with clay.

My friend Kate introduced me to Wi Spa not long after I moved to LA and I've been hooked ever since. I had never been to a Korean Spa before so I had no idea what I was missing out on. Wi Spa has daily specials too that cut the price of admission down to $15. Their site has the full breakdown, but admission every Tuesday is only $15 and weekdays it's $15 until 10am. I wouldn't even know where to begin talking about all the great things (like the killer 24 hour restaurant) but I always recommend everyone try the cold tub at least once!