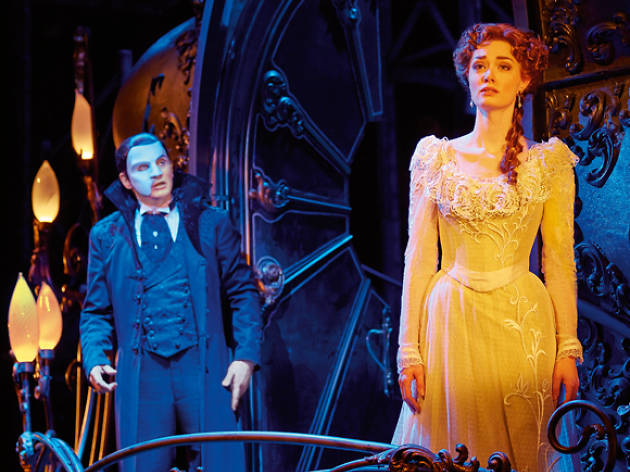 Time Out says
Because you couldn't get enough of The Phantom of the Opera, we get to see Christine, Raoul and the Phantom as they meet again—or do they? The music is, of course, by Andrew Lloyd Webber, with lyrics by Glenn Slater, and the book is by Lloyd Webber, Slater, Ben Elton and Frederick Forsyth.
Details
Rating Breakdown
5 star:

0

4 star:

0

3 star:

0

2 star:

0

1 star:

1
I guess the first question one should ask is why does this so-called sequel to Phantom of the Opera even exist. There was no reason for it, and the two-and-a-half hours of traffic onstage at the Pantages proves it. I have seen thousands of plays and hundreds of musicals over the past six decades. Love Never Dies has bumped its way into the top 10 WORST musicals I've ever witnessed. It makes the fatal mistake of being BORING from beginning to end. It's also over-amplified (badly). The direction is, well, just awful. The Phantom is doing a bad Lon Chaney imitation (from the silent movie). The plot (such as it is) has holes big enough to drive a truck through. It's one of those shows (like Amélie at the Ahmanson) where you truly feel sorry for the actors having to perform such drivel. What little choreography there is basically is lackluster (again to be kind). At the performance I saw, hundreds of people walked at the intermission (I wish I had done so as well but I promised to stay until the bitter, bitter end). While the costumes are quite good, the sets are overdone and distracting (especially in the final scene).
This mess of a sequel is predicated on the Phantom and Christine having had one night of sex AFTER the action in Phantom of the Opera. Huh? He had already disappeared by then according to the original. She bears his child (but doesn't tell husband Raoul this). Major huh. And Raoul has suddenly become a drunk and gambler. It just makes no sense. At the laughable ending (really, everyone around me was giggling), the Phantom is suddenly a good guy and Christine does a Mimi death, singing at full voice though she's been shot and is dying.
Presenting Love Never Dies (or as the snarky British press calls it, Paint Never Dries) is indicative of how much contempt the artistic director at the Pantages sometimes has for its audiences. The show was so bad it couldn't make it in New York (no investor would touch it). Hal Prince, the original director of Phantom, told Lloyd-Webber not to do it because it was a really bad idea (Andrew, you should have listened). But the Pantages has so little respect for its patrons it offered up this disaster anyway—knowing full well how awful it is (I heard this from someone at the Pantages). Then again, why should I be surprised? Look at next season's offerings—six revivals, one moderate success (A Bronx Tale) and one flop (Charlie and the Chocolate Factory) when it should have been offering us The Band's Visit, Great Comet, and Groundhog's Day.
Love Never Dies is the worst show I've ever seen at the Pantages (and considering last season's horrible The Bodyguard, that's saying something). Yes, it did receive a standing ovation, but LA audiences give anything a standing ovation, even (I guess) paint drying.