9 of LA's most bizarre roadside landmarks explained
Three words: car dealership mannequins. We try to make sense of some of the wacky landmarks that confound LA drivers, from the quirky to the downright creepy.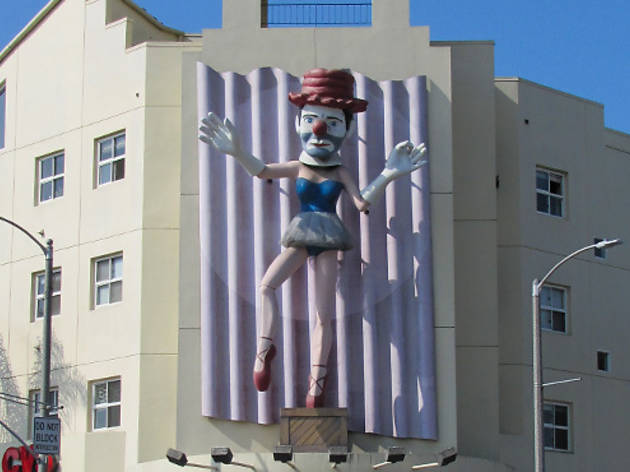 LA's most bizarre roadside landmarks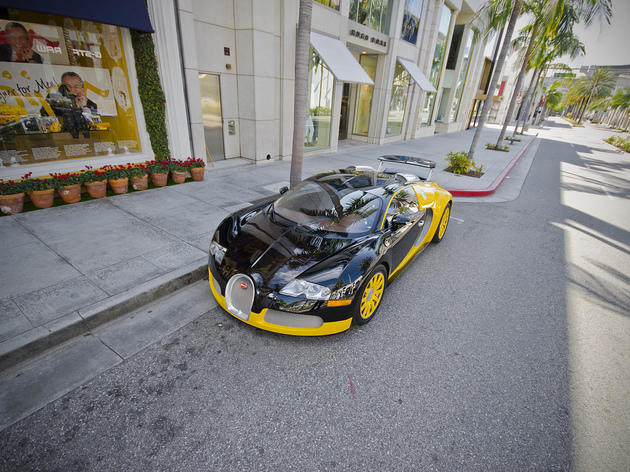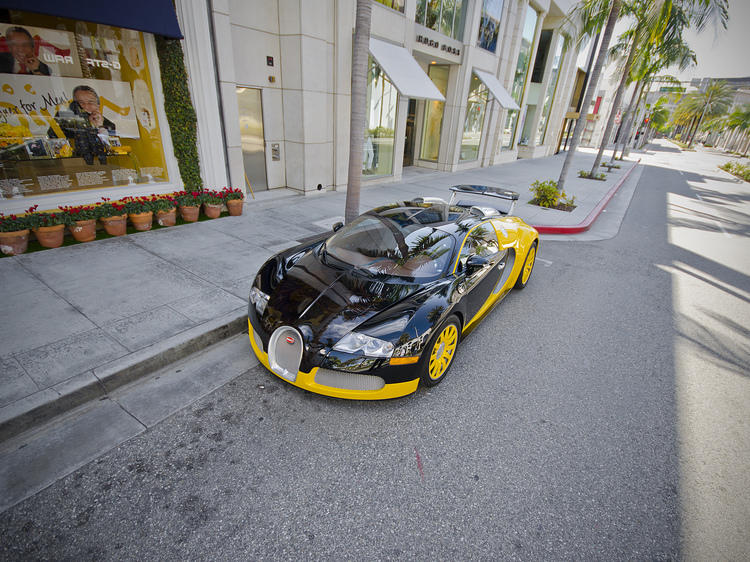 Photograph:
Gut reaction: Am I more impressed by the crowd or the car?

The first time you visit Rodeo Drive, you may be in awe of the lavish displays of wealth—especially that black and yellow Bugatti. But after subsequent trips to the area, you realize that this car is always parked in front of Bijan, not to mention surrounded by an omnipresent crowd of tourists posing beside it for pictures.

Explanation: The display of Bijan Pakzad's cars, which is arranged daily by the store's manager, commemorates the late designer. Though you're most likely to spot the Bugatti, the rest of Bijan's car collection reportedly also includes a Mercedes, Ferrari and Rolls-Royce—all black and mustard yellow.

House of Bijan, 420 N Rodeo Dr (Beverly Hills)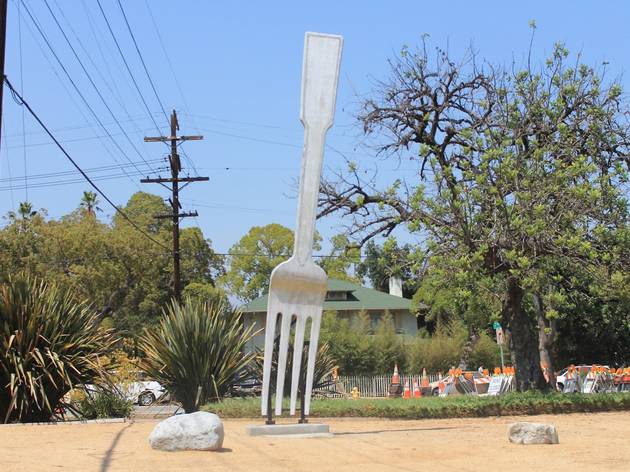 Photograph: KiMi Robinson
Gut reaction: Oh, a fork in the road. I get it.

It's hard to get a good look at this public artwork with the flow of traffic, but it's pretty self-explanatory: an 18-foot fork stuck in the ground, handle-up.

Explanation: Supposedly the biggest fork west of the Mississippi, the piece—which literally popped up overnight—is now up for good after it was temporarily taken down in 2010 for safety reasons. The motivation behind artist Ken Marshall's guerrilla art installation? A prank for his friend's 75th birthday. Talk about big gestures.

S Pasadena Ave, south of Bellefontaine St (Pasadena)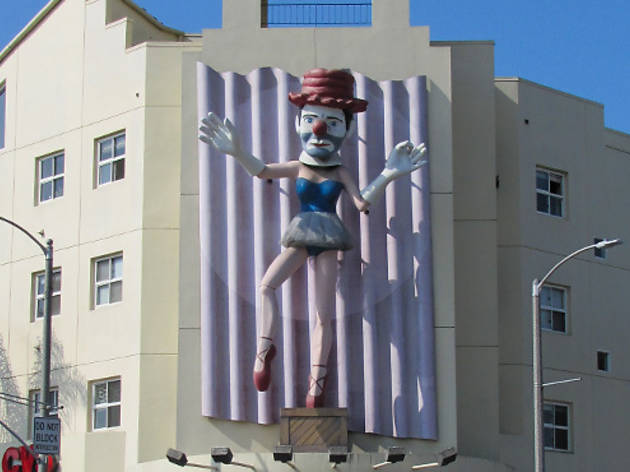 Photograph:
Gut reaction: I don't know what I just drove by, but it was terrifying.

Imagine asking Siri for the closest CVS, only to be greeted by a ballerina with a bearded clown head looming above the entrance in a half-assed pose. Such wackiness is right at home in Venice, but it still manages to be shocking.

Explanation: This piece by Jonathan Borofsky started in a gallery, reflecting performances found on the Venice Boardwalk. Ballerina Clown is a mesh of the ridiculous and classical, feminine and masculine, which didn't sit well with the public when it was first erected 25 years ago.

CVS, 255 Main St (Venice)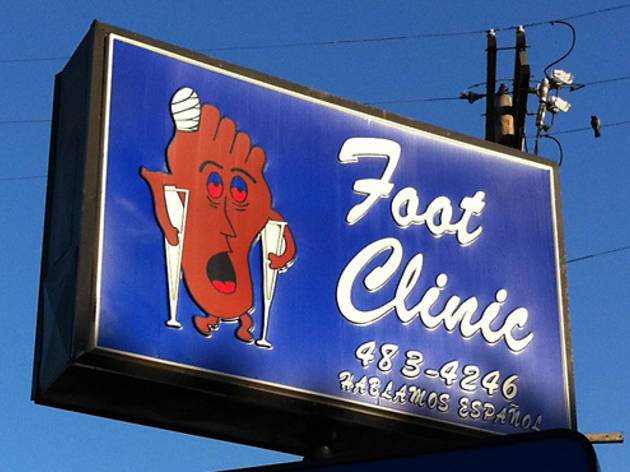 Photograph:
Gut reaction: I can see why a foot clinic would need some sort of advertisement. But this?

Nestled between Echo Park and Silver Lake is a podiatrist's office that unwittingly began a quasi-cult movement—fueled by references from Beck, Eels and David Foster Wallace—when it decided to put a cartoon foot up on a rotating sign. The sign has even inspired the surrounding neighborhood to be dubbed HaFo SaFo.

Explanation: Featuring a healthy foot on one side and a sick one on the other, some people see a productive day ahead if they spot the happy foot first. Prophetic device or not, it's really just an old sign with two grotesque feet.

2711 W Sunset Blvd (Silver Lake)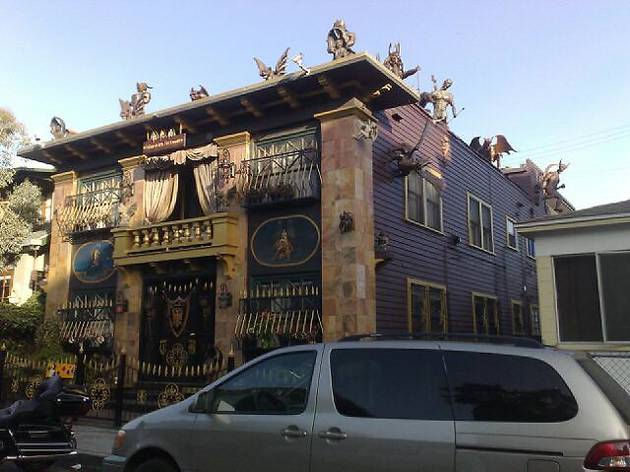 Photograph:
El Bordello Alexandra Apartments
Gut reaction: Is this even legal?

This Venice landmark is not, in fact, a haunted house, cult's headquarters or mock-up for a renovation of Disneyland's Haunted Mansion. A rumored heroin den turned regular residence, El Bordello is fiercely protected by rooftop gargoyles, a centaur and a demon. As gaudy as it is with its spired fence and gold-accented murals, the place still manages to attract a steady stream of tenants.

Explanation: The couple that's owned the building for the past decade has been renting out rooms and creating a freespirited community. They take pride in introducing eccentric decorations and earning some curious glances—which is saying something for Venice.

20 Westminster Ave (Venice)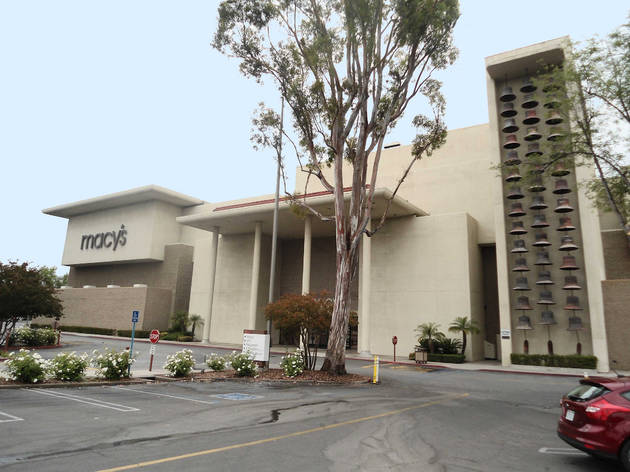 Photograph:
Gut reaction: There's nothing more American than a Macy's decorated with Liberty Bells.

These 42 exact replicas of the patriotic icon don't seem to have any sort of documented purpose or source. Let freedom ring—or maybe that's just the sound of another "seasonal" Macy's sale.

Explanation: According to Atlas Obscura, the building was once a Robinsons-May, whose department stores have used a similar architectural feature. These, however, are the only bells that are precise imitations.

Macy's, Westfield Promenade, 6100 Topanga Canyon Blvd (Woodland Hills)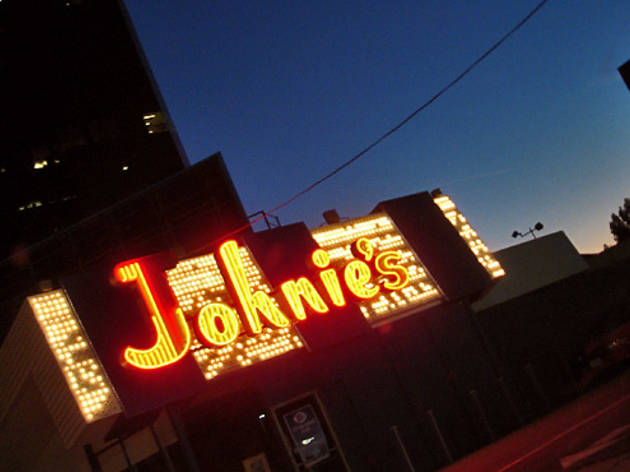 Photograph:
Gut reaction: Are my tax dollars funding this place's electric bill?

Don't be deceived by the flashing lights along the roof of this Space Age building because Johnie's has been closed for over a decade. Seriously, it's a bit deceiving if you see the blinking facade as an opportunity to buy a little pick-me-up, only to find the place completely empty.

Explanation: The abandoned coffee shop, which can be seen in The Big Lebowski and Miracle Mile, is a holdout from the mid-'50s building boom on Wilshire. Even though its been shuttered for over a decade, the empty cafe isn't going anywhere; it's now an LA historical landmark because of its unique Googie architecture and is frequently used for location shoots.

6101 Wilshire Blvd (Mid-City)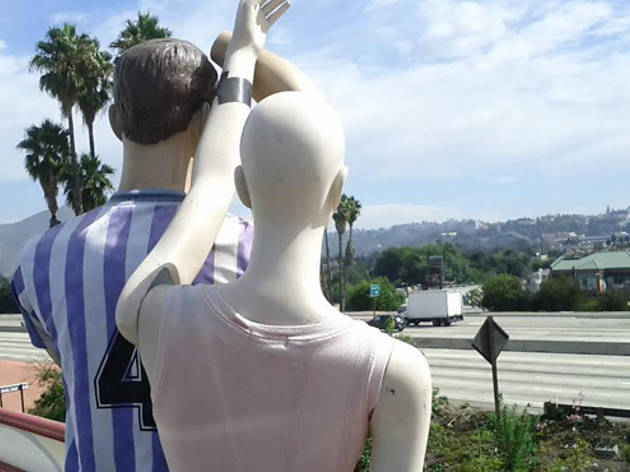 Photograph: Courtesy North Hollywood Toyota
North Hollywood Toyota mannequins
Gut reaction: Are they giving away free cars? Why are there so many people there?

You probably just know this as "the creepy mannequin dealership." Yes, that one. And no matter how many times your car crawls past the dealership as you wait to transition onto the 101, these plastic families waving at drivers don't get any less weird.

Explanation: What seems like a marketing ploy to make passersby think everyone's buying a Toyota is actually just a quirky tradition that stemmed from a group discount on mannequins, according to KPCC. You might have seen them in jerseys for the World Cup, and you'll want to check back in October for their Halloween costumes.

Off the Lankershim exit on the 134 (North Hollywood)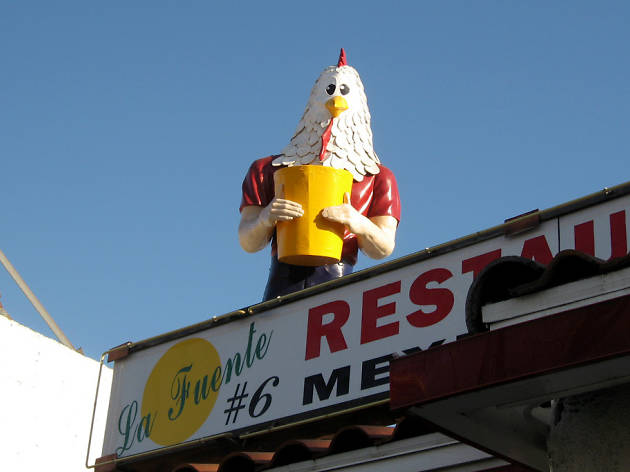 Photograph:
Gut reaction:
Is that Paul Bunyan with a beak?
Cruise up Figueroa and eventually you'll come across this 22-foot-tall burly man perched on a rooftop, giant yellow bucket in hand. Oh yeah, and he has the head of an anthropomorphized chicken—wattles, comb, beak and all. Welcome to
Highland Park
?
Explanation:
Chicken Boy—affectionately known as "the Statue of Liberty of Los Angeles"—started his life atop a Downtown fried chicken shack in the '60s. Like many other Muffler Men at the time, this outdoor ad was fabricated by International Fiberglass in Venice and then chicken-ified by its owner. Chicken Boy was dismantled in 1984 and sent into storage, until art director Amy Inouye revived him atop her Highland Park design studio in 2007.
5558 N Figueroa St (Highland Park)