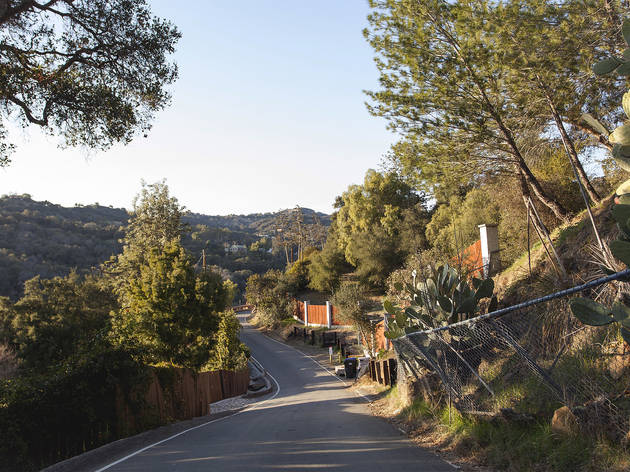 Your guide to L.A.'s canyons
Find scenic drives, serenity, shopping, restaurants, hikes and hidden gems throughout Los Angeles' gorgeous canyon communities
Throughout the past century, Hollywood starlets and folk-rock legends alike found peace and inspiration in L.A.'s canyons, but there's never been a better time to visit than right now.
Drive higher, think clearer, breathe deeper. It's the way the light strikes one side of a mountain, how the oaks drape over the two-lane roads and the sound of the coyotes' soft howl just after sundown. It's the legacy of the U.S. folk-rock movement growing louder around the razor-sharp curves of the Santa Monica Mountains. It's the secluded calm, a haven carved out of the hills above L.A.'s chaos. The allure of the canyons is inescapable once your car climbs their well-worn roads.
The era of folk and free love trickled out of the mainstream but never left the canyons. Magic is still hidden around every bend in these mountains, and it's yours to discover. Even California wildfires and mudslides couldn't stop the magic of these canyons; after the Woolsey Fire swept through in late 2018, the tightknit communities came together to help rebuild, restore and renew their landmarks, shops and neighborhoods. So, fill up your gas tank and head for the hills—it may look like home to you, too.
Beachwood Canyon: The one with the Hollywood Sign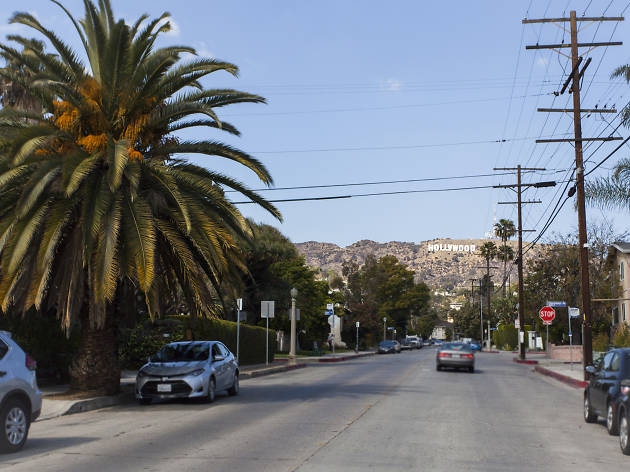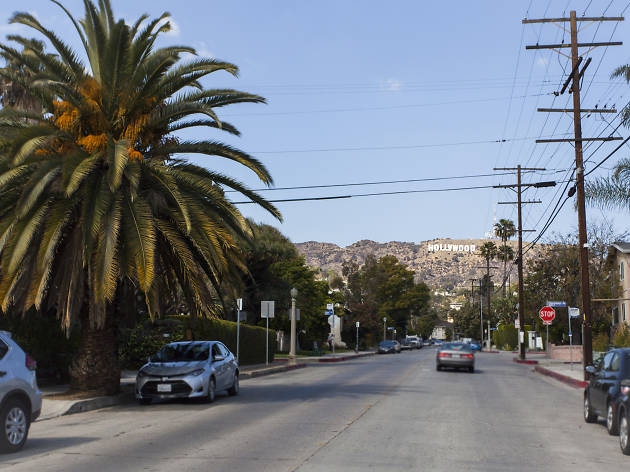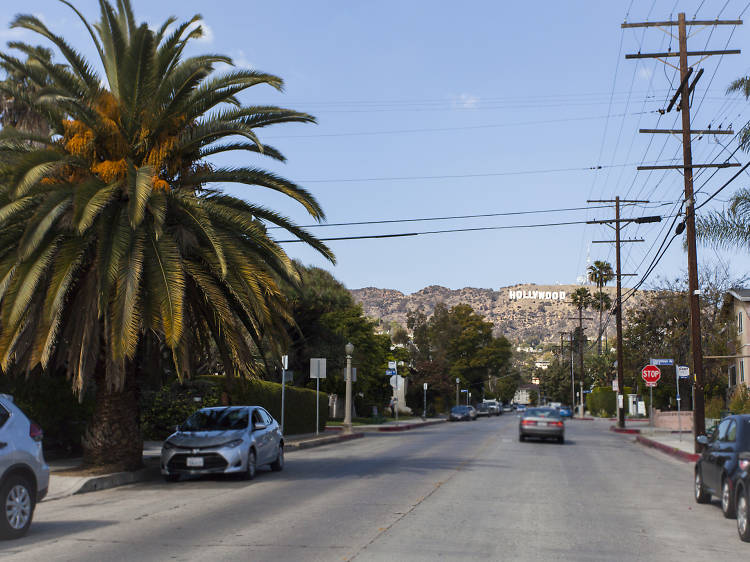 Photograph: Stephanie Breijo
Easily the most sun-touched and energetic of L.A. canyons, Beachwood is a buzzing and casually glamorous scene situated just below the Hollywood Sign. Billed in the 1920s as the exclusive and star-studded neighborhood Hollywoodland, its main drag, Beachwood Drive, still acts as a winding red carpet to some of the city's most stunning homes. Midcentury, Art Deco and Spanish-style pastel buildings line the wide palm-flanked street, framing the iconic sign. As the canyon gently twists north, the apartments give way to charming cottages and palatial homes dropped into culs-de-sac and side streets that climb the hillsides. Throughout the day, locals and tourists walk the peaceful roads and pop into the cheery Beachwood Cafe, where pastries baked daily line the counter. Around the corner, Beachwood Market stocks L.A.-made sweets, local poultry and imported specialties.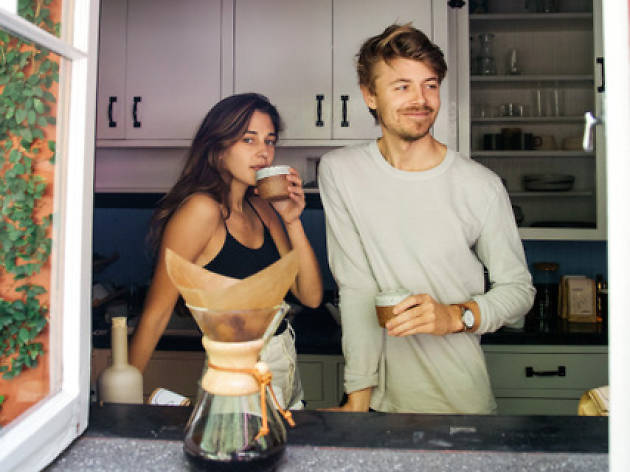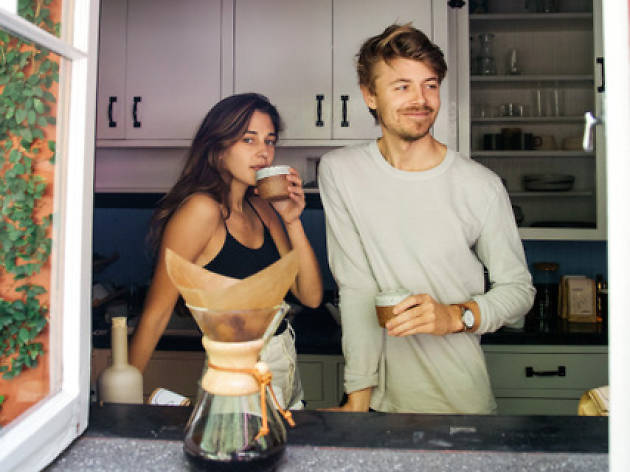 Photograph: Courtesy Canyon Coffee/Julie Pointer
Canyon Coffee's ode to the neighborhood
Casey Wojtalewicz, right, and Ally Walsh fell in love with coffee, Beachwood and each other almost simultaneously, eventually partnering to launch their bagged-bean company, Canyon Coffee. Here, Wojtalewicz talks about Beachwood's allure and inspiration:
"One of the best parts about that canyon is, you're in heavy traffic on Franklin [Avenue], then you turn onto Beachwood [Drive] and every quarter mile you go up, you just breathe easier. There's this sense of being a little removed from the city and a little more in nature, and that sense of almost solitude made it even more special for us to be able to wake up together and have our own morning and not feel the hustle and bustle of the city. That ethos of what has become our company really got its roots in that environment; I was living in Beachwood when we met. It's really a creative place, and all my friends who live there agree that it has this certain kind of energy that's conducive to creativity and making things. That was really the foundation of our relationship: We just spent time up there. When we were developing what we wanted our brand to be, we thought of how canyons concentrate energy in the middle. We just thought that was a nice analogy for what we wanted our coffee to do: bring people together, concentrate energy in the middle."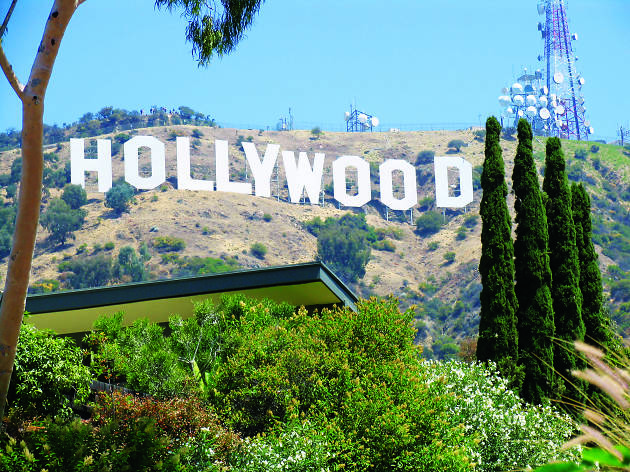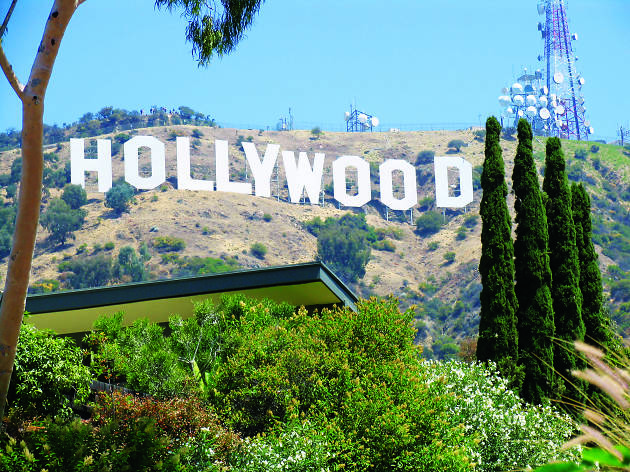 Photograph: Courtesy Shutterstock
Here's how to catch a glimpse of the famed Hollywood Sign (because no, you can't drive straight to it).
If you just want to see it
Pull over anywhere on Beachwood Drive, where the parking is ample (but mostly restricted to permit-holders on weekends).
If you want a good view
Drive or bike to Lake Hollywood Park, a secluded green space just under the sign.
If you want a close encounter
Ride on horseback to get as near to the front of those famed nine letters as you legally can, thanks to tours from Sunset Ranch. Or simply hike through Beachwood's residential hills. We recommend the Beachwood–Ledgewood–Mulholland Drives route. But beware of the lack of sidewalks, and, pretty please, be respectful of the locals.
Latigo Canyon: The perfect drive to L.A.'s wine mecca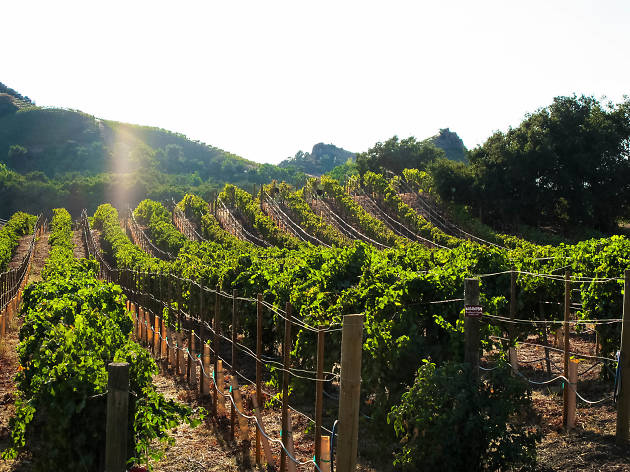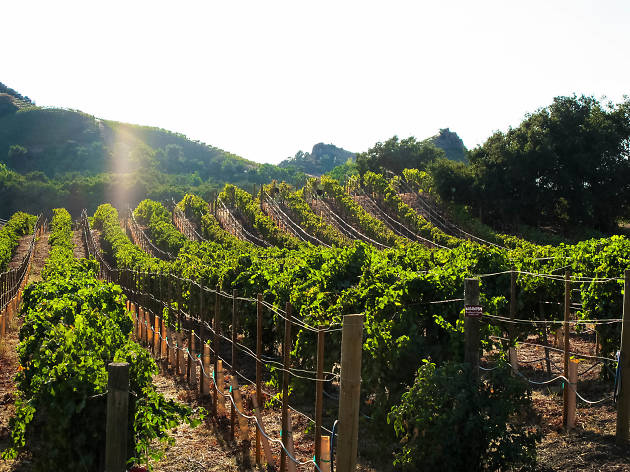 Photograph: Courtesy Malibu Wines
On a clear day, few drives can compare to Latigo Canyon Road. With sweeping ocean and mountain views—and less traffic than you'll find on Kanan Dume Road, the massive bypass built decades later—it's one of Malibu's twistiest, curviest country roads, and it leads right to dining, hikes and Malibu Wines (pictured), one of the city's top vineyards, among other key spots to sip. Here's how to maximize your wine time.
After pulling onto Latigo from the Pacific Coast Highway, kick-start your metabolism with a bit of hiking before you hit the region's wine hubs. Try the Backbone Trailhead, which even sports free parking.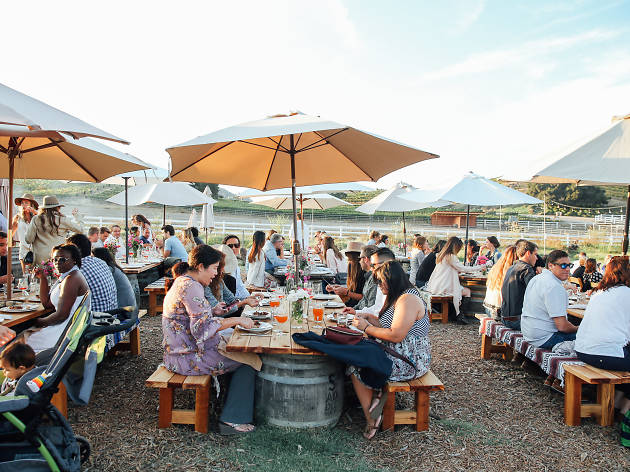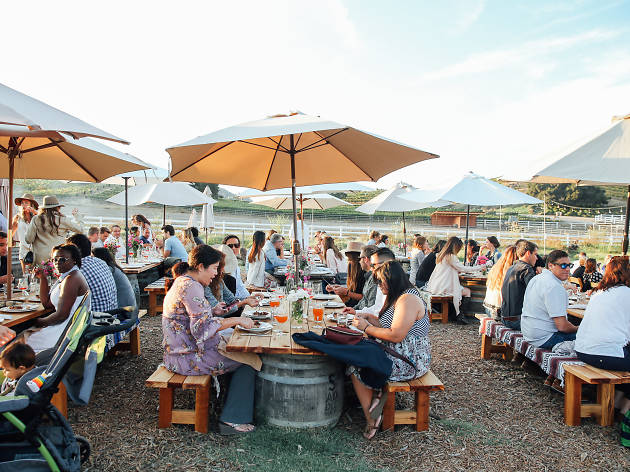 Photograph: Courtesy Saddlerock Gardens
Get back on the road and head north until you reach Kanan and Mulholland Highway, then make a beeline for vino with a side of memorable experiences at Saddlerock Ranch. This sprawling site is home to Malibu Wine Safaris, where wine tastings meet open-air tours that feature zebras, camels, alpacas, bison and Stanley the giraffe. Saddlerock also hosts alfresco, organic farm dinners by Saddlerock Gardens (above), and Malibu Wine Hikes loops you through the vineyards and animal stables, before the walk culminates in—what else?—a wine tasting. Bring some sunscreen and comfortable shoes, and say hi to Stanley for us.
Across Mulholland, Malibu Wines is currently closed for its usual tastings, mimosa-filled yoga classes and movie screenings on its scenic patio, but you can find its other outpost, the beer garden, on the other side of the canyon in West Hills. Cap off your trip down the road at Malibu Cafe at Calamigos Ranch, and don't even think about leaving without pit-smoked BBQ from this country-themed outdoor bar and restaurant.
Topanga Canyon: The boho-chic Shangri-La
Laurel Canyon: The legendary folk-rock hideaway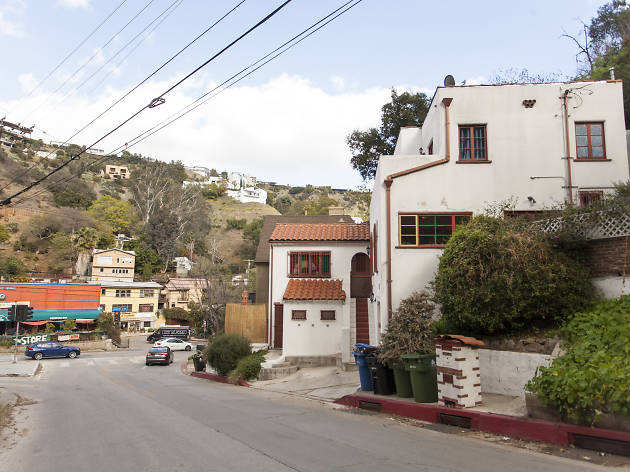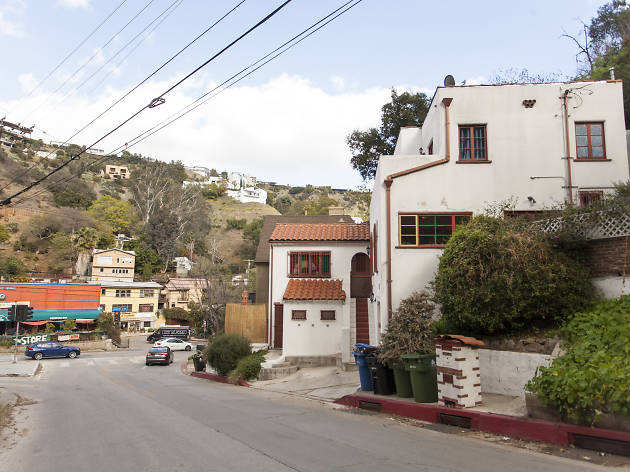 Photograph: Stephanie Breijo
Each and every morning when the sun is high,
I hunt around the canyon till I find a place to lie.
It's so beautiful to be alone, got the sun and trees and silence.
I'm in my Laurel Canyon home.
—John Mayall, "Laurel Canyon Home"
Travel the world and you'll find few neighborhoods with the mystique—and the music history—of Laurel Canyon. The Hollywood Hills and the slowly swaying eucalyptus trees seem to protect the peaceful neighborhood's residents from the posh bedlam of West Hollywood below. In the 1960s and '70s, this solitude and natural beauty drew the likes of Joni Mitchell, Graham Nash, John Mayall, the Byrds, Neil Young, Carole King and other artists, transforming the area into a hub for the counterculture and folk-rock movements.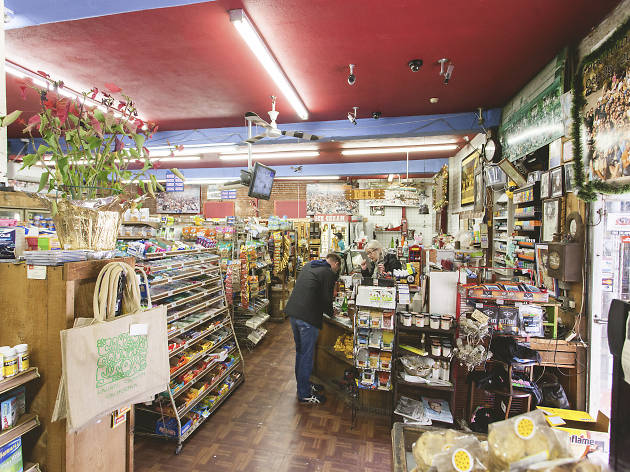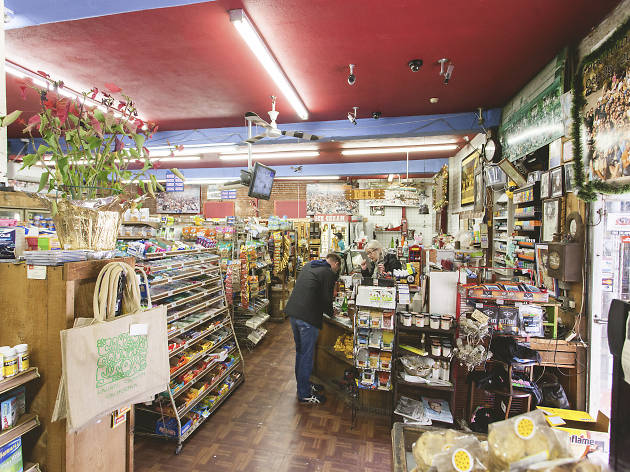 Photograph: Stephanie Breijo
Traffic snakes slowly up the still-spirited Laurel Canyon Boulevard, past narrow, curving offshoots that dead-end in shaded enclaves for hilly homes, and past the nexus of the canyon, The Canyon Country Store. Arguably the most famous corner mart in music history, it's "the store where the creatures meet" (the Doors' "Love Street"), where Mama Cass Elliot allegedly crashed in the basement for a time, and where Father John Misty met his wife, Emma Elizabeth Tillman ("I Went to the Store One Day"). Behind it, Pace keeps pace with the locals, offering organic Italian fare in a rustic and red-hued low-lit setting that, while newer than the canyon's folk-rock and Old Hollywood roots, still manages to capture their bygone glamour.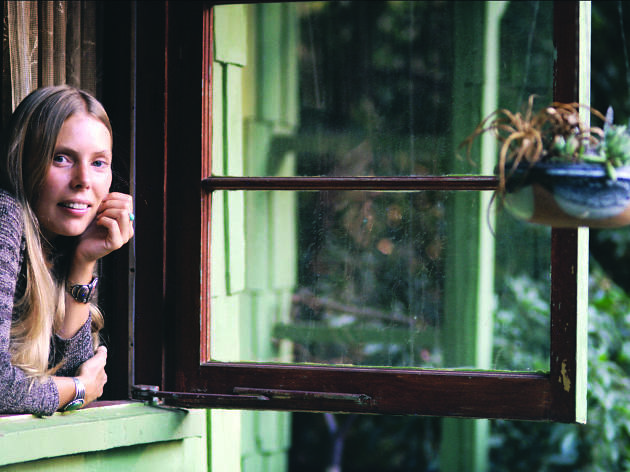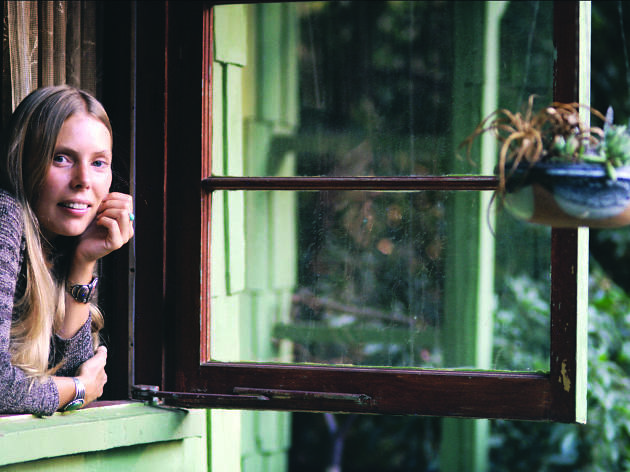 Photograph: Courtesy Henry Diltz/Morrison Hotel Gallery
Three historic homes to see
But please, be mindful: These are now other people's private residences.
Jim Morrison's digs (8021 Rothdell Trail) behind the Canyon Country Store, where he penned the lyrics to the breezy "Love Street"
Joni Mitchell's Laurel Canyon residence (8217 Lookout Mountain), where Graham Nash composed "Our House" and Mitchell wrote much of her album Ladies of the Canyon
The allegedly haunted home and music studio (2451 Laurel Canyon Blvd), known simply as "The Mansion," where Jimi Hendrix, the Beatles and others visited and recorded throughout the years. Today, it's owned by music producer Rick Rubin.
Photograph of Mitchell in her Laurel Canyon abode courtesy Henry Diltz and Morrison Hotel Gallery
Malibu Canyon: The dramatic ride with a rugged payoff
Little Santa Anita Canyon: The woodsy mountain town for nature lovers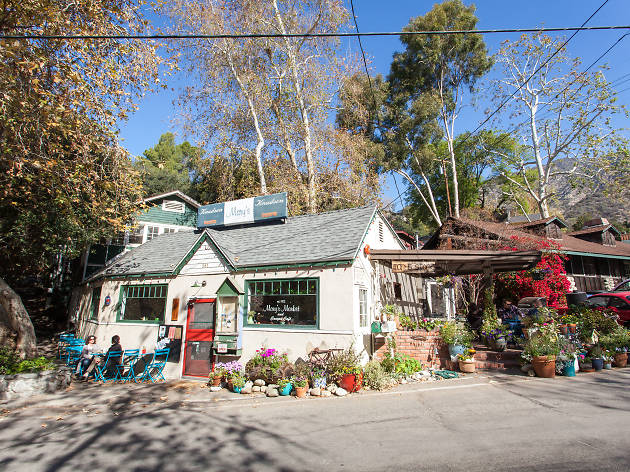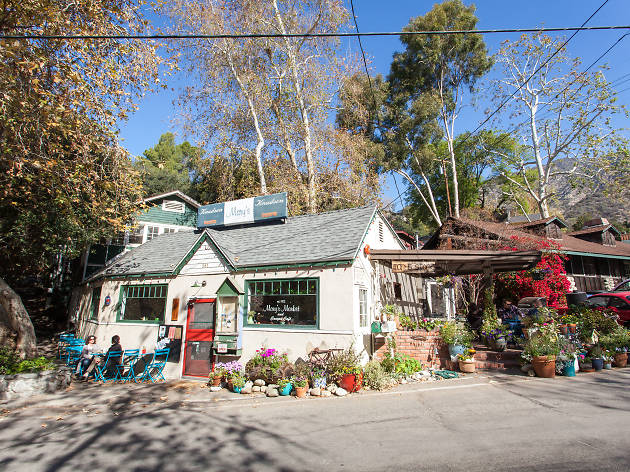 Photograph: Michael Juliano
The cobblestone-lined brook and cabinlike houses make this leafy enclave feel like the sort of folksy mountain outpost you'd expect to find far from Los Angeles. But you're still squarely within county limits in this Sierria Madre neighborhood—in fact, you're barely 10 minutes north of Arcadia's cluster of dumpling and dim-sum joints.
The community in the foothills of the San Gabriel Mountains serves as a launching point for the Mt. Wilson Trail, a grueling six-mile climb to the summit of one of the tallest peaks in the area—but if you don't feel like walking, this one is usually open to horseback riding, too. Look for the trailhead just past Lizzie's Trail Inn, a charming 1890s pit stop turned museum.
Any visit to the area should include a trip to Mary's Market. Easy-to-follow rules are clearly posted at this friendly café: "No whining, use your best manners and only one curmudgeon in the market at a time." If you're setting a course for a dead-end canyon road, the food better be worth it, and Mary's all-day breakfast menu delivers (go for the Gio, which has eggs, cheese, turkey, tomato, spinach and avocado on an everything bagel).
Take a seat at the countertop or the tiny patio, or peruse the wall of jam, condiments and "old-n-new useful junk," as a sign describes the wares. When you order, if you mention that it's your first visit, you may even get a free cookie. Just up the road, the members-only Nature Friends leads hikes and picnics from its three-story cottage. —Michael Juliano
Cornell: The folksy, winding hideaway for food and wine fans alike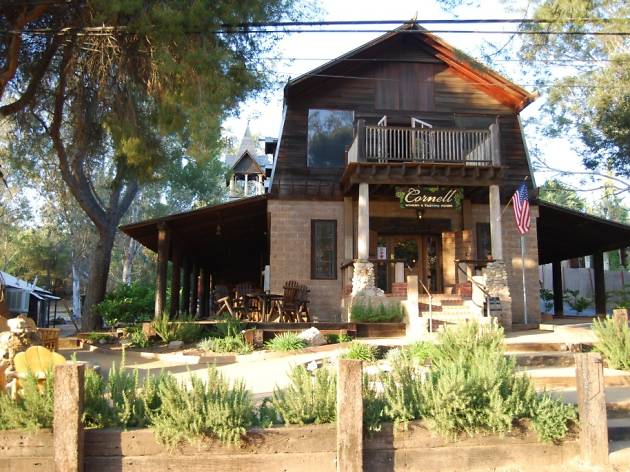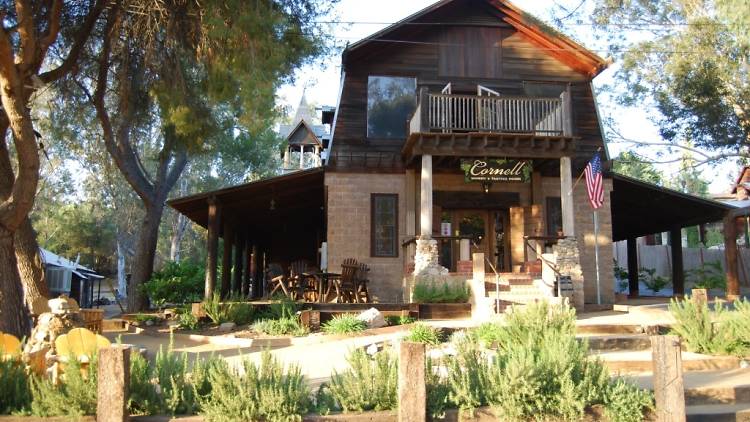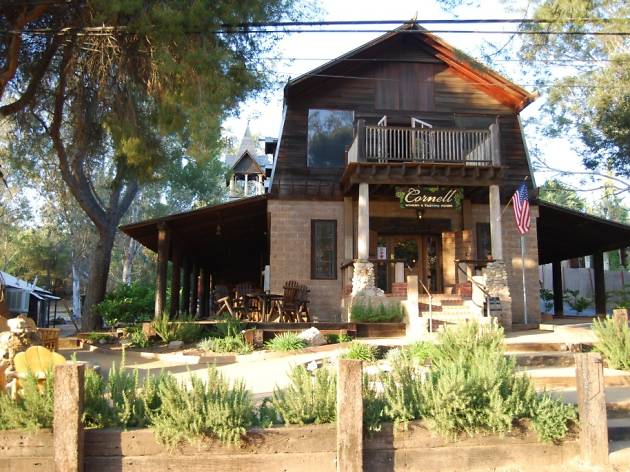 Photograph: Courtesy Cornell Winery
Up, up, up along Mulholland sits Cornell, a quiet, scenic, easy-breezy community and one of L.A.'s best-kept secrets for weekend getaways and peaceful living.
The gem of the area is the Old Place, a charming and live-fire–cooking restaurant where stepping inside is like entering a portal into another century: a walk through saloon doors and into the Wild-West outpost of our dreams. The rustic, all-wood cabin feels part Western, part colonial, and serves some serious comfort food enjoyed at small booths or a communal bar. The most popular meals here are brunch and dinner, when hearty steaks and comforting sides like baked potatoes are the go-to order for almost everyone in the place.
Next door, the charming Cornell Winery is a tasting room that celebrates wines sourced from L.A. to Monterey, with tasting flights, bottles and local retail goods galore. Adirondack chairs are scattered outside, where you can take in the scenery or hear some occasional live music or pop over to Old Truck Coffee, the rustic third-wave coffee shop hiding in a repurposed truck in the back of the Old Place.
Best selling Time Out Offers