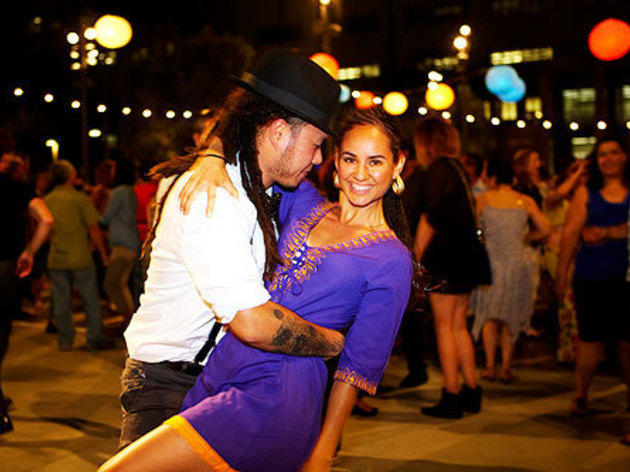 Time Out says
The Music Center offers a free, joyous mash-up of music and dancing all summer long, with different themes (90s, line dancing, cumbia, etc.) and free dance lessons plus live bands. Head to Grand Park and join in the fun—no dance experience required.
Details
Dates And Times
Rating Breakdown
5 star:

3

4 star:

0

3 star:

0

2 star:

0

1 star:

0
It Thursday night and you've finally unwound after a stressful day at work and now it's time for that late night drink, when... the phone rings and it's your significant other asking you if everything is all set for tomorrow. You, not wanting to sound like you absolutely no idea what they're talking about, say, " but of course. Do you think I'd forget? But its a secret and you'll find out tomorrow."
After they hang up you run to your calendar and start scrolling, oh. It's our anniversary, their birthday, or friends coming in from out of town, whatever it is, you forgot. Have no fear, that's why your reading this, because every Friday until September 2 , 2016 the Music Center throws their free Dance Downtown Fridays. A fun filled night of music, dancing, family and friends eating and having a blast. This Friday August 19 is Samba Night, next week they'll have a dj, and the best and most fun night, September 2...Disco Night. Just follow these instructions:
1. Get wine. Lots of wine and glasses - please, Nice ones, and a corkscrew, and bottled water.

2. Order food from somewhere near your job - appetizers, salad, main course - one meat, one veggie, and a dessert.
3. Get some nice bags to pack everything in there plus a tablecloth, plates, forks, napkins, a knife, a vase and flower's that you so thoughtfully bought earlier at the Flower Mart.
4. Now head to the Music Center before 7:00pm - I'm usually there at 4 or 5 to get the best tables, I get two and put them together with enough chair's. Set up everything so when everyone gets there they'll be totally in awe of you foresight to plan such a wonderful evening . You can thank me later.
party people ... look out weekend ... when i hear mucis .. the dogg comes out ..