A guide to Fiesta Hermosa 2017
Kick off Memorial Day and Labor Day weekends with Fiesta Hermosa 2017, Hermosa Beach's biannual summer block party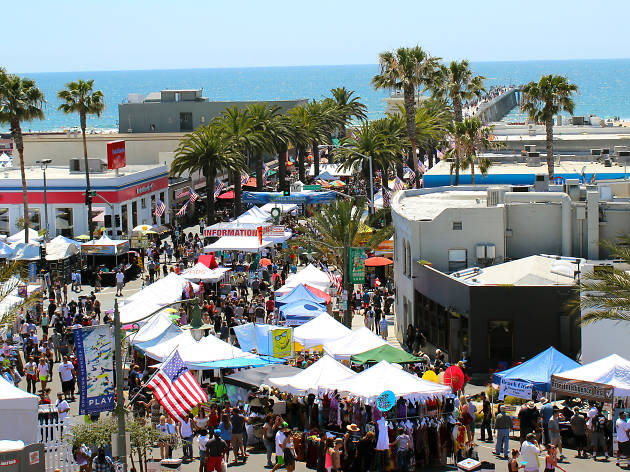 Summer in Los Angeles is a busy time, so it's not surprising the season's kickoff and closing weekends are just as jam packed. There's no reason to be cooped up inside with all the Memorial Day events and Labor Day events happening throughout the city—there's shopping, concerts, art and food events, as well as L.A.'s best beaches to visit. If you're looking for something to do that encompasses all of those, then Fiesta Hermosa 2017 is up your alley. The biannual event (it takes place on Memorial Day and Labor Day weekends) calls itself "the largest arts and craft fair in Southern California." With that hefty of a statement, we've put together a guide to help you navigate the three-day event.
When is Fiesta Hermosa 2017?
Fiesta Hermosa 2017 takes place from 10am to 6pm on Memorial Day weekend (May 27–29) and Labor Day weekend (Sept 2–4).
Where does it take place?
Fiesta Hermosa takes place in Hermosa Beach's Pier Plaza and its surrounding area. A map of the event and its various attractions is below.
What is there to do at Fiesta Hermosa?
The better question may be what isn't there to do. There's a craft fair with more than 300 vendors featuring everything from ceramics and jewelry to painters and sculptors, as well as a charity beer and wine garden; a food court featuring various regional foods as well carnival snacks like cotton candy, funnel cakes and carmel apples; a petting zoo and pony rides; a kids' carnival, including a 30-foot slide, rides and more; and two live music stages. In addition, businesses throughout the area participate with food and drink deals and sidewalk sales. Oh, and there's a beach just steps away!
What type of music will be featured?
The full lineup can be seen here.
Where can I park?
Parking at the Hermosa Beach Pier can be tough any day of the week and is particularly bad during Fiesta Hermosa. If you're coming from out of the city, we recommend using the free shuttle that picks up at the Northrup Grumman Parking Lot at the corner of Aviation Boulevard and 33nd Street in Manhattan Beach. Parking in the lot is also free, and the shuttle runs from 7:30am to 7:30pm each day of the event.
If you're a local, the best option is often to walk or ride your bike. There is a free bike valet at the south end of the pier, open from 10am to 6pm daily.
Here is a map to help guide you throughout the weekend.
More things to do in Hermosa Beach
Looking for more summer fun?
Los Angeles may have great weather throughout the year, but summer is arguably the best season in Los Angeles. Get excited for the season with our comprehensive roundup of fun events and things to do, from the sunniest spots for day drinking to the best beachy escapes.