Heads up! We're working hard to be accurate – but these are unusual times, so please always check before heading out.
Hour to Kill: Santa Monica Camera Obscura
Have an hour to kill in Santa Monica? Check out a room-sized camera hidden inside of an oceanfront senior recreation center.
The drive to Santa Monica requires a time investment and patience no matter where you're coming from. In the midst of that eagle-eyed determination to defeat traffic, it's easy to overlook one of the most unique attractions right in the heart of downtown SM: the camera obscura. The old optical contraption is a historical and offbeat place to catch your breath and enjoy a view of one of the best beaches in LA, whether you're waiting for late stragglers to your dinner reservations or trying to find a quiet escape from the pier.
Good for: Peace and quiet, and a unique, peculiar view of the oceanfront.
For that moment when: You realize today wasn't the best day to sunbathe.
Getting there: Just a block over from the pier, the site is walkable from most spots along the ocean and in downtown Santa Monica. Grabbing a parking spot on Ocean Avenue requires a bit of luck, so instead try Structure 2, 5 or 8—your first 90 minutes are free. Alternatively, both Big Blue and Metro buses stop within a block of the rec center.
The camera obscura is lcoated inside of the Senior Recreation Center (1450 Ocean Ave) and is open Monday through Friday, 9am to 3pm, and Saturday, 11am to 4pm.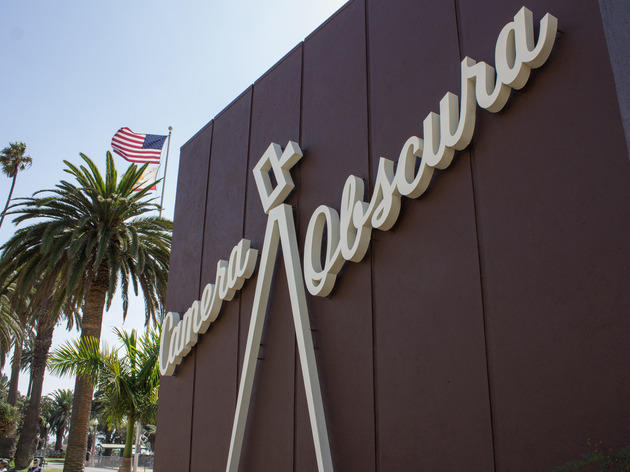 Photograph: Michael Juliano
Click through the slide show to get a peek at what you'll actually see at the Santa Monica Camera Obscura.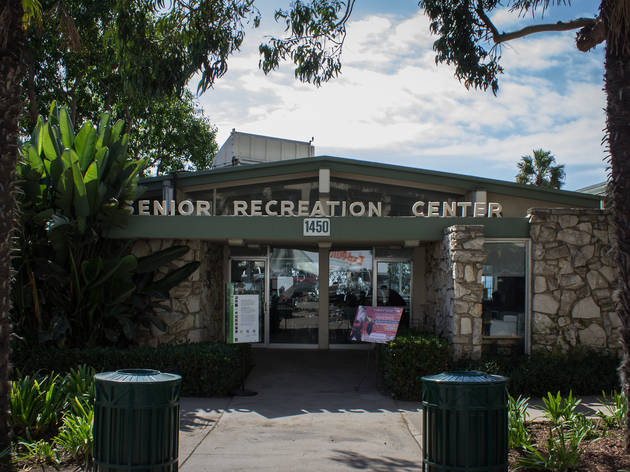 Photograph: Michael Juliano
Enter the recreation center on Ocean Avenue at Broadway. Don't let any heated bingo games fool you—this is the place.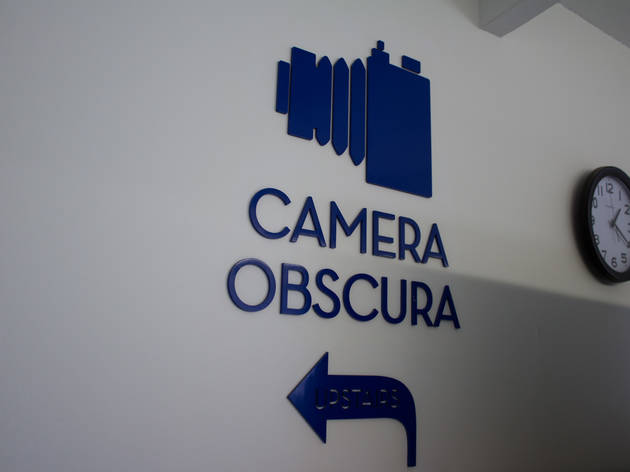 Photograph: Michael Juliano
You'll need to leave your ID with the greeter in exchange for a key. The wait shouldn't be longer than a few minutes—if there's any at all—so head up the stairs to the camera obscura.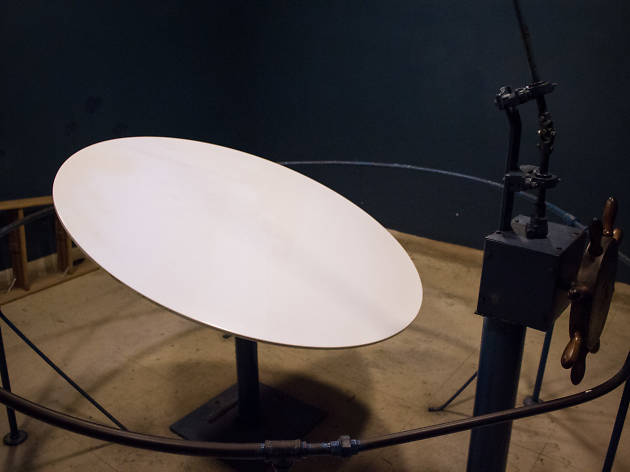 Photograph: Michael Juliano
Walking into the room with the lights on is a bit like experiencing a broken down Disneyland ride. The century-old contraption, which has sat attached to the rec center since 1955, only sparks to life in the dark.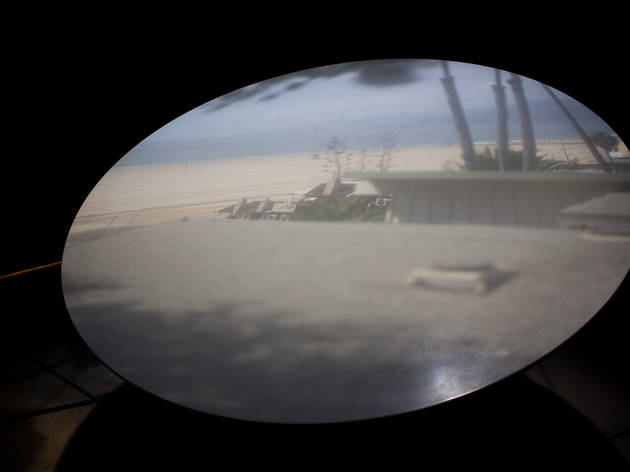 Photograph: Michael Juliano
The projection of the Santa Monica beachfront looks static and ordinary until an agave stalk or a palm tree sways in the breeze, and suddenly the ancient technology is brought to life.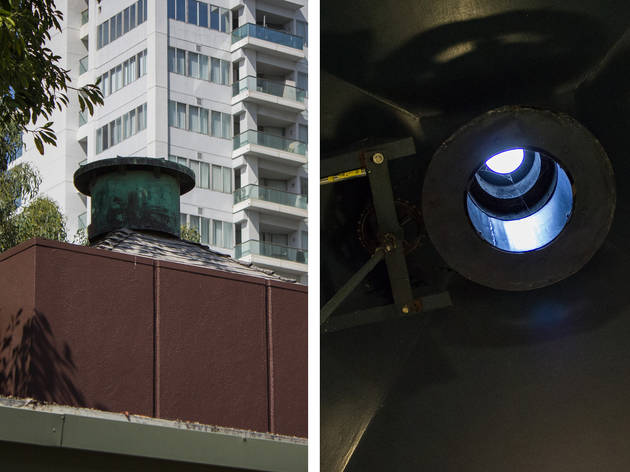 Photograph: Michael Juliano
Natural light squeezes in through a not-so-small pinhole in the ceiling, where it bounces off a mirror and projects an image from outside into the darkened chamber.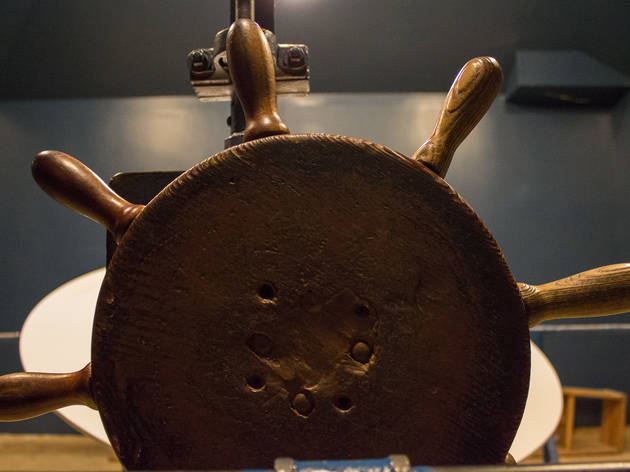 Photograph: Michael Juliano
A turn of this wheel—be gentle—technically focuses the projection, but we found it more effective at pretending to be a pirate.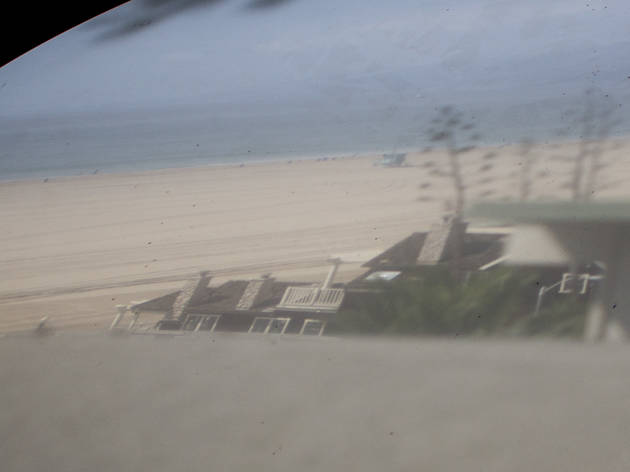 Photograph: Michael Juliano
The plate can be a bit dusty and the image fuzzy, but on a bright day the projection pops with enough detail to spot passing birds and beachcombers.