The 5 most unique gas stations in Los Angeles
Topping off your tank doesn't have to be mundane with a stop at these gas stations, five of the most unique pumps in LA
As much as we'd like to cut back on our gas guzzling habits, we Angelenos are tied to our cars—at least for the foreseeable future. Sure, putting up with hellish traffic and unforgivable driving sins can be a burden, but we'd like to think that drivable weekend getaways and bizarre roadside landmarks brighten up SoCal's automobile empire. The same goes for gas stations: If you're going to be spending the equivalent of a few cocktails at the pump, you might as well fill up at these uniquely LA gas stations.
RECOMMENDED: The 30 most beautiful buildings in Los Angeles
LA's most unique gas stations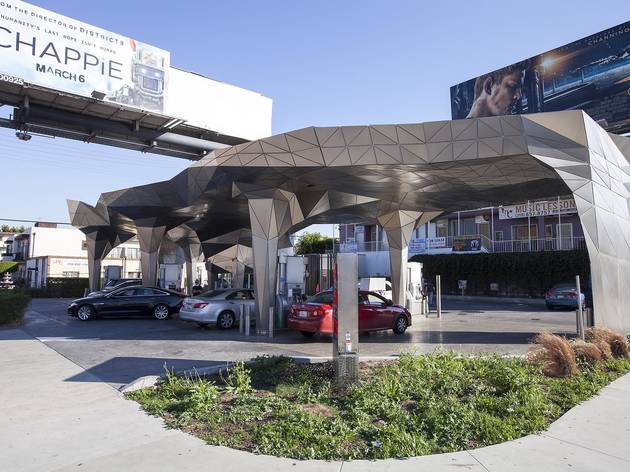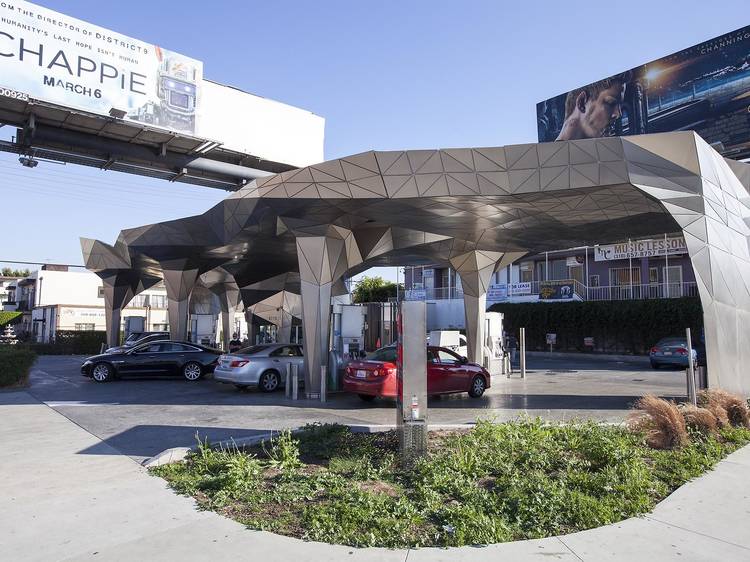 Photograph: Jakob N. Layman
Olympic Blvd and Robertson Blvd, Beverly Hills

We love our all-natural, eco-friendly-everything in Los Angeles, but it's still ironic that a gas station would join in on the noble trend. When the drought-tolerant, solar-powered, upcycled building opened in 2007, it was the first gas station to be submitted for LEED certification, a green seal of approval. Of course, you'd never know that from the outside of the BIG at Ogily & Mather, Johnston Marklee and Office dA-designed building: It's the sheen of the triangular metal facets that makes the Beverly Hills-adjacent pump a love-it-or-hate-it local landmark—as far as gas stations go.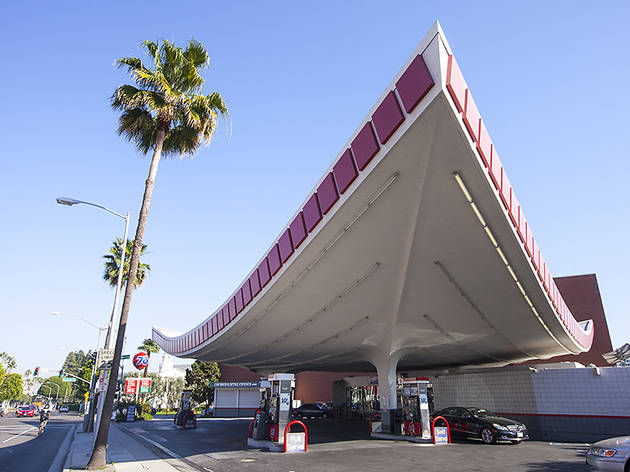 Photograph: Jakob N. Layman
Crescent Dr and Little Santa Monica Blvd, Beverly Hills
Queue up some Dean Martin as you roll into this pump, and you'll surely think you've stepped back into LA's jetsetting midcentury heyday. Who knew gas stations could feel so nostalgic? Even if you're not filling up, the 1965 station is a worthwhile field trip, particularly at night when its elegant, peeled back roofline is aglow. Originally intended to be built near LAX, this swooping, spaceship-like design comes from Gin Wong, the same architect behind the airport's Theme Building.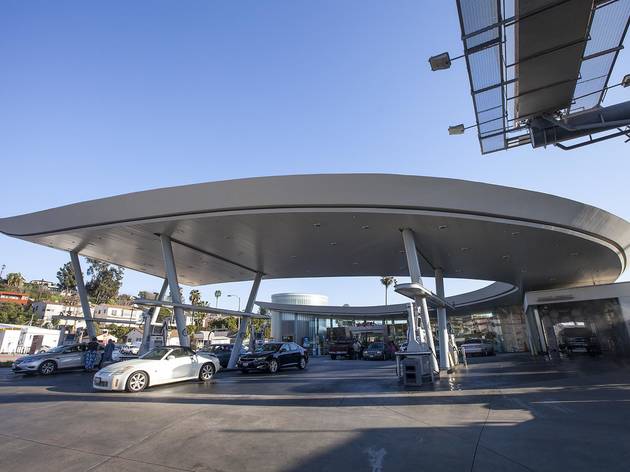 Photograph: Jakob N. Layman
United Oil Gasoline Station
La Brea Ave and Slauson Ave, Ladera Heights
Situated just across from a hillside of active oil derricks, the clean lines of this one-stop-shop station divert attention from just how grimy that sludge is that you're pumping into your car. Kanner Architects set out to mimic a freeway interchange with the 2009 design: a ramp for the car wash hugs the back of the Ladera Heights building while the overhanging roof sweeps to the front.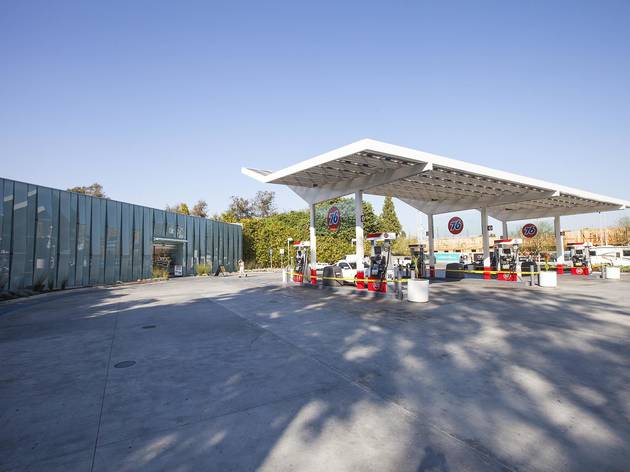 Photograph: Jakob N. Layman
Bloomfield Ave and Artesia Blvd, Cerritos
Everything about this Cerritos station is light: the barely-there pumps have been plunked into an expanse of clean pavement, where sunlight filters through a roof of solar panels. Though it was built in 2012, the gas station's off-center butterfly roof recalls Palm Springs in the '50s, with the design element repeated in the glossy facade of the mini-mart—in other words, it's a really, really pretty gas station.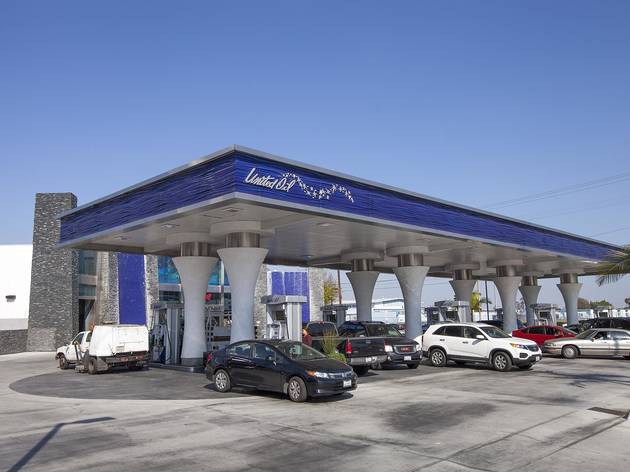 Photograph: Jakob N. Layman
Figueroa St and 223rd St, Carson
Associating an oil company with the ocean can be quite the faux pas, but we'll let that slide at this aquatic-themed gas station. With wavy blue details inside and out, there's a clear pattern here, from a waterfall-flanked food mart to a Wyland meets Lisa Frank mural of dolphins. The marine motif makes us think, though: Did the developers realize that Carson is landlocked?