Time Out LA's Donut Party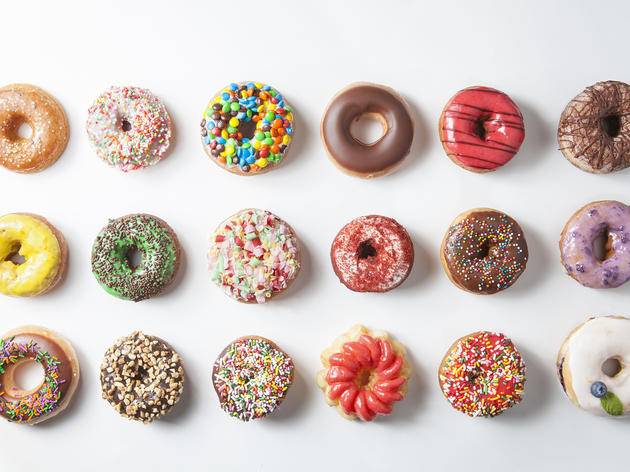 Calling all donut fans: Go nuts for donuts! Time Out Los Angeles is gathering some of the best donuts in the city under one roof for a gluttonous celebration of the fried dessert. Enjoy sprinkled samplings and frosted bites from restaurants, bakeries and donut shops, along with complimentary coffee from LAMILL Coffee, wine from Dark Horse Wine and cider from Strongbow Hard Apple Ciders. There will be tunes to keep you moving throughout the tasting, as well as a raffle (raffle proceeds will go towards Music Saves Lives).
#GoNutsforDonuts
Indulge in donuts from:
Coffee provided by LAMILL Coffee
Flash tats provided by Gold Ink Tattoos
Rating Breakdown
5 star:

0

4 star:

0

3 star:

0

2 star:

0

1 star:

3
If they ever do this event again DO NOT GO! Unless you don't mind getting totally ripped off. Almost $30 for maybe 1 total donut? It was ridiculous! It's a great idea in theory but I felt completely misled. Timeout posted it was going to be a "dedadent donut fest" but it was so far from that. It makes me so hesitant tot try other Timeout events because this was such a letdown.
If I could give it zero stars I would.I would gladly take my money back.
Save yourself the time, money and effort and buy yourself your own box of dozen donuts and stay home.
I completely agree with the other reviewer. This event was an epic waste of time and money. I expected this to be a DONUT PARTY, as in let's sample like 20 donuts from 20 different places and have a jolly good time, NOT a "cram everyone into a small dark club in Hollywood during the day, give them about 5 donut bites, and charge them $30" party.
Seriously this was the most overpriced, stupidest event I have ever been to. You pay for the 2 Strongbows and 2 glasses of wine (per person) you're allowed during your 2 hour time slot. In the afternoon. As for donuts, I was "allowed" (you can't go back to the same booth again & again, thanks to a handy punch card) to eat the equivalent of maybe one whole donut which I can buy for $1 literally anywhere. I can't believe I missed Tacolandia for this.
If you enjoy paying $30 to get five 1/5 of donuts, this event is for you.
Honestly, let's not call this a party. This was more of a slap in the face. They say #GoNutsForDonuts. Well, next time consider having more donuts before you tell me go nuts or call it a party.
This is exactly what I got. Five 1/5 of donut from five listed vendors, two glass of wine, two ciders. Here is an idea for your next donut event. #GoNutsForScam.
This was my first event by TimeOut, and also will be my last.