Time out with Mystery Trip LA's Dave Green
No mystery here! Take one party bus, add adventurous friends and let this seasoned Los Angeles guide steer a course to good times.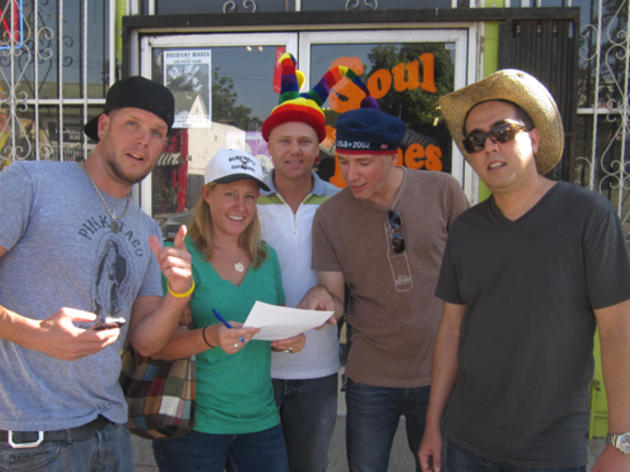 1/8
Photo courtesy: Mystery Trip LA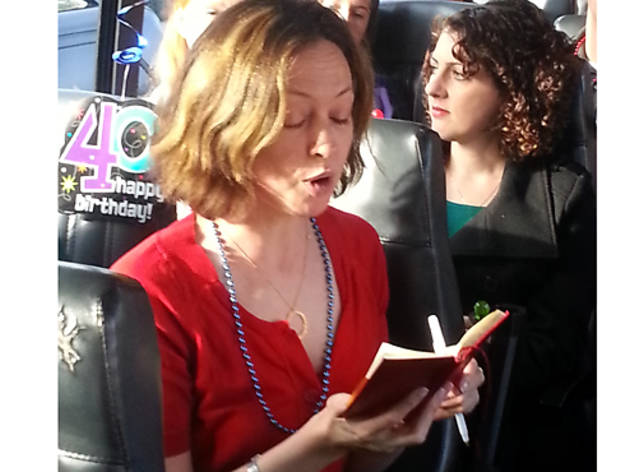 2/8
Photo courtesy: Mystery Trip LA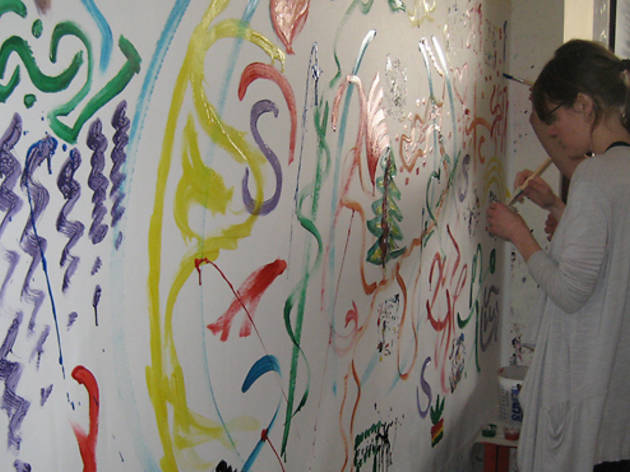 3/8
Photo courtesy: Mystery Trip LA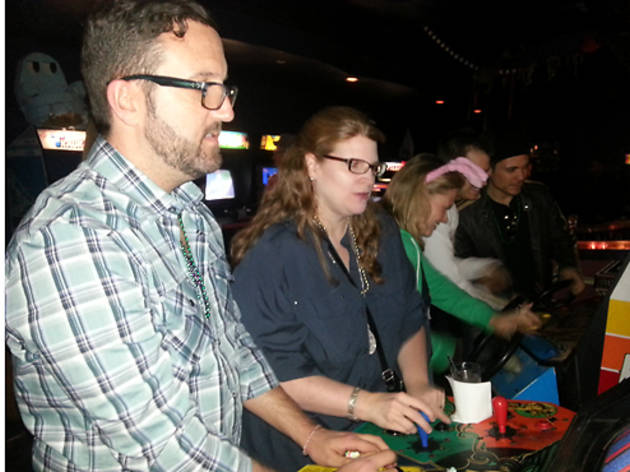 4/8
Photo courtesy: Mystery Trip LA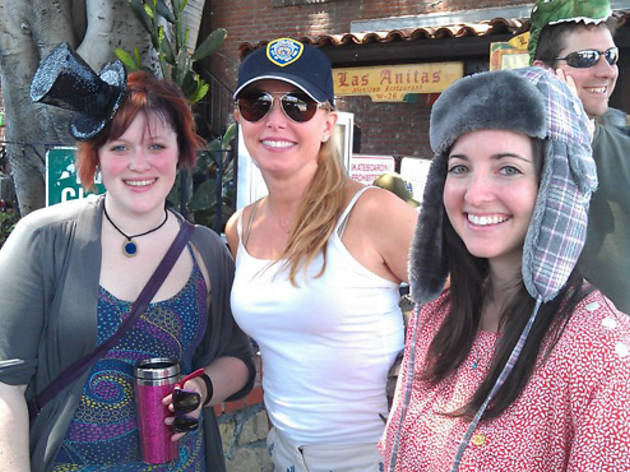 5/8
Photo courtesy: Mystery Trip LA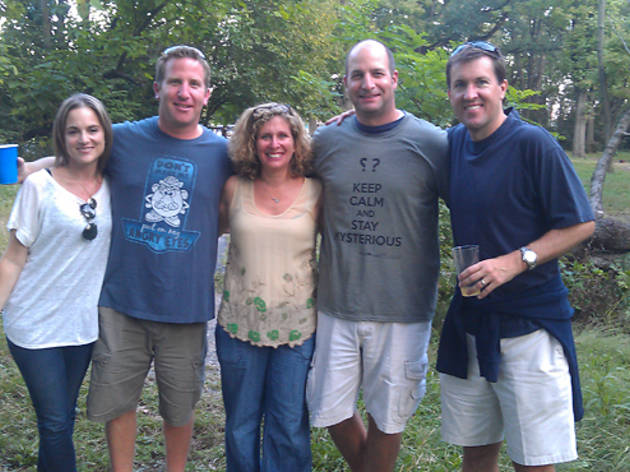 6/8
Photo courtesy: Mystery Trip LA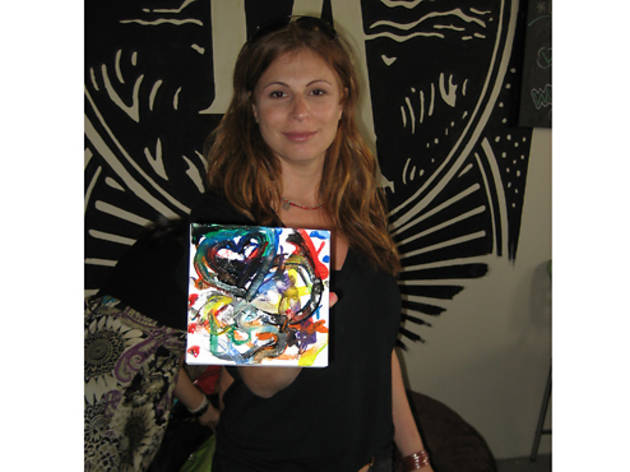 7/8
Photo courtesy: Mystery Trip LA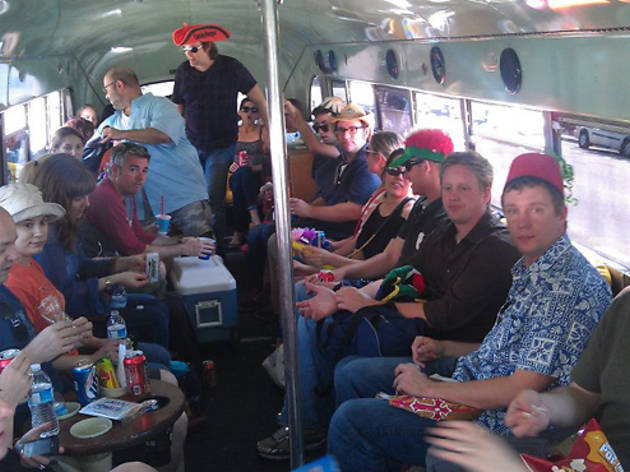 8/8
Photo courtesy: Mystery Trip LA
When Sherman Oaks resident Dave Green founded Mystery Trip LA a little more than two years ago, it was born from his passion for Los Angeles—and for camp. "Mystery Trip really started when I was a kid at overnight camp," says Green. "They would throw us on a bus and not tell us where we were going. It would always be a silly place, maybe a dinner theater or a big, tall sailboat." For the past ten years, Green has been reliving that camp tradition by exploring lesser known corners of LA with friends during an annual bus party, in which no one but Green knows where they are headed. His parties were such a hit, he decided to turn it into a business and dubbed himself Chief Mysterious Officer. Here's how Mystery Trip works: Let's say you want to throw a birthday party. Green will suss out you and your guests' tastes and collaborate with you on an itinerary. On the day of the event, only you and Green know the party plan. Trips vary, but the average lasts six to eight hours, with three to four venue stops. Prices are dependent on the itinerary, but typically range from $75 to $125 per person, which includes transportation, a meal, admission fees—everything except alcohol. "I've taken a group to a behind-the-scenes tour of Dodgers Stadium; to a body-painting festival; to Hollywood Forever; to Derby Dolls. It all depends on you. I've never done two trips that are exactly the same," Green says. And business is booming. "I told my wife recently, I finally realized what I want to be when I grow up and this is it. There's nothing better than when I'm showing people the city and they say, I've been here a million times and I've never seen this."
RECOMMENDED: Interviews with Los Angeles' tastemakers
Time Out LA: Camp was always a great place to get into mischief. Any Mystery Trips that ended with someone getting in trouble?
Dave Green: I had a group of investment bankers get kicked out of a mall for doing a scavenger hunt. They thought that was coolest thing ever, like they were sticking it to the man. I did a trip once where we went to a body-painting art exhibition. We walk into this building Downtown, go up an elevator, nobody knows where we're headed, the doors open and all these people are in body paint—some were naked, most in bathing suits or sheer clothing. The girl whose party it was stripped down to her bathing suit.
Time Out LA: What are the most overrated tourist attractions in LA?
Dave Green: It's funny, because I use a lot of them in my trips. For example, Olvera Street or Hollywood and Highland. Hollywood Boulevard is so overrated, people have been there a million times with their friends. But the way I'll do it is, I'll do a scavenger hunt and get people to go in stores and look at things with a different perspective. It's taking these places and making them fresh. I can always find the fun in any place, not to sound trite, but that's what I do—I make it exciting.
Time Out LA: Where do you go to tune out the party noise and just relax?
Dave Green: I am always on. But my wife and I go hiking a lot, in Temescal Canyon and Solstice Canyon.
Time Out LA: What's a good date-night thing to do?
Dave Green: Playing pinball at Pins and Needles in Echo Park. It's a pinball hall in this big warehouse, where bands practice, with like, 20 pinball machines, and leagues and everything. I also think Barnsdall Art Park at sunset—taking a picnic up there is so much fun. On the lawn, overlooking the ocean, you have a full view of the city. There's a great place in Venice, an art studio where you can paint canvases, called Paint:Lab. That's super fun. Or the Museum of Jurassic Technology. I once took a group to a Third Street dance studio once for a hip-hop dance lesson and then a dance-off.
Time Out LA: Quick: What's your favorite LA bar?
Dave Green: Blipsy Barcade on Western by Beverly. It's a total shit-hole dive bar. It's great. There are about 15 to 16 old-school video games there. I did a Mystery Trip last year with Christina Hendricks, from Mad Men, and she walked in and said, "Shut the fuck up. This is awesome." I was like, Score.
Check out Mystery Trip to learn more and to find out about the next public Mystery Trip, when Green gives individuals and small groups a chance to try out the service without having to commit to filling an entire bus.