Union Center for the Arts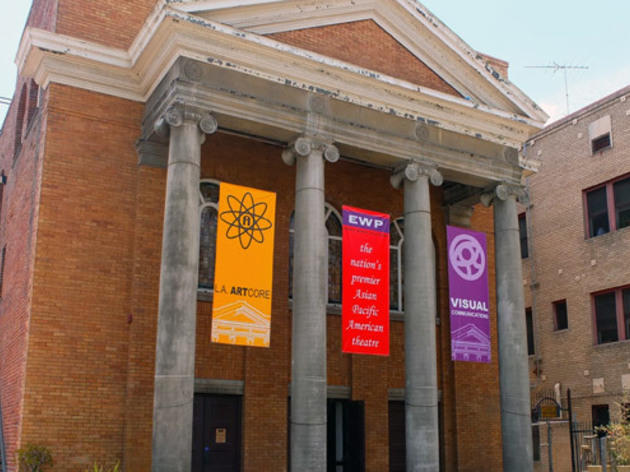 Prior to its restoration in 1998, the Union Center for the Arts building wore many hats, serving as the Union Church in the 1920s, a congregation point for those ordered to internment camps during WWII and a community center for employment-seeking African Americans during the Great Migration. Now it houses three community arts organizations: LA Artcore, East/West Players and Visual Communications.
LA Artcore's mission is to advance the careers of visual artists from diverse backgrounds through exposure and education. Since its inception in 1979, the non-profit organization has exhibited over 1,600 artists whose work demonstrates contemporary or traditional techniques from various cultures. The non-profit also organizes international exchange shows and exhibits work from underrepresented groups, including homeless youth, senior citizens and self-taught artists. Check out what's on display Wednesday through Sunday from noon to 5pm. Admission is free and exhibits change monthly. There's also a second gallery just two miles north of Little Tokyo called the Brewery Annex.
The Union Center for the Arts Building is also home to the East West Players theater organization, which has explored Asian American experiences and roles through stage productions since 1965. Past musicals and plays include original works written by members of the troupe, reproductions of classics like Sweeney Todd and The Tempest and Japanese spin-offs of well known stories like The Nisei Widows Club: How Tomi Got Her Groove Back. A current show schedule and ticket information can be found on the organization's website.
Visual Communications, a non-profit organization that aims to promote intercultural understanding through media arts, dedicates itself to portraying Asian Americans honestly and accurately through film and photography. Both established and aspiring artists take advantage of support services like workshops and trainings.
Venue name:
Union Center for the Arts
Address:
120 Judge John St
Los Angeles


Do you own this business?