A guide to L.A.'s World Naked Bike Ride 2021
Gear up for the World Naked Bike Ride 2021 in L.A., and check out photos from the clothing-optional bike fest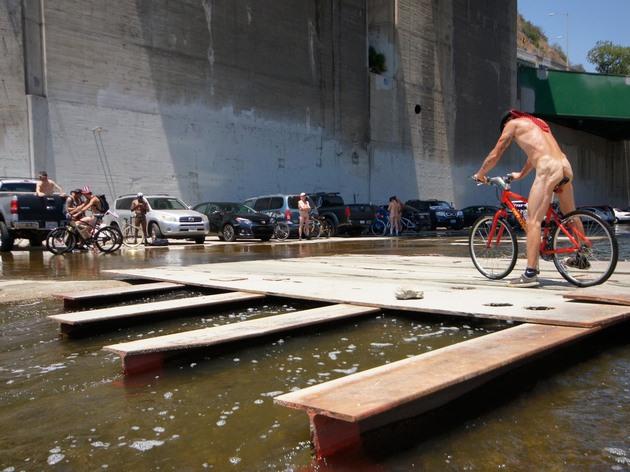 If you're brave enough to let it all hang out, get ready for the clothing-optional World Naked Bike Ride 2021. The head-turning bike fest—a global grassroots movement that began in 2004—is taking over L.A. with its bare-as-you-dare dress code to fight "indecent exposure to cars."
If you can look past the nudity, the Los Angeles bike ride's primary stated goal is to advocate for car independence and human power to change our current car-driven society. That and to bring joy back to transportation via cycling. But make no mistake: The nudity is a major part of the ride and is a celebration of body positivity, strength, and respect and acceptance for every human being.
When is the World Naked Bike Ride 2021 in Los Angeles?
The ride takes place Saturday, September 18. Traditionally, the meet-up starts before noon and the ride begins in the afternoon.
Where does the ride take place?
The exact location is often released on the Facebook page on the eve of the nine-mile bike ride. So far, WNBR teases that it'll take place somewhere in Downtown L.A. and meet in the vicinity of Temple and Alameda Streets (so figure somewhere around that Little Tokyo and Arts District junction).
In keeping with the event's anti-car sentiment, organizers suggest leaving your car behind as there won't any parking at the staging area—so wearing clothes to start and taking public transit is highly encouraged.
Do I need to pre-register, and how much is it?
All participants will register in-person on the day of the event, and be debriefed on this year's rules. As for the cost, the bike ride is completely free. However, WNBRLA does accept donations to help cover costs, from traffic escorts and porta potties to wristbands, spare loaner bikes and more. To donate, click here.
How nude is nude? And do I have to strip down to ride?
We're talking bare butts on bicycle seats and delicate bits flopping in the breeze. But the dress code is officially "bare as you dare." Feel free to partake as fully clothed or nude as you feel comfortable. WNBRLA encourages body paint and other creative expression but strictly prohibits fetish gear and genital jewelry and accessories. Also: no erections.
So, how is this legal?
Public nudity is legal—sort of. Baring your nude body in a lewd manner that clearly has sexual or offensive intentions is illegal, however, hence WNBRLA's rules above.
What if I don't have a bike?
In the past, WNBRLA has suggested DTLA Bikes or Just Ride L.A. for bike rentals. Or check out our list of the best bike shops in L.A. to purchase your own.
World Naked Bike Ride photos and more