Easter in Madrid
Discover all Madrid has to offer during Easter week: art, clubs, restaurants, things to do with the whole family, traditional activities...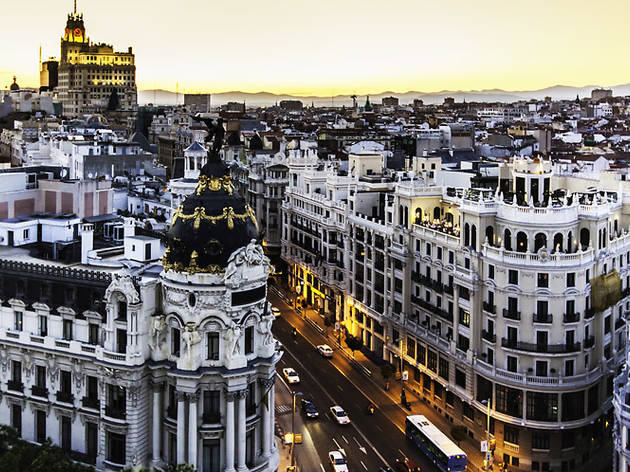 One of the best things about Madrid is if you've only got a few days to visit, it's enough time to get familar with the city's vibe and culture. If you're in town during Easter, you might find some shops closed, but you've still got loads on to choose from. Try the local delicacy of the season, 'torrijos', find out where you can see traditional Spanish Easter parades, go out until the wee hours with friends, do something fun with the kids or your sweetheart. A few days in Madrid can be what you make it – relaxing, traditional, big fun. And if you're left wanting more, don't forget you're always welcome back!
The most famous of Madrid's Easter parades is that of the Cristo de Medinaceli (Christ of Medina), which takes place on Good Friday, April 4, and runs through the main streets of the city from the parish of Jesús de Medinaceli. There are other famous processions the same day, including those of the Alabarderos (Yeomen of the Guard), Jesús Nazareno 'el pobre' (Jesus of Nazareth 'the poor') and the procession of silence. Whether you're religious or not, a traditional Easter procession is worth seeing for the emotion that fills the Madrileños who walk their saints through town and how the city centre's streets are decorated. All around Spain there seem to be traditional desserts for every holiday, and Easter is no exception. It doesn't matter if you fancy yours with milk, wine or in the purest form, you'll find all types of 'torrijas' in bars and restaurants throughout the city. Similar to French toast, these sweet Easter treats are made with bread, milk, sugar, lemon, cinnamon, eggs and oil. One of the spots famous for their version is
La Casa de las Torrijas
, one of the oldest and most traditional taverns in Madrid. Located next to the Puerta del Sol, they serve torrijas all year round, in addition to being the type of place where the waiters who have spent decades working there also serve up tapas and glasses of wine. If you prefer a more modern and spacious establishment, head to the
Mallorca
bakery, where you can also pick up some torrijas for the season. And at Vait Pastelerías (Calle de Félix Boix, 9), try the premium torrijas with Baileys, vodka, rum or bourbon. Secrets are hidden in the streets of Madrid. Do you know what the city's oldest church is? Or where Velázquez' remains are buried? The walls of the basilicas or of the royal palace, the statues watching over Plaza de Oriente... these and more hide away urban legends that will surprise you. But if you want to get to know some beautiful spots that are tucked away,
don't miss our selection of secrets in Madrid
. If you've already seen the city's
biggest museums
, we recommend you go back, this time to check out the temporary exhibitions. One of the most popular at the moment is that of
Raoul Dufy
, at the Thyssen, full of vibrant colours. Another is of the work of
Garry Winogrand
, the father of street photography and New York portraitist. This week is the inauguration of the new La Fauna del Nilo (Wildlife of the Nile) exhibition at the CaixaForum, and it promises to be spectacular. Find out more of the
top recommended exhibitions
on now in Madrid. Madrid's cultural centres are chock-full of workshops and shows for the little ones this week. At La Escalera de Jacob there are plays for kids and magic for the whole family. If you're in Madrid this week, the kids can also enjoy concerts, improv plays and more. If you're afraid language barriers might be too much for you or your kids, there are still plenty of ways
you and the little ones can enjoy Madrid together
. In addition to the classic choirs and orchestras performing in Madrid's auditoriums and churches throughout Easter week, this holiday is the perfect time to get out to a local club and enjoy some
live music
. If you're a
jazz fan
, you've got to get to Café Central, one of the top venues for the genre in the city. If you're more into idie music, the legendary Costello Club or the famous Moby Dick are the best spots to hear good groups while you throw back a few beers. And La Riviera is an obligatory stop for anyone in the mood for a good concert. Check out
what's on this week
. Madrid is full of churches and cathedrals that get dressed up for Easter. It's not all about
La Almudena
, remember – there are also plenty of other large and small temples full of beauty that you can explore, no matter what your religious or spiritual leanings. For example, the
Basílica de San Francisco El Grande
, in La Latina, boasts an impressive cupola and offers stunning views of the sunset over Madrid from its lookout point next to the church. We also recommend having a look at
San Jerónimo El Real
, an old monastery whose church and cloister are the only bits left standing, as well as the San Antonio de los Alemanes (
Calle de La Puebla, 20)
, which is covered with detailed frescoes from the walls to the cupola. Spring's volatile weather shouldn't keep you from catching the end of the ski season if that's your cuppa. From the Puerto de Navacerrada to Valdesquí station, your skis and snowboards get another chance to glide down hills and mountains before being packed away for another year. If it rains or your plans are otherwise impeded, don't worry: at Xanadú shopping centre you'll find the covered Snowzone slopes. Kids (and some grown-ups) love school holidays. To make sure they have a great time before going back to their own daily routine, head to some of Madrid's kid-friendly spaces. The
Parque de Atracciones de Madrid
is a good option for the little ones to spend the day with the brilliant combination of rides and candy floss.
Parque Warner
is another theme park, this one inspired by the films and TV shows of Warner Bros. Studios. If your kids are fans of animals, they'll love the
Zoo Aquarium
or
Faunia
, with exotic animals such as the Komodo dragon. In a week when the churches, basilicas and monasteries are fuller than usual, why not visit a different kind of temple, the only one of Egyptian origin in Spain. The
Templo de Debod
is next to Plaza de España, and was a gift from Egypt to Spain as a thank-you for the help Spain provided in
preserving monuments threatened by the Aswan Dam. The best time to visit this marvelous monumnet is definitely at sundown, when dozens of bulbs light it up, creating a type of mysterious halo around it.
You may have heard of Madrid's renowned nightlife, and it goes on during Easter week just as any other weekend. From
Malasaña
to
Chueca
,
Alonso Martínez
and
La Latina
, bars are open until dusk with tempting offers via their street PR, trying to convince you to stop in for free shots or discounted drinks. In
Delirio
you can dance to Beyoncé and her ilk; head to El Perro de la Parte de Atrás del Coche (
Calle de La Puebla, 15)
for good rock music; and finish the night at
BarCo
. If you'd rather go directly to a nightclub,
Kapital
,
Shôko
and Shanghai (Calle de Costanilla de Los Ángeles, 20) never disappoint. Depending on what you do, Madrid can be one of the most expensive cities in Spain, but it is possible to get to know and enjoy the city without spending a single euro. You just have to plan your trip well, and be on the lookout for offers and discounts. For example, there are a lot of free guided tours available (though they do except donations at the end of the tour), and you'll find plenty of free art exhibitions, such as those at
La Casa Encendida
. Have a look at the websites of museums you want to visit because you can get in for free on certain days at certain times in most of them. For example, it's free into the Prado from Monday to Saturday between 6pm and 8pm and on Sundays and holidays from 5pm to 7pm. The Reina Sofía's free hours are from Monday to Friday (except Tuesday when it's closed) from 7pm to 9pm, on Saturday from 2.30pm to 9pm, and on Sunday from 10am to 7pm. Check out
more free things to do in Madrid
. Visiting Madrid without trying the delicious calamari sandwiches is nothing short of a sin. The most famous in the city are definitely those served in
El Brillante
, which is just in front of Atocha station. Warm, freshly made and with mayonnaise or just a bit of lemon, these delicacies are so mouth-watering you'll be back for more. The smaller streets around Plaza Mayor are also good for finding these traditional sandwiches: try them at
Bar Postas
, the Cervecería Plaza Mayor, El Ideal or La Campana. This has got to be one of the most beautiful parks in Madrid as well as the least-known by both visitors and locals alike. The main attraction of
La Quinta de los Molinos
are the hundreds of almond trees all lined up that colour the landscape with glorious whites and pinks. Their fragrant scent provides a haven of peace in the city. The park's 21.5 acres are also home to other trees such as olive, pine and eucalyptus, several fountains and pools, and even two mills ('molinos') that give the park its name. In Madrid if you're talking about churros with chocolate, you're talking about
San Ginés
. This 'chocolatería', the most famous in the city, is just next to Puerta del Sol in a small and hidden street that makes the café even more attractive. Stopping into this 120-year-old establishment for a cup of thick, warm chocolate and crispy churros or 'porras' is a must before you leave Madrid. They're great for breakfast as well as after a long night out on the town. Nearby you'll find one of the city's Valor cafés, where they make a chocolate that will have you salivating just from the smell streaming out into the streets. Whatever you're looking for you're sure to find it in one of Madrid's many shops. The streets in the
city centre
are full of stores that sell everything from hand-crafted guitars and second-hand clotes to vintage bicycles and organic products. Big brand name clothing labels are grouped along Madrid's 'Golden Mile' in C/Serrano, while the most innovative and independent design hub is at the
Mercado de Fuencarral
, right in the middle of the Malasaña district. This phrase was famously uttered in Spanglish by Madrid's mayor, Ana Botella (who you might know is married to Spain's former Prime Minister Aznar), inviting everyone to enjoy a cup of coffee with milk in
Plaza Mayor
. While it's a nice place to watch people go by and sip your morning coffee, it's also one of the most expensive places to get your caffeine fix. So allow us to recommend you move a bit farther afield to have a coffee or tea with some great pastries and biscuits to accompany, and all for a much better price.
Mama Framboise
was one of the first cafés with a lovely ambience to open up in Madrid, though it's certainly not the only one.
Mür Café
,
La Bicicleta Café
,
Federal Café
and
Panela & Co
, among
many others
, will surprise you with their abundant breakfasts or
brunches
and cosy surroundings. 'Spanish Broadway' is in Madrid's Gran Vía. The large number of musicals on in the theatres along one of the main roads in the city has rebaptized this street. You'll find something for everyone, from '
Priscilla, Queen of the Desert
' to '
The Lion King
'. Most plays and musicals are in Spanish, but don't let that stop you from enjoying the spectacular music, performances and costumes! Before packing your bags to head back home, wait to see what you pick up at Madrid's famous
El Rastro market
. Every Sunday dozens of stalls selling vintage clothing, costume jewellery, second-hand goods and more take over C/Ribera de Curtidores in the Embajadores neighbourhood. It's also a great chance to visit furniture and antiques shops nearby, and to boost your energy with some traditional 'barquillo' wafers. When you need a break, head to nearby
La Latina
for a beer and some tapas. To officially bid adios to Easter week, on Sunday there's a spectacular 'tamborrada' (drum parade and festival) in Plaza Mayor. Hundreds of official drummers meet at noon to create a thundrous event with their drums, cymbals and bugles that sends tingles up and down the spines of locals who come to watch as well as anyone not in the know happening by and startled by the first whack of the stick.