The 10 best gay tourist spots in Mexico City
Mexico City is one of Latin America's 10 most visited cities by the LGBT community, and it's easy to see why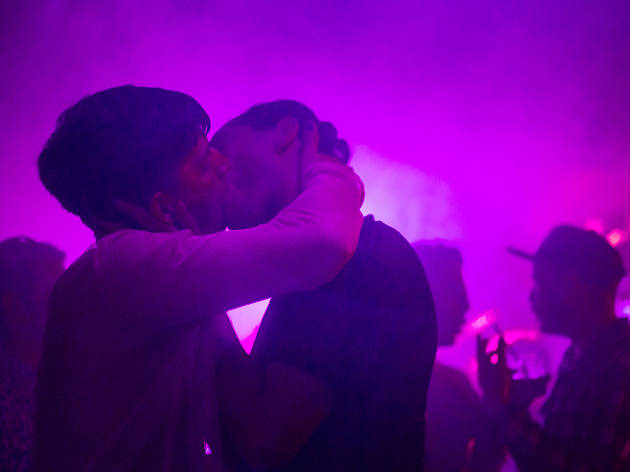 According to data from the Secretary of Tourism, Mexico receives about 3.5 million visitors per year who are part of the LGBT community, many of whom make a beeline for Mexico City. It's not difficult to see why.
The city has witnessed the growth of gay nightlife, from legendary bars such as El Nueve in the 70s to places such as La Purísima and the Marra which now rule the parties. The Zona Rosa, which emerged during the 50s, and the República de Cuba road in the centre of town are both landmarks in the city when it comes to going out.
All of this, in addition the 40 years of LGBTTTI Pride March celebration in Mexico City, shows that it's not a coincidence that this is one of the cities with the biggest cultural and entertainment offering for the LGBT community. We're listing the 10 best gay tourist spots that will take you by surprise if you're visiting the city for the first time.
Unmissable gay tourist spots in Mexico City
Tom's has already cemented its classic status and it's not been easy to replicate it anywhere else; neither it's vibe or the grabassery that goes on in here. Inside there are intensely high ceilings with gothic-style beams. The decoration is not unlike the set of Gladiator – the Ridley Scott movie – but, with suggestive paintings of men mounted on golden frames. It's not easy to grab a seat since there are few stools and they're usually occupied. In case you were wondering, women aren't allowed in here but, any and all men are received with open arms.
This spot is different even if just for the location. It's on one of the less polished streets in downtown Mexico City. However, as night falls, the neons that adorn Marrakech illuminate the surrounding crumbling buildings in a way that's almost glamorous. There's no cover, no doorman, no velvet rope. Once inside, the roof is a few feet taller and it will be crowded. If you get here after 10, get ready to have to muscle your way to the bar.
3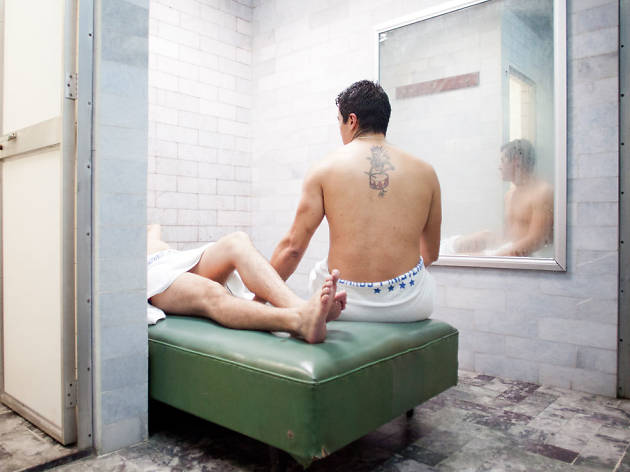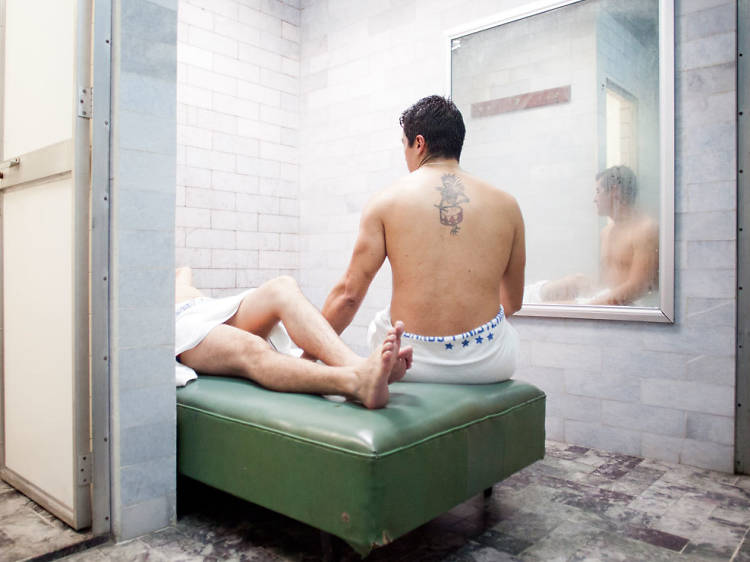 Foto: Alejandra Carbajal
It's a classic in the Mexico City gay community. Practically any day of the week there's something going on, although the days of most affluence and movement (literally) are Saturdays and Sundays at 8 in the morning. Yes, 8 a.m. Finisterre functions as an afterhours bar after the gay clubs close their doors. At Finisterre, you'll see men of all ages, sizes, complexions and professions. A good portion of them walk around in the buff.
A cabaret hotspot with a devil stamped on the men's room door, two Mister Clean posters, a giant oyster hanging in the DJ booth, and a Pérez Prado poster guarded by "sharks." But, the most magical piece is the image of Marilyn Monroe facing off with Jesus Christ that's hanging at the bar. This is La Perla, a cabaret that goes back to 1946, but had its moment in the 90s, when groups like La Lupita recorded their videos here. Since then only the prices have changed, but not the limited capacity, so try to get here before 10 to grab a good table.
5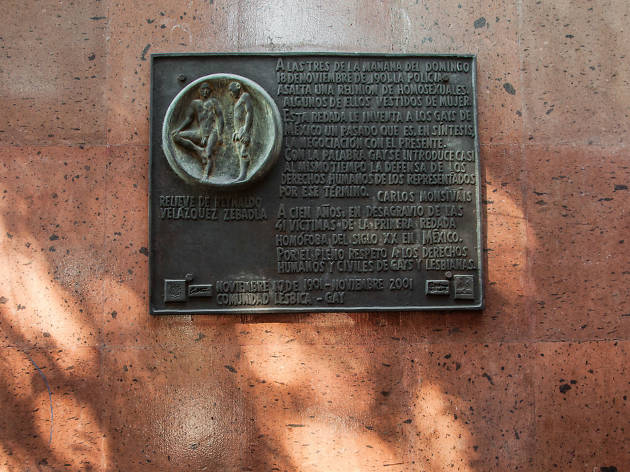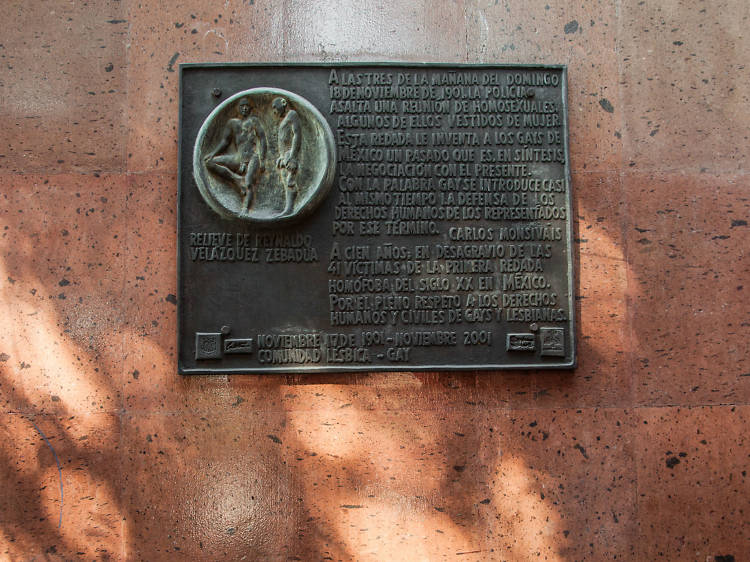 Foto: Alejandra Carbajal
Here is where it all began. At one side of the Centro Cultural José Martí, you'll find a plaque that features a relief of Reynaldo Velázquez, which commemorates the most famous story in Mexico's history of homosexual discrimination. What we are certain of is that on Sunday morning, on the November 18, 1901, there was a political raid in La Paz street (currently known as Ezequiel Montes), in the Tabacalera neighborhood, when a woman complained about the noise that her neighbors were making. It turned out to be a gay party, which was scandalized in the press.
Sodome has evolved into a great option for a night out. With DJ boiler room sessions in the lobby and monthly themed parties on the final Friday of each month. You can meet guys at the bar, sweat out your troubles in the steam rooms or Turkish baths, or head upstairs to the dark labyrinth or foam room where the phrase "I dropped the soap" is no joke. It'll run you around 200-250 MXN to get in depending on the day of the week and drinks start at 40 MXN for beers and 80 MXN for mixed drinks.
What started out as a pavilion at a German industrial fair at the turn of the 20th century is now El Chopo. Brought over from Germany and assembled in Mexico City in the Santa María la Ribera neighborhood. Exhibitions of contemporary art, design, performing arts, literature symposiums, lectures with thinkers and contemporary musicians are held. In addition to serving the university community and addressing issues related to youth, identity and urbanity, the focus here is also on gender issues.
Before entering, a spectacular phrase framed in lights welcomes you with the only entry requirement: "Pare de Sufrir!!" (Stop suffering). There is one tiny gripe: even this spot couldn't make the miracle of gays listening to actually good music happen. There comes a time every night where the most stereotypical pop in all of Mexican LGBT, Gloria Trevi, starts blaring. It's a bummer because most of the night there is good house and pop music playing. Either way, we'll put up with the occasional Gloria Trevi for the size of this dance floor alone.
This place is all about drag. The staff here is super friendly and approachable. They're even trained to help you with your makeup in case you're not really sure how to use the eyeliner pencil just yet. They also host comedy night in the main hall, which is slightly reminiscent of a David Lynch movie only also very Mexican cabaret at the same time. It might go without saying but… everyone is welcome here. Even, straight people.
10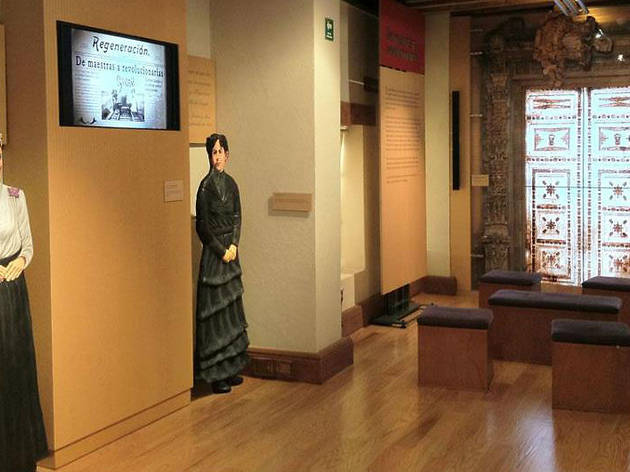 Facebook oficial Museo de la Mujer
It's the headquarters of the Mexican Seminario Histórico LGBTTTI and involves the diversity applauded by the gay community, as well as workshops, conferences and film showings directed at the LGBT public as their daily bread. There's a permanent exhibition with themes on equality, universal harmony, the dual cosmovision of ancient Mexico, as well as liberty and education.
Looking for more LGBT spots in Mexico City?
We have found those spaces filled with individuality and dedicated to the gay community, such as clubs with drag shows and bars especially suited for the lesbian community.
More to explore