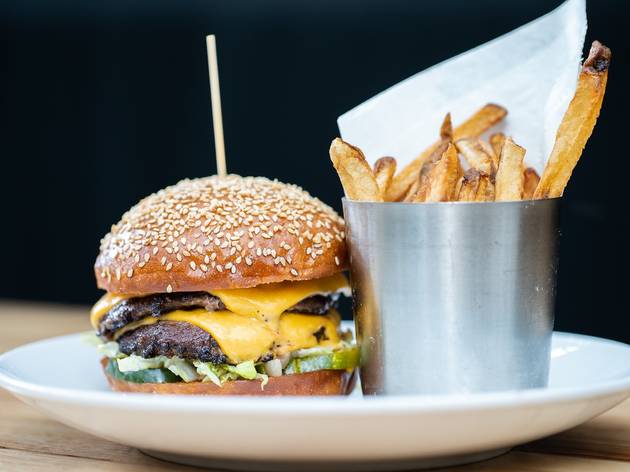 The best burgers in Miami you need to try
From cheesy ones to veggie to double-stacked, these are the best burgers in Miami to try right now
Looking to dig into the best burgers in Miami? It happens. We all have those unpredictable burger blackouts when our entire mind is consumed only by the urge to get our hands on a burger. Oh. Just us? Well, either way, it's handy to know where to find the best burgers in Miami. And it's not as easy as you might think. They're spread out among some of the best restaurants in Miami, in neighborhoods like Coconut Grove and South Beach, and, in a couple of instances, only sold in limited quantities or on select days. So keep this list handy next time you find yourself deep in a burger craving. We know we will.
Burger spots we love so much that we welcomed them into Time Out Market
Now here's a burger joint where we could eat all day every day until we literally exploded. We have Matthew Kuscher—the mind behind Kush, Lokal, Vicky's House, Kush by Stephens and others—to thank for that. From the classic with cheese to the frita with guava jelly, it's hard to choose just one but that doesn't mean we won't. Currently, the craving is real for Kush's Johnny Utah, a burger topped with hot pastrami, LoKal sauce, sliced tomato, shredded lettuce, diced white onions and cheddar cheese. It's our favorite deli sandwich our classic cheeseburger all rolled into one, plus it's served with a side of slaw.
Giorgio Rapicavoli can't do anything simply and that includes the burgers he's slinging at Bud's Burger, Eating House's virtual pop-up restaurant. Each one is more complicated than the next but the punny names tell you exactly what you're getting yourself into. Take the Eggers Can't Be Cheesers, an Angus-beef patty topped with a fried egg and white cheddar cheese, among other things. Or our pick for something less breakfast-y, the Bohemian Radishy with cucumber, pickled carrots, hoisin sauce, radish, cabbage slaw and cilantro. On Thurdays, select burgers and fries are just $15.
It's won many awards and also won over many a carnivore with its complex flavors and clean ingredients. You can chow down on an entire veggie burger and fries from Love Life without ever feeling weighed down. The reason? A healthy superfood patty, homemade guacamole topping, plant-based cheddar cheese and decadent cilantro aioli, which you'll want extra of for the side of baked herb potatoes.
In more of a pizza mood?
Because burgers and pizza are like peanut butter and jelly