Heads up! We're working hard to be accurate – but these are unusual times, so please always check before heading out.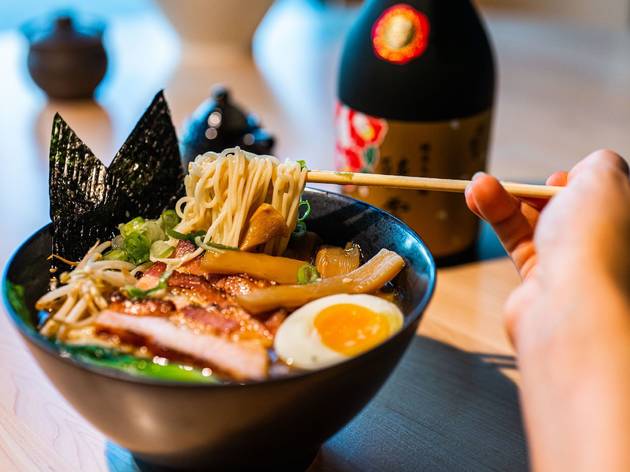 The best spots for ramen in Miami
Cozy up to a heaping bowl of Japanese noodle soup at the best spots for ramen in Miami.
When your city regularly has nights with temperatures in the upper 80s, it shouldn't come as a surprise when ramen shops take a while to catch on. So while for years it seemed other American cities had block after block of places to get hot, steaming bowls of Japanese noodle soup, finding a place to go for ramen in Miami was tough. But warm weather be darned, we've finally gotten in on the action. And in the past few years, our city has seen dozens of first-rate noodle spots pop up serving well into the wee hours of the morning. You'll find them in busy Brickell bars, spartan strip malls in Miami and bustling Miami food halls. Each one offers its own take on the comforting Japanese classic so even if you've already had one, it's worth giving one of these Miami ramen shops a whirl.
Best ramen in Miami
Brickell's go-to, late-night ramen spot is about as close to eating on the streets of Tokyo as you're getting in South Florida. The cash-only spot reserved space for only 19 guests, which means lines can get exceedingly long, especially after the bars let out. Everything's served in a bone marrow broth too, so sadly, vegans, you're out of luck.
If you think the machines are taking over…you're at least half-right at this South Miami noodle house, where you read the menu, order and pay all from the comfort and convenience of your smartphone. But the human show is half of the fun here, as you'll watch chefs stretching, slamming and slicing noodles behind big glass windows during your meal.
For sheer variety and originality, you'd be hard-pressed to top the selection at Ichimi, whose Gables and Midtown locations offer stuff not usually seen on noodle shop menus. The curry ramen is a smooth and spicy fusion of Southeast Asian and Japanese cuisines, while the summer spiced ramen adds a tangy house hot sauce for a flavor you won't find elsewhere.
If you don't walk out of this spot in Little River with a swollen stomach, you definitely weren't doing it right. Carbs, carbs and loads of meat are the name of the game here, where you can pair the rich and savory OG ramen—a 20-hour tonkotsu broth with pork belly and a soft-boiled egg—with umami sticky buns and pork gyozas. It's the kind of ramen spot where even people who aren't a fan of soup will find something they love. Same goes for vegans: Hachidori's shroom ramen overflows with veggies and is so satisfying you won't even miss the meat.
Broward county's original ramen den opened up shop in Wynwood last year to great acclaim, with a thick, pork-bone tonkotsu broth that sticks to your mouth after you've swallowed the noodles. It's one of the richer ramens you'll try, so if you're headed here late at night just know there's a good chance you'll feel it in the morning.
The Asian tapas stall in the gleaming new Sistrunk Marketplace might lure people in with its sushi, but the ramen is the true star of the show. Browards' best noodles are made fresh daily, soaked in creations you won't find elsewhere like the chicken curry pomodori, and the spirited truffle tori tongkotsu. Also on the menu are three pescatarian options if you're not into pork, most notably the Atlantic salmon porcini dashi soyu, which goes down especially well with a vodka cocktail from the on-site distillery.
Before noodles became a craze in Miami—and the rest of America—there was Moshi Moshi, who in addition to being one of South Beach's first neighborhood sushi joints has also been serving steaming bowls of ramen for over 20 years. The original still stands up, pairing over 30 different sakes with its Sapporo miso ramen, hot tomato ramen, kimchi ramen and other varieties in three different locations.
In Japan, broths are what set ramen shops apart. Assuming that's also the case in Miami, Shokudo should stand well above the rest with some of the richest, most complex broths in the city. It's one of the few spots you'll find a kombu/shitake broth, a tangy stock made from sea kelp served with chashu pork and nori fish cakes in the signature shoyu ramen.
Yuzu is the classic story of a local boy who ventured out into the world, learned from others and brought that knowledge back home. That's why you'll find influences from places like Borneo and Jakarta on Andrew Zarzosa's menu, with a short-but-solid noodle lineup leading the way. The stuff is so good that it took home first prize in the blind-tasted PopRamen contest last year, and it's even vegan friendly with a special shiitake mushroom broth.
If you've got the late-night munchies after your fourth or fifth Japanese whiskey at Baby Jane, you don't need to go far to find something to soak up the drinks. Get a double-dose of post-consumption cuisine with the shiro kombu ramen, where chicken broth and ramen noodles are topped with another late-night favorite: fried chicken.
You can never go wrong in a ramen house filled with college students, right? Especially if that college is the University of Miami, where the students can probably afford to eat places that don't plate up the biggest bowls of ramen in the city for about two-to-three dollars less than elsewhere. You'll also find a selection of pork, chicken or chicken-and-miso broths if you're looking for something a little lighter.
As any veteran of the Broward County fast-casual scene knows, the best restaurants are almost always found tucked into nondescript strip malls. This spot on Hallandale Beach Boulevard just is no exception. At WoodOne, the vegetables lose no flavor in the cooking and add a complex taste to the traditional tonkotsu broth. It's simple, authentic, and unassuming, and a place to take people so you look "in the know."
Craving more Asian delights?
Supremely fresh, delicious raw fish is right this way