The best Miami outlet malls for bargain shopping
Shopping in South Florida? Score major deals on designer clothes and big-name brands at these Miami outlet malls.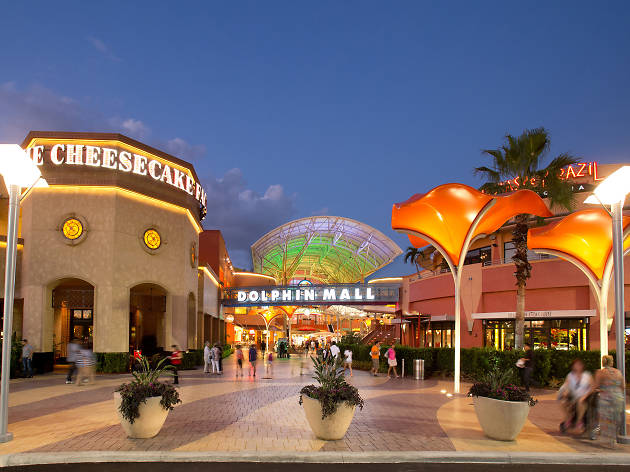 What do tourists like more than exploring South Beach or taking a dip in the best Miami beaches? Surprisingly, it's shopping in a Miami outlet mall. Out-of-towners shuffle through the proverbially crowded corridors of these bargain emporiums, luggage in tow, stuffing their empty suitcases with just about every sale item imaginable—from clothes to houseware to accessories. Occasionally, it's locals who begrudgingly schlep across massive parking lots and bear getting shoved by swarms of sale shoppers all in the name of a good deal. Are outlet malls in Miami pleasant? Sometimes. Will they save you loads of money? Always, so we visit them anyway.
Miami outlet malls
Shopping, Shopping centers
What is it? Miami's answer to Fort Lauderdale's Sawgrass Mills, Dolphin packs the usual suspects you'd expect to find in an outlet mall—Ralph Lauren, Saks Off Fifth, Gap—in a space that's considerably smaller and easier to navigate than most bargain hubs.
Why go? There's more to Dolphin Mall than shopping, including two movie theaters, a bowling alley, an arcade and a dozen restaurants. Plus, there's free seasonal programming, like outdoor concerts in the summer and fake snow in the winter.
Shopping, Shopping centers
What is it? A retail beast with 350 stores and more than 1,000 parking spaces (and valet!) plus a movie theater, a stacked food court and many, many restaurants to keep you fueled throughout your shopping adventure.
Why go? The Colonnade Outlets at Sawgrass house the ultimate selection of high-end designers and premium brands—from Lululemon and Kate Spade to Burberry and Gucci—and the discounts are deep.
What is it? This midsize outlet mall is located where the Florida Turnpike drops off and turns into U.S. 1, making it the ideal pit stop on your way to the Florida Keys. All through shopping for your beach vacation? Stock up on essentials at stores like Tommy Hilfiger, Nike, Coach and Gap.
Why go? The outdoor, tree-lined mall offers a pleasant place to stroll and window shop. Without designer stores to lure label-hungry tourists, the Florida Keys Marketplace is free from large crowds—parking isn't unwieldy either.
More to explore