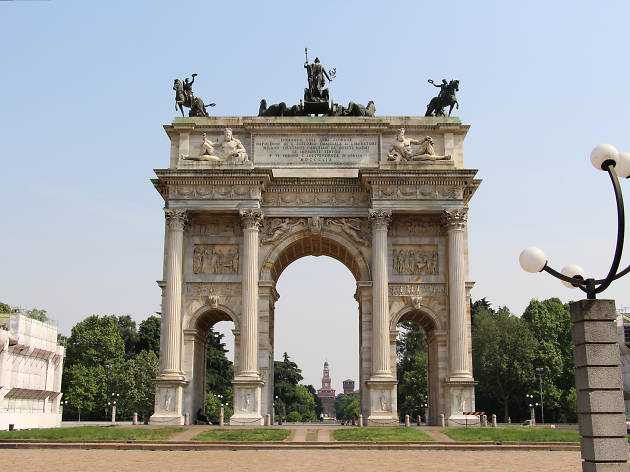 The 10 most Instagrammable places in Milan
While virtually anything in this city is worth a picture, here are 10 stunning places that are absolutely worth posting
Milan has a vibrancy and spirit well worth capturing—and we've gathered the top ten places in the city where photos are a must.
Of course, as Italy's fashion capital, the sophisticated stores, restaurants, coffee shops and people in the Quadrilatero district already fill many an Instagram feed. Then there are the iconic attractions like the Duomo, the Galleria Vittorio Emanuele and the Arco della Pace, not to mention the ultra-modern sights that make Milan unique, from the vertical forest buildings to sleek museums like the Fondazione Prada and the HangarBicocca.
Plus, as Italy's spiritual home of aperitivi, you'll have your pick of places to snap your obligatory Aperol spritz, from the hipster Navigli canals to cool rooftop bars with the Milan skyline twinkling behind.
Duomo
Milan's cathedral is by far the city's most recognisable landmark (as evidenced by the hordes of people always surrounding it). But that's for a reason: The second-largest church in Italy is a thing of beauty, with its intricate latticework, stained glass windows and elaborate rooftop spires. The main question is, which view do you want? The piazza in front of the Duomo makes for a classic shot, or for a different view, visit the Museo del Novecento (filled with modern art and worth a visit) next to the square, ascend its spiral staircase and snap a pic from on-high.
Galleria Vittorio Emanuele
The 19th-century glass-domed building near the Duomo is a gorgeous creation. It's not only home to some of Milan's most exclusive retailers along with caffés and restaurants—making it a good place to get in some shopping (window or otherwise)—but it's also a prime location for people-watching. The fabulous dome is already picture-perfect, but you may also want to capture the lovely floor mosaics—or simply a selfie with an Aperol or Campari spritz at the Camparino caffé. It's especially pretty at sunset, when the light peeking through the glass is quite stunning.
Quadrilatero District
Regardless of whether you're in Milan to shop, your visit isn't complete without a stroll through the Quadrilatero della Moda neighbourhood. It's not only home to premium Italian fashion labels like Dolce & Gabbana, Gucci, Prada and Valentino, but you'll also see a surprising number of locals strutting around in their haute-couture finery in what's essentially an impromptu fashion show (and even more so during the real Milan Fashion Week). Whether you fancy yourself a street style photographer or simply want to capture the elegant atmosphere, you'll have lots of subjects from which to choose.
Navigli Canals
In the 12th century, construction began on Milan's system of canals; but they were abandoned in the 19th century in favour of other forms of transportation like trains and eventually cars. The canals sat in disrepair until two of them, Naviglio Grande and Navigli Pavese, were cleaned up over the last 20 years, and they've since become a popular place to stroll, shop, and partake in aperitivo, the Milan ritual of early evening drinks and snacks. Navigli is especially lovely when the last of the evening sunlight reflects on the canals, or you can go a little earlier for a drink (and a photo op) at one of the many bars lining the waterside.
Arco della Pace
When construction of the "Arch of Peace" began in 1807 to celebrate Napoleon being crowned as King of Italy, it was meant to be an Arch of Triumph. But after Napoleon's defeat, the project was abandoned temporarily and not completed until 1838. Now it stands as a grand monument at the north entrance to Parco Sempione, one of Milan's largest green spaces. Eighty-two feet high and topped with bronze statues, the Arco della Pace makes for a striking sight at any time of day and is totally different from anything else you'll see in Milan. There are plenty of bars and restaurants around the park if you fancy a drink afterward.
Bosco Verticale
Also known as the "Vertical Forest," these two residential towers in the Porta Nuova district are covered in more than 15,000 plants, 800 trees and 4,500 shrubs. The towers were designed by architect Stefano Boeri to help keep temperatures consistent in the buildings no matter the season, as well as to protect against noise and to provide a space for birds and insects to live. Of course, not only is all this vegetation good for the environment, it also looks incredibly cool in an Instagram snap. Plus, once you're in the neighbourhood to see the tower, you can finish with a short stroll to the fashion mecca of 10 Corso Como or grab a bite at nearby Eataly (both also Insta-worthy).
Bar Luce
Fondazione Prada is one of Milan's newest attractions, a 200,000-square-foot contemporary art complex in Largo Isarco, off the beaten bath in southern Milan. The museum was created from an old distillery combined with brand-new buildings, in a project designed by star architect Rem Koolhaas. Within this ultra-modern space (which also merits many pictures) sits a quirky little '50s-style caffé designed by film director Wes Anderson. The colourful chairs, Formica tables, paneled walls, pinball machines and generally hip vibe are all more than Instagram-worthy—plus you can get a pretty good caffé and cake while you're at it.
Ceresio 7 Pools & Restaurant
High atop a nondescript office building sits Ceresio 7, a little slice of Miami in Milan. Not only does the rooftop offer panoramic views of the city skyline, there's also an outdoor pool surrounded by sun loungers where you can catch some rays or take a dip during the day (with advance reservations and for a steep fee). Otherwise, join the fashionable people who congregate for cocktails at L'American Bar, and perhaps stay for a nibble of the contemporary Italian food. Either way, there will be picture-worthy views aplenty both inside and out.
Pirelli HangarBicocca
Located in a gigantic former train factory, this cavernous industrial space on the far northern reaches of Milan houses a permanent installation by artist Anselm Kiefer—The Seven Heavenly Palaces—where visitors can walk through seven cement towers ranging from 43- to 52-feet high, and also view five large-scale paintings by the artist. The towers look just as cool on Instagram as they do in person. The space also hosts temporary exhibitions from international and Italian artists, so have your iPhone at the ready.
Cioccolati Italiani
Yes, you'll see absolutely everyone else taking pictures outside this gelato emporium on a side street close to the Duomo. That's because not only do the cones taste fabulous, they also look it. For a picture-perfect gelato, get a chocolate-dipped cone filled with three flavours (the hazelnut and any of the chocolates—of course—are top-notch) topped with whipped cream, chocolate sauce and a cookie. If you can stand waiting a bit longer to indulge, take your cone in front of the nearby Duomo or Galleria Vittorio Emanuele to capture two Instagram-worthy pictures with one snap.
Find more photo-worthy sights around town
Attractions in Milan don't necessarily dazzle the eye, but walk into the city's stately palazzos and you'll find treasure troves of Renaissance paintings; or peek inside a former industrial warehouse and you'll come across thoughtfully curated exhibitions of contemporary art and design.