Heads up! We're working hard to be accurate – but these are unusual times, so please always check before heading out.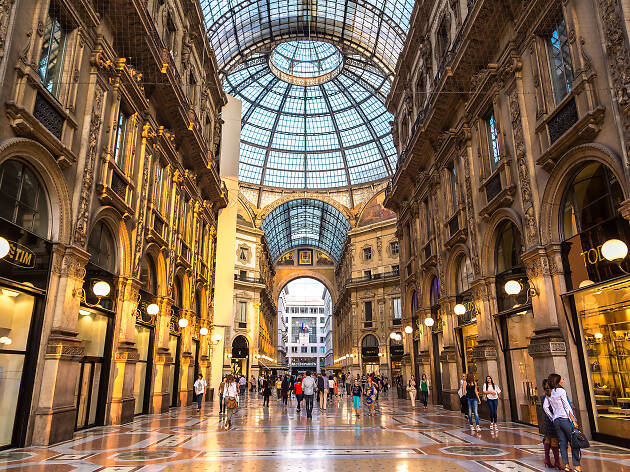 Where to go shopping in Milan
Shopping in Milan is about more than designer boutiques: find vintage and budget-friendly treats at these local shops.
There is no lack of high-octane fashion flagships in the centre of this Italian metropolis, shopping in Milan is a world-renowned activity and one of the best things to do in town, after all. Most major brands are well-represented in the so-called Quadrilatero d'Oro ("golden rectangle") fashion district – bordered by Via Senato and Via Merone to the north and south and Corso Venezia and Via Manzoni to the east and west. You don't even have to worry about the logistics involved in getting around the area: every shop, boasting show-stopping windows and perfectly curated store designs (often dreamed up by some of the interior design world's biggest names) is worth a visit – if only just to browse.
Aside from the obvious choices, which also function as top local attractions in some ways, Milan's best shops are a bit harder to suss out. Many are hidden far from street level or down otherwise unassuming alleyways, by anonymous-looking bars and restaurants that are also certainly worth exploring. But don't be put off by the off-the-beaten-track locations: these exactingly edited boutiques are the real gems. An added bonus, the best are often presided over by a charismatic owner, who has poured his/her hard-won sense of style into creating the perfect shopping experience.
Best shopping in Milan
Photograph: Courtesy Yelp/Hanna E.
Cavalli e Nastri runs three funky boutiques dealing the best in vintage clothing and accessories, all presented in a fun and enticing manner. The boutique in the Brera district focuses on women's pieces, and there are two other shops on the same street near the Colonne di San Lorenzo – one store deals only in men's vintage. Each location offers a curated selection of fashions from yesterday with an eye towards today's trends.
Photograph: Courtesy Yelp/Daniel C.
Often described as the first-ever concept shop, Corso Como 10 is a Milanese institution in the truest sense. Founded by Carla Sozzani (the sister of late Vogue Italia editor Franca Sozzani), the multi-level Moscova-area shop houses a boutique, art-book store, café and gallery. Known for its impeccable curation and whimsical store design by artist Kris Ruhs, Corso Como 10 is the place to go for high fashion and top-level gifts.
Photograph: Courtesy Yelp/Augusta B.
Located mere steps from the picturesque Colonne di San Lorenzo, Frip has been around for almost 25 years, dealing in "savvy, understated fashions" from the best British, French and Scandinavian brands. It appeals to those looking for longer lasting alternatives to offerings from the fast-fashion stores quickly overtaking the city. Frip sells clothing and accessories for men and women that are destined to become wardrobe staples for years to come.
Photograph: Courtesy Yelp/Peter G.
This luxurious department store in Piazza del Duomo boasts ten floors dedicated to men's and women's clothing and accessories, beauty products and items for the home. Don't skip out on the food hall on one of the upper levels, which offers one of the best views in town of the cathedral for which Milan is famous. La Rinascente makes for a great one-stop shop for the best of Milanese fashions.
Photograph: Courtesy Wait and See
The location – a convent from the 18th century in Milan's historic Cinque Vie (five streets) – may be old, but the philosophy of this colourful and eccentric boutique is forward-thinking. Fashion expert and self-proclaimed aesthete Umberta Zambeletti offers a curated selection of clothing, accessories, objects, stationery and vintage pieces from all over the world.
Photograph: Courtesy Slam Jam
The Italian streetwear institution has been a pilgrimage point since opening its first location in Ferrara in 1989. Carrying hard-to-come-by independent brands, as well as limited edition drops from the big players, the Sempione park-adjacent location is always buzzing. If you fancy yourself a sneakerhead, check the website ahead of time to catch upcoming drops.
Photograph: Courtesy Lizard Concept Store/Federico Villa
Recently opened in the Cinque Vie medieval district, Lizard Concept Store is a small, tightly curated boutique selling womenswear and decorative objects. While many of the major shopping destinations in Milan offer edits of the big brands, Lizard stocks loads of interesting independent names. Looking for a pair of ostrich-feather trimmed silk pajamas or a new patterned purse? This powder pink shop should be your first port-of-call.
Photograph: Courtesy La DoubleJ
Prints are on the table at this Navigli-side shop and showroom. They're also on the floor, walls, chairs and all the way up to the ceiling. Founded by former fashion journalist and American ex-pat JJ Martin, La DoubleJ started as a vintage e-retailer but soon blossomed into a ready-to-wear line that specialises in maximalist, colour-centric, made-in-Italy womenswear. The showroom doubles as La DoubleJ's headquarters, so email laservice@ladoublej.com ahead of time to book an appointment.
Photograph: Courtesy Yelp/Dario C.
A storied menswear boutique in Milan's fashion quarter, Larusmiani is the oldest shop in the district, open since 1954. Specialising in handcrafted suits, shirts and shoes that are sought after for their exquisite detailing, Larusmiani also has an awesome ready-to-wear section and a grooming shop in the basement that sells one-of-a-kind handmade accessories for men.
A longtime arbiter of Milanese style and unofficial uniformer of the city's bourgeoisie, Pupi Solari traffics in understated but ultra-chic women's and children's clothing. The shop is still run day-to-day by the octogenarian owner, Pupi, who originally opened it in the '60s. Find a thoughtful curation of pared back brands like Aspesi, Jil Sander and Massimo Alba, as well as perfectly prim clothes for kids.
Photograph: Courtesy Yelp/Elisa V.
The heroic interiors alone are worth a trip to Antonia. Set in a stripped-back former palazzo, a mountain's weight of lux marble and sleek contemporary furniture define the cavernous space. With a cutting-edge curation that caters to the city's high fashion set, find everything from limited-edition Nike trainers to just-off-the-runway brands like Balenciaga, Bottega Veneta and The Row.
Photograph: Courtesy Delphine Vintage
Fluttering dresses, silk scarves and frills abound in this vintage store in the Isola district. In a city offering such wide-ranging vintage options as Milan, this is the place to go to find ultra-feminine pieces from the 1800s up to the 1970s. Each item is lovingly chosen by the owner, also named Delphine, who keeps quality and curation at the highest level.
Milan's most fashionable crowd has got to clean out its closets some time, right? And when that happens, stuff goes straight to Bivio. The only consignment shop we know of where you can find two-seasons-ago Marni or Prada for the price of a Zara dress, it's worth it to roll up your sleeves and dig into Bivio's overflowing racks. Spanning three stores for both men and women on via Mora in the Ticinese district and a third in Porta Venezia, follow the shop on social media to get first dibs on the latest second-hand arrivals.
Photograph: Courtesy TripAdvisor.com
Chichi Meroni, designer and proprietor of L'Arabesque, has created a world of her own in her Largo Augusto 10 flagship. The boutique carries her own designs as well as vintage clothing, furniture, rare books and a café. L'Arabesque ups the ante when it comes to concept stores, channelling an old-world, distinctly Milanese kind of glamour – a byproduct of Meroni's impeccable taste.
Photograph: Courtesy Yelp/Halming L.
Set on an otherwise unremarkable side street just off of Naviglio Grande, Antonioli specialises in excruciatingly of-the-moment styles, describing patrons as "men and women who choose to lead the way, living their lives free from conformities." The 400-square-metres shop was designed by local architect Vincenzo de Cotiis and is home to the more eclectic offerings from the major fashion houses, buzzy independent designers and a strong roster of streetwear.
Worked up an appetite?
When the Expo 2015 swept into town, it brought along with it a focus on food that has led to a local restaurant and bar revolution. In terms of pizza, this has meant an influx of big-name Neapolitan players as well as a rise in homegrown artisanal offerings.