Heads up! We're working hard to be accurate – but these are unusual times, so please always check before heading out.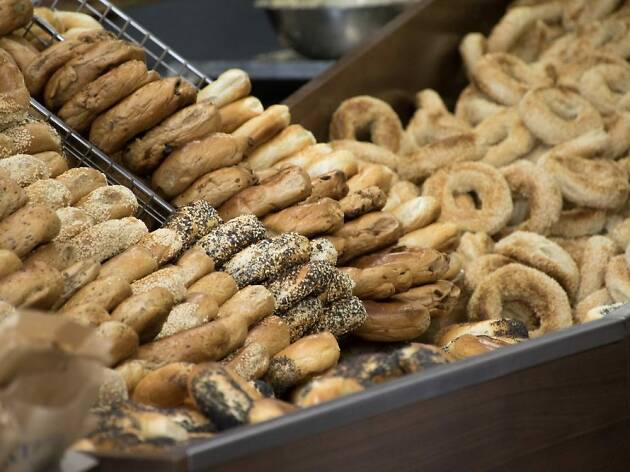 The best bagels in Montreal
If you're looking for the best bagels in Montreal, look no further than this list of the city's top bagel bakeries
Among the most iconic fare found in the bakeries and restaurants in Montreal, the bagel is right up there with smoked meat and poutine. What started with Jewish immigrants bringing hand-rolled, wood-fired rings of sweet, thin, and dense rings of dough in the early 20th century has become a distinct, world-famous dish today: By day or night, as breakfast and brunch in Montreal or as a late night snack, eating a Montreal-style bagel's one of the best things to do in the city. Here's where to find those bakeries, from every compass point on and around the island.
Best bagels in Montreal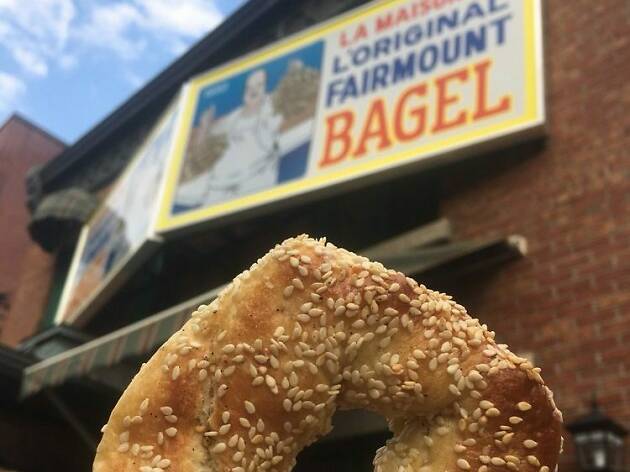 Photograph: Courtesy Yelp/Jennifer C.
Make no mistake, Fairmount is the original bagel baker of the city, having stood at its location since 1949. The same century-old recipes, traditions and techniques have been used throughout generations to create internationally famous bagels. Open 24 hours a day, eating from here is one of the essential meals of Montreal: A bag of six fresh sesame bagels, a container of cream cheese (plus smoked salmon if you're feeling luxurious) and that's it. Dig in and be amazed.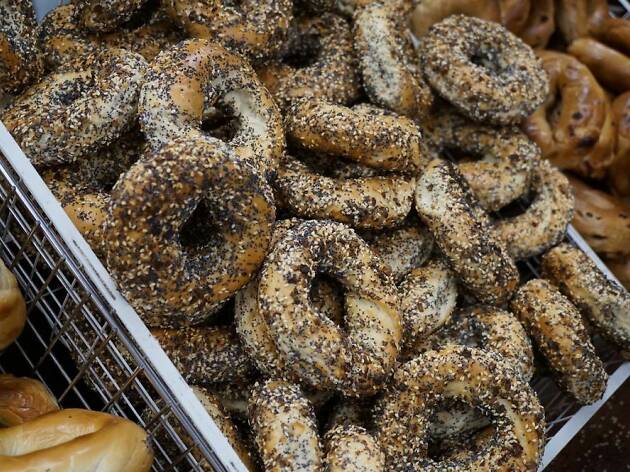 Photograph: Courtesy Yelp/Min C.
With a wood-fired oven that's been burning since 1957, St-Viateur is a veritable keystone in Montreal's history of bagels. From its original ownership to today's, this shop's never forgotten its roots in the Mile End while garnering international acclaim and multiple bakeries and cafés. From a mountain of fresh dough, to being tossed hot off the sheeba, to a delicious bite of a hot and fresh one, it's a place of beauty open all day every day.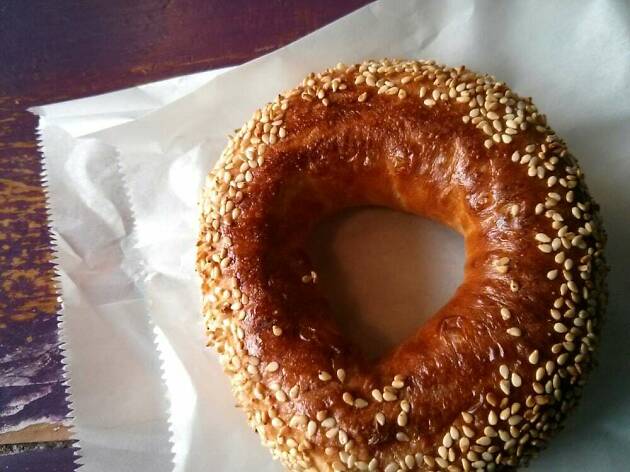 Photograph: Courtesy Yelp/Julien F.
Open since 2014, the Verdun-based Bagel St-Lo is a more-than-respectable flag bearer of the Montreal tradition. Husband and wife duo Philippe St-Laurent and Isa Lora Messier are doing things right with fresh varieties daily, especially when considering they do something the OGs seldom do: Their bakery is also an amazing restaurant doling out eggs benedict on bagels. That's a true New York-Montreal combo.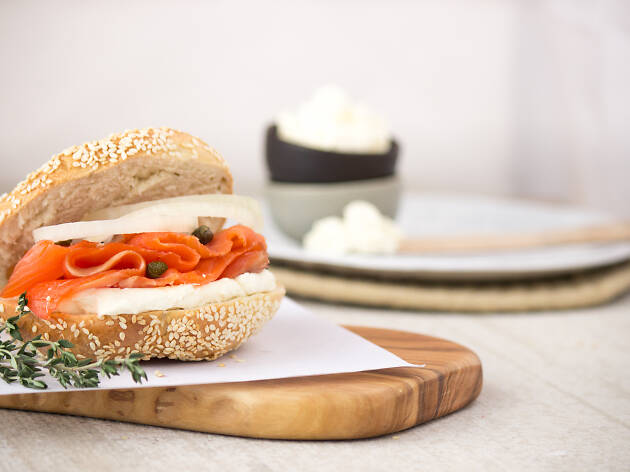 Photograph: Courtesy Bagels on Greene
A city within a city, the wealthy suburb of Westmount's always got to do its own thing. It's got its own city hall, its own police force, its own plumbing; heck, it's even got its own bagels, but is still cast from the same Montreal mould. A bakery and deli rolled into one, locals populate its tables just as much for its lunches and "fusion menu" of Indian and Italian dishes as they do the handmade baked goods.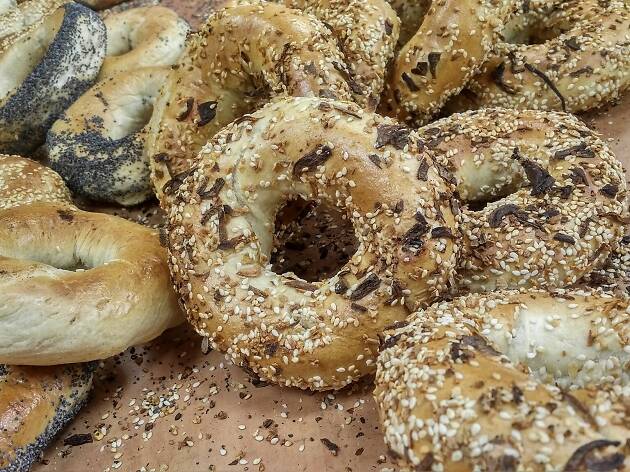 Photograph: Courtesy MTL Bagel Shop
Two decades and counting is the wind in the sails of Glen Spence's bagel shop, as it's accrued a loyal following in Côte Saint-Luc. Served as single or by the dozen, MTL Bagel's cutting and rolling out over 5,000 pounds of dough to create over 2,000 bagels a day. That's saying a lot when considering the crazy amount of flavours available here. Care to try a jalapeño pepper, spicy all-dressed or coconut bagel? Don't eschew it, chew it; Spence's stuff is quality.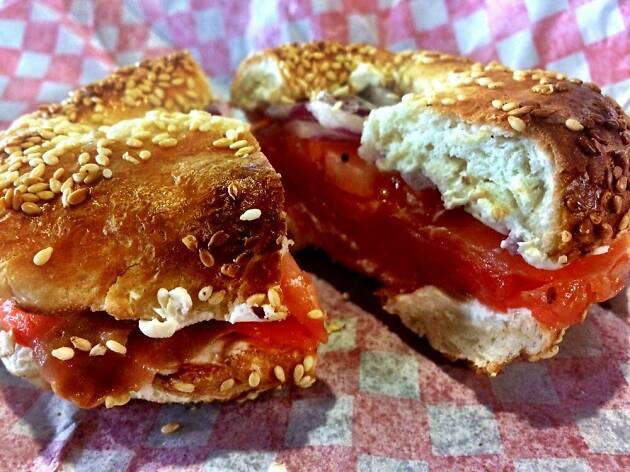 Photograph: Courtesy Yelp/Jack D.
Serving up the best bagels in Côte-des-Neiges is this curio shop of a bakery, located right off the Décarie. Setting out to deliver the most unique menu, Real Bagel's doing your essential poppy and sesame seed varieties in addition to wilder takes like Oreo and French Toast. Their site mentioned they serve up "award-winning" bagels; we're not exactly sure which award they mean, except for the award that matters most: Our respect. Keep it weird, er, real.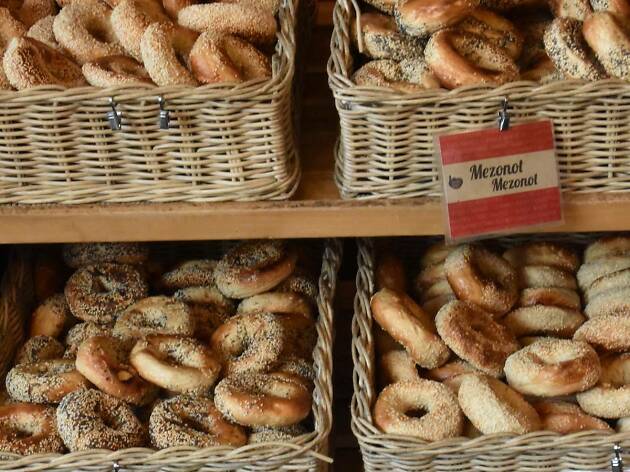 Photograph: Courtesy District Bagel
One for the locals since 2008, District Bagel in Mount Royal's doing a little bit of a everything menu-wise. A kosher café dealing in your usual sandwich and soup offerings alongside fresh bagels of a cakier consistency in 18 different flavours, they've also put the oven to work at making a range of other goods as well like damn fine blintzes and Danishes.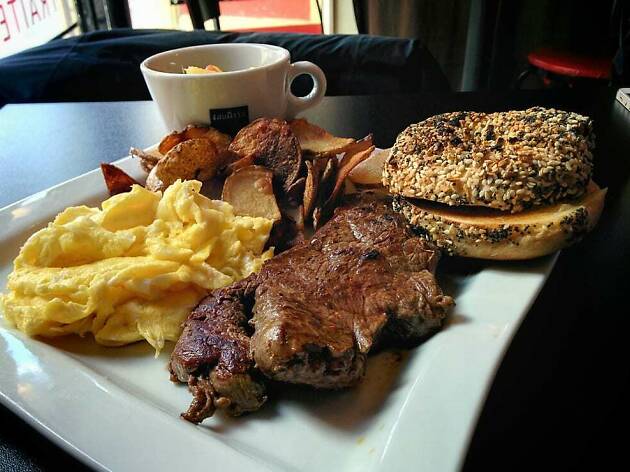 Photograph: Courtesy Yelp/Alan F.
There's a lot of good and cheap breakfast spots in Saint-Henri, and Bagel St-Henri's one of them. Off the beaten path of its neighbourhood's main strip, this spot's an outlier in the city for how it serves up a fatter, fluffier German version of bagel. While it's not your century-old bagle bakery, credit's to be given where it's due, and this one has earned a spot in our hearts for the excellent prices and love its owners give.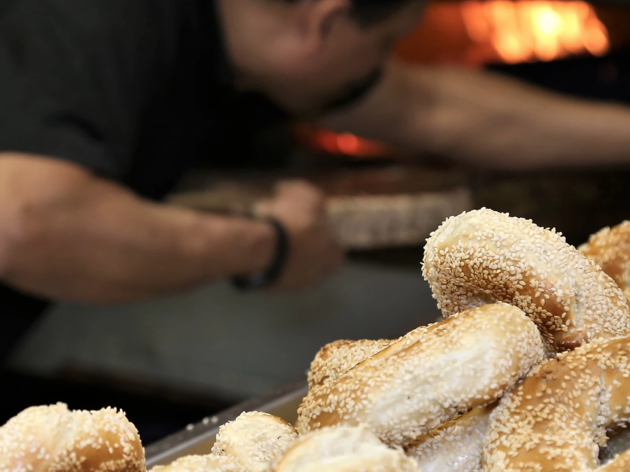 Photograph: Courtesy Dizz's Bagel & Deli
After decamping from their experience at Real Bagel, Steve Dizgun & his father Irwin took opened a shop of their own in 1995. Taking aim at the limited range of food available at bagel shops—baked goods, cream cheese, lox—they created a café that's boasting one of the biggest menus of its kind in town; that includes a small menu of Chinese dishes and kosher sides on top of wraps, salads, desserts and breads. They're also flying the colours of being Montreal's home to the rainbow bagel.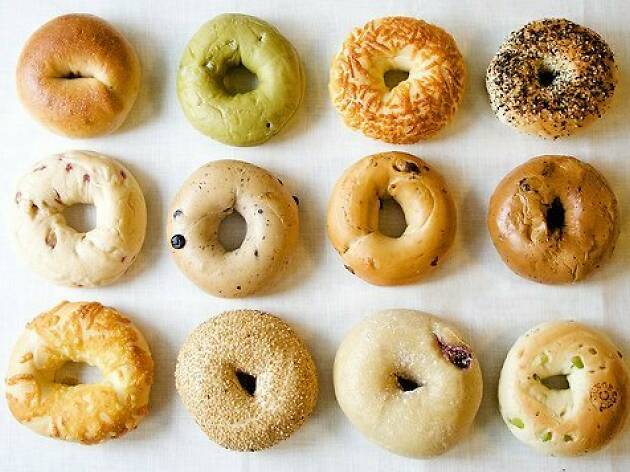 Photograph: Courtesy Nosherz
West-end natives remember Nosherz when it consisted of a single dedicated man named Solly selling bagels door to door. The demand for bagels and all their accouterments became so high that its reinvention saw enough soups and sides and sweets to cater everything from a bris to a Bar Mitzvah. Consider the cheese bagel—unfairly omitted from bagel-centric discourse—that Nosherz puts back on our radar.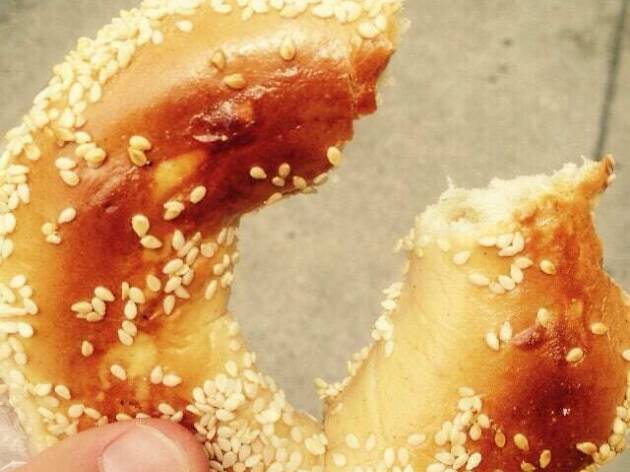 Photograph: Courtesy Yelp/Alfredo J.
While the Mile End has historically been the regular recipient of local love, the southwest side of town is starting to catch up. On top of a selection of wood-fired goods, other baked treats from pastel de natas to strudels and knishes are available as well, though most folks are happy to just grab their smoked meat bagel sandwich for an ultimate Montrealer snack. Drop in for a bagful of the rotating flavour of the week.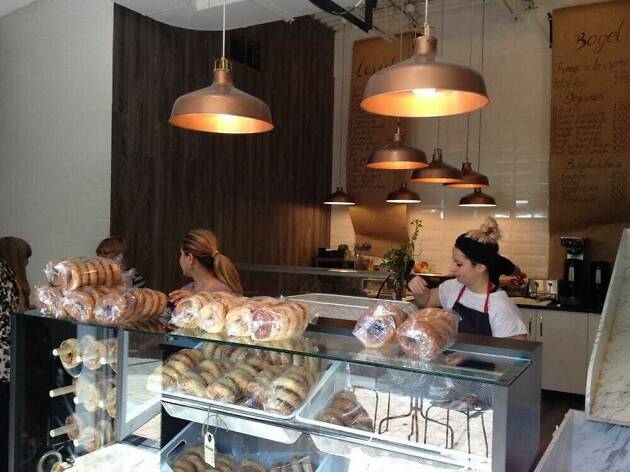 Photograph: Courtesy Yelp/Mei Y.
What would the Jean-Talon Market, one of the most famous spots to snack on the city's local edible wares, be without a bagel shop? Following the tradition of bagel bakers, O'Bagel's a slightly more boutique and sprightly option than older operations, but it's no less delicious. 'Gourmet' is a word that features prominently in their menu, whether it's the cream cheese spreads, the sandwiches, or the fine cheeses laid between two halves of freshly baked goodness.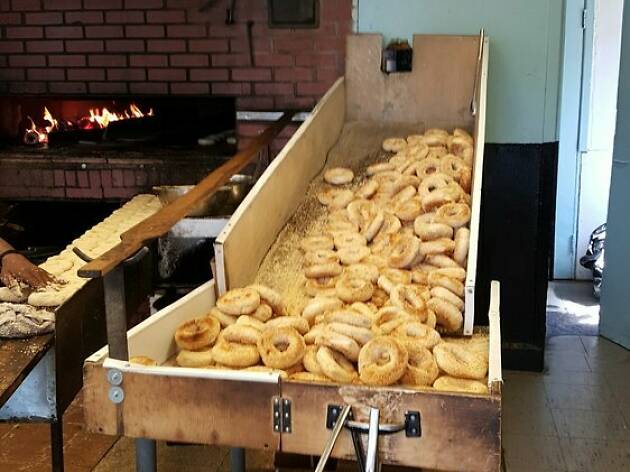 Photograph: Courtesy Yelp/Beaubien B.
A bare bones operation in La Petite-Patrie, it's a bagel options primarily serving anyone in the immediate area with success and satisfaction. No bells or whistles, only bagels: Beaubien's got 11 flavours and a handful of sandwiches on their menu. Some say they've a slightly fluffier texture not found at establishments with household names, which we'd venture is slightly more conducive to good sandwich structure.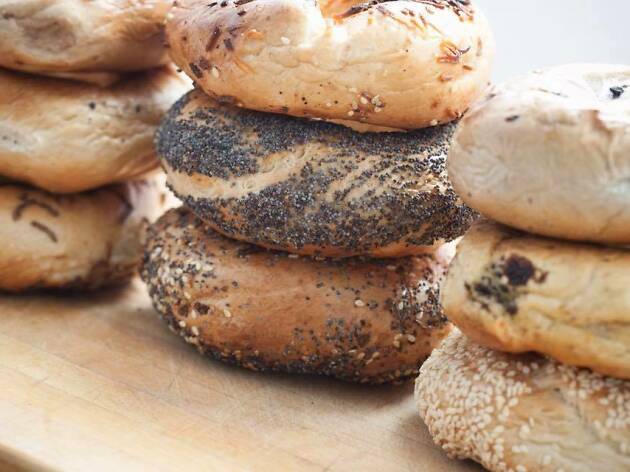 Photograph: Courtesy Brossard Bagel
The best bagels in the city won't always be found on the Island proper. Greater Montreal's town of Brossard on the southern shore is no exception, considering they're importing all the traditional trappings of a good Montreal bagel. There's just something about the way they do it and how it tastes that's converted many-a locals and visitors to their side of the Saint-Lawrence. You've been warned: You may become the devil's advocate in the room saying "uh, actually, Brossard Bagel's making the best."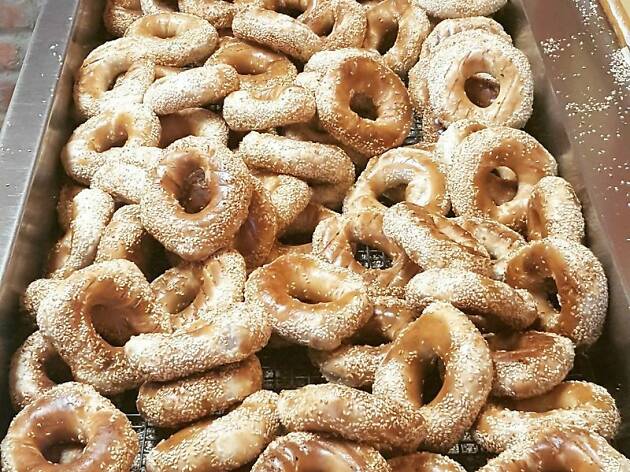 Photograph: Courtesy Yelp/Jason M.
Lest we forget anything across the northern shores of Montreal, consider Bagelmania: If you find yourself forlornly stuck in Laval and pining for the city's classic goods, they've got what you need, and it's not just a placebo. With more than ten years in the bagel biz, it's grown to be a reliable standby for Lavalians with a recipe that's a bit more pumped up in size, but with all the same flavours.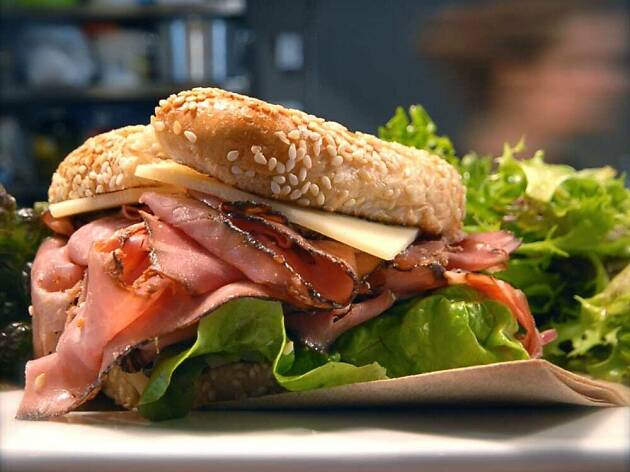 Photograph: Courtesy Yelp/Globeater M.
16. Hinnawi Bros. Bagel & Café
An upstart on the bagel scene, Hinnawi Bros. can be found in four different locations in Montreal with few signs of stopping. Like the name implies, it's more of a lunching/grab-and-go kind of spot—a good one at that—with over a dozen sandwich combinations to pick from, ranging from the straightforward Petit Québec egg and cheese to the Milanais, an escalope of fried chicken with swiss cheese and spicy mayo.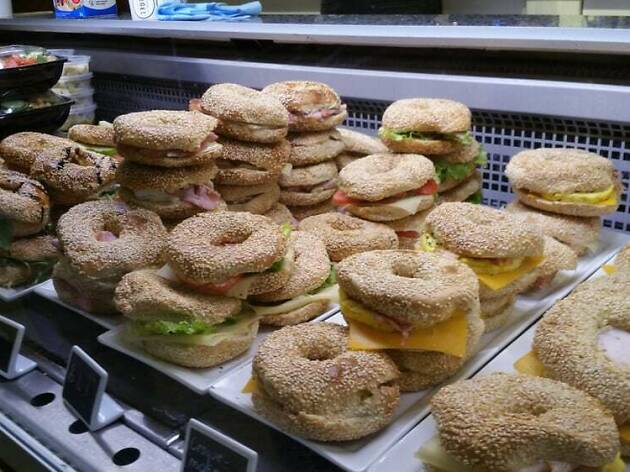 Photograph: Courtesy Yelp/Mike C.
This downtown bakery serving the hungry office-bound crowds of the 1000 de la Gauchetière tower is a reliable bite. While a younger operation that's more bougie than necessary, it's hard to agree with the grab 'n' go combination of a bacon, cheese and egg or catering with a box of their sandwiches made with a variety of sweet and savoury cream cheese flavours.
Discover more cheap eats in Montreal
Fine foods for a fraction and meals at a steal, these are the best cheap eats excelling at both price point and flavour.