Heads up! We're working hard to be accurate – but these are unusual times, so please always check before heading out.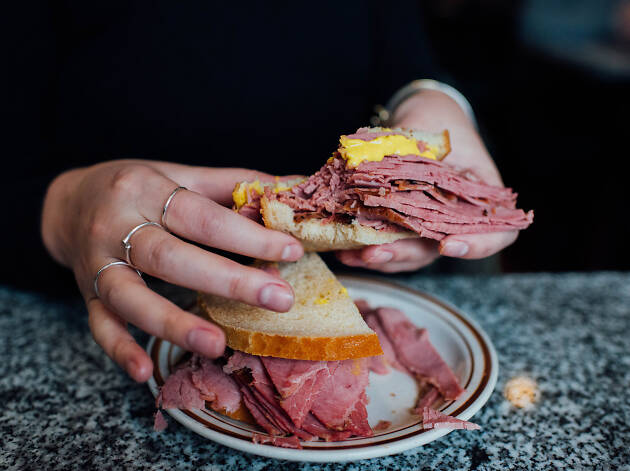 The best delis in Montreal for smoked meat you need to try
The best delis in Montreal are the vanguard and standard-bearers, carving up top cuts of smoked meat across town
As one of the city's most iconic foodstuffs, eating smoked meat at the best delis of Montreal is among the best things to do here alongside the best poutine and the best bagels. It's a beautiful thing, brisket dry-rubbed with a mix of curing salt, black pepper and aromatics that's smoked and steamed until a lovely rose pink, slathered with baseball mustard and finally sandwiched in rye bread. This list is all you'll need to find of best, from the famous to the fledgling and everything in between.
RECOMMENDED: Full guide to the best restaurants in Montreal
Best delis in Montreal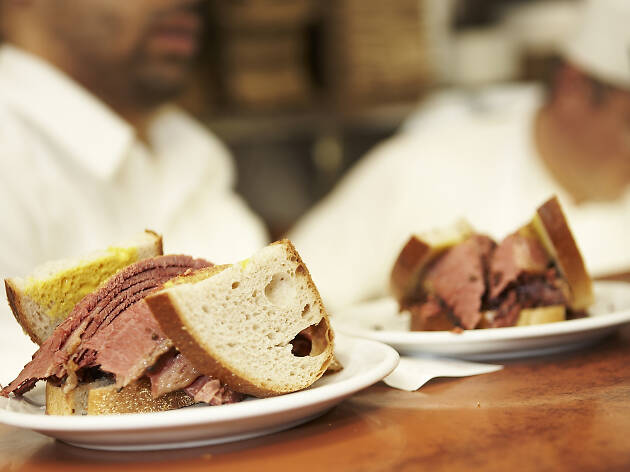 Photograph: Tourisme Montreal, Pierre Luc Dufour
Schwartz's name is synonymous with smoked meat. For many, this is the golden standard. To appreciate it though, you've got to put in work. You'll need to stand in line, shuffling under their awning in the cold catching wafts of as the front door swings open, ceaselessly swapping out the well-fed for the famished. Once inside, you're slotted in elbow-to-elbow with strangers, pressed to order by waiters with thousand-yard stares and it's cash only. But when that sandwich arrives? All's forgiven. The quality and consistency of this legendary Montréal eatery is astounding.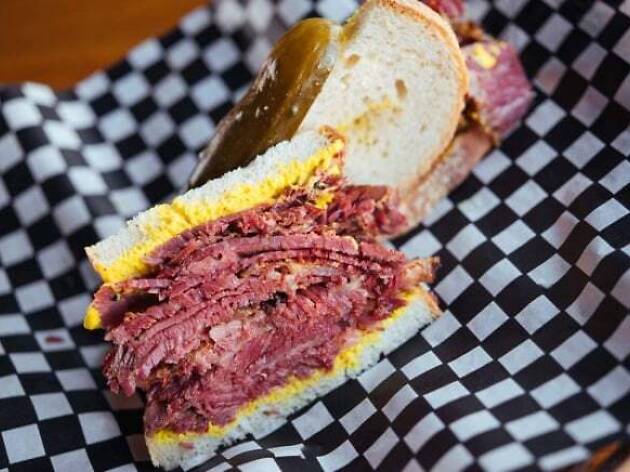 Photograph: Courtesy Yelp/Delibee's
For those of you who consider yourselves adventurers, the people who'd trek for food no matter the distance to find the best of the best, we're going to let you in a little secret: Delibee's is an unsung hero of the Island of Montreal. Located out in Pointe-Claire, it is by no means an easy feat getting out there, but it's more than worth a bite of their wares (plus fried potatoes and slaw on the side). Pro tip: It's a bit cramped inside however, so if you want to sit, grab a seat at the Mayfair Tavern next door and order with the waiter.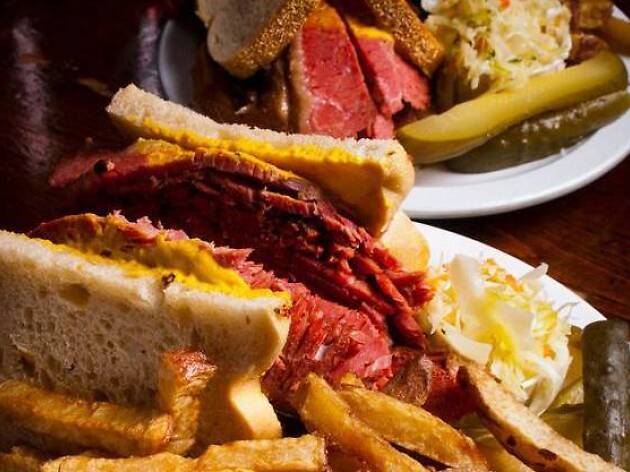 Photograph: Courtesy Smoke Meat Pete
An outlier and something of a young Turk as far as most smoked meat places are concerned, this place is way off the beaten path for most, but well worth the pilgrimage. The owner Pete cut his teeth alongside his father for twenty years in the halls of the hallowed Main Deli. On his own, Pete erected this honest honky-tonk shrine to blues music. It's in many ways more reminiscent of a Southern BBQ roadhouse than a Jewish deli, but the food is magnificent.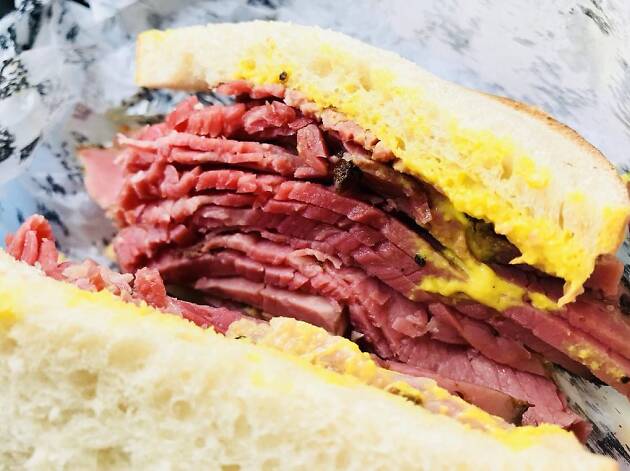 Photograph: Courtesy Yelp/Donald S.
For over 70 years, this venerable diner has been churning out quality smoked meat and has been making damn sure that those who darken their doorway leave for the better. The deli is staffed by a grizzled old guard; it's not unusual to learn a staff member has gleefully worked most of their adult lives there, which is almost universally the hallmark of a quality enterprise and always the guarantee of an equally devoted legion of patrons.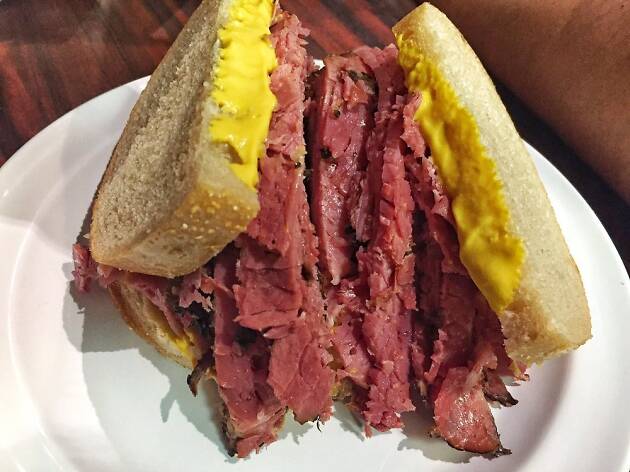 Photograph: Courtesy Yelp/Jennifer C.
You might feel the electricity as you pass in front of this legendary institution, glaring down its rival Schwartz's from across the street. This institutional always seemed to swing above its weight class, attracting Montreal royalty like Leonard Cohen, Mordecai Richler and Celine Dion. There's been controversy here in recent years since its new owners have made radical changes like using only organic meat and gluten-free rye bread for their sandwiches, but it still retains its mythic status.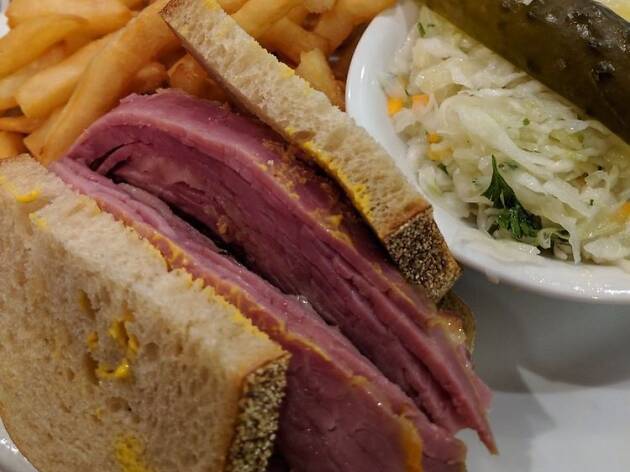 Photograph: Courtesy Yelp/Wai L.
This deli often gets left out of the running when talk of smoked meat comes up, and it's a crime. It's a cornerstone of the solid francophone neighborhood of La Petite-Patrie and plays a good counterbalance to its area's swish brunch joints and trendy cocktail bars. The décor is a little tired and your waitress Ginette probably is too, but no one's trying to pull a fast one on you here. The quality here's undeniable.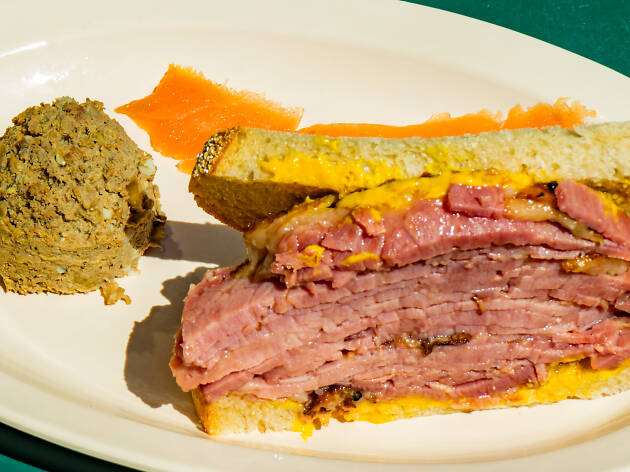 Photograph: Paul Shio
Another old school bruiser still spry enough to contend with the young guns in the city, this deli sports a classic 50's diner interior splattered with bric-a-brac, and its staff of lifers serves up stellar Jewish fare. Compared to some of the larger players, Lester's has found success in the trade of sous-vide packages of their product, ready to be heated and eaten at work, at home or just in a dark corner. Anything goes. Keep in mind that their terrace is a standout gem in the summer.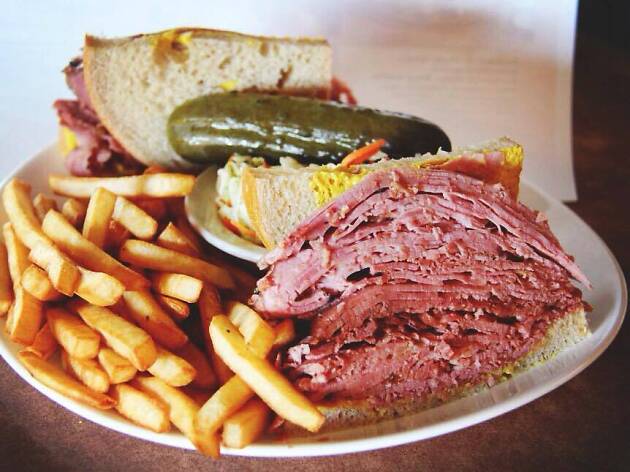 Photograph: Courtesy Chenoys
Chenoy's is a neighborhood staple, serving as a shining cultural hub for the West Island. As one of only a few smoked meat restaurants open all night long, it dutifully caters to partygoers licking their wounds and filling their bellies in the small hours of the morning after making terrible mistakes elsewhere on the Island. By day, you'll find Montrealers of every walk of life eating here.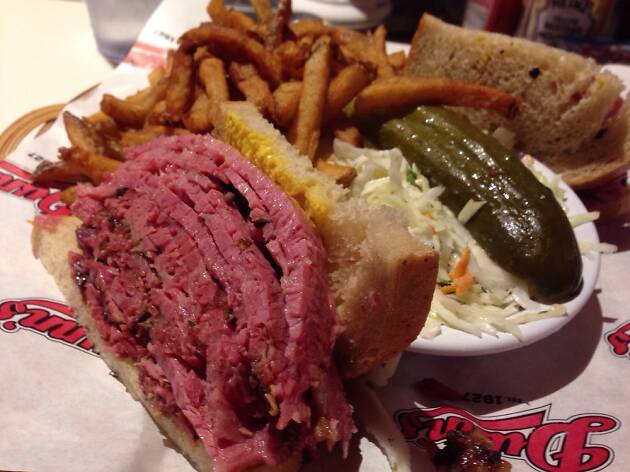 Photograph: Courtesy Yelp/Reno B.
You've seen a Dunn's before. Unlike many other smoked meat operations in Montreal, Dunn's has spread far and wide, opening franchises deep into Ontario and across Quebec. It started out peddling primarily pastrami but came around to the One True Deli Meat in the 1970s. Things have since gone well since and it has shouldered the role of a smoked meat chain restaurant well. Note that this downtown location doubles as a popular late-night restaurant for cab drivers and dancers.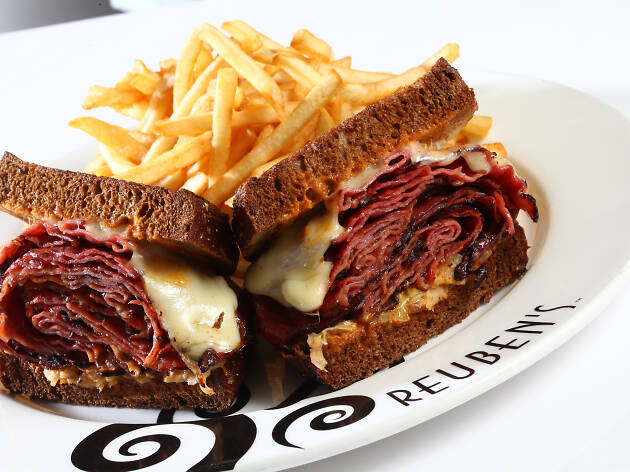 Photograph: Reuben's Montréal's Premier Deli & Steakhouse
10. Reuben's Deli & Steakhouse
Like Dunn's, Reuben's is gunning for that family casual crowd, but don't be fooled into thinking they don't take their smoked meat any less seriously. Nestled deep below the downtown core, many-a weary tourist has found their hunger satisfied under Reuben's iconic marquee lights. The smoked meat here manages to hold its own, especially when considering this is one of the few smoked meat places on the island packing cocktail and wine lists.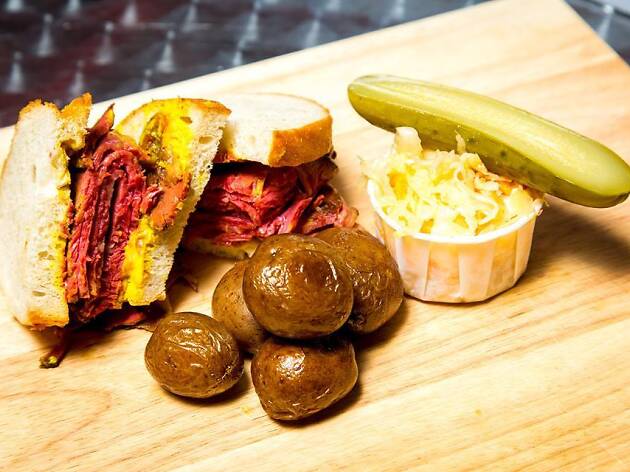 Photograph: Smoking meat
11. Smoking Meat Vieux Montreal
A relatively new addition to the city, Smoking Meat Vieux Montreal in the Old Port already has serious skin in the game. Their menu may seem curt and diminutive compared to some of the other more traditional delis in town, but it's only symptomatic of the care and attention to detail that makes this organization stand out. A sandwich here is a hard act to follow.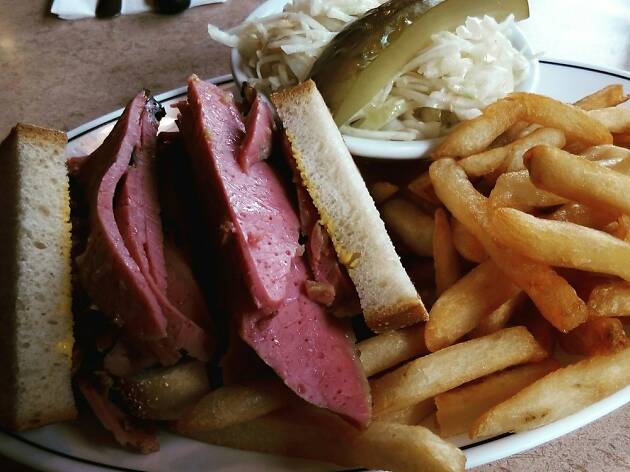 Photograph: Courtesy Yelp/Offer R.
12. Fameux Viande Fumée et Charcuterie
Le Fameux is another classic diner seemingly frozen in time. Known to some as an exclusively late-night haunt and to others as a bonafide breakfast joint, somehow those two solitudes combine miraculously without incident; the food's likely to blame. Not only do they have a smoked meat sandwich that can trade body blows with the big names in town, but they have an obscenely patient and friendly front staff that juggles helping the drunken half of the city off to bed with more bright-eyed folks in the morning.
Where to find the meatiest delights in Montreal
From choice prime rib, cowboy and tomahawk cuts and beyond, you'll find it all in the best steakhouses of Montreal.
Find platters of cured meats, cheeses, terrines, pâtés and more with this guide to the best charcuterie in Montreal.
Whether you want something greasy, cheesy, saucy or fancy, these beefy stacks are the best burgers in Montreal.