Heads up! We're working hard to be accurate – but these are unusual times, so please always check before heading out.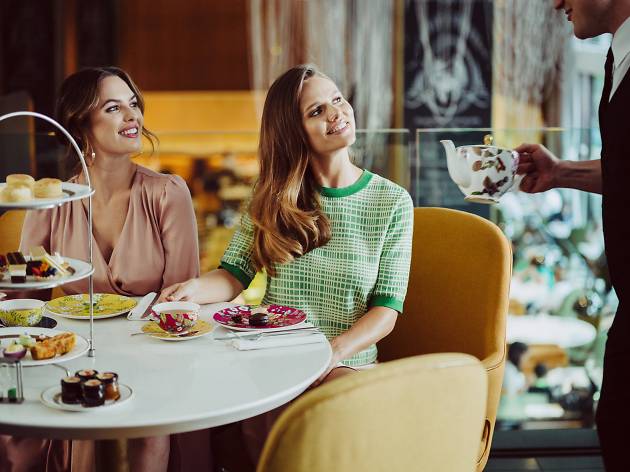 The best high tea Montreal has to offer right now
Elevate and luxuriate with the best high tea Montreal's got in dedicated tea houses, swanky hotels, bakeshops and more
The term high tea originates from the working-class British tradition of enjoying a good, strong cup while sitting in high-backed chairs, enjoying a heavy meal of meat pies, pickled fish, baked beans, cracker, and other edibles. What we call high tea in Montreal (and generally on this side of the Atlantic) actually incorporates many of the elements of afternoon tea or low tea, a highly ritualized upper-class affair enjoyed from low sofas. Whatever you call it, the luxurious afternoon service as we know it takes place in some of the best hotels in Montreal with snacks that rival the best bakeries, serving freshly brewed teas and dainty sandwiches alongside sweet treats, and it's a lovely way to treat yourself when you're feeling fancy.
RECOMMENDED: Full guide to the best restaurants in Montreal
Where to find the best high tea in Montreal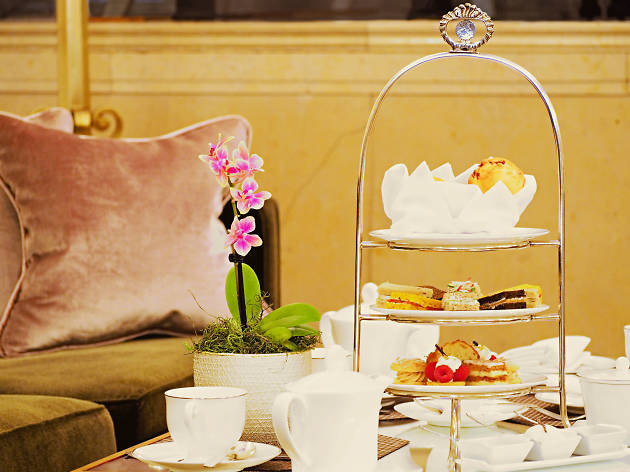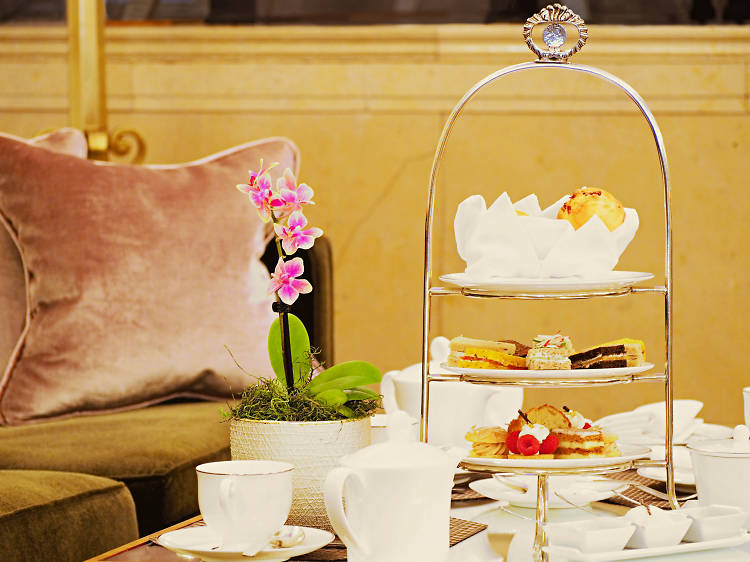 Photograph: © Ritz-Carlton Montréal
1. Maison Boulud (Ritz Carlton)
Opened in 1912, the venerable hotel Ritz Carlton is home to a longstanding afternoon tea service that sets a high-water mark for luxury in town. Restaurant Maison Boulud runs the service daily at 12:30pm and 3:30pm in the ultra-posh Palm court, and while services start as low at $36, you can easily splurge to the point of making it an extra special occasion. A range of black, white, green and herbal teas are on offer alongside elegant homemade canapes, pastries and scones. And for truly special occasions, a thé royal includes the regular full tea service with a flute of champagne to cap it all off.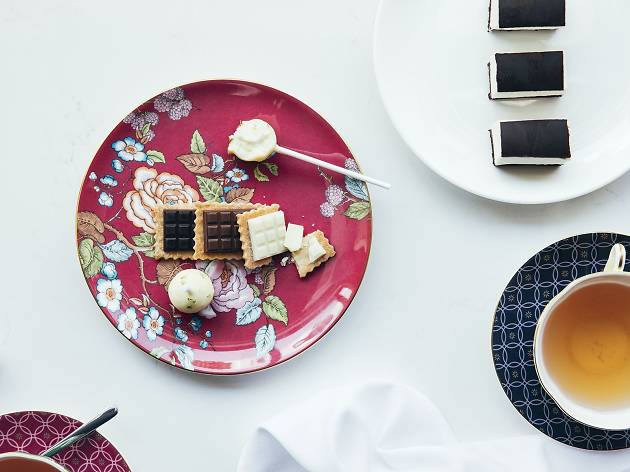 Photograph: Rosélys / Virginie Gosselin
Located in the Queen Elizabeth Hotel Fairmont, this bright, high-ceilinged art deco spot blends French and English dining tendencies, so it should come as no surprise that they serve a swish afternoon tea service. The service is offered Thursday through Sunday from 2pm to 4:30pm, and rather than staid classics, Rosélys offers updates like cauliflower financiers with cheese and pepper jam, lobster roe and basil mimosa eggs, or matcha and salmon macarons in addition to classics like scones and Devonshire cream. Like its Ritz Carlton counterpart, it also serves an elegant "royal tea" option with a flute of champagne.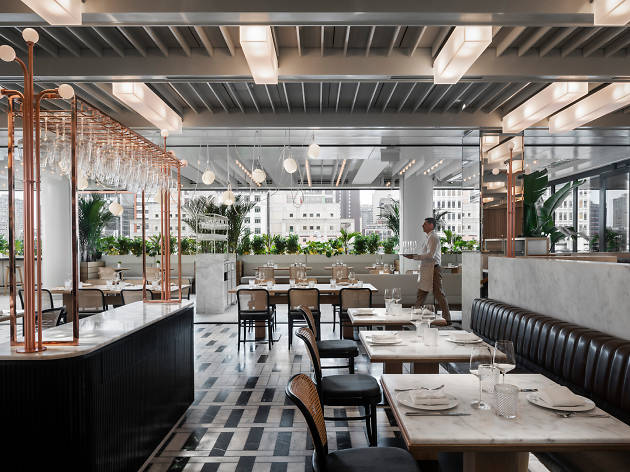 Photograph: Don Riddle / Four Seasons
Refashioning the more sedate side of afternoon tea services into an upscale affair, the Four Seasons Hotel's Marcus restaurant comes out of the gate with force: $45 gives you access to luxury tea blends of black, white, green, and oolong while the culinary team offers a selection of delicate sweet and savory bites like egg salad sandos with lemon mayo, cuke sandwiches with beet gravlax and tomato powder-topped cream cheese, and chestnut and blackcurrant tarts. There's also champagne and caviar to be had for a few extra bills (400, to be exact) in case you're feeling extra fancy.
Photograph: Cardinal Tea Room / @cardinaltearoom
The Cardinal Tea Room is a convincing portrait of a refined English study from the 1920s. Opened by the team of Stephen Kamp and Murad Meshgini, the room features all the elements you might expect: A magnificent chandelier, a small piano, old-timey wall sconces, period furniture and, of course, oodles of antique china. The menu is equally authentic, and patrons are treated to classic scones and clotted cream, cucumber sandwiches, deviled eggs and a prodigious selection of teas for any occasion. There's no strict high tea times here per se, but really, every minute here is essentially high tea.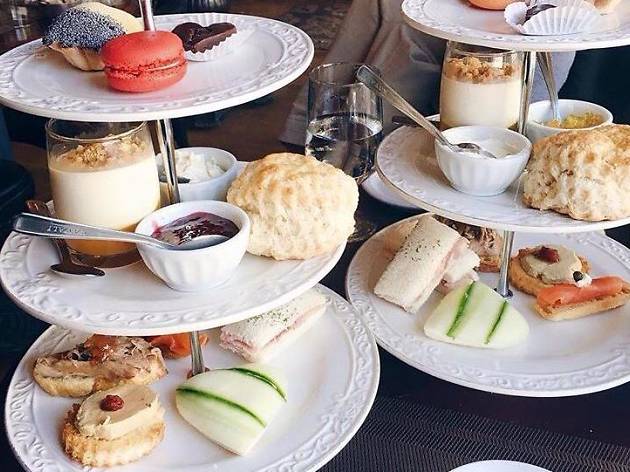 Photograph: Le Parloir
Le Parloir is an updated take on the classic tea-room, flush with antique furniture and fresh-cut flowers. They serve an attractive lunch, but the star of the show is the quintessential three-tiered stands of snacks available after 2pm. They include a choice of five sweet and five savory items that include classic house scones with Devonshire cream. A plethora of loose teas are available and are brewed at your table in heavy cast iron pots with a small hourglass alongside to make sure you get the perfectly timed infusion.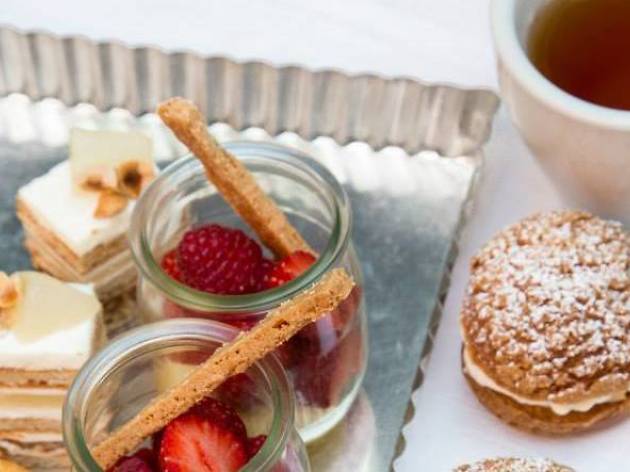 Photograph: Pâtisserie Rhubarbe / @patisserierhubarbe
Pâtisserie Rhubarbe is a celebrated Laurier Street pastry shop in the Plateau that offers a wide assortment of cakes, tarts, viennoiseries, shortbreads, jams, caramels and more. They also run an excellent afternoon tea service after 2pm that showcases their cakes, macaroons and scones in addition to savory items like deviled eggs, tartines and vol-au-vent puff pastries. Just be sure to make a reservation; they're a pastry shop first and foremost and only hold about 15 seats, making slots here hotly contested among high tea aficionados.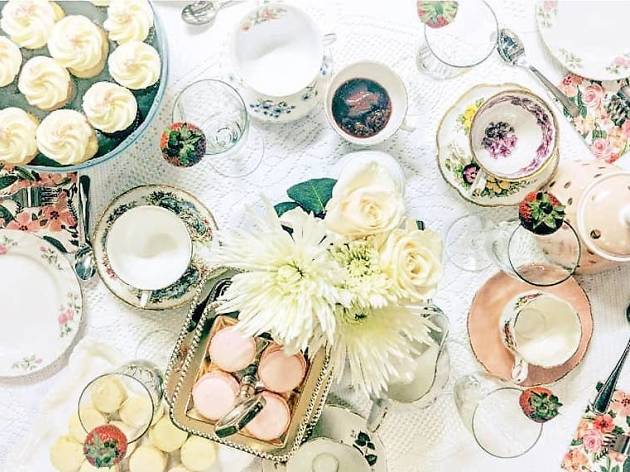 Photograph: Bar à Beurre / @barabeurremtl
Bar à Beurre is an Italian bakeshop located in Old Montreal that does a brisk trade with both tourists and locals alike. They've also got a killer afternoon tea service that runs equal parts cute and high traditional with a number of savories alongside a strong emphasis on sweets. There's a solid representation of the classics but also a number of refreshing Italian variations on the theme, most notably their famed sugar-dusted, cream-filled 'butter balls', a version of traditional peach-shaped cookies called pesche dolci. Not to be missed.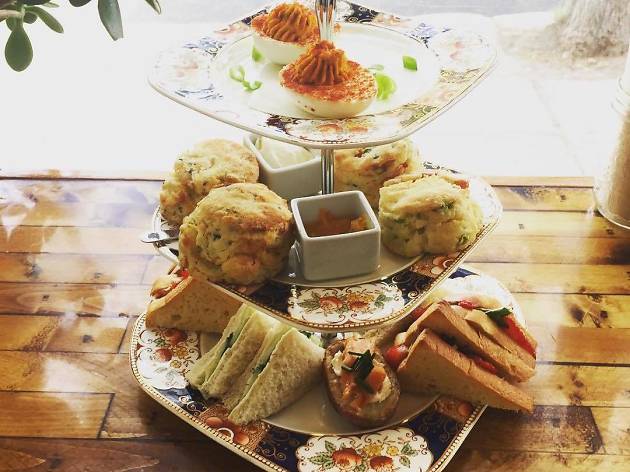 Photograph: La Brume Dans Mes Lunettes / @labrumedansmeslunettes
8. La Brume Dans Mes Lunettes
A decidedly cozy, minimalist cafe, La Brume Dans Mes Lunettes is an excellent neighborhood spot in Rosemont that serves local Kittel company coffee, light lunches, baked goods and altogether makes an excellent hangout to get some work done. They've also got a deadly serious afternoon tea service every day, serving a range of high-quality teas from tea companies Fortnum & Mason and Sloan alongside the requisite triple-decker platters, piled high with homemade Madeleines, lemon curd, mini lox bagels and more.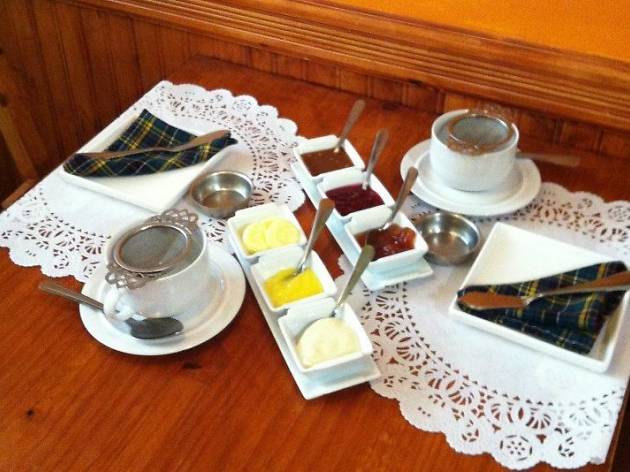 Photograph: Salon De The Gryphon D'or Tearoom
9. The Gryphon d'Or Tea Room
A far cry from the quintessentially British tea parlour, the humbly decorated Gryphon d'Or has an overall atmosphere more reminiscent of a mom and pop café than an aristocrat's tea retreat. That doesn't mean the tea service here doesn't pull any punches, however. The traditional triple-tiered trays are loaded with homespun finger sandwiches, sweet mignardises and what very well might be some of the best scones in town, served warm with fabulous jams and marmalades.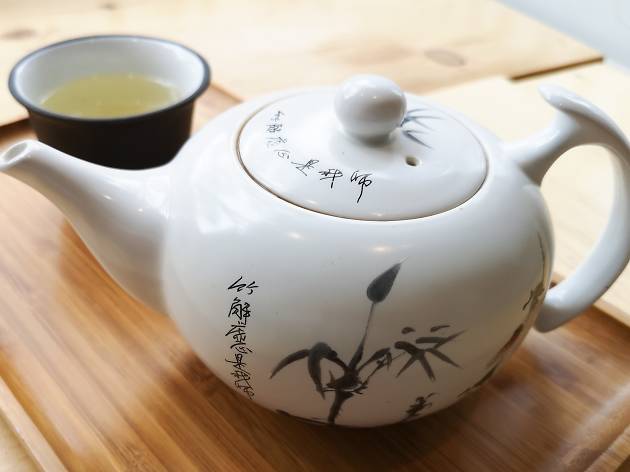 Photograph: Senthé - Salon de thé et de go / @SentheMtl
It's a little different from a traditional British tea experience, but Senthé offers a minimalist approach that proves to be a refreshing change if you're tired of some of the more decadent trappings of afternoon tea. The brainchild of Lydia Gallant, Senthé is dedicated to her twin loves of tea and the Japanese game of Go. Senthé mixes their teas in house from a range of exotic, international loose-leaf varietals and serves them in a quiet, contemplative setting. The classic three-tiered serving platters are still on offer, loaded with finger sandwiches, mignardises and scones, but enjoy them over a reflective game of Go, and you might never look back to the traditionally British way of doing things.
Love high tea? You'll love these