Heads up! We're working hard to be accurate – but these are unusual times, so please always check before heading out.
The best ramen in Montreal you need in your life right now
Irasshaimase! Just about every regional variety, broths both rich and light, and noodle types can be found in the best ramen in Montreal—time to dive in
Finding the best ramen in Montreal isn't rocket science these days as just about every corner of the city core has its own claim to fame. A great bowl may be a couple bucks above the cost of the best cheap eats, but when you consider how loaded these one-shot meals are, it's no wonder why locals and tourists alike gladly shell out for a taste. These are the places you can go for either a rapid-fire lunch or drawn-out dinner full of aromas and comfort; if that's your idea of a good meal, you should also be looking into plenty of other equally delicious soup-based delights found in the best Chinese restaurants in Montreal. And if you're looking for more fantastic Japanese fare? Check out the best sushi in Montreal.
RECOMMENDED: Full guide to the best restaurants in Montreal
A Japanese restaurant we love so much that we welcomed them into Time Out Market
Restaurateur Hideyuki Imaizumi and kaiseki chef Tetsuya Shimizu's combined culinary efforts have us convinced that Marusan is serving up some of the best Japanese fare in town. One bite was all it took, and—trust us on this one—that's all it will take to get you hooked, too. At this new eatery, prepare to dive into bowl after bowl of savory ramen and curry donburi or the table d'hôte of teishoku topped with a silky onsen ('hot spring') egg. Add on some crispy-on-the-outside, juicy-on-the-inside karaage chicken for a real feast.
Where to find the best ramen in Montreal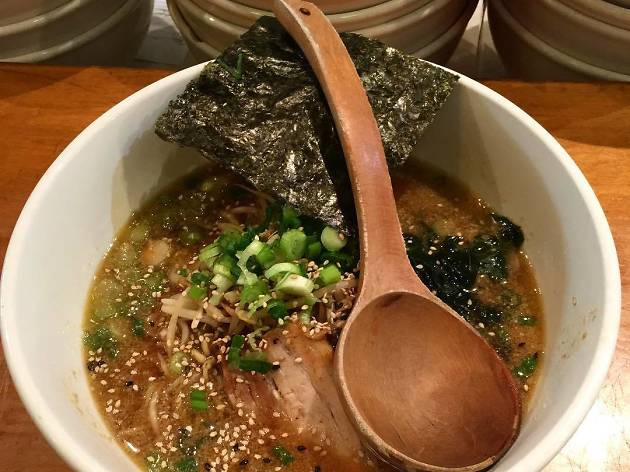 Photograph: @sauce__box
Truly one of the great Japanese restaurants in Montreal, Kazu's known for serving amazingly delicious menus to long lines come dinner time. It's their lunches, however, where their ramen can be found: A rich shoyu broth is filled with a choice of veggies, BBQ pork, chicken or tofu and coupled with a soy-marinated egg. Come winter, grabbing a stool in their tight dining space is both intimate and immaculate. As much as you might want to savor your bowl, don't take too long; there's going to be another line of hungry Montrealers greedily looking at you through the window.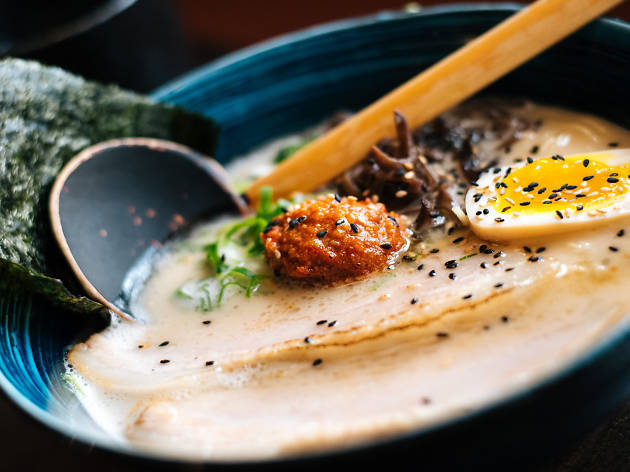 Photograph: Yokato Yokobai / http://www.yoka.ca
Hotly contested as having the best in town, Yokato Yokabai's ramen is ladled out on a first-come-first-served basis. That's all the more precious when considering how they don't take reservations here. Their small but mighty menu features tonkotsu, vegetarian and gomami—a soup base of soy milk and sesame paste—broths that come coupled with a small range of add-ons like karaage chicken, cha-su BBQ pork or braised tofu. If you want the full gamut of izakaya fare, you go to its sibling restaurant Ichigo Ichie, but that'll be an afterthought once you fill your belly with a bowl here.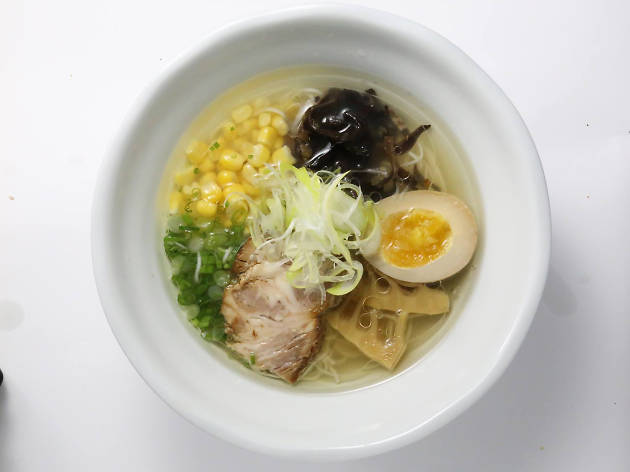 Photograph: Ichifuku / @ichifukuramen
Situated in Chinatown West among a high volume of Chinese restaurants, this spot is one of a mere handful doing the Japanese dish right. Sporting a noodle machine imported from the motherland, Ichifuku makes the most of that resource when serving any one of their ramen options. Serving up all four of the most traditional broths, as well as a spicy volcano variety or megaton that's loaded up with karaage, our personal favourite is the tonkotsu kuro mayo that comes laced with black garlic oil and julienned wood ear mushrooms for that slight—but totally welcome—chewy texture.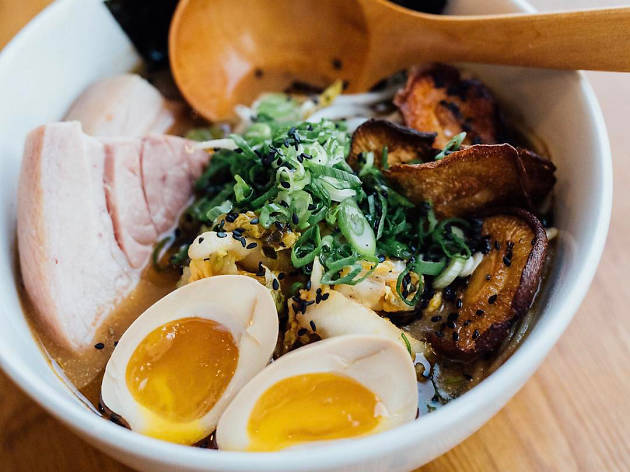 Photograph: Alison Slattery
Even though Dalla Rose is among the shops serving the best ice cream in Montreal—and even though their frosty sales show no sign of stopping even in winter—owners Michael Dalla Libera and Nick Rosati decided to turn their frozen treat stop into a ramen joint once the temperature outside dropped. A pop-up of sorts that recurs annually in Saint-Henri, their small check-the-box menu was inspired by chef Libera's trips to Kyoto and China: Miso-based soups with a vegan option of equal depth and deliciousness. Get it while the getting's good, as this one is only open from October to late April.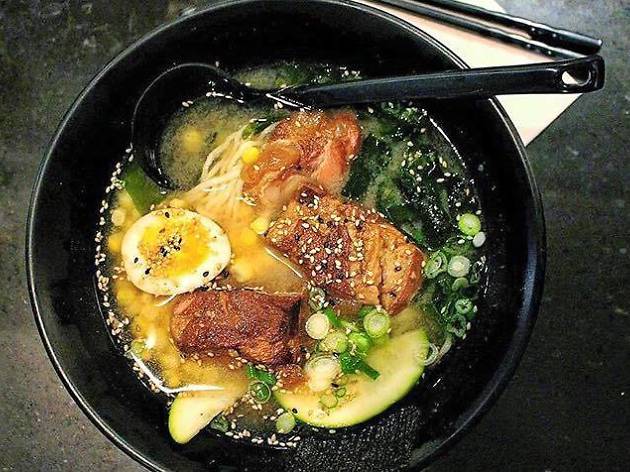 Photograph: Hakata Ramen / @hakataramen
Younger guns and sleek slurping spots aside, there's something to be said for those who devote decades of their lives to ramencraft. Hakata won't hesitate to tell you that its chef Che Gou San gave 30 years of his life to perfect his process for a light but rich mix of chicken broth with pork bones, veggies and "patented condiments". While the menu's a sizeable one with a wide range of varieties available to try like crispy katsu chicken or grilled eel, go for the original Hakata-style BBQ pork. It's as wonderfully perfected as they claim.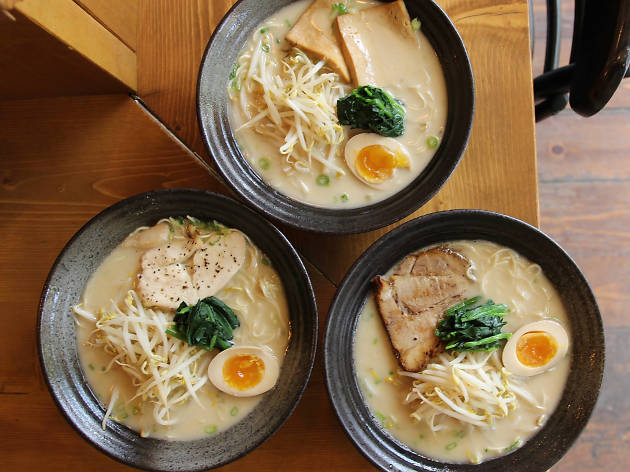 Photograph: Tsukuyomi / @Tsukuyomi.ramen
Find a whopping two-page menu full of choices at this ramen-forward Mile End restaurant. They specialize in milky tonkotsu soups here, with six different takes and toppings, a menu that's crowned with two vegan options (try the yuzu one for something novel). What's more, their takoyaki or chasu don bowls are just as on point as their soup, best paired with their cold hiyashi chuka cold ramen if you're looking for something to refresh you in the summer.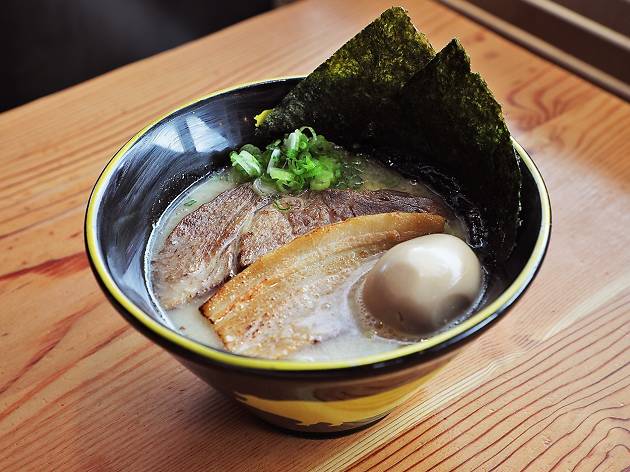 Photograph: Kinton Ramen / @kintonramen
Montreal took this Toronto-based chain in with open arms when it arrived. Staffed with boisterously voiced servers and cooks who loudly welcome your arrival, Kinton does a little bit of every ramen variety that come with either chicken or pork and thick or thin noodles. If you're the sort to go for competitive eating, keep an eye out when they're serving the Mega Bowler with twice the noodles, six times the pork, four slices of pork belly, and fresh toppings to tip the balance. Bonus: They have a loyalty card that's punched when you finish your first bowl down to the last drop, making you an official Kinton Bowler.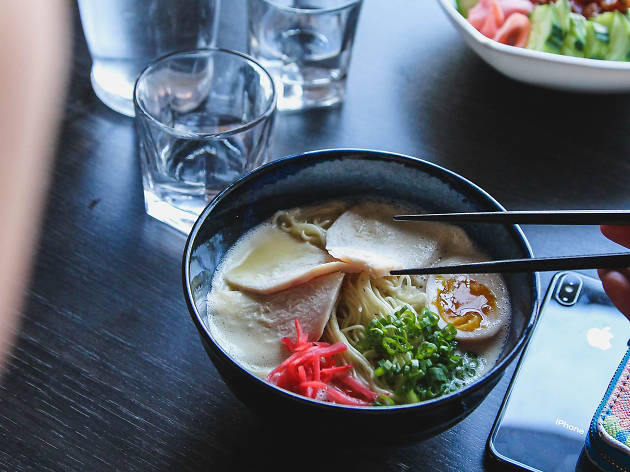 Photograph: Kinoya / @Kinoya.Izakaya
Found in a wildly designed space of wood-panelling that juts out at every angle, this izakaya makes a point of dishing out some seriously good ramen. Their specialty lies in miso broth, a creamy chicken broth with wavy noodles both during lunchtime and dinner. One of the greats for knocking back some sake or beer while you compete at your table for who can finish their bowl first, this is a great restaurant to come to if you want to party a bit with your meal.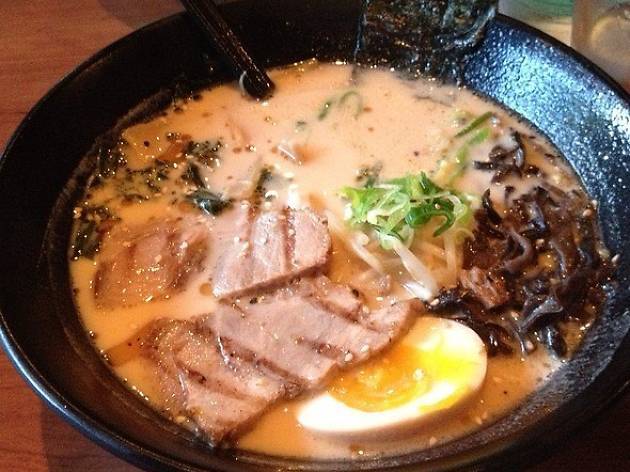 Photograph: Ramen Ya / @RamenYaRestaurant
The ramen counterpart to the Kurobata izakaya, the primary go-to choice here is their signature take on tonkotsu with slices of BBQ pork on top. There's a gyu (beef) option as well that's not found elsewhere in town and spices things up a bit, as well as a yasai vegan choice that uses a mushroom-based broth to go with its tofu on top. Ramen Ya's small ramen menu keeps it simple, but a wide variety of options isn't always the best indicator of quality.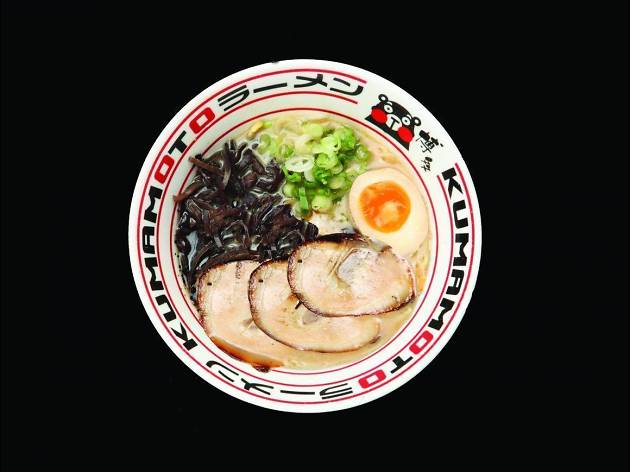 Photograph: Kumamoto / kumamotoramen.com
Sometimes we forget that ramen, with all its rich and delicious parts, is really a meal that's meant to downed in solitude quickly during lunchtime. Kumamoto's the only one in town that does this facet right, as the 'dining room' is a hall of booths you seat yourself at, place an order, and enjoy as the kitchen serves you through your own window into the action. It's such a quiet and reserved experience that you'll be holding back loud slurps of appreciation as you dig into a tonkotsu or tantan men with minced pork. Just remember, don't be shy: Eating here is all about you.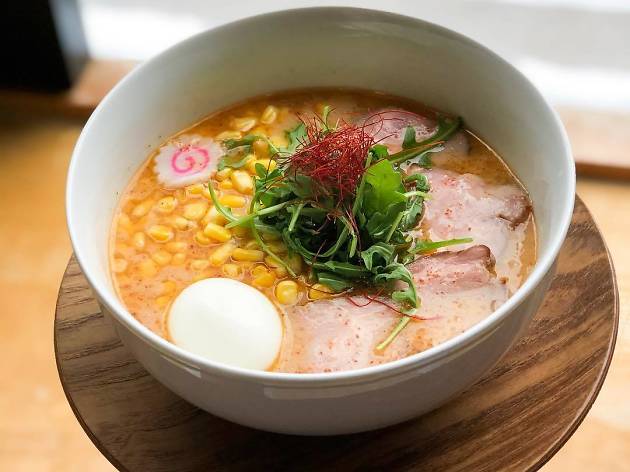 Photograph: Schlouppe Bistrot Nakamichi / @SchlouppeBistrotNakamichi
11. Schlouppe Bistrot Nakamichi
Hard to argue with a ramen restaurant that puts 'slurp' in its name. It's a compliment to the chef if you loudly and proudly schlouppe back your soup, and you'll have plenty of compliments here. That's especially true when digging into a bowl of their Murasaki ramen, a Tokyo-style setup of pork broth, half a soy-marinated egg, nori, a slice of cured fish Naruto and freshened by some arugula and minced white onion.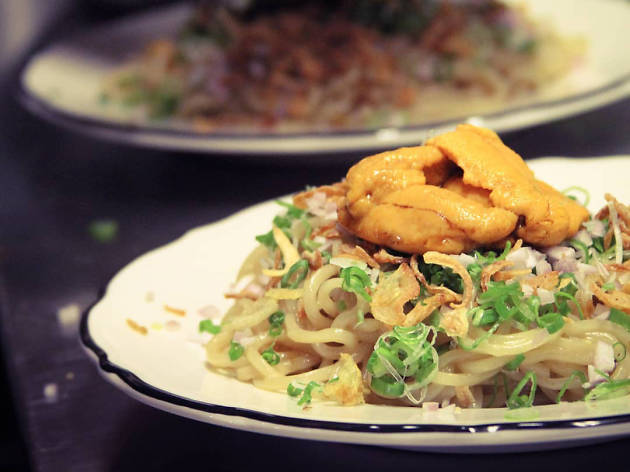 Photograph: Otto Bistro / @BistroOtto.Montreal
Honorable mention goes to this Japanese bistro in the Plateau. While it doesn't make any ramen, it is one of few—the only good one, by our count—that made space on its menu for mazemen, broth-less ramen. Their noodle dish is generally topped with uni and accompanied by a whole open bone full of silky marrow to scoop out over your meal. There's an added crunch from fried shallots, freshness from sliced green onions, and it's made even more lip-smackingly good with a drizzling of truffle oil.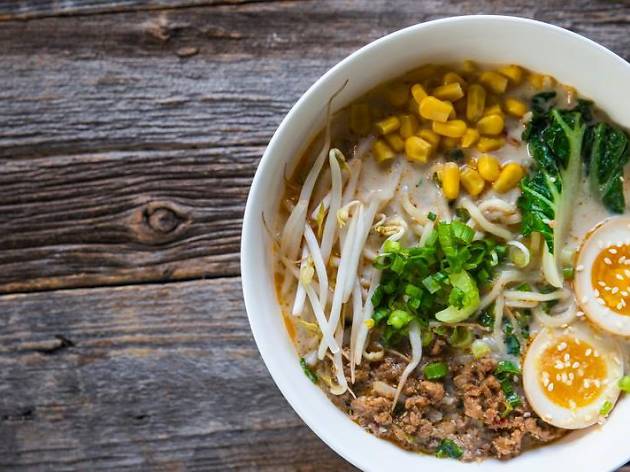 Photograph: Tampopo / @RestoTampopo
Doling out bowls since 1999, this restaurant's Japanese name might throw you off some when looking at the soup section of their menu; Chinese wonton soup and Vietnamese pho are found right alongside their single option for ramen. What's more, Tampopo's also the name of a fantastic "ramen western" flick by Juzo Itami, so we'll chance that this spot's name is based on the pride they've got behind their own style. It's a curious concoction of miso broth with tahini and coconut milk, and while that might scare off a puritan or two, you can rest assured that it's good and worth the trip.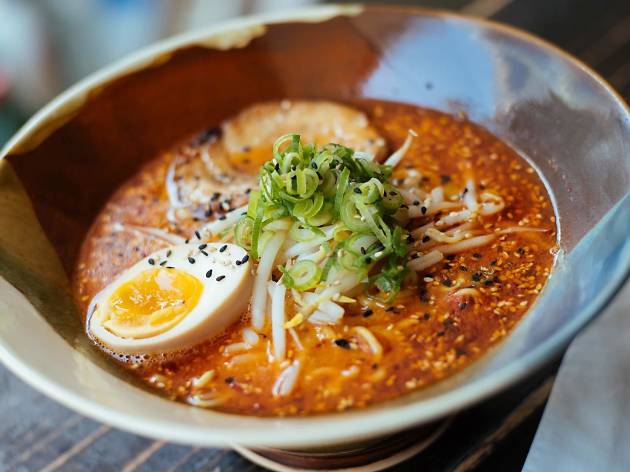 Photograph: Imadake / imadake.ca
This is the place that put izakayas on the map in Montreal. Located on the very edge of Westmount that creeps into Downtown Montreal, this izakaya that popularized sake bombs sometimes gets overlooked as a ramen stop, but it holds its own among the greats in town. That's thanks to their three recipes of kara-miso, a straightforward tonkotsu and a vegetable-based option. That's it, that's all, and it's good—whichever you pick.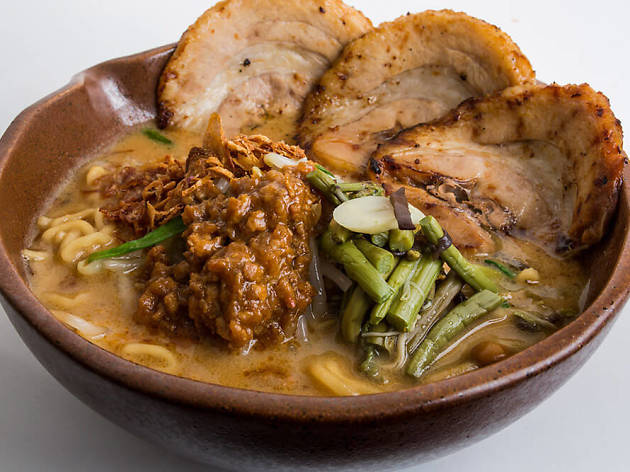 Photograph: Misoya / ramenmisoya.ca
With 30+ location around the world and a 2017 Michelin guide recommendation under its belt, Misoya has been a go-to spot for Concordia students ever since it first opened. The restaurant chain notes that they're the odd man out in how they approach the broth in their ramen: White miso fermented with koji, a richer rice-based kome-miso and a soybean-based mame-miso. Those get coupled with noodles and toppings that range from parmesan to tempura shrimp. It might sound wild, but it's all exceptionally balanced.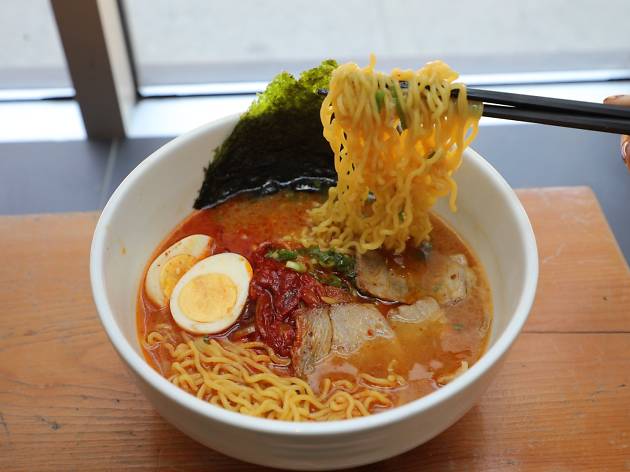 Photograph: Kinka Izakaya / @KinkaIzakayaMontreal
Centrally located in Chinatown West around Concordia University, this Toronto-based chain set up shop and quickly garnered attention for its services full of table-pounding rounds of sake bombs and classic Japanese snacks. However: Their less boozy lunch services feature a selection of ramen that keeps it creative. Tired of tonkotsu? Think that miso is meh? Try a yuzu shio ramen or a spicy take on miso, both of which comes with a cup of kakiage don as part of a lunch special that goes no higher than $17.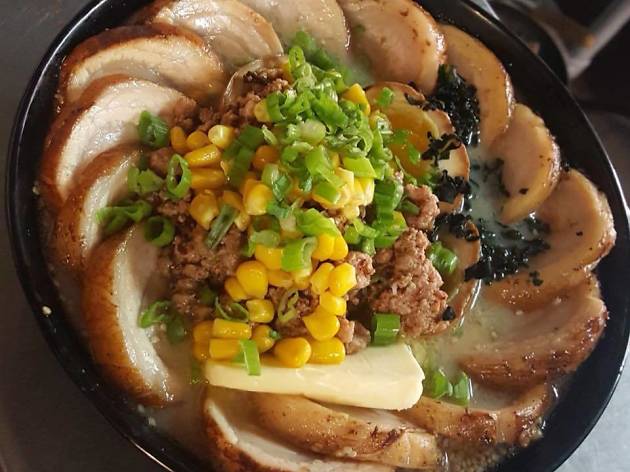 Photograph: Sumo Ramen
The best restaurants in Chinatown on Montrealers' minds tend to be, well, Chinese. However, dig through the signage and you'll find all kinds of alternatives tucked amongst the predominate cuisine like Korean, Vietnamese and this hearty Japanese address. With a menu that numbers in at a staggering 25 different choices that speaks to most of Chinatown's menus, the choices almost seem strange—'pepper' broth, rice noodles, pork wontons—so consider this to be the most adventurous option.
More of the best restaurants in Montreal
These restaurants made the cut for best sushi in Montreal, from sit-down spots to delivery and all-you-can-eat addresses.
Montreal's best Chinese restaurants express each regional cuisine through casual spots and Lazy Susan-topped tablecloths.