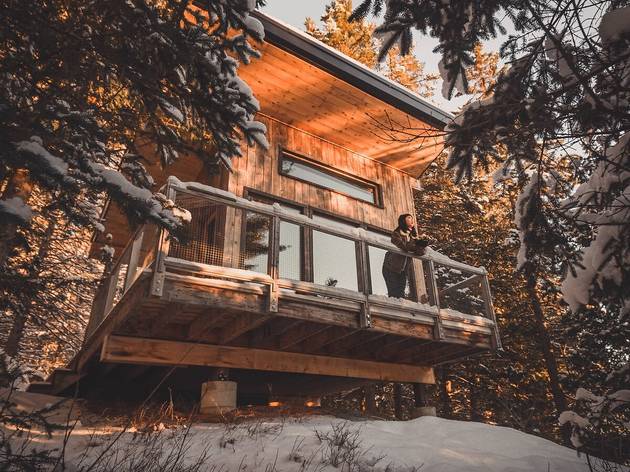 The best chalet Airbnbs near Montreal to cozy up with this winter
There's no better way to enjoy winters than chalet Airbnbs near Montreal, all fitted out with fireplaces, hot tubs and breathtaking views
Among all the best things to do in Montreal in winter, locals love leaving town. That's where they're booking chalets near Montreal like crazy, whether it's a swanky log home in the Laurentian mountains, a modern design masterpiece built on a hilltop by the Saint-Lawrence River, or sipping wine in a hot tub overlooking Lanaudière farmland. It's an essential winter activity, right up there with the trips to sugar shacks and going skiing near Montreal (and, unsurprisingly, all three of those can be easily rolled into one trip). While best enjoyed in the winter, you can luxuriate at any one of these spots during any season.
RECOMMENDED: Full guide to the best things to do in Montreal
The best chalet Airbnbs near Montreal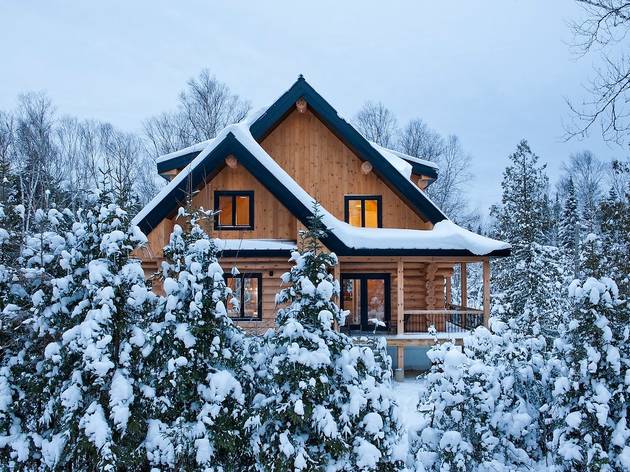 Photograph: Courtesy Airbnb
1. Cozy Log Home in Saint-Donat-de-Montcalm, Québec
1 hour 45 minutes from Montreal
Fashioned after Scandanavian style log homes, this quiet spot is a mere walk away from a lake nearby. With room for six people across two floors, there's a lot of room for casually hanging out as the snow falls outside, and with all of its modern comforts, you can spend more time focusing on gathering around its dinner table than worrying about heating, appliances and the like. If you want an easy-going ice fishing trip, this would be a great spot.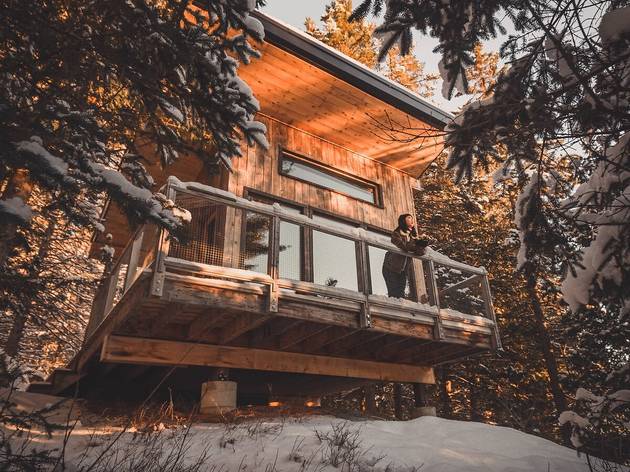 Photograph: Courtesy Airbnb
2. Cabin in the Woods in Labelle, Québec
2 hours from Montreal
Despite its chic look, you can expect a full rustic experience by waking up with the sun and going to bed by firelight, perching yourself on its snow-covered patio and listening wildlife in the trees, and taking hike after hike among the paths winding through the forest floor around you. Fully going off the grid and isolated, this cabin is located on a 35-acre site that's bordered by the Red River. Aspiring home chefs should take advatage of its wood-fired grill for cooking.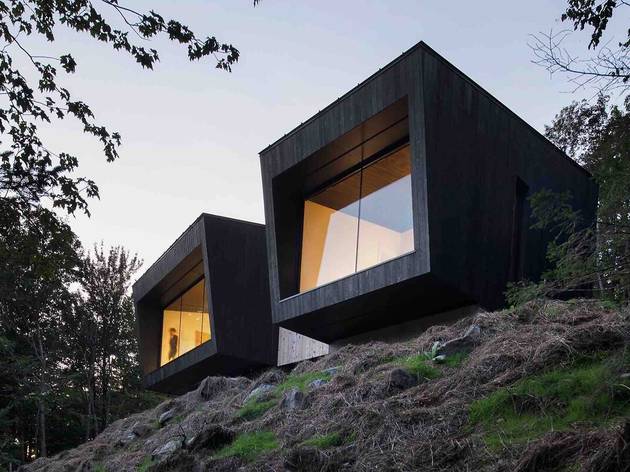 Photograph: Courtesy Airbnb
3. Modern Chalet in Bolton-Ouest, Québec
1 hour 15 minutes from Montreal
Designed by the architects at Naturehumaine, this chalet can be found on a cliffside 490 metres above sea level with a great and completely unobstructed view of Mount Glen in the distance. Separated into two modules for both an easy living and spa experience, the chalet comes equipped with a hot tub that you can spend most of your time chilling in when you're not imagining yourself on the set of Ex Machina while standing in front of its floor-to-ceiling windows.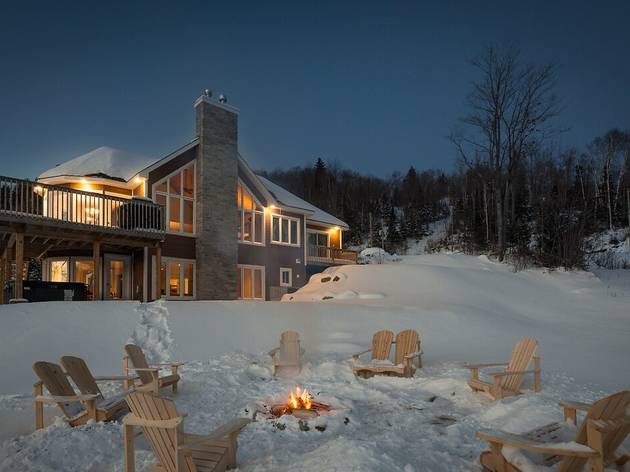 Photograph: Courtesy Airbnb / Michael Glickman
4. Huge Lakeside Chalet in Saint-Côme, Québec
1 hour 45 minutes from Montreal
Located near Lac Bourgeois, this massive chalet is perfect for winter getaways with groups looking for ski trips to Mont Val-Saint during the day and crashing in luxury at night. Available from October to May, there's a pool table in the basement, video games, an above-ground hot tub, and a fire pit in the snow to enjoy a couple of hot cocktails or boozy hot cider with as the wood crackles and pops. Ideal for big groups, but it should be noted that the hosts will know if you try to plan a big party bash.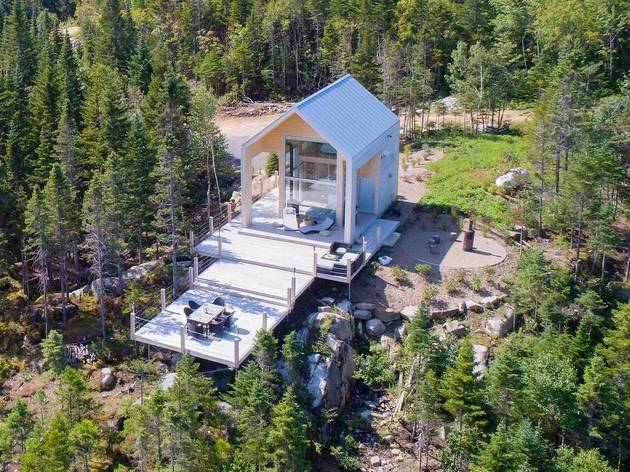 Photograph: Courtesy Airbnb
5. "The Lagöm" in Lac-Beauport, Québec
3 hours from Montreal
This mountaintop, solar-powered architectural wonder may keep its seclusion in nature and immersive natural feel close to the chest, but it comes with all of the modern fixings someone could want. You could spend time using its Wi-Fi, but with views like this chalet's, you probably should be taking time to simply enjoy cozying up to the gas fireplace or looking at the stars from the huge front balcony. If you can't nab this prime spot, it's part of a network of equally beautiful spots worth checking out; just check out the owner's description.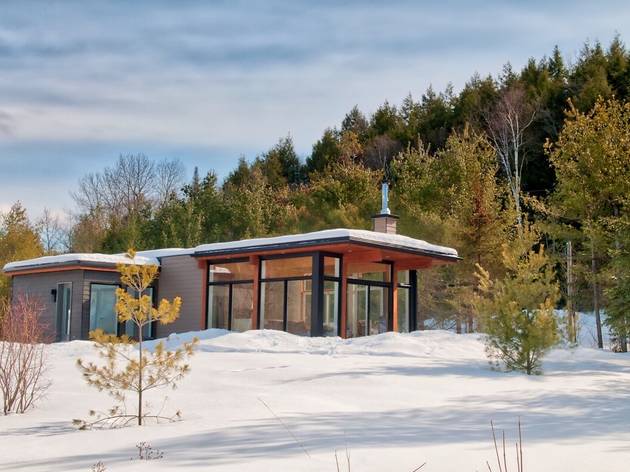 Photograph: Courtesy Airbnb
6. Modern Chalet in Wakefield, Québec
2 hours 30 minutes from Montreal
Part of the Wakefield sur le Golf project which offers private access to a nearby river, parks and trails, this ecofriendly cabin is for anyone looking for a complete natural escape no matter the time of year—seriously, it's time to disconnect when you book here, as there is no internet or television to speak of. Our money's on going in the winter to take full advantage of its fireplace and starlight when the sun goes down, but if you find yourself missing civilization too much during your stay, the town of Wakefield isn't far away.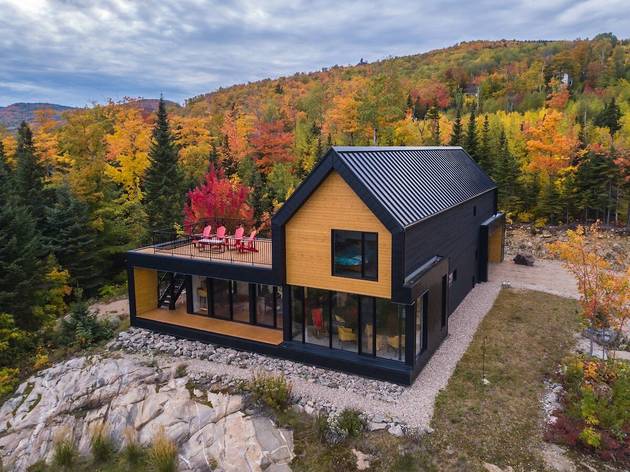 Photograph: Courtesy Airbnb
7. Chic Modern Cottage in Petite-Rivière-Saint-François, Québec
4 hours from Montreal
Another gorgeous spot that's best set up for group accommodations, this modern cottage is easily accessed after piling into the car for a roadtrip north. Offering great views of the Saint-Lawrence River in the distance and a lot of space to lounge on and around, it's fitted out with all the creature comforts of the city like wi-fi and A/C, but also comes equipped with cottage bonuses like fireplaces, a BBQ (best used in the warmer months) and a hot tub. Go exploring when you're not relaxing with the grandeur of Le Massif de Charlevoix nearby.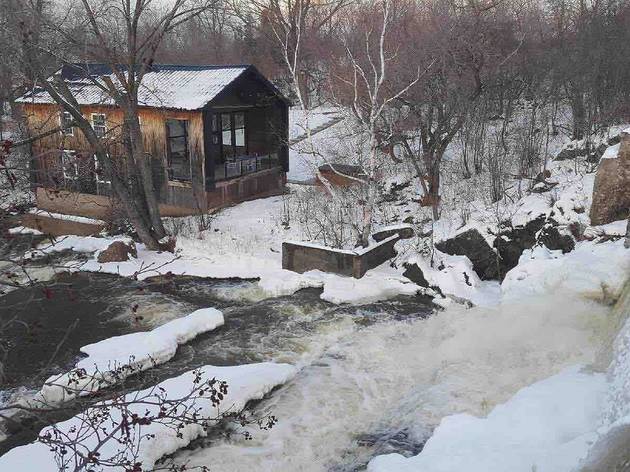 Photograph: Courtesy Airbnb
8. Boutique Waterfront Chalet in Saint-Jean-Port-Joli, Québec
3 hours 30 minutes from Montreal
With its view of a small town waterfall that flows slowly in the summer and freezes over in the winter, this completely renovated chalet can hold up to six people in total. While close to town, a stay here feels perfectly isolated, so don't be shy about jumping into its hot tub or taking in the view from its front balcony. Gorgeously renovated, it's just an all-around slick spot to get away with when you're tired of the city and want things to slow down for a bit.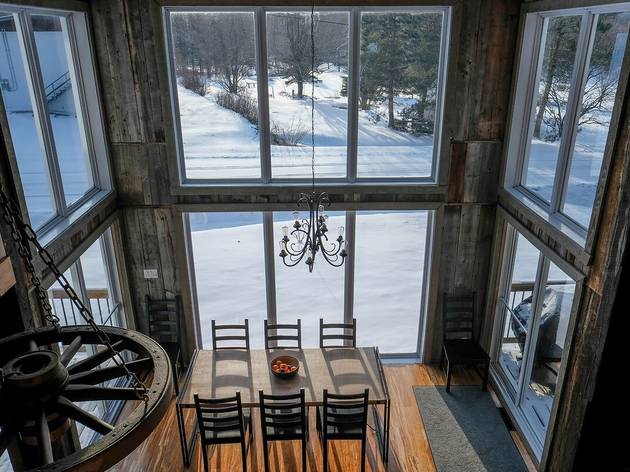 Photograph: Courtesy Airbnb
9. Chalet "Chïc Shack" in Sutton, Québec
1 hour 30 minutes from Montreal
Located at the foot of Mont Sutton on the shores of Lake Kelly, this 4-bedroom chalet with mountain views is a fully equipped affair with its modern kitchen, wood-burning fireplace, two living rooms, an awesome dining space for nightly feasts, hot tub, and lots of games to unwind with. It's located on a sizeable plot of land as well, so you can trust you'll have not only the place, but the whole area to yourself.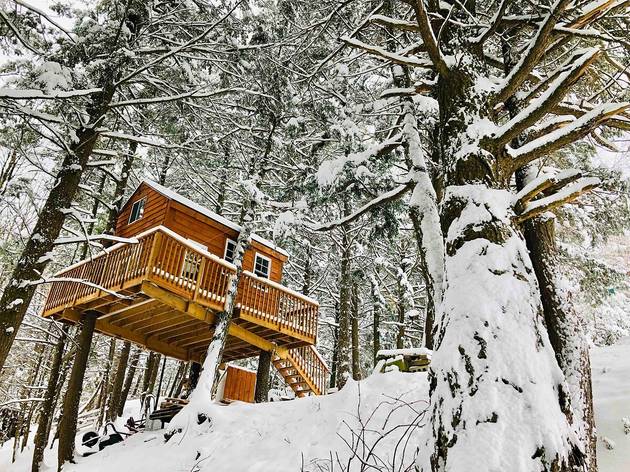 Photograph: Courtesy Airbnb
10. Treehouse, Home and Spa Trio in West Brome, Québec
1 hour 30 minutes from Montreal
Nothing beats having two places in one when you're looking to get out of town with friends and family This property includes a treehouse-style cabin for four in addition to a main house that can hold up to another four people. Located between the ski hills at Mont Sutton and Bromont, this is a great landing pad to come back to after a full day on the slopes, especially when you all pile into the hot tub found between the two structures.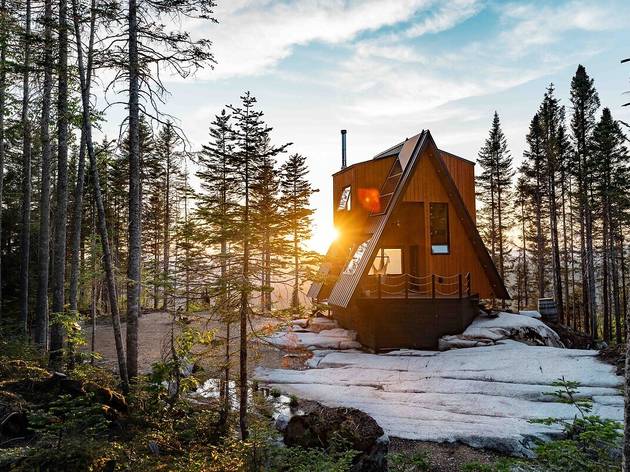 Photograph: Courtesy Airbnb
11. Mountain View Cabin in Lac-Beauport, Québec
3 hours from Montreal
The drive might seem a bit long, but all northward trips from the city tend to reveal better landscapes, and this one doesn't disappoint: Perched on one of Lac-Beauport's biggest mountains, Mont Tourbillon, this chalet/cabin gives guests a 360-degree view of the surrounding area (according to the hosts). Feeling like you're on top of the world aside, go experience it more directly with the wealth of biking and hiking trails nearby.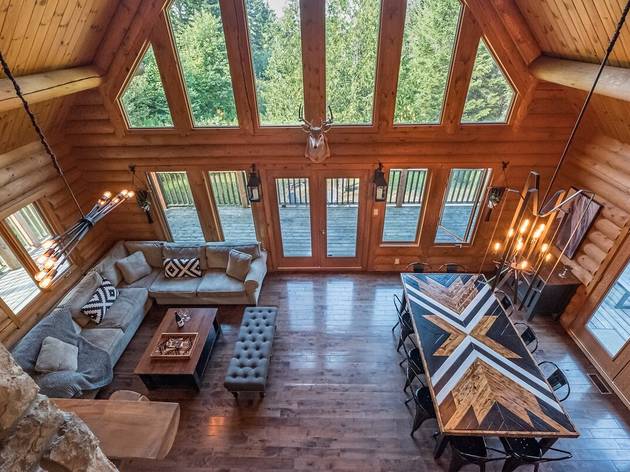 Photograph: Courtesy Airbnb
12. Huge Log Chalet in Mont-Tremblant Laurentides, Québec
1 hour 30 minutes from Montreal
Located 25 minutes from Mont Tremblant for all you skiing aficionados out there, this spot is a great to relax at during the night with its starry skies above, chilling by its roaring stone fireplace or its fire pit outside, and blissing out in its hot tub. A walk through the front door ought to take your breath away, as this property boasts a 21-foot-tall cathedral ceiling with floor-to-ceiling windows that give great views onto the surrounding forestry. If you go with a group, there's plenty of space to break off from the main event, as the property also features an 100-foott wraparound porch and a basement den equipped with a pool table and a 55-inch smart TV.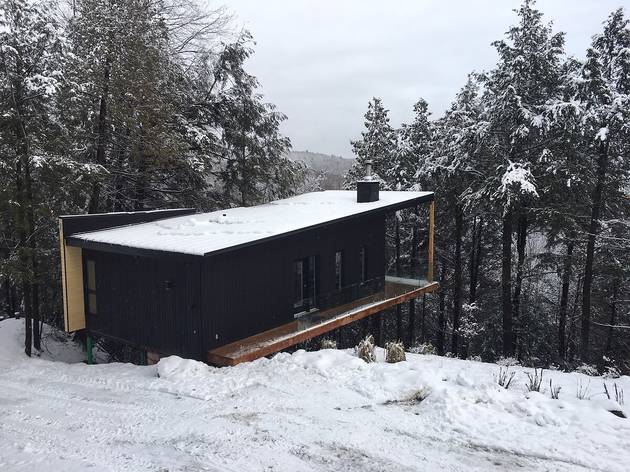 Photograph: Courtesy Airbnb
13. Spa Cabins in Val-des-Monts, Québec
2 hours 45 minutes from Montreal
Looking for a restorative experience during your getaway? These spa 'cabins' nestled in forested area from HOM mini cottages are just the thing you need: Quiet seclusion during the winter gets coupled with dips in the hot tubs where the only sound is bubbling water, wind in the trees and wildlife all around you. We'd normally tell you it's not great for anyone looking for a more rustic experience, but if you're still reading this, you probably prefer relaxing in the lap of luxury.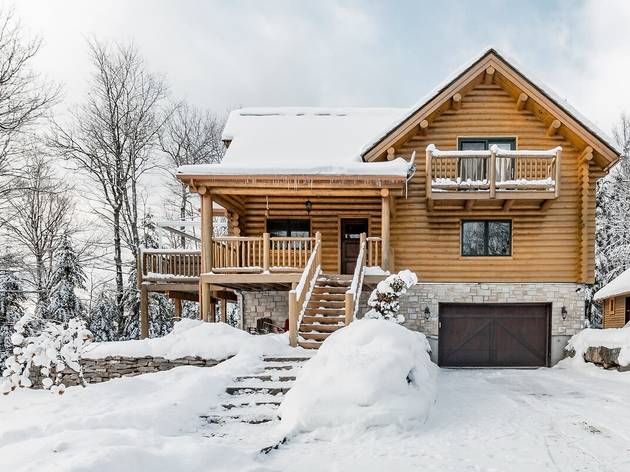 Photograph: Courtesy Airbnb
14. Mountain Chalet in Saint-Faustin-Lac-Carré, Québec
1 hour 45 minutes from Montreal
It might not look it from the outside, but this is one of the most luxury properties on this list, and we're all for it. We can't say it better than the host: "Meet by the fire pit on the lawn, share the roomy hot tub, or warm up in a leather armchair by the fireplace." It's got all kinds of swanky features like its spiral staircase leading up to the upper floor where—naturally—bedrooms have private balconies, and the open concept design found elsewhere makes it great for couples' escapes.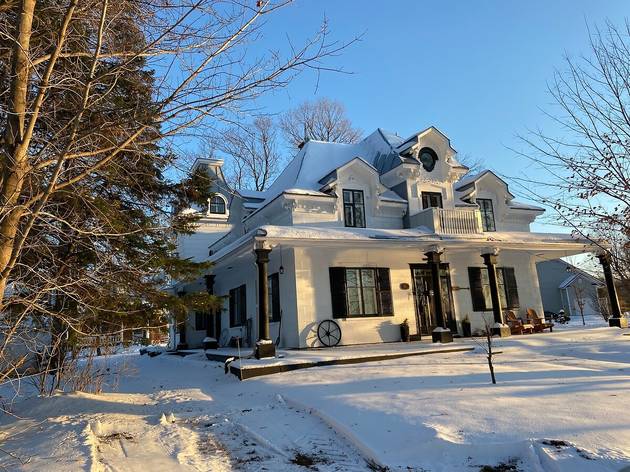 Photograph: Courtesy Airbnb
15. Victorian Home in Sainte-Anne-de-la-Pérade, Québec
2 hours 5 minutes from Montreal
Alright, alright, you got us: This isn't exactly a chalet. However, it meets all the demands someone might have of a chalet, but it also comes with the benefit of staying in a piece of Quebec & Canadian history: Built in 1802 by a lumber baron and once the home to by the 7th Prime Minister of Quebec ('before Quebec entered into Canada's Confederation,' the host notes) John Jones Ross, it's now a well-preserved house on one acre of waterfront land. There aren't the usual trappins of a chalet like a hot tub or fireplace, but it's exceedingly unique and perfect for groups.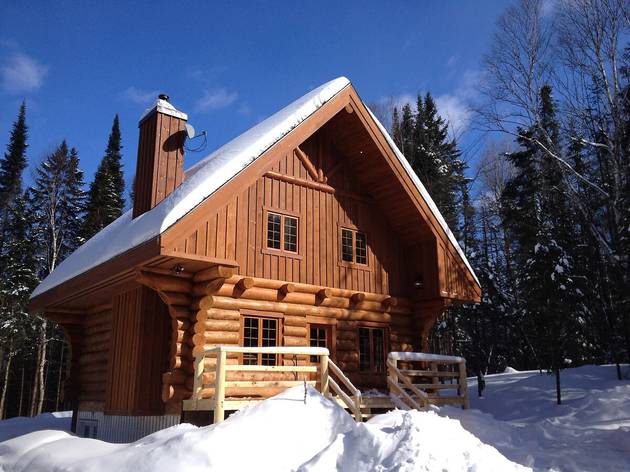 Photograph: Courtesy Airbnb
16. Rustic Chalet in Saint-Faustin-Lac-Carré, Québec
1 hour 45 minutes from Montreal
Surrounded by mountains and pine forests, this log home in the Upper Laurentians yields all the chalet fixings, from its fireplace to its hot tub to enjoy between exploring the surrouding area by snowshoe. Newly built and fashioned after Scandanavian homes, it can accommodate up to six people, and each of its three rooms comes with a queen bed and duvet (bedding and towels are included). Take advantage of its gorgeous kitchen too, and plan out the perfect dinner party.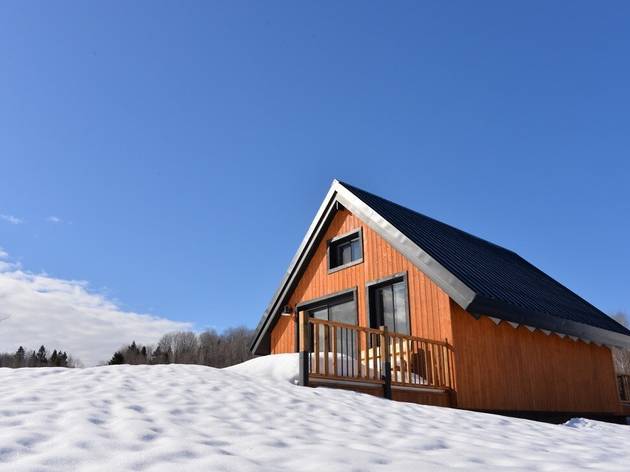 Photograph: Courtesy Airbnb
17. Rustic Chic Cottage in Sainte-Mélanie, Québec
1 hour 30 minutes from Montreal
Located within walking distance of some of the best waterfalls near Montreal—Chutes Mont-à-Peine Regional Park and the Dalles at Sainte-Mélanie—this spot is perfect for cooling down in the summer and exploring crystalline structures in the winter. A sturdy cottage overlooking a farmlands in the area, this is one of those properties you go to for a pure escape from civilization in any season. It's got everything you need to hunker down and drift away—and we're not just talking about the nearby bodies of water.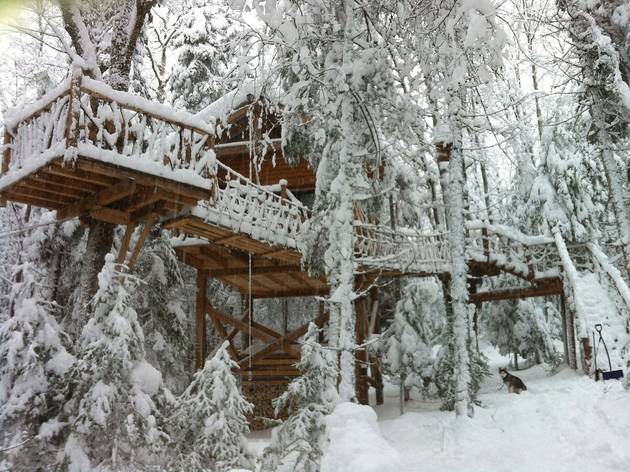 Photograph: Courtesy Airbnb
18. Perched Chalet Treehouse in Nominingue, Québec
2 hours 15 minutes from Montreal
While it's not a chalet proper, it's too good to pass up in the winter: Hunker down in this treehouse perched among the snow-covered branches five meters above the ground—accessed by a suspended footbridge, how cool is that?—and treat it as a homebase for natural excursions. This one goes out to all you outdoorsy types, as the fun is found outside: There's tons of dog sledding, ice fishing, trapping, snowshoeing, and cross-country skiing found nearby. If the novelty of this spot interests you, but you want a bit more, the hosts of this place also offer a hobbit house, tipi isolated and Mongolian yurt to stay in.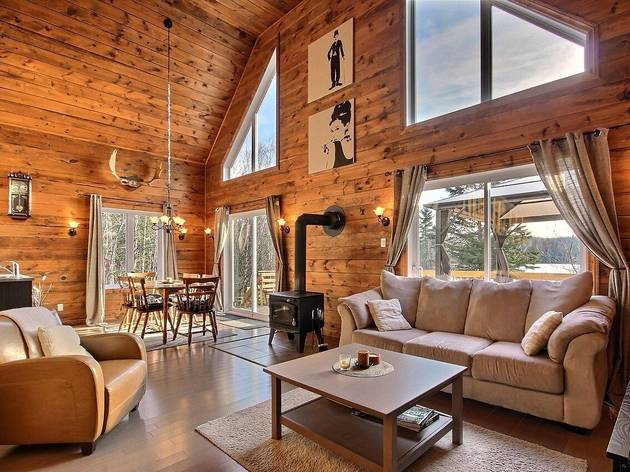 Photograph: Courtesy Airbnb
19. "Le Malpic" in Mont-Laurier, Québec
2 hours 45 minutes from Montreal
A straightforward lakeside chalet that's lovingly cared for, this is winter-perfect when considering its wood stove and outdoor fireplace to enjoy during colder nights. The outside of it says "nothing to see here", but once you're inside (pictured) you see beautiful wood paneling everywhere and a lot of shabby chic features like a clawfoot bathtub. Best of all, if you're into ice fishing, we hear the nearby lake should yield some good catches; just be careful when you're out of the ice!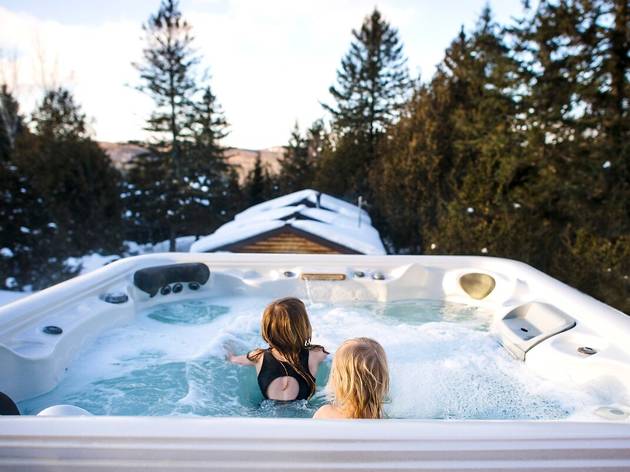 Photograph: Courtesy Airbnb
20. Rustic Wood Cabin in Boileau, Québec
1 hour 45 minutes from Montreal
Once you're lounging inside and enjoying all of its classic cabin interior decor of wood and plaid, you probably won't want to leave except for dipping into the hot tub. If you do, you've got five acres around you to explore by showshow and cross-country skiing in total seclusion and tranquility before lighting a fire in the property's fire pit and looking up at the stars. If you don't, watch some movies on the home's projector and enjoy the rest of your getaway with classics.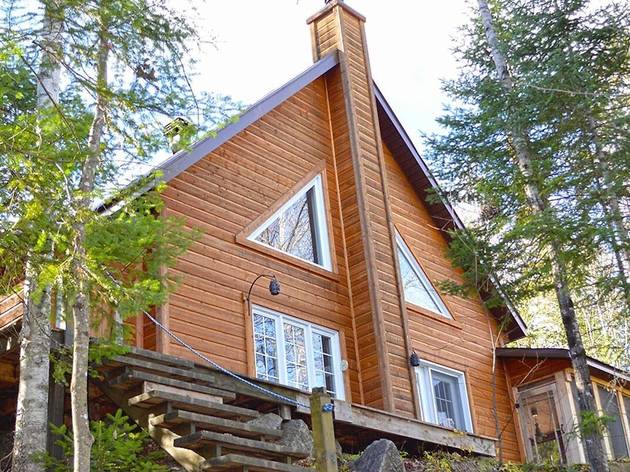 Photograph: Courtesy Airbnb
21. Frostwood Chalet in Saint-Alexis-des-Monts, Québec
2 hours from Montreal
Located by the Riviere-du-Loup, this chalet offers indoor relaxation by its outdoor fire pit and a hot tub outdoors for some much-needed relaxation. If you'd rather stay inside throughout your stay, there's a lot of modern comforts like the TV to pair with more rustic trappings like the wood stove. There's a lot of land nearby to explore as well, so make sure to take the time to explore the great outdoors while staying here.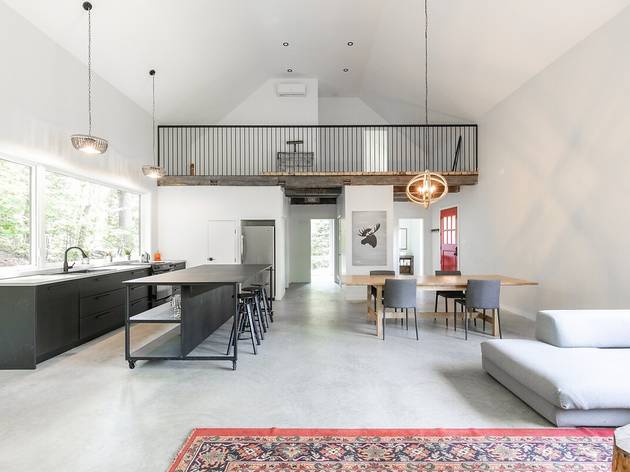 Photograph: Courtesy Airbnb
22. Waterfront Chalet in Gore, Québec
1 hour 15 minutes from Montreal
With its proximity to Morin-Heights and Saint-Sauveur in play, this chalet is, above all, just a good place to kick back after spending a full day bombing black diamonds or doing pizza slices on bunny hills. If that piques your interest, make sure to appropriately pack to go cross-country skiing and snowshoeing on the trails nearby.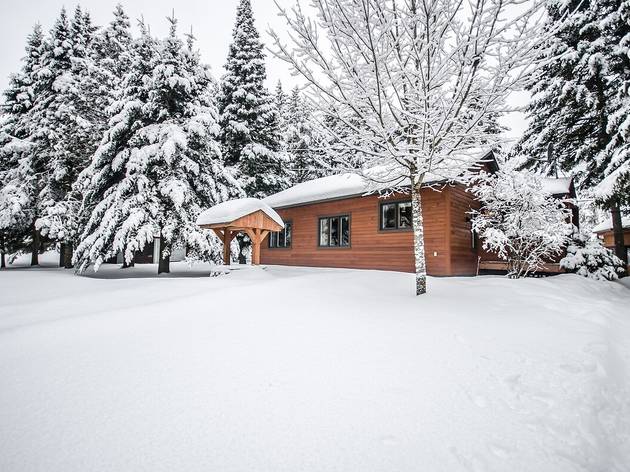 Photograph: Courtesy Airbnb
23. Hideaway Chalet in Saint-Émile-de-Suffolk, Québec
2 hours from Montreal
This renovated two bedroom cottage is great for small intimate gatherings with family and friends, especially when considering the fire pit outdoors (wood's included!) and the hot tub. Ski buffs take note: Mont Tremblant is located 30 minutes away, but if you'd rather stay put, it's a charming location surrounded by nature to enjoy. Simple, beautiful, and quiet. That's good enough for us.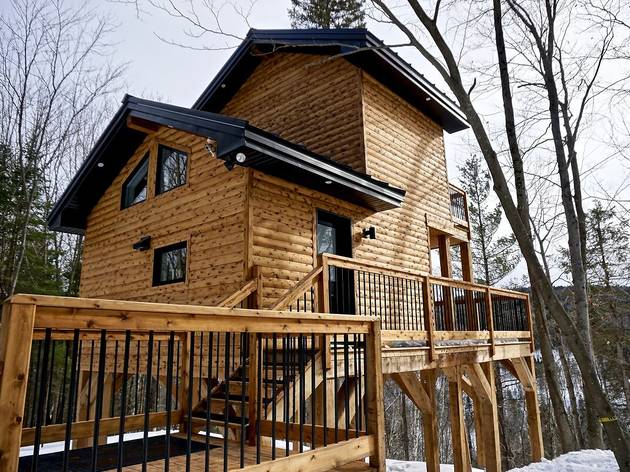 Photograph: Courtesy Airbnb
24. Perched Cabin in Sainte-Béatrix, Québec
1 hour 30 minutes from Montreal
This luxury micro-chalet is built on a mountainside cabin that looks more like a treehouse, but has all those proper Alpine aspects a winter getaway needs: A raclette grill and Chinese fondue setup in the kitchen, mountain-facing terrasses to enjoy hot chocolate on, a BBQ for roasting food, a fire pit, plus a hot tub for those winter nights. It can host up to four guests, but really? This has romance written all over it.
More places to stay outside of Montreal
These cabin Airbnbs near Montreal are all you need for am escape into forests, onto mountainsides, by lakes and more.