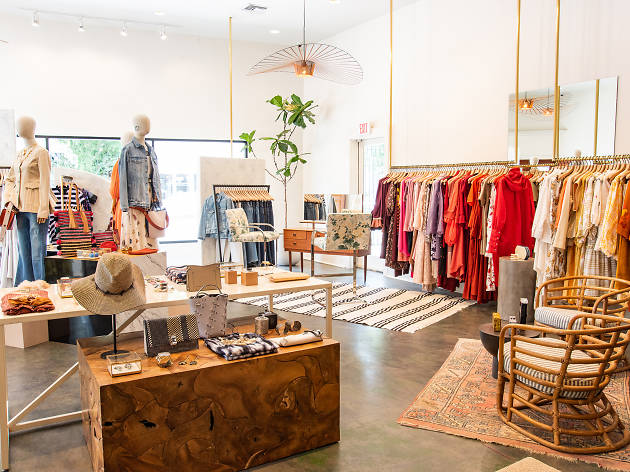 Where to go shopping in New Orleans
When shopping in New Orleans, these local boutiques and shops will deliver the style endemic to the city
Before going shopping in New Orleans, you'll have to understand the city's stylistic ethos: it's accepting, unique, fearless yet conservative—just like the town itself.
Shopping has always been important here: in the 1950s, Canal Street was abuzz with top-notch local department stores. Generations of New Orleanians still reminisce about walking down the street on weekends, dressed in their Sunday best (hats and gloves for the ladies, of course!) to shop and admire others' outfits. Today, Canal is bustling with souvenir shops but, worry not, you've got Magazine Street in the historic Uptown neighborhood instead. Once a run-down strip of town—although surrounded by some of the most beautiful homes in the U.S.—it enjoyed a renaissance of sorts back in the '90s. Today, the six-mile strip from Uptown to Downtown is one of the most desirable destinations for businesses.
Of course, the local dress code highly depends on what activities you prefer to partake in while in town. During brunch, folks tend to be more conservative and women don their most fabulous hats. Uptown and Downtown men are a bit preppier, wearing uniforms typically consisting of a crisp button down or Perlis polo shirt. All bets are off during football season, when most of the city dresses in black and gold on Sundays, whether at a bar or a stadium. French Quarter and Bywater style is funkier, often more vintage, boho and hipster than the rest of the city. One thing does remain constant across the board: people like to be comfortable. Between the incessant heat, uneven street and the walkability of the city, comfort is key. With that in mind, stay away from the city's top attractions for a day and opt to go shopping at these local favorites instead.
RECOMMENDED: Full guide to the best things to do in New Orleans
Shopping in New Orleans
The contemporary, boho-inspired women's clothing store is home to a friendly staff who will help style you. With a range of prices and a diverse selection of popular brands—MISA Los Angeles, Show Me Your Mumu, Cleobella, Alexis and Free People, among others—Hemline caters to women who value style, comfort and quality.
This charming boutique on Magazine Street provides high-end, feminine vintage pieces, hand-picked by the shop's owner. It's small but mighty and not overwhelming with options like most vintage stores. Century Girl carries clothing and accessories that have stood the test of time and are currently making a comeback (hello, roaring '20s). You won't find overpriced concert tees here but you might want to indulge in a glamorous fur coat from the '70s, vintage Valentino pieces, a dreamy gown with layers of tulle or Gucci silk scarves at a fraction of what you would pay for their current designer collections.
The dreamy, whimsical boutique is for the woman who summers in the South of France on her yacht, or at least likes to dress like she does. The cozy shop carries popular contemporary brands ideal for the modern, sophisticated woman. From maxi gowns by Jill Stuart, linens from Europe and whimsy tops by Love Shack Fancy, the pieces are feminine and airy—ideal for the oppressive and unpredictable Southern weather—yet glamourous enough to wear yacht-side. Also check out the unique selection of accessories, art and children's clothing.
Photograph: Kay's
Kay's brings a much-needed funky vibe to a usually conservative part of Magazine Street with a store that celebrates diversity, empowers women and encourages individuality. The soulful shop carries brands that are exclusive to Kay's, such as Good American, Year of Ours, Blank and CAM jewelry, catering to the woman with inspired street style. One of Kay's biggest missions is to remain inclusive, so sizing ranges from XS to 3X.
Trashy Diva kicked off and is based in New Orleans but attracts shoppers from all over the world with a kick-ass e-commerce program. When in town, stop by the brick-and-mortar destinations on Magazine Street and in the French Quarter. The local brand makes women's clothing with classic silhouettes, inspired by vintage styles but made with modern twists. The brand also specializes in a variety of shoe offerings, high-end lingerie and timeless accessories and headpieces to complete any outfit.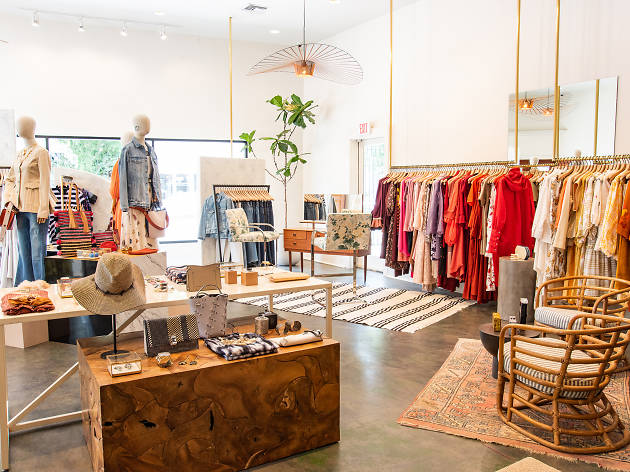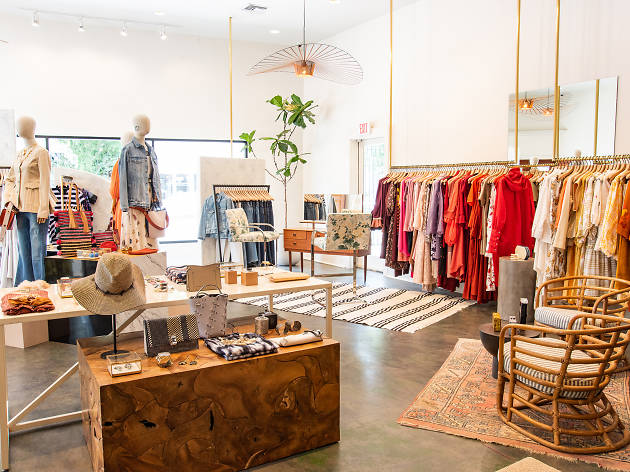 Photograph: Augusta Sagnelli
Those who take fashion seriously know all about the high-end brands featured at Pilot and Powell. The store's owners have carefully curated the space with the elevated pieces that are requisites of any fashionista's closet, from brands the likes of Rachel Comey, Ganni, Proenza Schouler, Loeffler Randall and Isabel Marant. The décor is just as chic as the clothes carried, you may even be inspired to recreate the waiting area in your own home.
Jeans might be one of the hardest buys: the fit, the comfort and the color all must align. Fortunately, the jean "therapists" are here to help. Here, find the best denim inventory in town, from affordable brands to designer ones, including Agolde, DL1961, Oneteaspoon, J Brand and Joe's. The shop also carries all the accessories that will match your brand new pair of jeans: think contemporary tops, comfortable shoes, sunglasses and jewelry.
The unisex shop is like a small, local department store, known for more conservative options. Whatever your style, consider that most locals opt for the signature Polos or iconic Mardi Gras rugby shirts. This also happens to be a great place for tuxedo rentals.
Photograph: Billy Reid/L. Kasimu Harris
Southern designer Billy Reid creates "worn-in luxury" for the person who wants to look put-together and structured without giving up on comfort. The store itself boasts a very calming vibe with its neutral color scheme and décor that invites you to stay a while, shop and maybe have a bourbon or beer while browsing (yes, the staff will offer you drinks to enhance the experience).
In New Orleans, you can never be too prepared for an impromptu theme party or even a luncheon that might require a headpiece, wig and glitter. Fifi Mahony's in the French Quarter is the premier destination for all that: complete an outfit with funky, over-the-top jewelry, an assortment of wigs and one-of-a-kind headpieces, plus makeup galore. The shop is also known as a must-stop when shopping for a bachelorette party.
The Downtown shop in the Ace Hotel is a clean and minimal space that sells trendy apparel for the fashion-forward man. The shop features mostly casual and resort-wear, reflective of the easygoing lifestyle of New Orleans. Find products exclusive to the store as well as the best in up-and-coming men's fashion.
Photograph: Krewe
Krewe sunglasses are designed right here in New Orleans and worn by some of the biggest trendsetters in the world, including model Gigi Hadid. What sets the brand apart is their lack of showmanship: you won't find logos or branding on any of the sunglasses, although those in-the-know will recognize the Krewe style immediately. Visit the flagship store in the French Quarter or the optical shop in the Lower Garden District, where your sunnies will be fitted to your face specifically.
Need to cool off?
Let's be clear: the best New Orleans beaches aren't beaches in the traditional sense of the word. Sure, the city is surrounded by water and people prefer to don beach-appropriate attire given the oppressive and suffocating heat, there are also boating opportunities on the lake and the river, but there is something different about beach-going in this Louisiana town.