Heads up! We're working hard to be accurate – but these are unusual times, so please always check before heading out.
13 best Airbnbs in New Orleans
From perfect penthouses to eclectic homes, here's where you should stay in this oh-so-extravagant city
Known for its lively street parties and French flair, there's so much more to New Orleans than Mardi Gras (although that's pretty damn good, too). In fact, the flamboyant, swinging city also boasts mouthwatering restaurants, hip bars and must-see cultural spaces.
If you like the sound of a jaunt around New Orleans (who doesn't?), then you're in luck. We've created a neat go-to guide of unmissable things to do, as well as great eateries and bars and even the best festivals. But before get stuck into all the fun, you'll need somewhere to hang your hat – and if you want something that'll show you what the city is really like, then we've got you covered. Take a look at our choices for the 13 best Airbnbs in New Orleans.
All images courtesy of Airbnb.
Note: please check the latest travel advice before booking.
Quirky dorms at the City House Hostel
Now we know that sharing a space isn't everyone's cup of tea, but hear us out: if you're travelling with a large group of friends (and you need to keep costs down), then this hostel might just be what you're looking for. The decor is bright, the walls are covered in artistic graffiti and murals, and you'll also get access to communal spaces, including a foosball table. Ideal for challenging your pals (or making new ones!).
A colorful cottage home by the Elysian Fields road
This home comes complete with references to the musical city in the form of jubilant artworks and colourful soft furnishings that'll get you in the mood for Carnival. There are two bedrooms, which means space for four guests, as well as free parking on premises (so you don't have to keep splashing out on cabs).
Apartment with balcony overlooking Bourbon Street
Nestled amongst the romantic streets in the French Quarter, this small yet cozy space is a unique Airbnb. Why? Because not only is the historic structure incredibly chic, but the balcony overlooks Bourbon Street, where nightlife blossoms. It's raucous, rowdy and the life and part of the fabric of the city.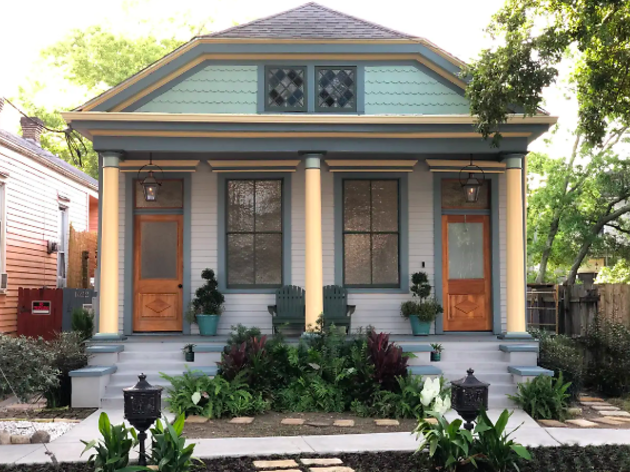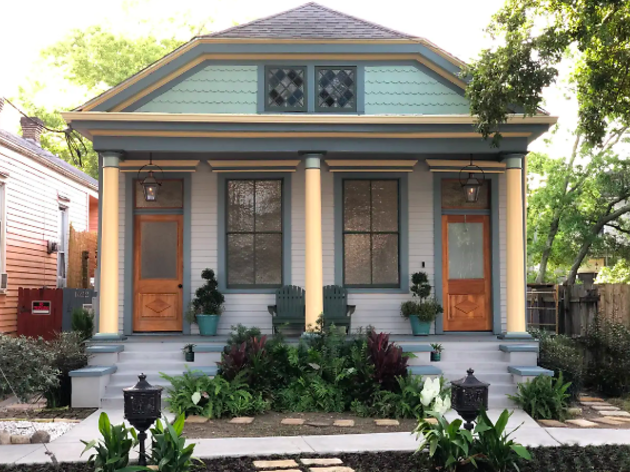 A charming studio across from the fairgrounds
Looking to stay somewhere a bit further out than the bright lights of the central city? Then spend a night or two in this charming, spacious home. Suitable for two, the spot offers a private side entrance (this is a double shotgun-style home) plus original 1900s features including pine floors and a wood-burning fireplace. Winner.
Summoning French style by the bucket-load, the interior of this apartment has been stripped back to highlight the beauty of the wooden furniture, original fireplace, high ceilings (14 feet) and smartly-placed artworks. Perfect for a couple's getaway, the 1850s brick townhouse is also only a 10-minute walk from the Convention Center.
An eclectic 'Grannys holistic house'
Granny's holistic house wants to show you a thing or two about quirk. Unlike most of the usual, contemporary Airbnb's you'll come across, a room in this kitschy space comes courtesy of the lovely Gwen – who has rave reviews. There's also a balcony (you'll be staying on the second floor) and fyi, no bathroom door – so hopefully you're comfortable with your travel buddy...
Calm and modern flat in The Irish Channel
Located a mere three blocks from Magazine Street, this bright and airy apartment comes with free parking, handy utilities and space for your pet (yes, your furry friend is welcome here). Modern and charmingly homely, there are two bedrooms available and while the kitchen is perfectly lovely, you're only a short streetcar ride away from the French Quarter where fashionable bars and eateries await.
Large and chic French Quarter home
This dreamy home can be found within walking distance of Frenchmen Street, home renowned venues such as L'il Dizzy's, Port of Call and Cafe Du Monde. Not that you'll want to be leaving the house anytime soon – the monochromatic design and long, rectangular windows are a marvel, and its location means you'll get a taste of authentic New Orleanian life.
Astonishing library room in a mansion
Whether you're a total bookworm or haven't picked up a book for who-knows-how-long, you'll fall head-over-heels for this fantastic room that seems like something straight out of fiction. A fully-fledged library, the room comes complete with en-suite, wooden shelves and rouge walls – basically, it's incredibly grand and will make you feel as if you were staying within the Cluedo board.
A sleek, spacious stylish home in Bywater
Got a penchant for all things classy? This high-end cottage exudes style, thanks to some clever design, 150-year-old ornate features and crisp white paintwork. Fancy staying in for a night? Netflix is included, so chill.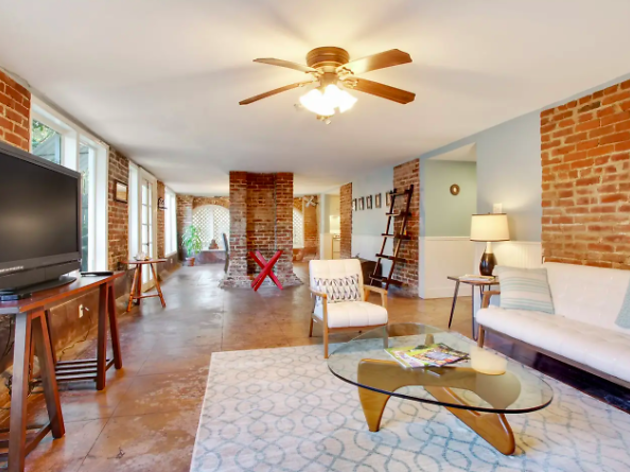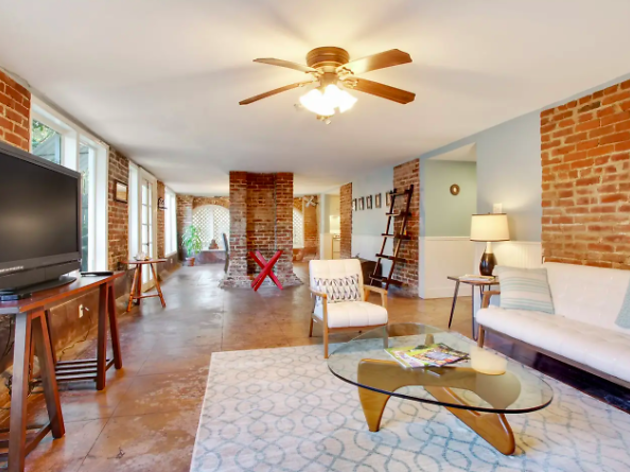 Garden apartment in an 1800's home
It's hard not to think dingy when someone mentions the word 'basement', but this apartment is anything but. Expect exposed brickwork, space to entertain and cool rugs galore. Plus there is outside space, which means you can do your morning yoga routine alfresco.
A colourful studio with patio space
A vibrant reflection of Nola's atmosphere, this guest suite is picturesque. Akin to child's playhouse, the leafy exterior is covered in yellow, green and blue paint, and the fun (yet functional) interior has warm splashes of yellow and orange running throughout.
A 15th-floor penthouse with panoramic views
Let's get real: you can't beat a good view – and that's why we think that this luxurious, 15th-floor penthouse will catch your eye. Set across the street from the well-known Orpheum Theatre and the Waldorf, you'll also get access to a fitness suite during your stay and enjoy many of the perks of a hotel, without the hefty price tag.