Heads up! We're working hard to be accurate – but these are unusual times, so please always check before heading out.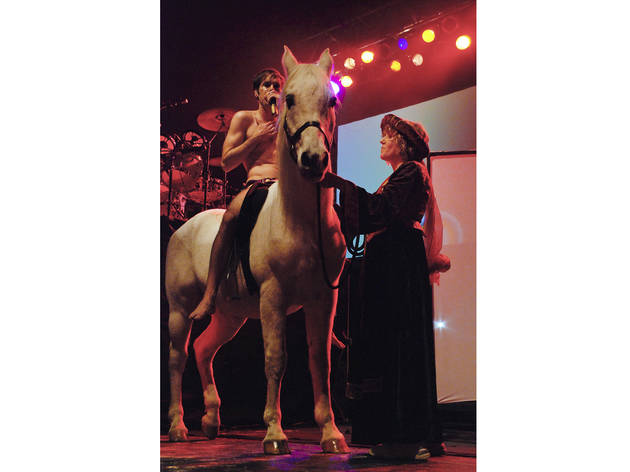 1/5
Photograph: Kurt Christensen
Of Montreal at Roseland Ballroom, October 10, 2008"When I got to Roseland that night, I went straight into the pit. One of the band's managers came up to us and said that they wanted us to shoot the entire [performance] because there were going to be so many costume and set changes. We would just have to get out of the way for the roadies who would be handing off a lot of instruments through the pit. There were indeed lots of set changes: roller skaters, strong men. [Of Montreal frontman] Kevin Barnes was hanged from a gallows during the show, and then popped out of a casket wearing nothing but shaving cream from head to toe, and then jumped into the crowd. In the middle of the set, he rode out on a horse, wearing just a Speedo. It was pretty crazy."—Kurt Christensen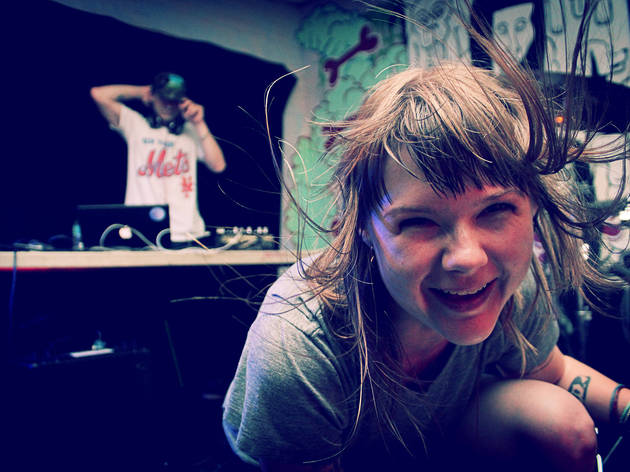 2/5
Photograph: Devan Council
Amber Myers of the Heliotropes (foreground) and Ad-Rock of the Beastie Boys at Death by Audio, Williamsburg, Brooklyn; June 12, 2012"Three women, accused members of the Russian feminist punk band Pussy Riot, have been illegally detained without bail on charges of 'hooliganism' for participating in a 'punk-prayer service' in protest of the Russian Orthodox Church's support of Vladimir Putin. The injustice has sparked benefits and protests across the world. Permanent Wave NYC, a network of feminist artists and activists, held a killer benefit show to raise money for the legal-defense fund of these three women. The benefit featured performances by several Brooklyn bands, as well as a DJ set by Ad-Rock of the Beastie Boys. I took this photo while Ad-Rock, seen in the background, was deejaying and members of Heliotropes were dancing onstage. The shot was captured just as Amber Myers jumped down to whisper something to me."—Devan Council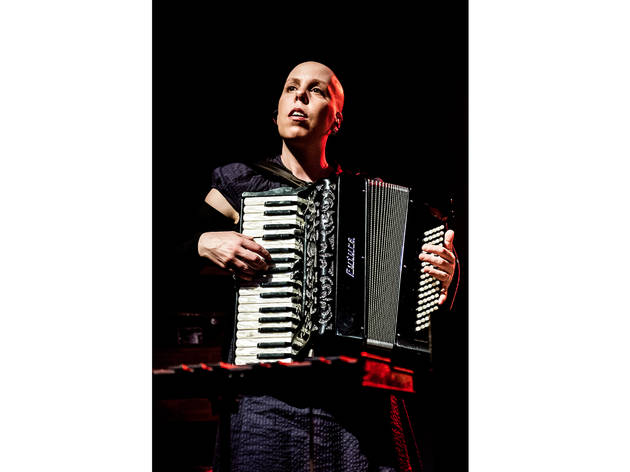 3/5
Jenny Conlee of the Decembrists, Stubb's, Austin, Texas, August 9th, 2011 "The first week of August 2011 was a bit busy for me, and I hadn't made the time to set up access for shooting the Decemberists, who were playing that night at Stubb's. I reached out with a last minute Hail-Mary request that was thankfully successful. August in Texas is hot, and Stubb's can get the worst of it, being an outside venue. [Band member] Jenny Conlee had been fighting cancer for some time, and was set to rejoin the band for the two Austin shows. I wanted to be there, and it would turn out I was the only photographer that evening. I was very glad to be in the photo pit. When they took the stage, Jenny, likely due to the heat, had removed her scarf from her head. Her hair had become a casualty of her treatments, and she wore her new look with strength and pride. Despite the good vibes she was giving off, I was pretty nervous in how best to approach shooting her. I didn't want to make her self-conscious by trying to overshoot her as a point of interest, and more importantly I wanted to capture Jenny and the band in a way to photographically represent how wonderful they can be live. Afterwards, I thought I did an acceptable job and was pleased enough with the results (and it was very nice to see BV's anonymous commenters [give] positive support). A few days later I received a very nice e-mail complimenting the photos from Jenny's husband. He wanted to have [the photo] printed for the band and family as gifts of thanks for all of the support given during Jenny's treatment. In addition to being wonderfully flattered, I was grateful to know I had done my job well in the eyes of the people I most wanted to make happy. I prepped the image and delivered it, happy to be a part of such a moving gift. Things apparently went well, and Steve (Jenny's husband) made a couple of prints and sent them along to me with an autograph from Jenny and a thank you note. It was probably the best compensation for my efforts all year, and a story that will keep me inspired to do more and better with every show I shoot."—Tim Griffin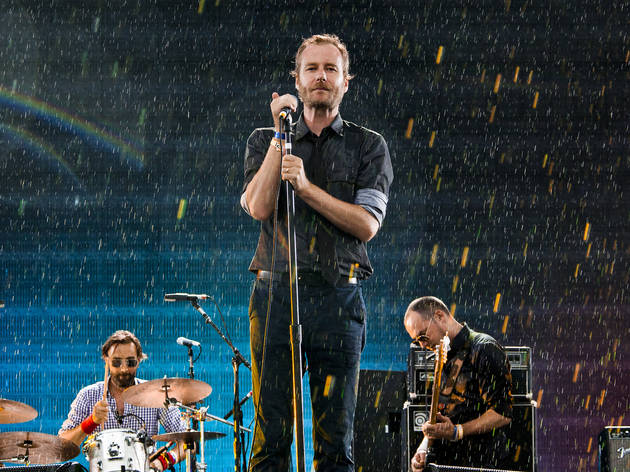 4/5
Photograph: Chris La Putt
The National at the All Points West festival, Liberty State Park, Jersey City; July 31, 2009 "This was the first day of the festival and it was overcast and windy. It was around late afternoon, and there were only a few more artists left to play when it started to pour. The National began playing on the main stage, and the lights brightly lit the pouring rain. It was a pretty surreal experience that stopped as soon as I realized that there were now mud puddles mixed with geese droppings forming around me. My lens fogged up so badly from the heat and the rain that I couldn't use it anymore. By the end of the second day I had to take my shoes off just so I could walk around and not get stuck. It was absolutely disgusting, and yet I still enjoyed seeing the National for the first time."—Chris La Putt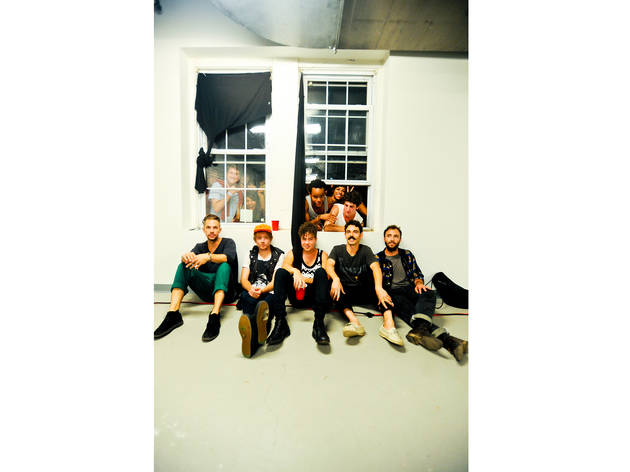 5/5
Photograph: Gabi Porter
Local Natives at Water Taxi Beach, Governors Island; August 7th, 2010"The Local Natives had just finished playing their biggest solo show at Water Taxi Beach on Governor's Island. I was backstage with the band and we were all toasting the show over shots of Jameson. I had come to grab a quick portrait of the band, but the dressing room was big and empty and uninspired-looking and there were black-out curtains over the windows. We looked outside and discovered that the fans were lined up for the ferry trip back to Manhattan right outside the window. We tacked back the curtains and were able to get one of the windows open so the fans could be in the shot. The band was tired and hot, and the fans were goofy and excited. I wanted to open the second window but just as we were trying to unstick it, security walked in and had a fit. So the five or so test frames became the photo."—Gabi Porter
"480 Pixels: An Exhibit of BrooklynVegan's Music Photography"
Five photographers for music blog BrooklynVegan tell the stories behind their favorite shots of famous musicians.