Heads up! We're working hard to be accurate – but these are unusual times, so please always check before heading out.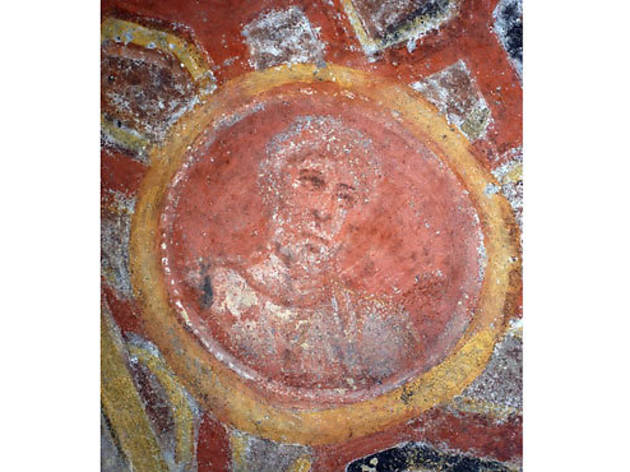 1/24
Photograph: Courtesy the Osservatore Romano
4th-century portrait of Saint Peter from catacombs of St. Tecla, RomeFrancis I is the latest in a long line stretching back to Saint Peter, who, according to the Catholic Church, was the first pope. This is one of the earliest-known images of the apostle, to whom Jesus is believed to have entrusted the keys to the Kingdom of Heaven.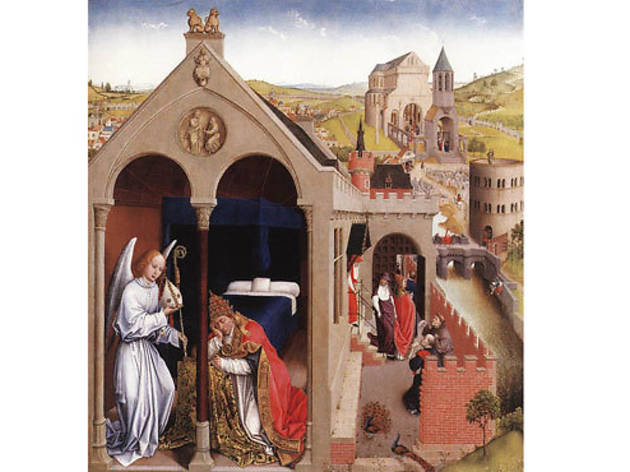 2/24
Photograph: The Getty Center, Los Angeles
Rogier van der Weyden, The Dream of Pope Sergius, late 1430sThis painting, attributed to the Netherlandish master, is considered to be among the first portraying a pope wearing his ceremonial tiara. Believed to be part of a lost altarpiece from the Church of St. Gudula in Brussels, the scene depicts the moment an angel informs Pope Sergius that Lambert, bishop of Maastritch, has been killed. Lambert became Saint Lambert after he was martyred in 701 for defending the sanctity of marriage.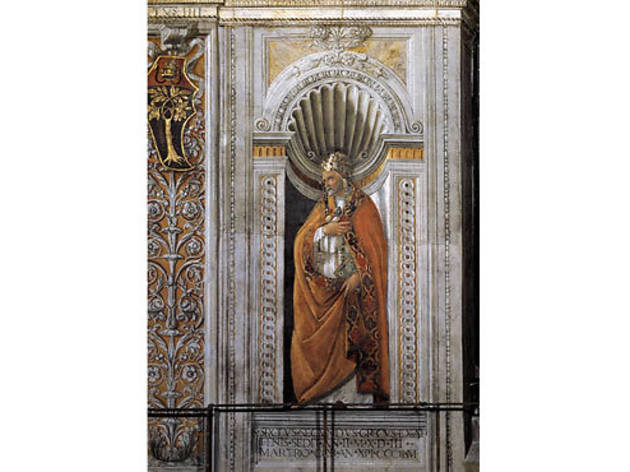 3/24
Photograph: Sistine Chapel, Vatican City
Botticelli, St Sixtus II, 1481When one thinks of the Sistine Chapel, one naturally recalls Michelangelo's great ceiling, but this portrait by Botticelli, one of 24 images of early popes, also decorates the space. It's an imaginary rendering of the pontiff who was martyred in Rome in 258 during Emperor Valerian's persecution of Christians.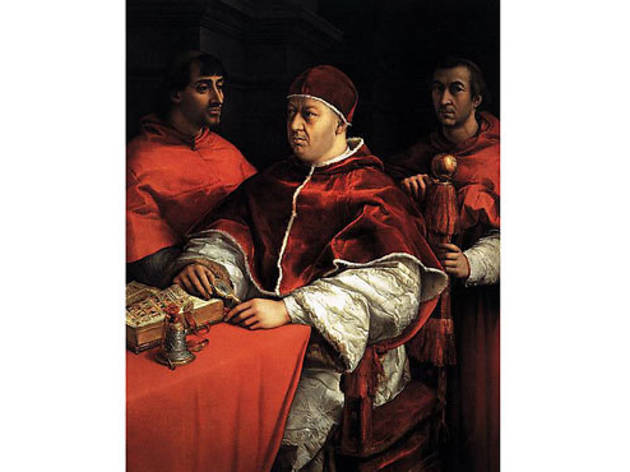 4/24
Photograph: Uffizi Gallery, Florence, Italy
Raphael, Pope Leo X with two cardinals, 1518-1519Raphael's work is notable for its realistic depiction of the pope whose sale of indulgences—basically, tickets to heaven proffered by the church to raise funds for the reconstruction of St. Peter's Basilica—sparked the Reformation, led by Martin Luther.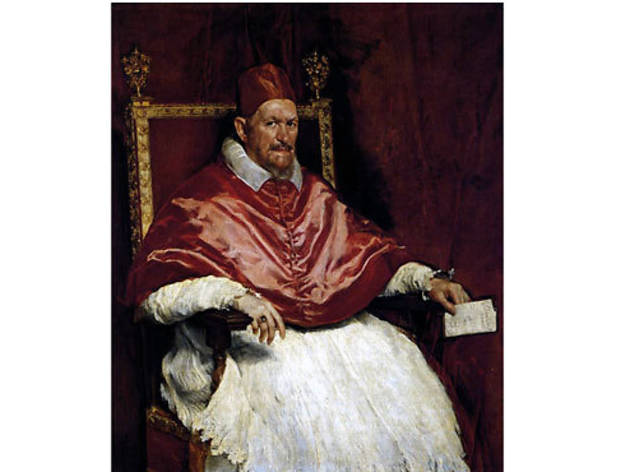 5/24
Photograph: Galleria Doria Pamphilj, Rome
Diego Velázquez, Portrait of Pope Innocent X, 1650This likeness was created sometime during the Spanish painter's sojourn in Italy between 1649 and 1651, and is generally viewed as one of the finest portraits in art history.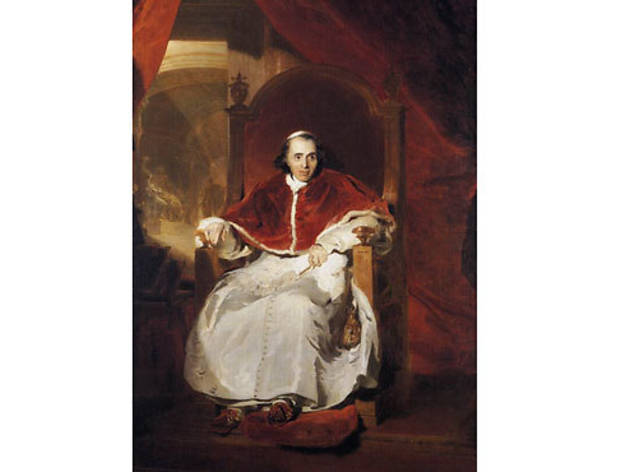 6/24
Photograph: Royal Collection, Windsor Castle, Windsor, U.K.
Sir Thomas Lawrence, Pope Pius VII, 1819This painting of the pope who was briefly sent into exile by Napoleon is arguably one of the last in Western art history to accord the subject a measure of deference.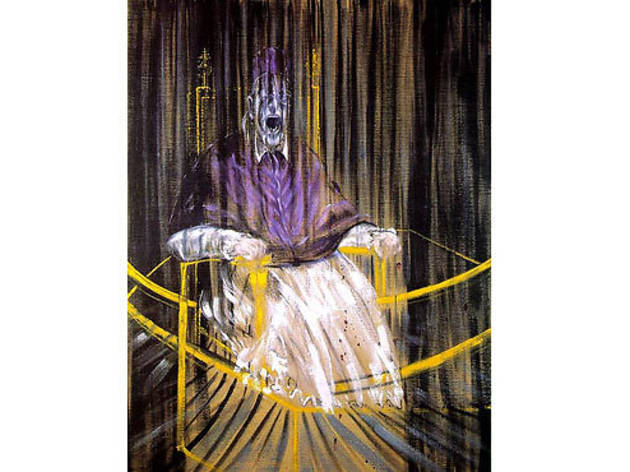 7/24
Photograph: Des Moines Art Center
Francis Bacon, Study after Velázquez's Portrait of Pope Innocent X, 1953Perhaps the most famous of several "screaming popes" that Bacon based on the famed portrait by Velázquez, this image is often described as a religious painting for atheists.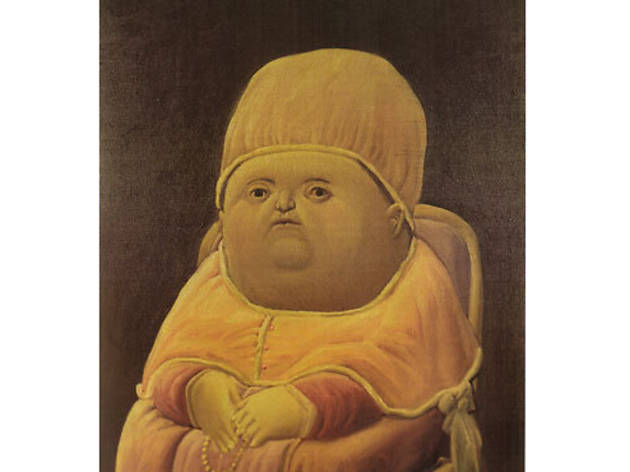 8/24
Fernando Botero, Pope Leo X (after Raphael), 1964Raphael's sitter is transformed into a mordant baby by the Colombian painter known for his pudgy-grotesque figurative style.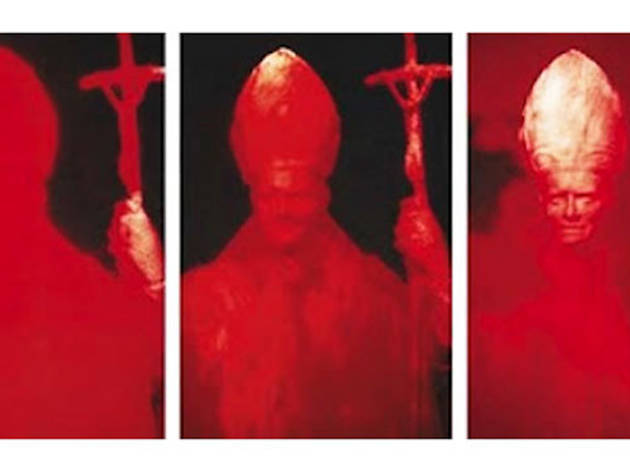 9/24
Andrés Serrano, Red Pope (Part I, Part II, Part III), 1990Serrano is infamous for his controversial takes on Catholic subjects, most notably his Piss Christ, a photograph of a crucifix submerged in urine. In this sequence, a souvenir sculpture of Pope John Paul II being enveloped in blood gets a slightly gentler treatment.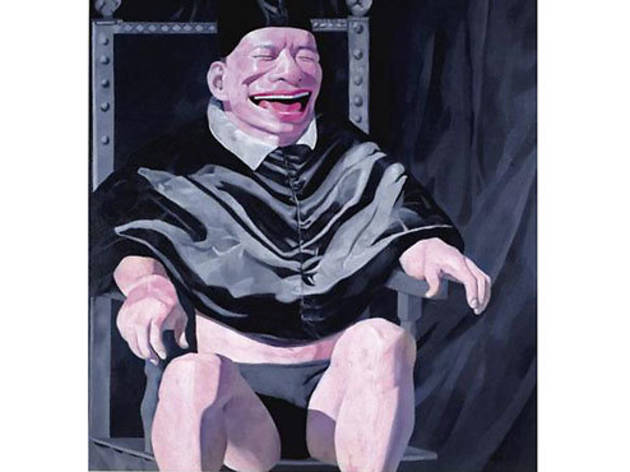 10/24
Yue Minjun, The Pope, 1997The face contorted in creepy laughter is the signature flourish of this Chinese artist, and shows up here in an homage to Bacon's popes.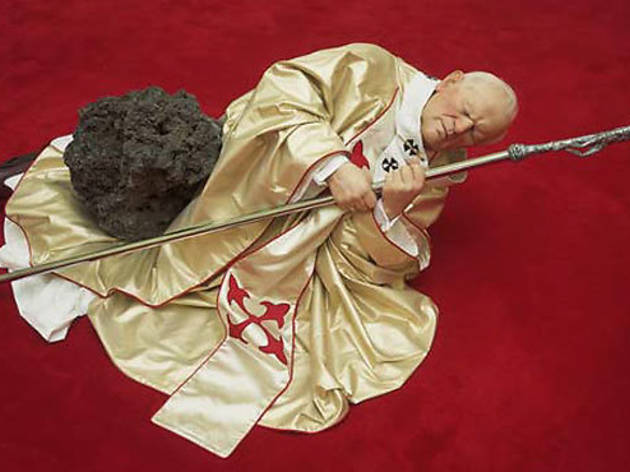 11/24
Maurizio Cattelan, La Nona Ora, 1999Last seen in the Italian bad-boy artist's 2011 Guggenheim retrospective, La Nona Ora ("The Ninth Hour" in Italian), a satire of divine judgment, shows Pope John Paul II being struck down by a meteorite.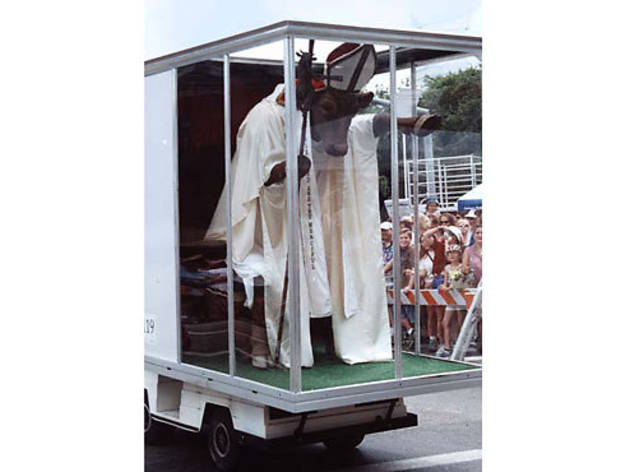 12/24
Photograph: ©2004 Pineapple Publishing and Consulting
Greg Metz, Cow Pope Mobile at the 2002 Houston Art Car ParadeThe Pope's ride, famously domed with bulletproof glass, gets a bovine makeover in this rolling installation by Texas artist Greg Metz.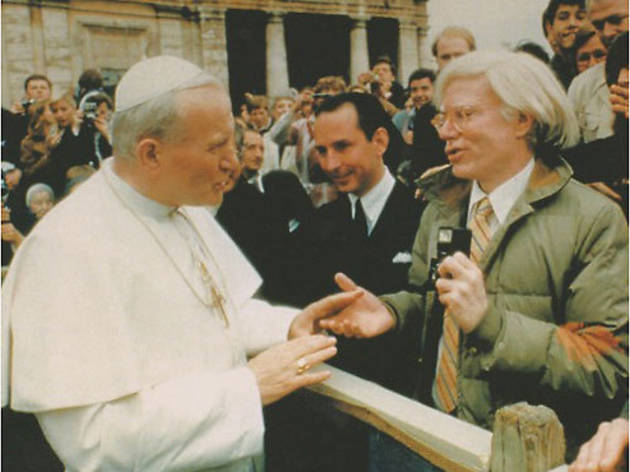 13/24
Photograph: The Andy Warhol Museum, Pittsburgh; founding collection, contributed by the Andy Warhol Foundation for the Visual Arts, Inc.
Pope John Paul II, Fred Hughes and Andy Warhol, 1980It's somewhat ironic that Andy Warhol, the Pope of Pop, never made the pontiff a subject of his work. But then, he was a devout Catholic, so it probably makes sense. In this picture, he greets John Paul II like any other member of the faithful.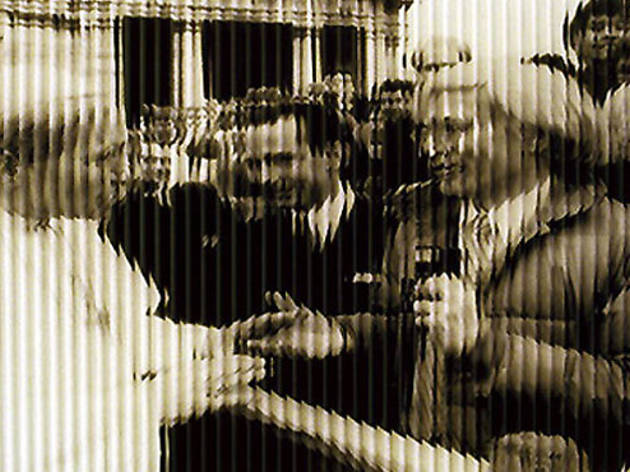 14/24
Photograph: Collection of Philippe Cohen
Joanna Rajkowska, I Will Never Be The Pope. I Will Never Be Andy Warhol., 2000The image of Warhol meeting John Paul II inspired this work by Polish artist Joanna Rajkowska. It's a lenticular photo, and depending on where you stand, it shows Rajkowska's face superimposed onto Warhol and the pope. (See also the following two images.)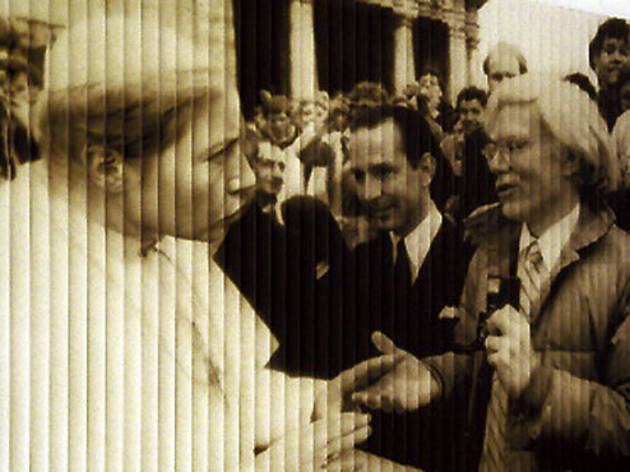 15/24
Photograph: Collection of Philippe Cohen
Joanna Rajkowska, I Will Never Be The Pope. I Will Never Be Andy Warhol., 2000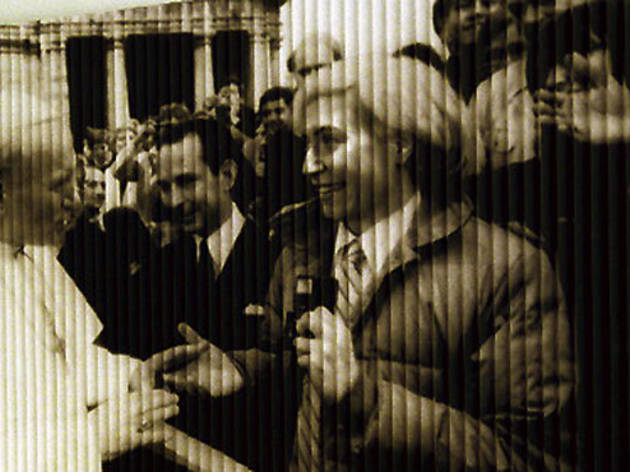 16/24
Photograph: Collection of Philippe Cohen
Joanna Rajkowska, I Will Never Be The Pope. I Will Never Be Andy Warhol., 2000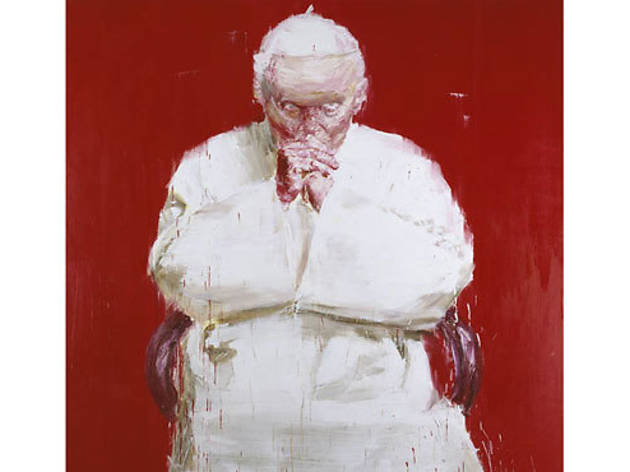 17/24
Photograph: André Morin, ©Yan Pei-Ming, ADAGP, Paris, 2009
Yan Pei-Ming, Pape Jean-Paul II, 2005This Chinese figurative expressionist, who focuses on images of the famous and powerful, paints a rather pensive, if not worried, John Paul II.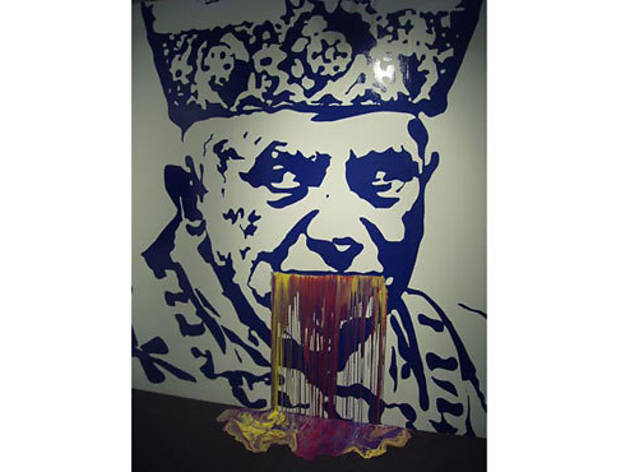 18/24
Zane Lewis, Purging Pope, 2007"Drip painting" takes on bulimic connotations in this image of the recently retired Pope Benedict XVI.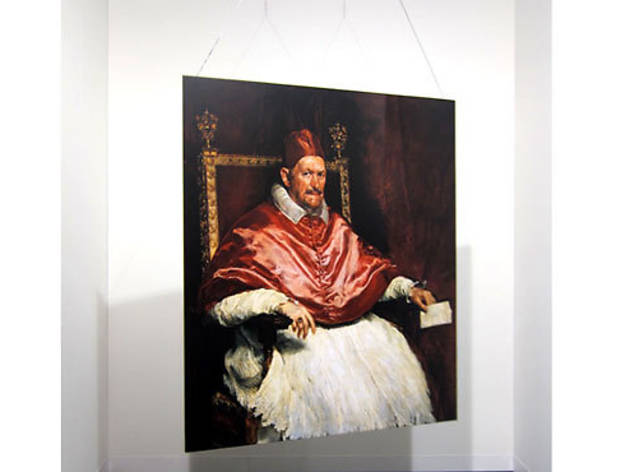 19/24
Photograph: Anthony Reynolds Gallery, London
Mark Wallinger, I am Innocent, 2010Wallinger, a British conceptualist, puts a new spin—literally—on Velázquez's Portrait of Pope Innocent X in this motorized installation. Dangling from a wire is a panel printed front and back with mirror views of the Spanish Old Master's seminal work. When the piece starts to twirl, it creates a double vision of the pope. (See also the following image.)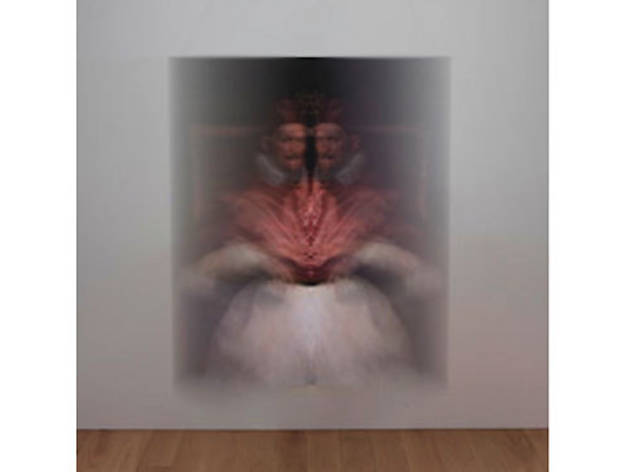 20/24
Photograph: Anthony Reynolds Gallery, London
Mark Wallinger, I am Innocent, 2010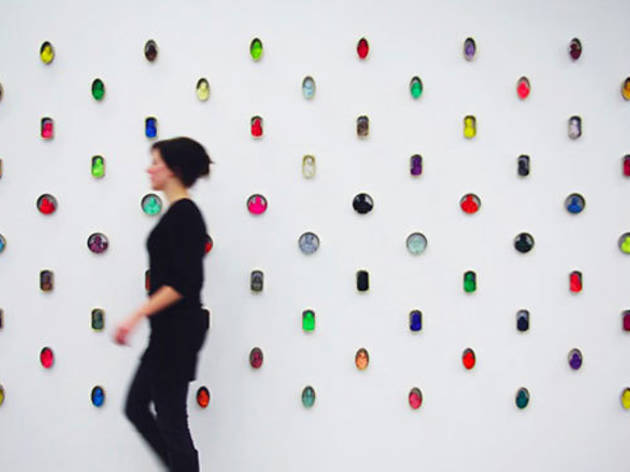 21/24
Miriam Jonas, Polka Popes, 2011Berlin artist Miriam Jonas sculpted relief portraits of fictional popes out of Play-Doh, framing each inside an empty sardine can before arranging them all into a colorful wall installation. (See also the following image.)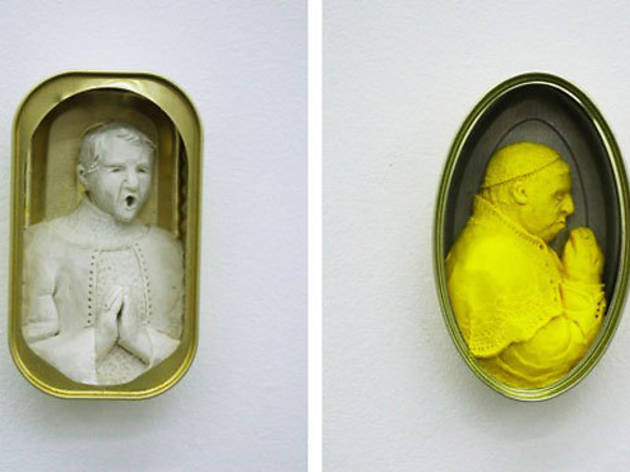 22/24
Miriam Jonas, Polka Popes, 2011, detail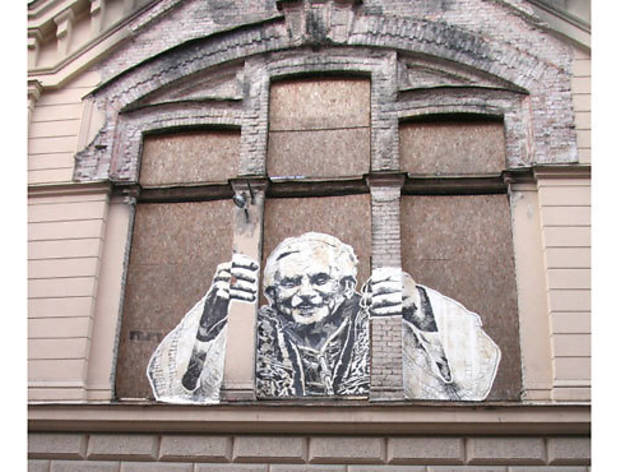 23/24
Street art of Pope Benedict XVI, Stockholm, SwedenThe facade of Katarina Västra school, which was destroyed by fire in 2003, hosts a highly unsympathetic view of the former pontiff.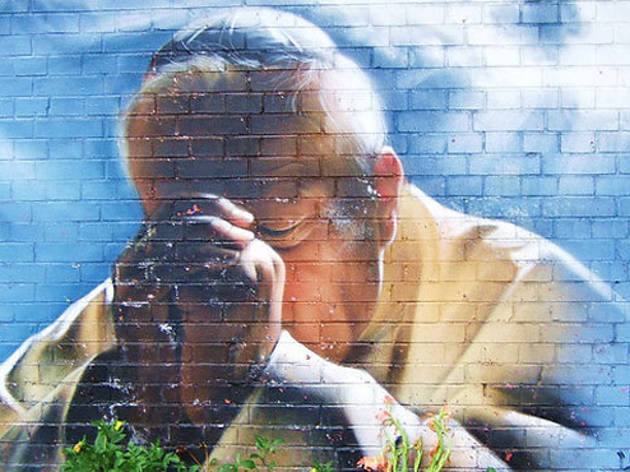 24/24
Photograph: Courtesy Emilia's world
Street art of Pope John Paul II in Kraków, PolandThe Polish Pope is seen deep in prayer in this wall mural dating from 2007.
A brief history of the pope in art
TONY surveys the pontiff as icon, from ancient Rome's reverential frescoes to today's irreverent street art.