Heads up! We're working hard to be accurate – but these are unusual times, so please always check before heading out.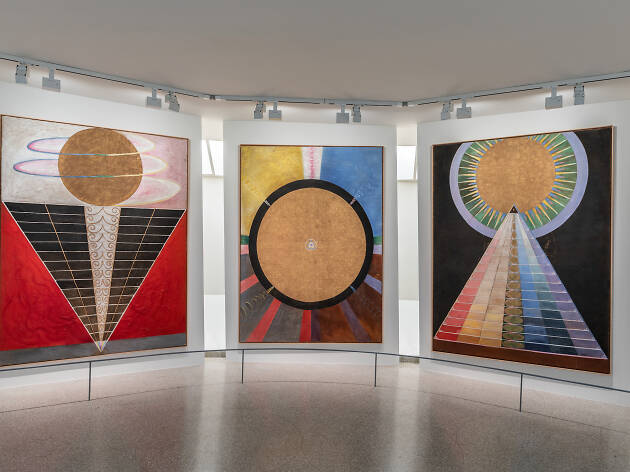 The best art shows of 2018
A slate of retrospectives and re-discoveries made 2018 a year worth remembering
Although there were no particular trends defining the art scene over the past 12 months, 2018 was still memorable thanks to career retrospectives of artists ranging from big art-historical names like the French 19th-century painter, Eugène Delacroix, to completely obscure figures like Hilma af Klint—whose previously little-known forays into abstract painting during the early 1900s scrambled the standard narrative of the genre. The year also saw the first visit to NYC of a Renaissance masterpiece (appropriately titled the Visitation, by the Italian Old Master Jacopo da Pontormo), as well as a first for the august Metropolitan Museum of Art, as it opened its doors to outsider art in a major survey of self-taught African-American artists from the Deep South. All in all, there was a bounty of fantastic work on offer, so without further ado, here is our recap of the best art shows of 2018.
Best art shows of 2018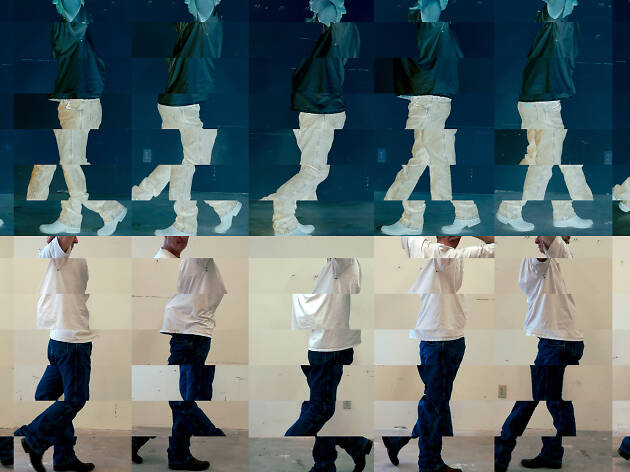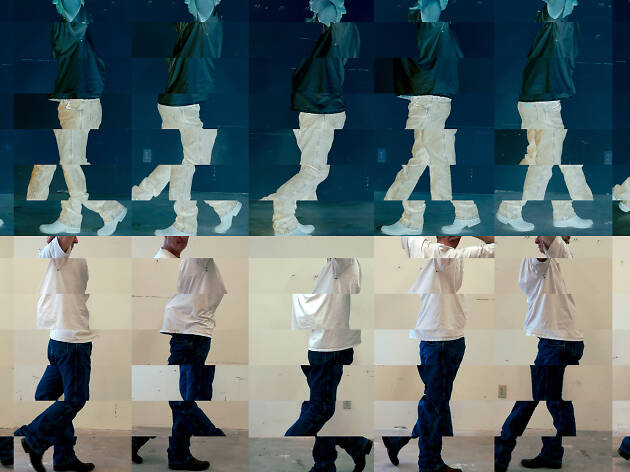 Photograph: Courtesy the artist and Sperone Westwater, New York, © 2018 Bruce Nauman/Artists Rights Society, New York
1. "Bruce Nauman: Disappearing Acts"
The Museum of Modern Art's much-anticipated Bruce Nauman retrospective was big—so big that calling it exhaustive was an understatement. While the show's organizers didn't actually assemble the entirety of Nauman's output over 50 years, they came pretty damn close. Occupying MoMA PS1 from top to bottom, with a floor at the Midtown Modern thrown in for good measure, the exhibit revealed Nauman's essential role in U.S. art, especially during the late 1960s, a period which produced video, installation, performance, body and conceptual art. Nauman had a hand in developing them all. Early on and through most of his career, Nauman used his own self as the material for his art in a way that de-emphasized his presence. He treated himself as just another object, and in that respect, he became, in effect, the anti–Marina Abramovic: Not a dramatic actor in his work, but a kind of void—hence this show's title, "Disappearing Acts." And yet, as this show proved, he played a titanic role in changing the course of contemporary art.
Museum of Modern Art (MoMA) + MoMA PS1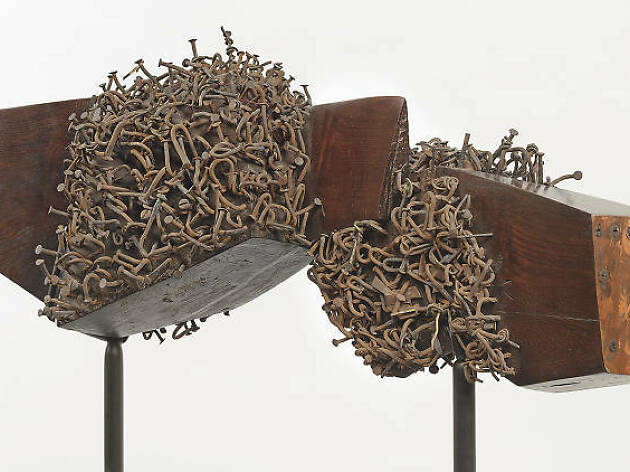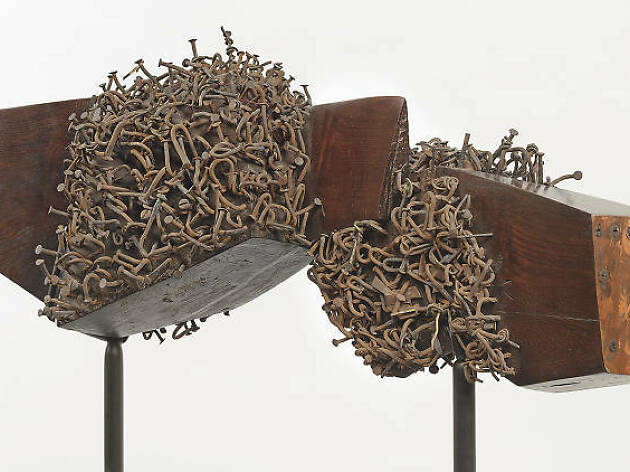 Photograph: © The Estate of Jack Whitten, courtesy The Estate of Jack Whitten and Hauser & Wirth
2. "Odyssey: Jack Whitten Sculpture, 1963–2017"
One of the year's major rediscoveries came courtesy of this survey of Jack Whitten (1939–2018), a veteran African-American artist whose talent who was long under-appreciated by the predominantly white art world. About a dozen years ago, his paintings—abstract compositions that touched upon subjects such as race and cosmology—began to get more notice, but this show focuses on an aspect of his art that was previously unknown: His sculptures. Rough-hewn assemblages made of hand-carved and found elements, these pieces recalled African tribal totems or ceremonial objects, but also spoke to Southern black folk art, making these works some of the most powerful of Whitten's career.
The Met Breuer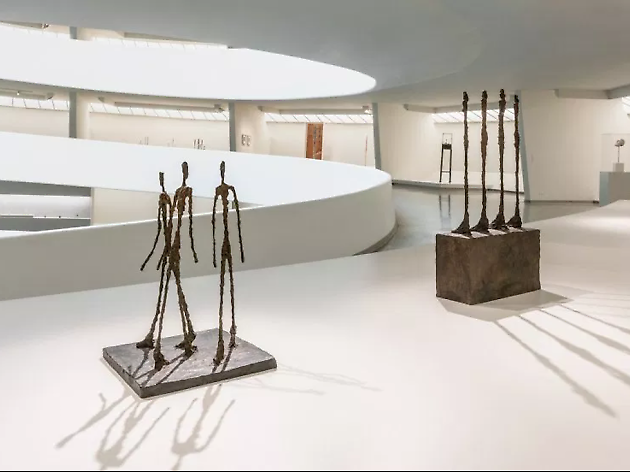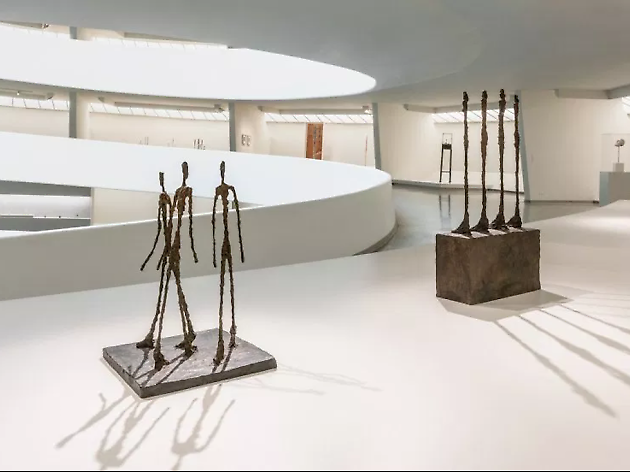 Photograph: David Heald, courtesy the Solomon R. Guggenheim Museum
The Guggenheim's Giacometti retrospective blew away the common perception of him as the guy who made sculptures of skinny figures, revealing instea an artist whose work distilled a postwar zeitgeist stunned by the catastrophes of war and genocide. This magisterial survey followed his career from it beginnings in Surrealism to its culmination as some of the most important art produced in the 20th century.
Solomon R. Guggenheim Museum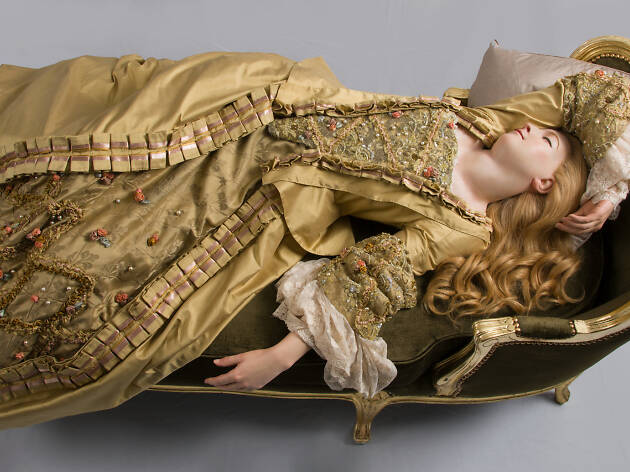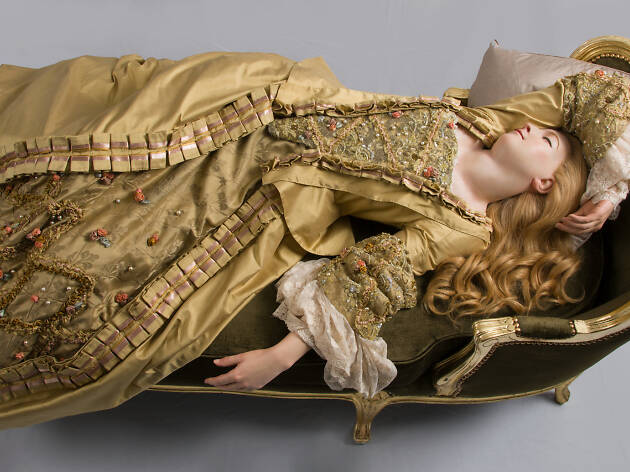 Photograph: Madame Tussauds, London
4. "Like Life: Sculpture, Color, and the Body (1300–Now)"
Jeff Koons met Donatello in this Met Breuer show exploring 800 years of Western figurative sculpture. Equal parts thematic omnibus and compendium of oddities, "Like Life" eschewed chronological treatment in favor of felicitous juxtapositions of works across the centuries. With pieces like a recreated 18th-century animated waxwork figure of Sleeping Beauty—complete with an chest rhythmically heaving up and down—the exhibit took viewers on a long, strange trip through the uncanny valley.
The Met Breuer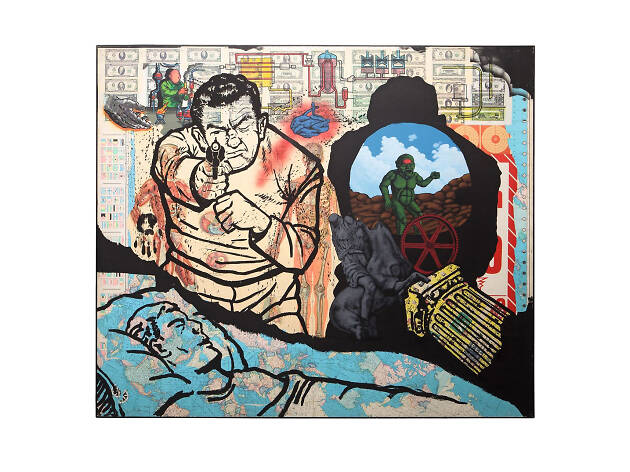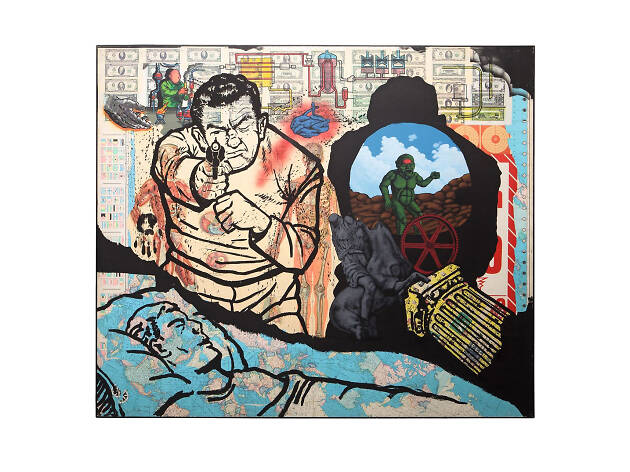 Photograph: Courtesy the Whitney Museum of American Art
5. "David Wojnarowicz: History Keeps Me Awake at Night"
A firebrand who raged against the hypocrisy and cruelty of American society through his incendiary art, David Wojnarowicz shot like a comet through New York's 1980s art scene with works that denounced the homophobia and malignant that accompanied the decades's AIDS crisis. However, this retrospective did more than just expose audiences to Wojnarowicz's jeremiads: It also presented the artist's lesser known poetic and visionary side, revealing him as a self-taught genius who condensed his experiences as an abused child and urban poet into artworks of extraordinary power.
Whitney Museum of American Art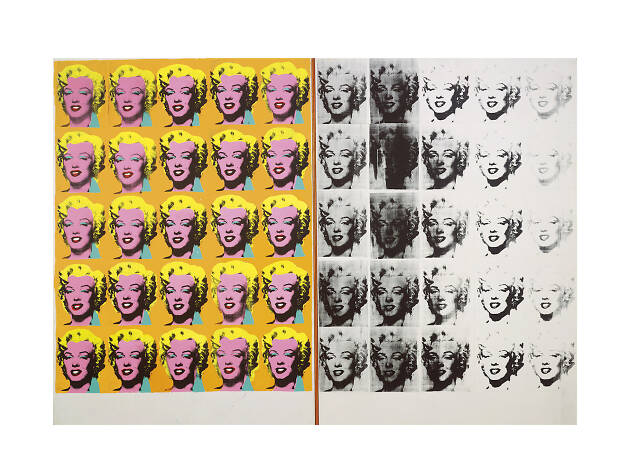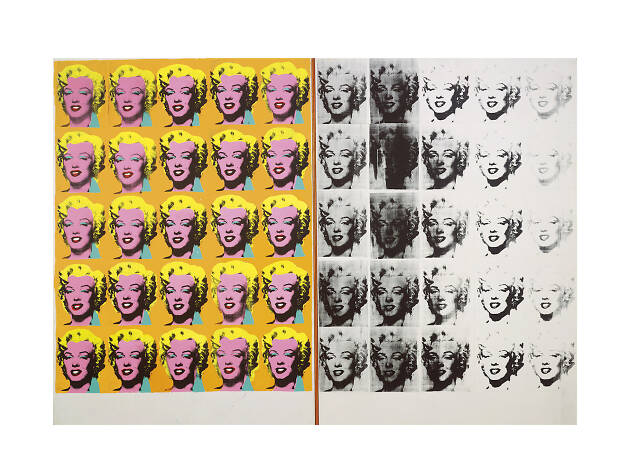 Photograph: Tate, London, © The Andy Warhol Foundation for the Visual Arts, Inc./Artists Rights Society (ARS) New York
6. "Andy Warhol—From A to B and Back Again"
If nothing else, the Whitney's Warhol extravaganza was a reminder that this is Andy's world and we're just living in it. After all, he anticipated our free-market landscape of short attention spans and narcissistic social-media engagements with quotes like, "In the future, everyone will be world-famous for 15 minutes." Another utterance—"business is the best art"—predicted a contemporary art world in which meaning is subsumed by the global flow of capital. Warhol's greatest hits—Campbell's Soup cans, Marilyns, Jackies and Elvises—were all on view, along with less-familiar items like a series of sunset images. Though the show's installation felt cramped in places, it nonetheless, got the job done, reminding us just why Warhol's work seems to be all around us.
Whitney Museum of American Art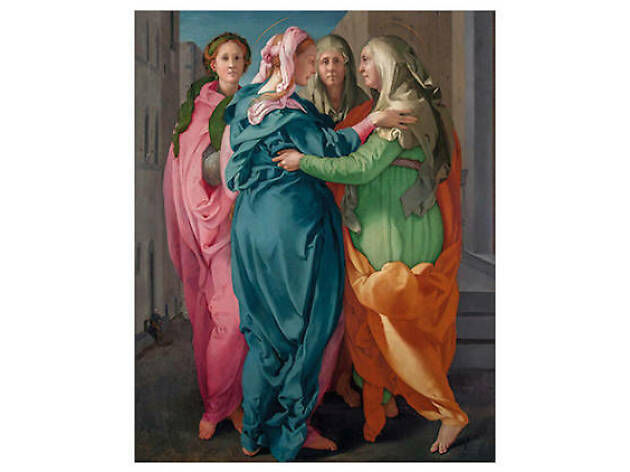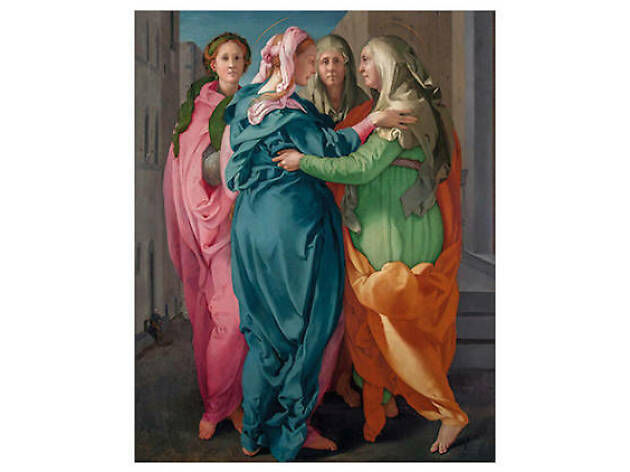 Photograph: Antonio Quattrone, courtesy Parrocchia dei Santi Michele e Francesco, Carmignano
7. "Pontormo: Miraculous Encounters"
A small offering that comprised only five pieces, this show punched well above its weight thanks to its centerpiece, the glowing Visitation altarpiece by the Italian Renaissance master Jacopo da Pontormo (1494–1557). Seen in the U.S. for the first time, the Visitation captures the moment when the Virgin Mary, expecting baby Jesus, embraces her elderly cousin Elizabeth, who is also miraculously pregnant with John the Baptist. The women are depicted on the street of a Tuscan town, wearing draped robes whose colors—lapidary turquoise, pink, mint and saffron—were brought back to their original luminosity after a 2014 restoration.
Morgan Library & Museum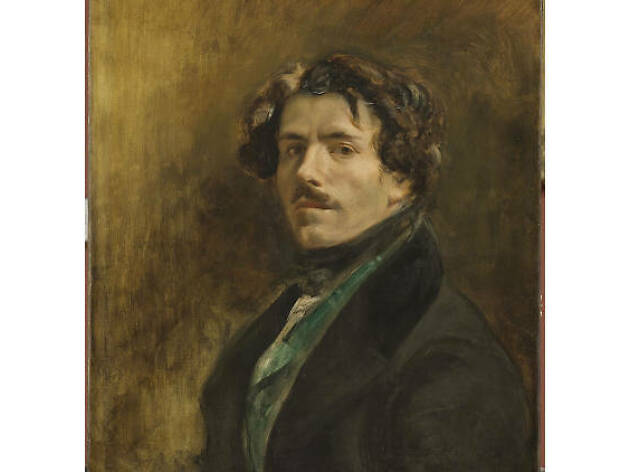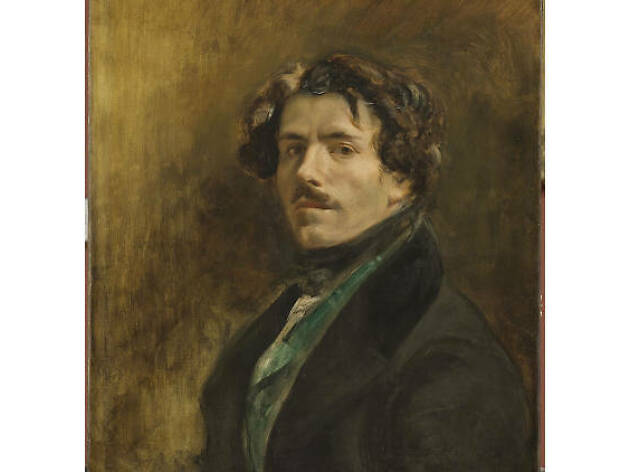 Photograph: Musée du Louvre, Paris, © RMN–Grand Palais (Musée du Louvre)/Michel Urtado
Hard as it was to believe, this exhibition represented the first-ever retrospective in North America devoted to Eugène Delacroix (1798–1863). Joining forces with Musée du Louvre in Paris, the Met offered some 150 paintings, drawings, prints and manuscripts by this towering figure of 19th-century art. Presented chronologically, the show spanned Delacroix's four decades as a central player during a tumultuous period that laid the foundations of modernism.
The Metropolitan Museum of Art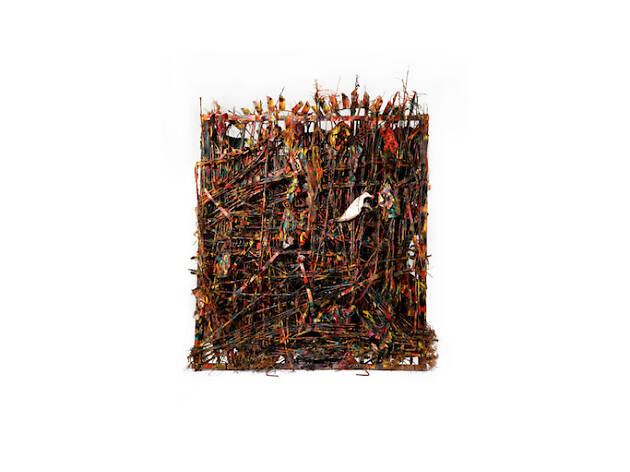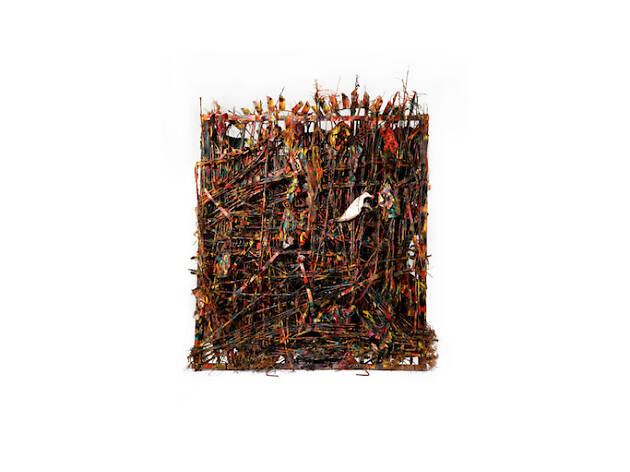 Photograph: Rebecca Tilghman, courtesy The Metropolitan Museum of Art, © Thornton Dial
9. "History Refused to Die: Highlights from the Souls Grown Deep Foundation Gift"
The work of self-taught, African-American artists from the South finally reached the pinnacle of mainstream acceptance with this show at The Met, which featured paintings, sculptures, drawings and quilts by such names as Thornton Dial, the quilters from Gee's Bend, Alabama and Nellie Mae Rowe among others. What became evident from seeing these artists together was how all of them went beyond simple folk art to portray the pain and persistence of black life in America.
The Metropolitan Museum of Art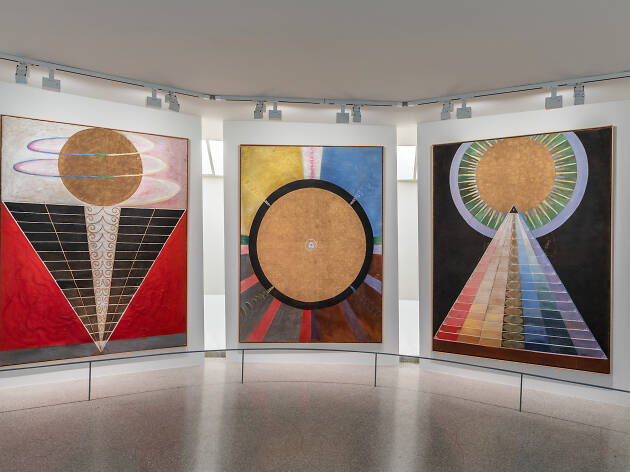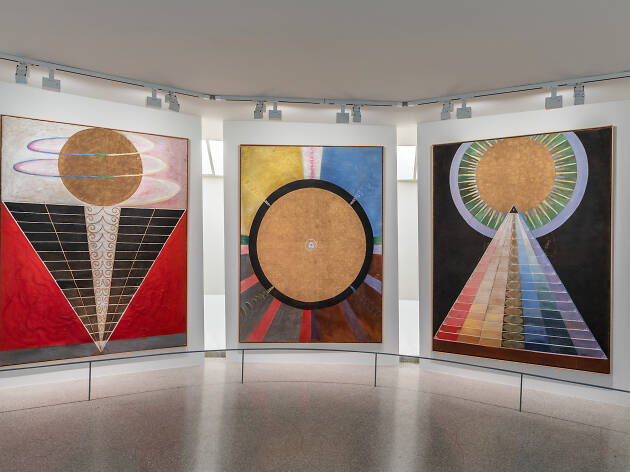 Photograph: David Heald, courtesy the Solomon R. Guggenheim Museum
If there was ever a show that you could call a revelation, this one was it. The Guggenheim's reappraisal of this heretofore little-known painter and mystic from Denmark practically re-wrote the history of early-20th century modernism by introducing audiences to an artist who broke through to abstraction years before the canonical names—Wassily Kandinsky, Kazimir Malevich—credited with the achievement. Though Klint's paintings were tied to her esoteric mystical beliefs, they exploded with color, scale and energetic arrangements of shapes, organic and geometric, borrowed from Swedish folk art. All in all, a once in a generation rediscovery.
Solomon R. Guggenheim Museum