Heads up! We're working hard to be accurate – but these are unusual times, so please always check before heading out.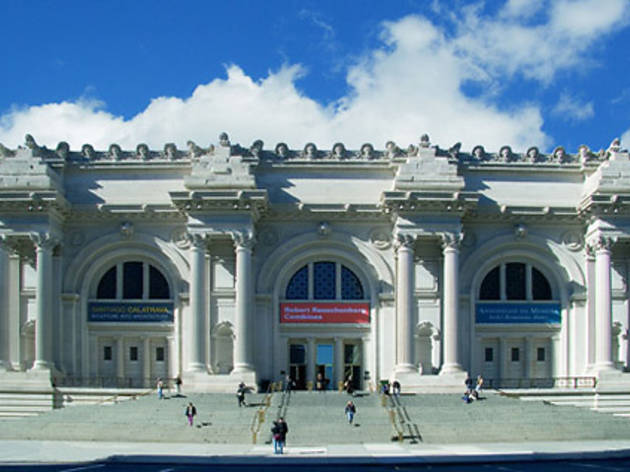 1/4
The Metropolitan Museum of Art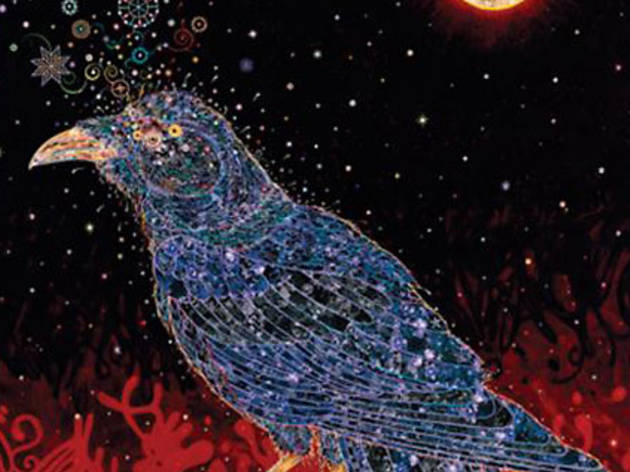 2/4
Fred Tomaselli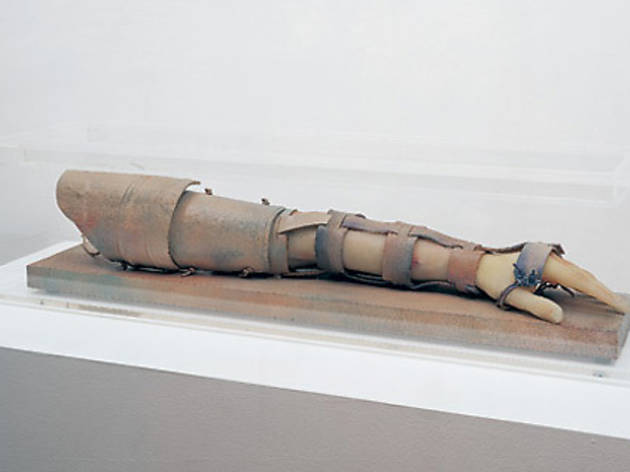 3/4
Paul Thek: Diver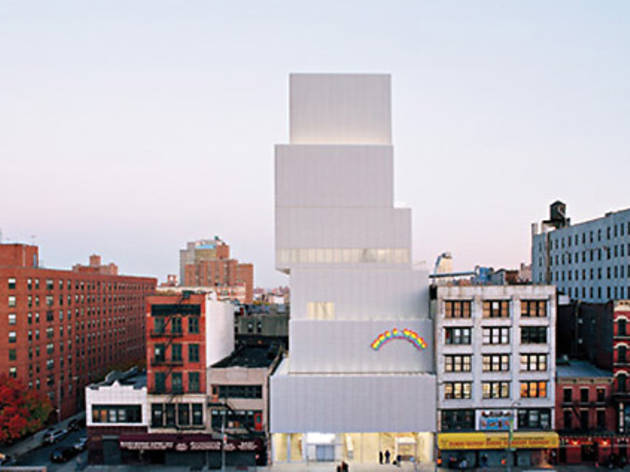 4/4
New Museum of Contemporary Art
Essential New York: Art
"Fred Tomaselli"Fred Tomaselli has been a fixture on New York's contemporary-art scene for more than 20 years. He established himself with fervid,...
"Fred Tomaselli"
Fred Tomaselli has been a fixture on New York's contemporary-art scene for more than 20 years. He established himself with fervid, hallucinatory compositions made by pouring layers of thick resin over controlled substances like pot, Ecstasy, LSD and speed, as well as signifiers of a more natural high: insects, leaves and feathers. The resulting feverish, dreamlike vistas reverberate with a definite psychedelic vibe, but also reflect the buzzy energy of the city itself. His borough-of-Kings retrospective offers one hell of a rush. Brooklyn Museum, 200 Eastern Pwky at Washington Ave, Prospect Heights, Brooklyn (718-638-5000, brooklynmuseum.org). $6--$10. Through Jan 2.

"Paul Thek: Diver"
For every big name in art history, there's an unjustly overlooked artist way ahead of his or her time. Such is the case with Paul Thek, who is now getting a much-deserved revival in this Whitney retrospective. Active in New York and Europe from the late 1960s until his untimely death from AIDS in 1988, he was a pioneer of installation art and a practitioner of a dramatic strain of figurative art at a time when Conceptualism and Minimalism ruled. Warhol was a fan, and Thek's work anticipated that of future art stars like Damien Hirst. Whitney Museum of American Art, 945 Madison Ave at 75th St (212-570-3600, whitney.org). Through Jan 9.

Walter De Maria, "The New York Earth Room" and "The Broken Kilometer"
Before Soho was a magnet for high-end chain stores and the shoppers who love them, it was a home to artists. During the 1960s and '70s, it was the place where the borders between art and life were blurred as artists created working/living environments out of old industrial lofts in which radical genres such as performance art, installation art and earthworks were pioneered. Of course, hedge-fund managers and pop stars eventually chased the artists out; lap pools and Sub-Zero freezers replaced the art. But the spirit of Soho as it was is still preserved in these two installations by the renowned American sculptor Walter De Maria, both of which have been lovingly attended to by the Dia Art Foundation since the late 1970s. The New York Earth Room is exactly what it sounds like—a 3,600-square-foot room covered in almost two feet of rich topsoil—while The Broken Kilometer consists of five rows of 100 polished brass rods which would cover the titular distance if all 500 segments were placed end to end. They're testaments to a time when Soho was still a frontier, and art provided the wide open spaces. The New York Earth Room: 141 Wooster St between W Houston and Prince Sts * The Broken Kilometer: 393 W Broadway between Broome and Spring Sts * (212-989-5566, diacenter.org). Free.

White Columns
Once upon a time, there were museums and there were commercial galleries, but there were few places that nurtured young artistic talent, especially the sort inclined to make unconventional art. That all changed with the advent of alternative spaces in the 1970s. Leading the way was White Columns, a platform for artistic experimentation cofounded in 1970 by the legendary Gordon Matta-Clark. The venue stands as the city's oldest alt-art space, and there probably isn't a major local artist of the past 40 years who didn't get some of their initial exposure here. 320 W 13th St, entrance on Horatio St between W 8th and Hudson Sts (212-924-4212, whitecolumns.org). Free.

Public Art Fund
The idea of public art and whether it does anybody much good has been hotly debated, but let's face it: New York would be much more boring without a history including bits of nuttiness like Olafur Eliasson's artificial waterfalls in the East River, Anish Kapoor's giant reflecting mirror at Rockefeller Center or Christian Jankowski's street-performer statues in Central Park. Those were some of the more high-profile projects brought to you by the Public Art Fund over the past 30-some years, and as the premier organization for outdoor art, the group has sponsored its share of hits and misses. But it could never be accused of making the city a less lively place. Installations at various locations (212-223-7800, publicartfund.org). Free.

"Abstract Expressionist New York"
The title pretty much says it all: This huge survey, spread out over three floors, is made up of works taken entirely from MoMA's own collection, and it takes you back to the time when America's first homegrown modern-art movement was born—and Gotham assumed the mantle of art capital of the world. All the iconic names are here (Pollock, De Kooning, Rothko, Newman), but so are worthy lesser-knowns such as Grace Hartigan, Hedda Stern and Bradley Walker Tomlin, giving visitors a real sense of what was going on in AbEx before its history was written in stone. Equally important, the show provides a snapshot of New York as it stormed the global stage. Museum of Modern Art (MoMA), 11 W 53rd St between Fifth and Sixth Aves (212-708-9400, moma.org). $12--$20, members and children under 16 free. Through Apr 25.

The Metropolitan Museum of Art
MoMA is devoted to modern art, the Whitney to American Art. The Guggenheim has its Frank Lloyd Wright building. But only one place can boast of being simply the greatest museum in the entire world, and that is the Met. What other institution has the audacity to put an entire Egyptian temple on display? Or to host period rooms dating from the 15th to 18th centuries? Or to exhibit enough armor to equip a full medieval army? You'd rather seeVermeers? They've got 'em out the wazoo. And did we mention that Central Park is right outside? Case closed. The Metropolitan Museum of Art, 1000 Fifth Ave at 82nd St (212-535-7710, metmuseum.org). $10--$20, members and children under 12 free.

The Drawing Center
Not many cities can boast a museum devoted to contemporary and historical drawing, but NYC does, thanks to the Drawing Center, which has been a cultural fixture in our town since 1977. Its programming offers a mix of fascinating historical shows (did you know Victor Hugo could draw?), as well as the latest trends in works on paper, which have included everything from what you'd expect (collage, ink renderings, charcoal, pastel, etc.) to room-size installations. It's all part of the Drawing Center's mission to push the boundaries of a medium that's not simply an intermediary step to something else, but a vibrant form of its own. 35 Wooster St between Broome and Grand Sts (212-219-2166, drawingcenter.org). $3.

Feature Inc
It isn't the biggest outfit on the gallery scene, and it's certainly not the flashiest. But it's been arguably one of the most persistent and most reflective of the sensibility of its proprietor, who goes by the singular name Hudson. After starting out in Chicago (the gallery's website proudly proclaims that it opened on April Fool's Day, 1984), Hudson moved to New York in 1988. Since then, the gallery has echoed the peregrinations of the art world, moving from Soho to Chelsea to the Lower East Side, all the while nurturing such soon-to-be-big-name talents as Takashi Murakami and Tom Friedman. In all that time, Feature has never lost its mom-and-pop feel or betrayed its idiosyncratic vision. It remains a bastion of soul in an art world driven mainly by money. 131 Allen St between Delancey and Rivington Sts (212-675-7772, featureinc.com). Free.

New Museum of Contemporary Art
The New Museum has been around since the late '70s, when it was founded by Marcia Tucker as a big fuck you to the Whitney after the museum fired her as a curator. For a long time, the place was an institution in name more than anything else, but all that changed in December 2007, when work was completed on its new home on the Bowery—the first purpose-built museum building in New York in more than a generation. The edifice—an irregular stack of silvery boxes designed by the Tokyo avant-garde architecture firm SANAA—has quickly become a city landmark and a magnet for the burgeoning Lower East Side art scene. 235 Bowery between Rivington and Stanton Sts (212-219-1222, newmuseum.org). $8--$12, members and children under 18 free.