Heads up! We're working hard to be accurate – but these are unusual times, so please always check before heading out.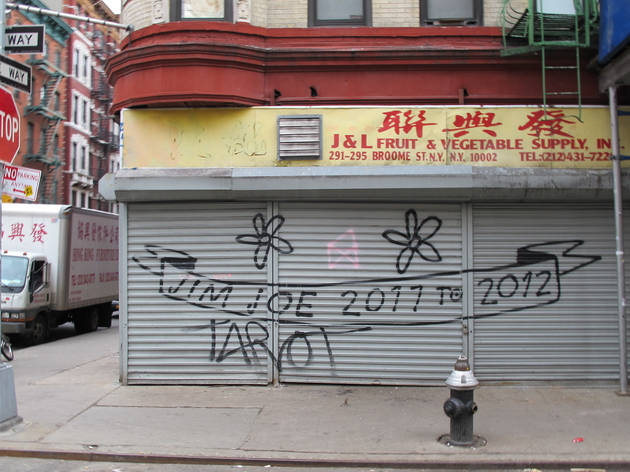 1/9
Photograph: Bowery Boogie
Tags are the signatures of a street artist. Done freehand, they can be made with a number of materials, including spray paint and heavy-duty marker. Perler recommends looking for Jim Joe's name, which can be found across New York, written in childlike, all-capital letters.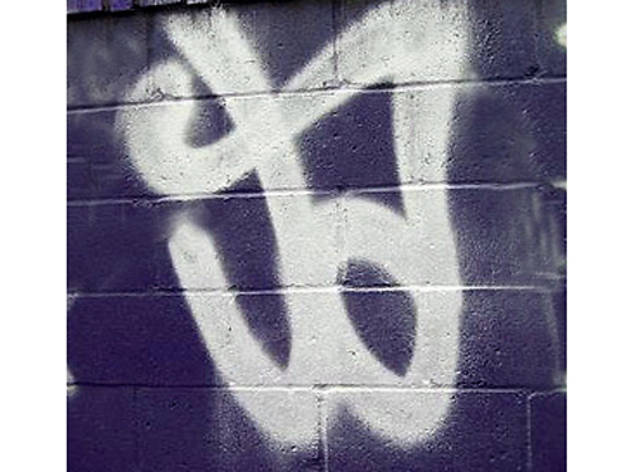 2/9
Photograph: Eric Felisbret
JA has been one of New York's most prolific taggers for 20 years, the thick and curvy tag can be found on subway station walls, highway overpasses, bridges, fire hydrants and store gates, Felisbret says.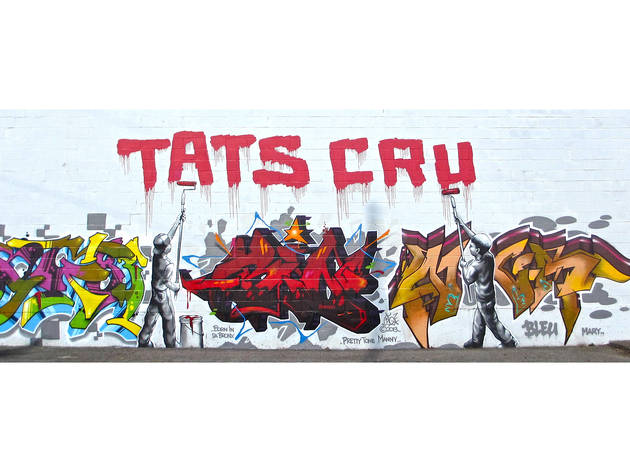 3/9
Photograph: courtesy Tats Cru
Murals are larger-scale works depicting either blown-up tags or intricately detailed scenes and figures, or both. Perler suggests searching out work by Bronx group Tats Cru, the self-proclaimed "Mural Kings," which has been been creating tag banners and large-scale, movielike scenes incorporating characters since the 1980s.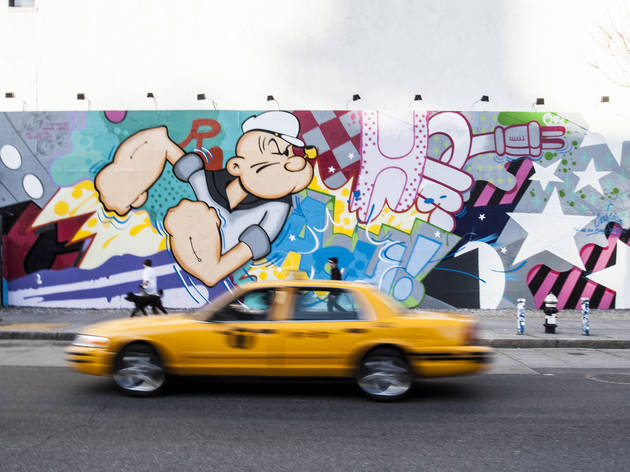 4/9
Photograph: Krista Schlueter
Felisbret namechecks John Matos (also known as Crash), who creates Pop Art–inspired murals and whose latest work—seen on the famed wall at Bowery and East Houston Street—features everyone's favorite sailor, Popeye.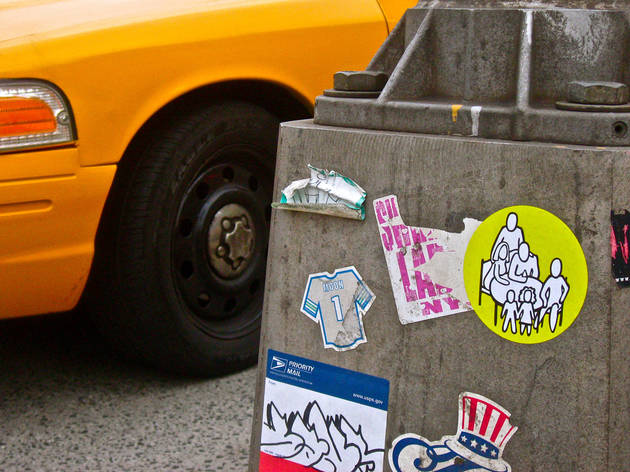 5/9
Photograph: courtesy Fumero
Stickers are usually preproduced works of art, which makes distribution easier, and can be placed anywhere, including lamp poles and crosswalk signals. Fumero's sticker, Perler explains, is simple, strong and recognizable: an outline of a family around a kitchen table. Created by Fumero as an art-gallery-circumventing promotional tool, the sticker serves as a logo for his "Table Series" paintings, inspired by dining scenes in family photographs.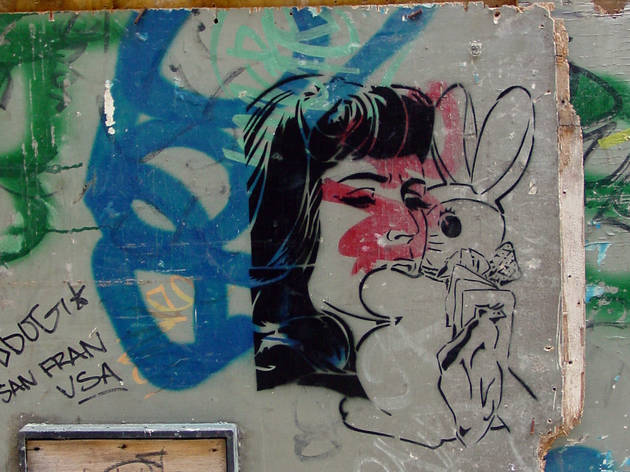 6/9
Photograph: FAILE
Stencils are designs cut into paper or cardboard, which provide outlines that make them easy and quick to replicate. Styles range from simple lettering to multicolored, layered images. Perler highlights artistic duo Faile, who created a touching work of a young girl clutching a stuffed rabbit (a common symbol in their work) to her face.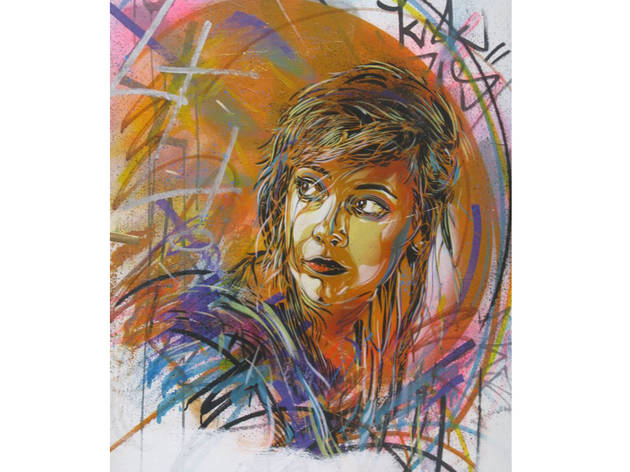 7/9
Photograph: Eric Felisbret
Felisbret suggests seeking out the work of C215, who depicts solitary, worn faces taken from photographs, usually of the homeless and refugees.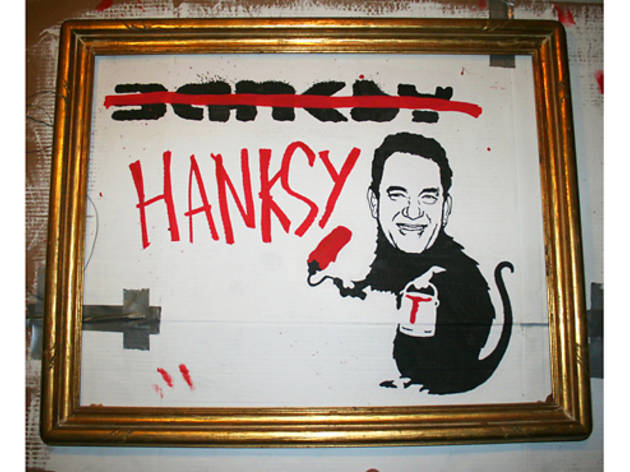 8/9
Photograph: courtesy Krause Gallery
Wheatpasting involves plastering sheets of paper onto surfaces with an adhesive, usually made with starch and water, in a billboard manner. Perler points out that these can often take the form of visual puns. Street artist Hanksy takes Banksy's iconic images and wheatpastes his own special layer: Tom Hanks. See Banksy's rat, pictured, or urinating dog, both with Hanks's face.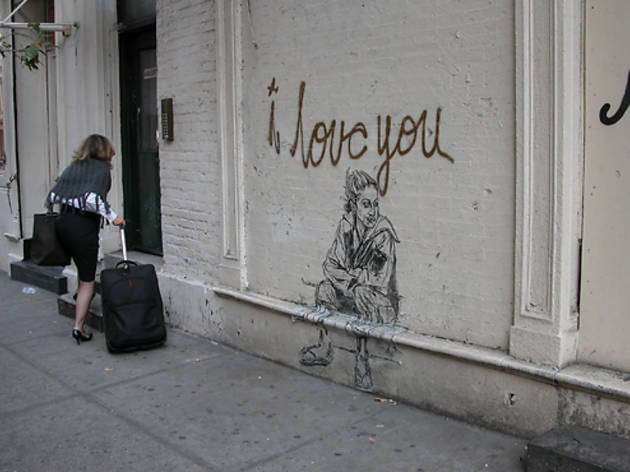 9/9
Photograph: Eric Felisbret
Felisbret recommends looking for Swoon's wheatpastes, which feature people doing ordinary tasks like riding a bike or sitting. Swoon will often immerse these figures in surreal details.
Graffiti styles: Five types of street art and artists to look for
LES blog Bowery Boogie and Eric Felisbret of @149St explain common street-art and graffiti styles, and recommend artists and works to look for in NYC.