Heads up! We're working hard to be accurate – but these are unusual times, so please always check before heading out.
Lisa Yuskavage previews her latest paintings
Lisa Yuskavage's newest paintings and pastels are inspired by her fascination with hippies
Many things can motivate an artist, but as Lisa Yuskavage's comments to Time Out New York about her newest pneumatic nudes at David Zwiner suggests, the ball can get rolling with one idea. In Yuskavage's case, it's a fascination with hippies. Yuskavage is known for her interest in psychology—her own and other people's—and with this series on the Woodstock generation, she uses hippies as a symbol of her own memories of growing up in the 1970s amid the wreckage of the counterculture. She explains why—and why men appear for first time in her work—in this self-annotated look at her artworks.

"Lisa Yuskavage" opens Apr 23 at David Zwirner.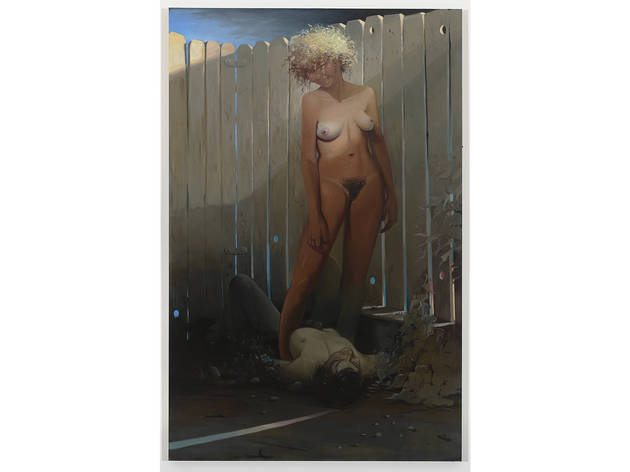 Courtesy the artist and David Zwirner
"This image shows a storm brewing. It happens in most relationships, but there's also tenderness. The guy is lying down, being kicked by her, but both are having a good time. Among birds, females are drab and males are colorful. Here, I give the woman the spectral robe while relegating him to the shadows. But the painting only works if people are convinced that they love one another."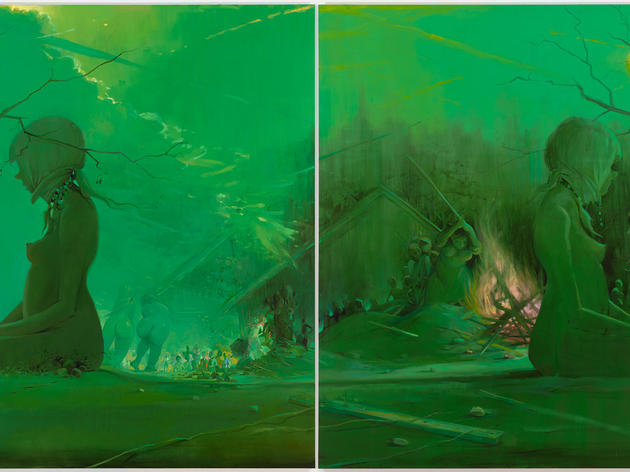 Courtesy the artist and David Zwirner
"It's the first diptych I made after being conscious that I had been making diptychs and triptychs for 25 years. The bookended twins are like a Rorschach image. The woman behind the bonfire is based on a figure beating a corpse from Goya's Los Caprichos. Something about her rage always stuck with me. Here you can't see what she's beating. The people behind her look like they're waiting for their turn at bat. It's like when some poor schmuck says something stupid on Twitter and everyone jumps in to take him down."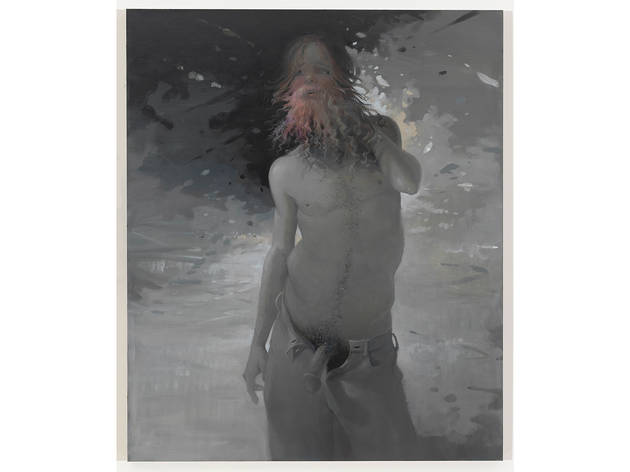 Courtesy the artist and David Zwirner
Dude Looks Like Jesus, 2014
"Years ago, I said that if I was ever going to paint men it would probably be Jesus and his disciples. I remembered that the first painting I'd seen of a dude who looked like Jesus was a self-portrait by a young Albrecht Dürer. Then I found a late drawing he'd made of himself nude, with his dick and balls hanging. His dick casts a long shadow on his leg, which I used. My dude, however, is a bit androgynous. He's got a sweet face, but he's still virile."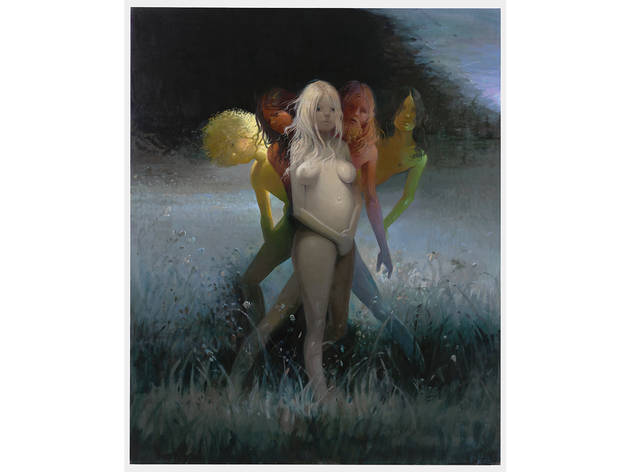 Courtesy the artist and David Zwirner
"This was the first painting in the group to depict hippies. I grew up in the 1970s, and I had an aunt who was a hippie and an uncle who was a Vietnam vet. And I had boyfriends—older guys—who were Vietnam vets too. The men behind the central female figure fan out to create a mandala effect. She's like a Hindu sculpture with many eyes and arms and legs. She's a figure with many inner personas."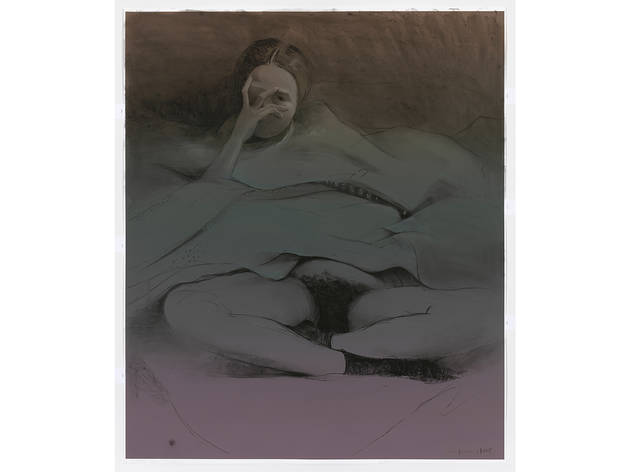 Courtesy the artist and David Zwirner
"To me, it almost looks like there are two figures here instead of one. The legs on the bottom might belong to someone else. There are plenty of blankets on the bed to hide another figure. Obviously, peekaboo means there's a game going on, the game being, What do you think you're seeing? I think I found that image on a porn site for people who like hairy vaginas."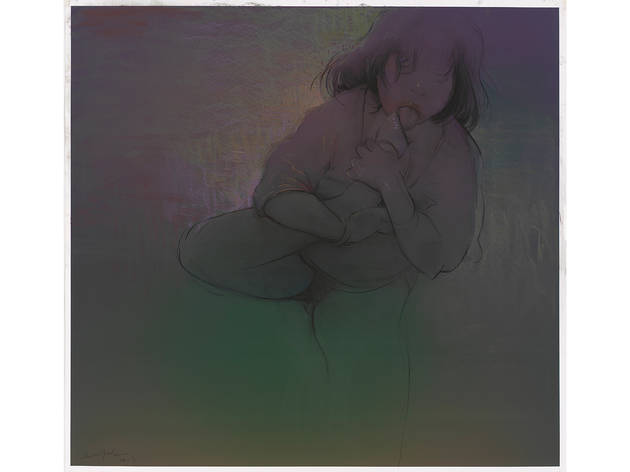 Courtesy the artist and David Zwirner
"The woman here is so strange—it's sort of like she's a foot fetishist! I think there's an element in every body of work that pictures the grotesque, which interests me. The truth is, all of these paintings represent aspects of me: The vulnerable, the aggressive, the enraged, the duality of the twins in Bonfire. It's all there: I'm the dude that looks like Jesus. I want to drop trou and have a big cock hang out. I'd love that."
See the exhibition
Androgynous men join Yuskavage's usual cast of pneumatic nudes in her latest paintings, which both celebrate and satirize hippiedom as both a cultural artifact and a touchstone of memory for the artist, who came of age in the '70s.