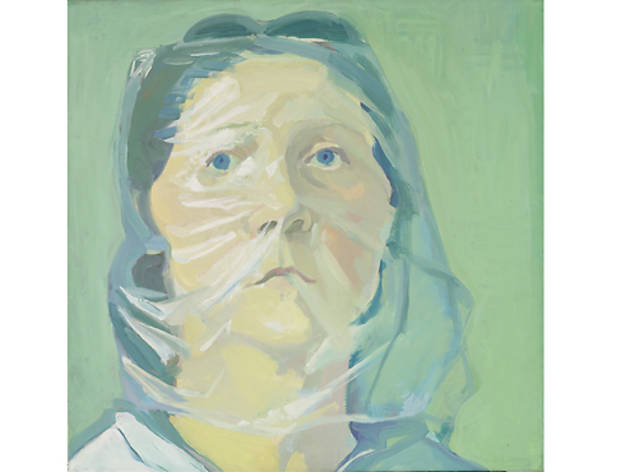 1/7
© Peter Cox
Maria Lassnig, Self-Portrait Under Plastic, 1972
2/7
Maria Lassnig, Expressive Self-Portrait, 1945
3/7
Maria Lassnig, Transparent Self-Portrait, 1987
4/7
Maria Lassnig, Science, 1998
5/7
Matthew Septimus
Installation view of Maria Lassnig at MoMA PS1, 2014
6/7
Matthew Septimus
Installation view of Maria Lassnig at MoMA PS1, 2014
7/7
Matthew Septimus
Installation view of Maria Lassnig at MoMA PS1, 2014
Du oder Ich? (You or Me), the 2005 canvas that confronts visitors entering this long-overdue retrospective of Austrian artist Maria Lassnig (1919–2014), bears a single image: a naked woman, hairless, earless, with large staring eyes, wide cheekbones and sagging breasts. Loosely rendered with strong outlines and somewhat lurid colors, she looks like E.T., as do many of Lassnig's self-portraits. She holds a pistol to her head with her left hand, and points another directly at the viewer with her right, relaying the high stakes involved in her long career of representing what it feels like to inhabit her body.
This phenomenological project doesn't lend itself to pretty pictures. Since she began painting during World War II, Lassnig has bent, folded, spindled and mutilated the figures she depicts, evincing a strain of Viennese anxiety that connects to such European Neo-Expressionists as Georg Baselitz, and to such American mavericks as Alice Neel.
At its best, Lassnig's consideration of corporeal subjectivity works on multiple levels. The relatively naturalistic Selbstporträt unter Plastik (1972) shows the artist with a plastic bag over her head, looking out apprehensively from a veil formed by a few white and gray strokes. Here, she thrillingly combines a sense of psychological and cultural suffocation with a painterly appraisal of transparency, opacity and how both relate to vision.
—Joseph R. Wolin