Michael Rakowitz, "The invisible enemy should not exist (Room F, section 1, Northwest Palace of Nimrud)"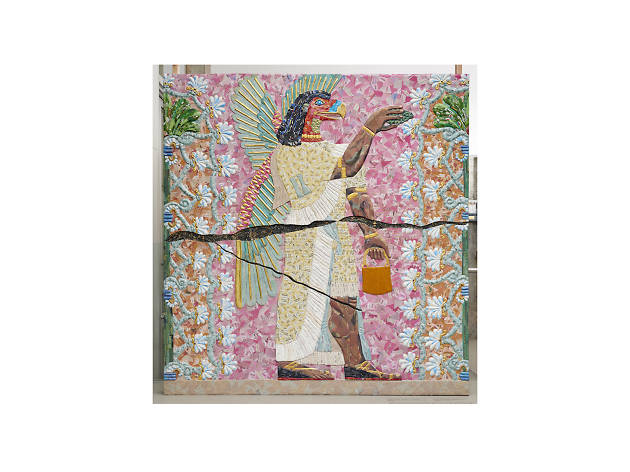 Time Out says
Going on 19 years now, the U.S. invasion of Iraq is the latest of many conflicts that have wracked the region since organized warfare was originated by the city-states of ancient Mesopotamia. As the endless war has shifted from deposing Saddam Hussein to combating ISIS and confronting Iran, the collateral damage has included looted or destroyed historical artifacts from Sumer, Babylon and Assyria. Iraqi-American artist Michael Rakowitz has made it his mission to save these treasures in memory, if not in fact.
Rakowitz's latest show continues his ongoing project of reconstructing such objects in papier-mâché made from Middle Eastern product labels, covering the work in vivid colors and punchy Arabic type. Here, resurrected Assyrian bas-reliefs, demolished by the Islamic State in 2015, are presented through the prism of consumerism, connecting them to a global economy whose dependence on oil factored into the U.S. intervention in Iraq.
Elsewhere, there's a stop-motion animation based on a hoax: In 2005, a jihadist website posted a ransom demand for a captured African-American GI, accompanied by his photo. However, the kidnappee turned out to be Special Ops Cody, a lifelike action figure marketed to U.S. servicemen through their local PX. In Rakowitz's telling, Cody comes to life, finding his way into a museum vitrine filled with Sumerian figurines. Voiced by a female veteran of the Iraqi conflict, Cody pleads with them to escape but is met with eternally impassive stares.
Rakowitz notes that when events force past and present to collide, the former doesn't always survive the encounter, reminding us that a culture's heritage is just as mortal as the individuals who create it.
Details