NYC's art world: The Mad Men years (slide show)
In art as in advertising, the '60s were tumultuous and transformational.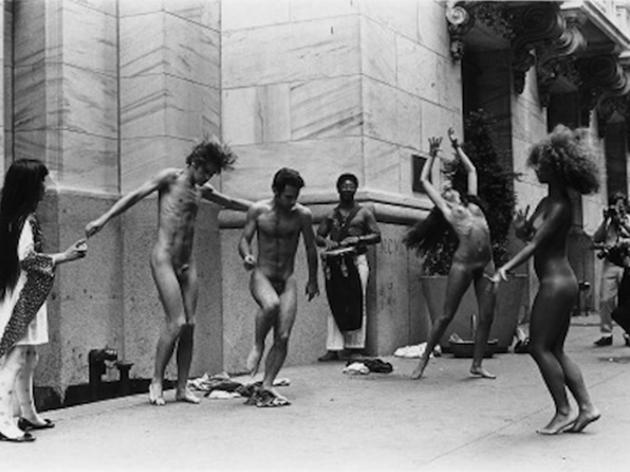 1/19
Photograph: © Yayoi Kusama/Yayoi Kusama Studio
Yayoi Kusama, Anatomic Explosion on Wall Street 1968
Now that the penultimate season of everyone's favorite basic-cable soap opera with the we-know-what's-coming historical backstory is drawing to a close, it's worth pondering a question. No, not whether Bob Benson is gay, or where he learned to speak Spanish with such a lousy accent. Rather, what the 1960s meant to New York's art world. Those were the years, after all, that ushered out Abstract Expressionism and ushered in Pop Art, Op Art, Minimalism, Conceptual Art, Earth Art, Installation Art, Body Art, Process Art, Performance Art (like Yayoi Kusama's sybaritic gathering, pictured above), Video Art and first-wave Feminist Art. The '60s represented New York's high-water mark as the world's art capital, and many of the artistic innovations created here during that period continue to serve as contemporary-art templates, no matter where the art is made (and today that can mean anywhere from Shanghai to Mexico City, Berlin to Kuala Lumpur). In ways large and small, the decade altered New York's art world as radically as it did America itself. TONY takes a look at some of the people, places and trends that put Gotham's art scene through heavy changes.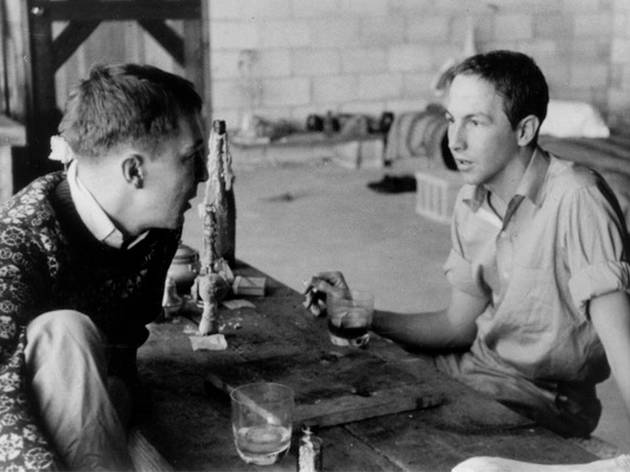 2/19
Jasper Johns and Robert Rauschenberg in their shard studio in NYC in the 1950s
Friends, lovers, studiomates and even business partners (as freelance department-store window dressers) Jasper Johns and Robert Rauschenberg, from left, were among the first artists whose work upended Abstract Expressionism's dominance, mainly by incorporating or referring to real-world objects.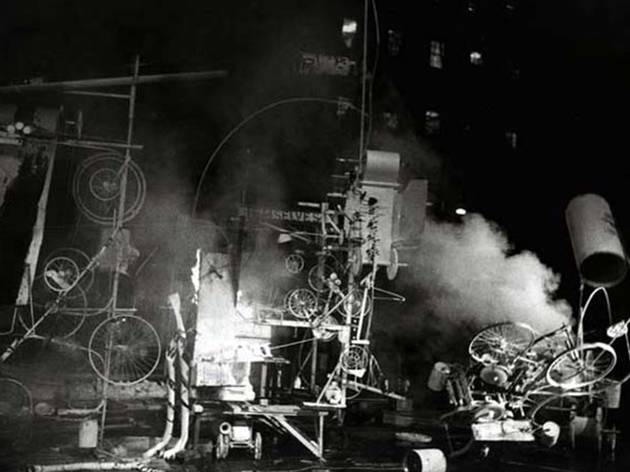 3/19
Photograph: David Gahr
Jean Tinguely, Homage to New York at the Museum of Modern Art, March 18, 1960
While Jean Tinguely was a signatory of the manifesto establishing Nouveau Réalisme (France's equivalent to Pop Art), the the Swiss artist's work was really more Dadaist in spirit. He was known for kinetic sculptures that were designed to autodestruct in pyrotechnic performances—the most famous being this one, staged in MoMA's sculpture garden in 1960. In retrospect, it seems to have set the tone for the explosive decade to come.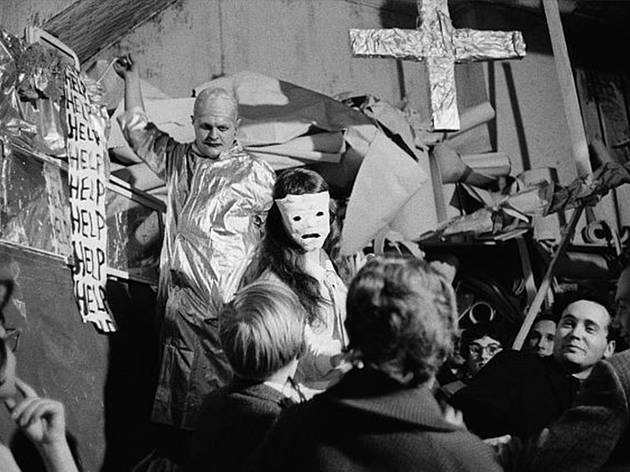 4/19
Photograph: © Robert R. McElroy
Jim Dine and Robert Indiana (lower right) in Jim Dine's Car Crash, performed at the Reuben Gallery, Nov 16, 1960
Although he was associated with Pop Art, Jim Dine initially made a splash with performance art "Happenings," like this one mounted in conjunction with his first one-person show in New York. Dine appears on the left, in the silver suit.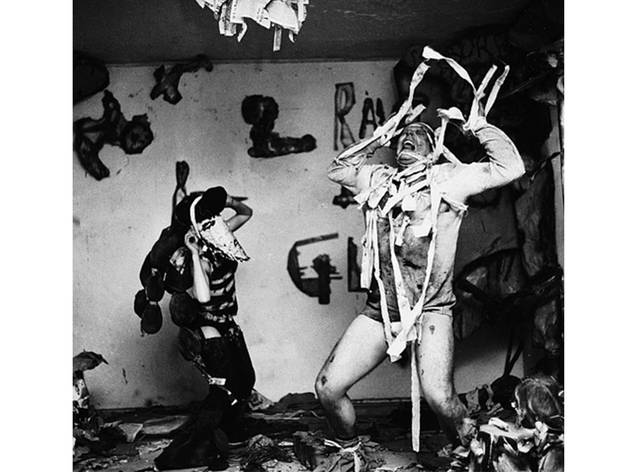 5/19
Photograph: © Martha Holmes
Pat Muschinski and Claes Oldenburg in Claes Oldenburg's Snapshots from the City, performed during Ray Gun Spex at Judson Church, Feb. 29, March 1, 1960
Pop artist Claes Oldenburg also created performances early in his career—like this one, which took place in the basement of Judson Church, an important incubator of the performance-art scene.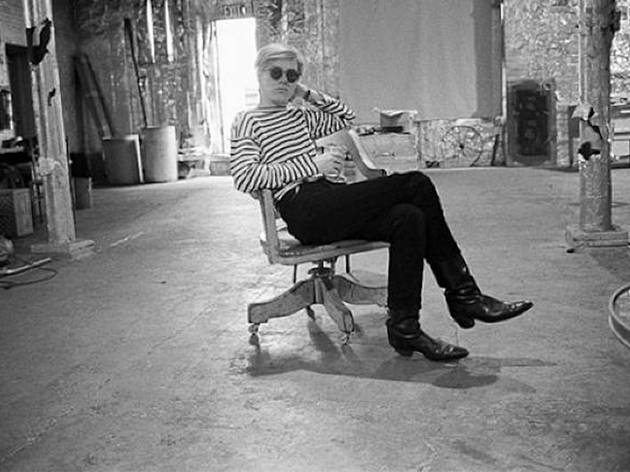 6/19
Photograph: Courtesy 303 Gallery
Stephen Shore, Andy Warhol at the Factory, NYC, 1965-1967
Pittsburgh native Andy Warhol got his start in New York as a wildly successful commercial artist, an experience that informed his work as the one and only Pope of Pop Art. Warhol's art commented upon and celebrated Hollywood and Madison Avenue, both engines of fame, bestowing iconic status upon products and personalities alike. He borrowed techniques from each, and considered them models for the Factory, which was not only his studio, but also a social scene: a cross between a clubhouse and an nightspot, presided over by Warhol and his entourage of regulars, including poor little rich girl and tragic muse Edie Sedgwick (see following image).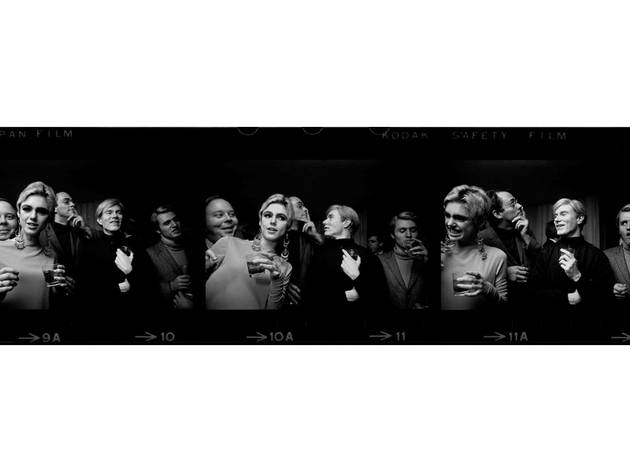 7/19
Photograph: Steve Schapiro
Andy Warhol and his entourage (Henry Geldzahler and Edie Sedgwick at left; Gerard Malanga at far right), New York City, 1965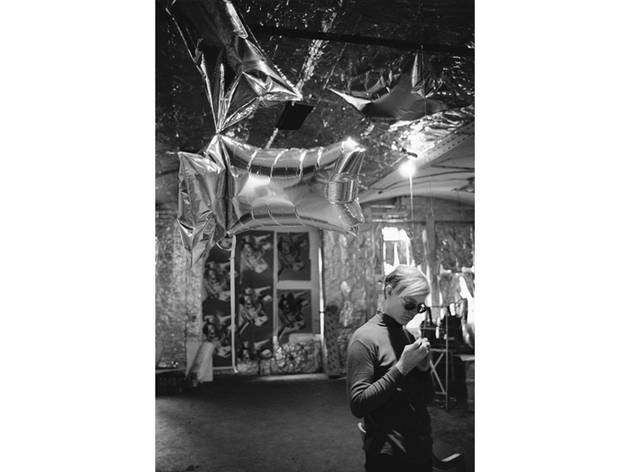 8/19
Photograph: Courtesy 303 Gallery
Stephen Shore, Warhol with 'Silver Clouds' in Factory 1965-1967
Another shot of Warhol at the Factory, with his Cow Wallpaper (in the background) and his helium-filled balloon installation, Silver Clouds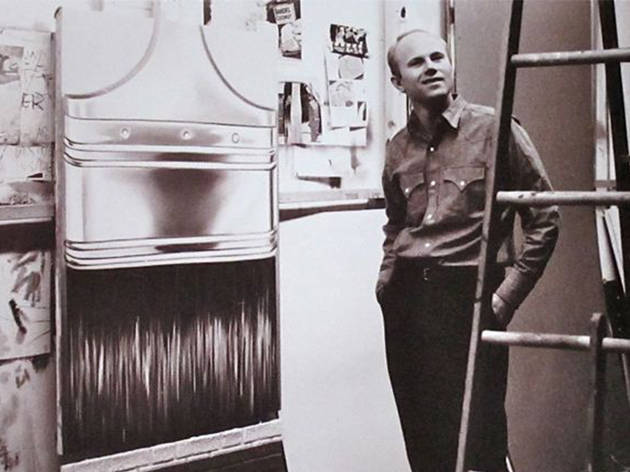 9/19
Photograph: Ellen Hulda Johnson
James Rosenquist, NYC, 1963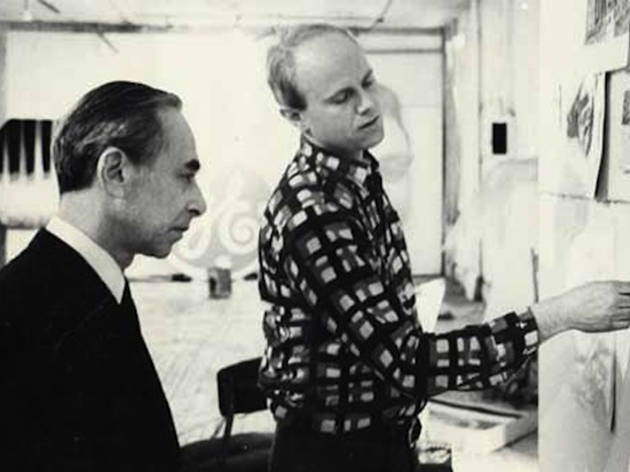 10/19
Leo Castelli with James Rosenquist
The single-most prominent art dealer during the 1960s (and indeed, the '70s and '80s), Leo Castelli, pictured on left, opened his first New York gallery in 1957, on East 77th Street. He represented just about every major artist of the period: Rauschenberg, Johns, Rosenquist, Lichtenstein, Warhol and Frank Stella, and later in the decade, such pioneering minimalist and Conceptual artists as Donald Judd (see following image) and Richard Serra. Between 1969 and 1971, Castelli had a warehouse annex on West 108th Street, and after that, a legendary outpost at 420 West Broadway in Soho.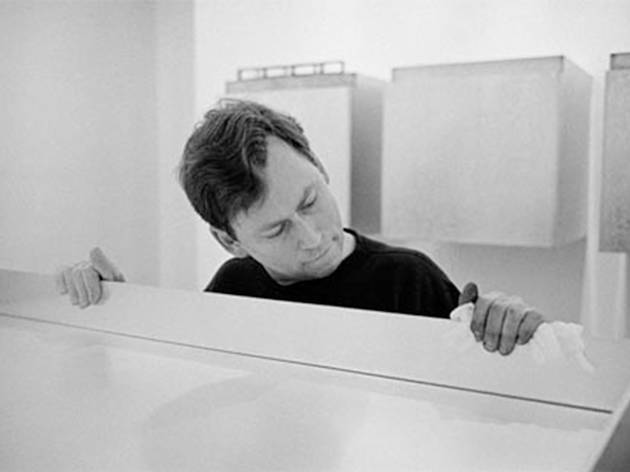 11/19
Photograph: © Bob Adelman
Donald Judd installing his work in New York, around 1966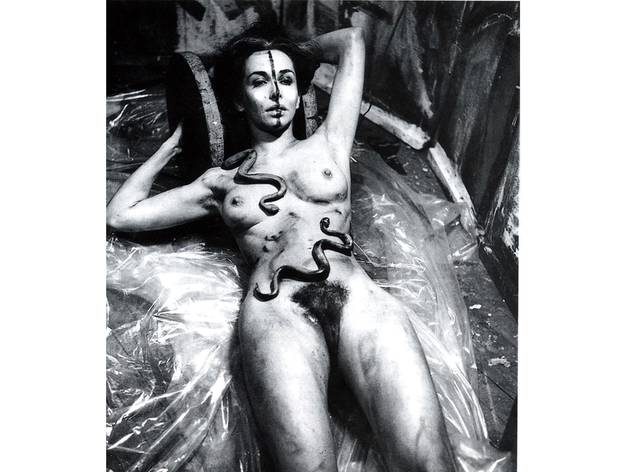 12/19
Carolee Schneeman, Eye Body - 36 Transformative Actions, 1963
Pushing buttons as well as envelopes, Carolee Schneemann was a pioneer of feminist art, whose 1975 performance Interior Scroll (in which she extracted a folded strip of paper from her genitals) is often credited as the inspiration for The Vagina Monologues. Nudity and sexuality were key elements in Schneemann's work, and this image from 1963, one of a series taken by Icelandic photographer Erró, features the artist using paint and props—including snakes!—to visually "merge" her body with the background.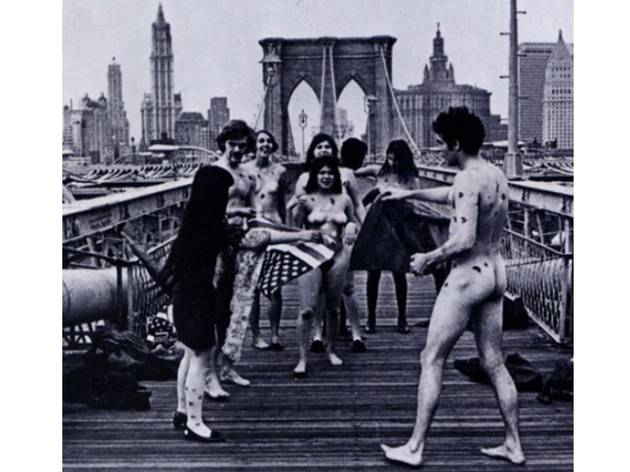 13/19
Yayoi Kusama, Anatomic Explosion-Anti-War Happening Brooklyn Bridge, 1968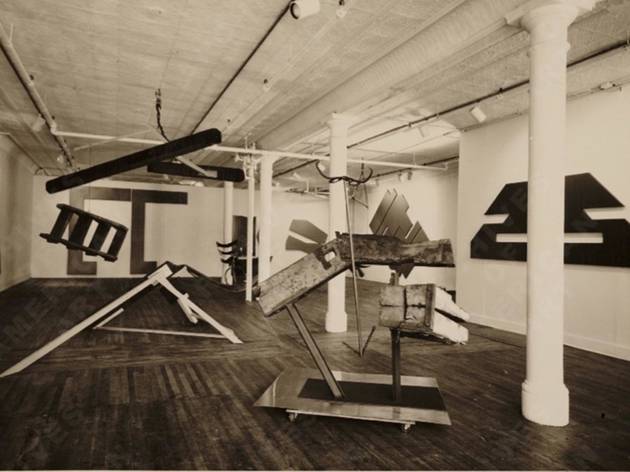 14/19
Installation of Mark di Suvero and David Novros at the Park Place Gallery, Jan 23–Feb 24, 1966
One of more significant developments of '60s art in New York was the rise of Soho as a neighborhood in which art was both produced and marketed. The area, a 19th-century tenderloin, had become a light-manufacturing neighborhood by the time businesses started to close there in the early 1960s. Artists colonized the empty lofts, and the combination of live-work space and ample square footage provided an opportunity to create on an expansive scale. By the middle of the decade, galleries began to open in Soho as well, which meant that artworks were being exhibited in environments very similar to the ones in which they were made. One of the first such venues was the Park Place Gallery, which opened in 1966 on La Guardia Place at Houston Street.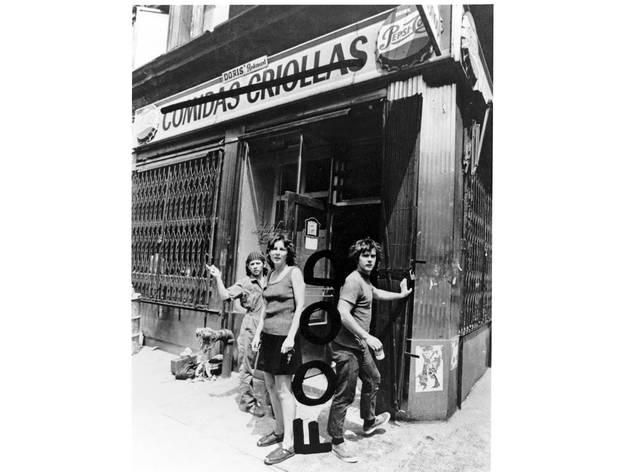 15/19
Photograph: Richard Landry
Tina Girouard, Carol Goodden, and Gordon Matta-Clark in front of Food, restaurant, New York, 1971
By the late '60s, many New York artists were challenging the idea that art and life were separate spheres, a notion that was the historical outcome, arguably, of a trend dating back to the start of the 20th century, and the advent of collage and Duchamp's readymades. A notable manifestation of this new aesthetic was Food, the Soho restaurant started by artists Tina Girouard, Carol Goodden and Gordon Matta-Clark as both a neighborhood café and an art project.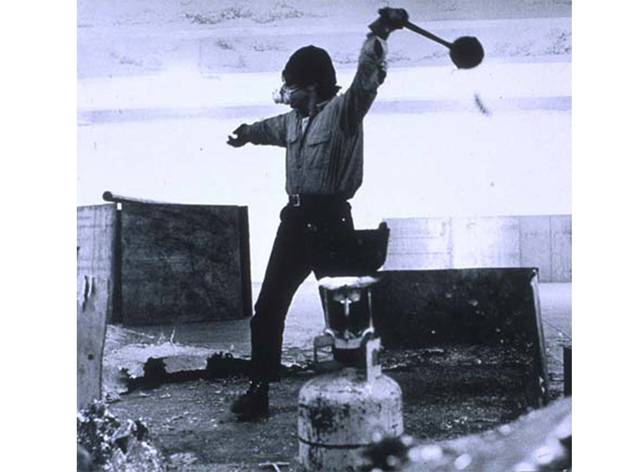 16/19
Photograph: Gianfranco Gorgoni
Richard Serra throwing lead at Castelli Warehouse, New York, 1969
The desire to tear down boundaries like the one between art and life, or the distinction between making an artwork and the work itself, is likewise illustrated in this photo of Richard Serra creating a site-specific piece for his 1969 show at the Castelli Warehouse. Titled Castings, the work began with the artist flinging ladles of melted lead along the bottom of a wall. Once the material cooled, he pulled the resulting forms away from their "mold," which was, in fact, simply part of the gallery's interior. Serra's point here was to suggest that there was no difference between process and product, or between an object and the space containing it. And while the issues the artist articulated were both formal and rarefied, they nonetheless comported with the general sense at the time of traditional order breaking down.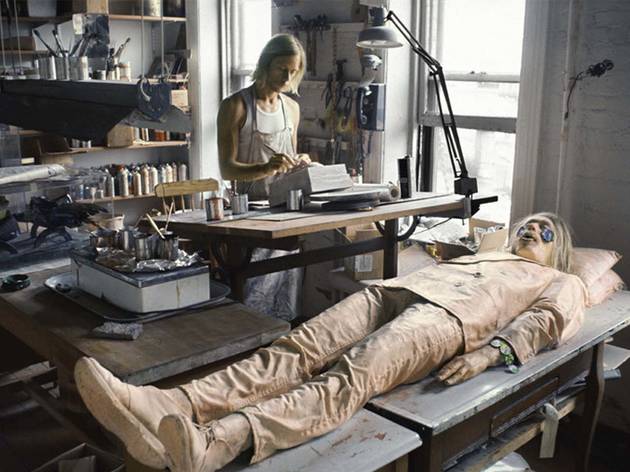 17/19
Photograph: © 1987 The Peter Hujar Archive LLC
Peter Hujar, Paul Thek Working on Tomb Effigy 8, 1967
One of the delights of Mad Men is watching in retrospect as the 1950s world of white-male privilege unravels. But as the show has progressed into the late 1960s, it's also alluded to the failed dreams of the counterculture. Paul Thek is one of the few artists who perhaps sensed this as it happened—or at least, that's the suggestion of his most famous piece, The Tomb. The work consisted of a small room enclosed by a pink ziggurat built of plywood. Inside was a life-size waxwork effigy, also pink, of the artist lying on the floor in rigor mortis. Owing to certain details—such as Thek's meticulous rendering of his own long hair—the piece earned the nickname "Death of a Hippie." He hated that name, but in any case, the work is lost, surviving only in photographs. This one shows the artist in his studio working on The Tomb's centerpiece self-portrait.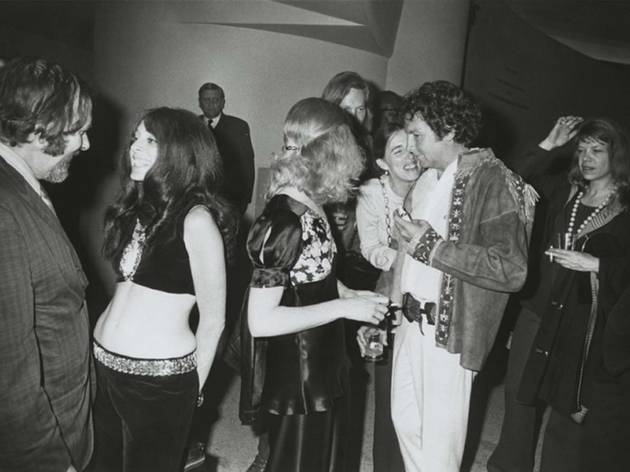 18/19
Garry Winograd, Tenth Anniversary Party, Guggenheim Museum, New York, 1970
For all of the radical goings-on, the art world of the Mad Men era represented the beginnings of art as global big business, and the end of the idea that artists could exist within and be cosseted by a small community of the avant-garde. Warhol declared that making money is art and that good business is the best art, beliefs that have become governing principles in our own day. This photo by Garry Winograd, taken in 1970 during the Guggenheim's tenth-anniversary bash (which includes Robert Rauschenberg on the right, wearing an embroidered jacket), tartly hints at this future, one in which institutions like the Gugg and the Whitney (see following image) have become venues for high-cultural spectacles.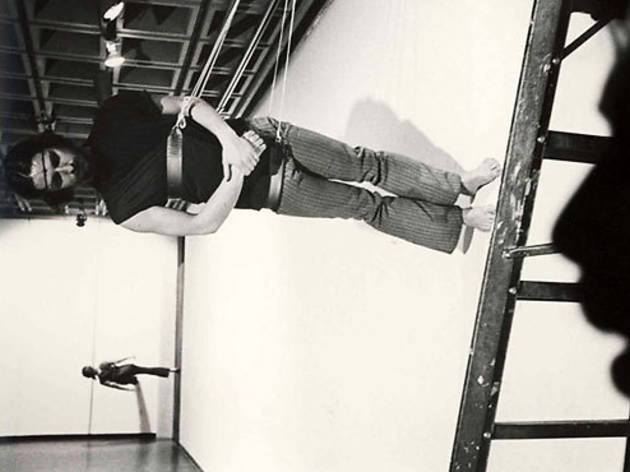 19/19
Photograph: © Trisha Brown
Trisha Brown, Walking on the Wall, 1971