Heads up! We're working hard to be accurate – but these are unusual times, so please always check before heading out.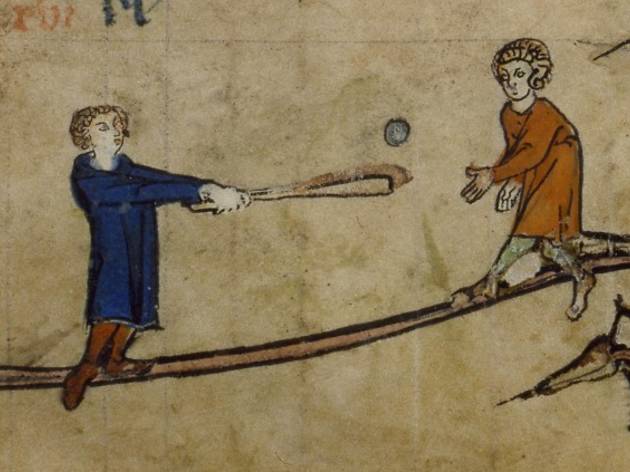 1/24
The Walters Art Museum
Stoolball, Flemish c. 1301Centuries before Abner Doubleday, this 14th-century illumination depicted a game of stoolball, ancestor of both cricket and baseball. A pitcher would throw the ball, trying to knock down a stool behind the batter, who, meanwhile, played defense by hitting the ball away.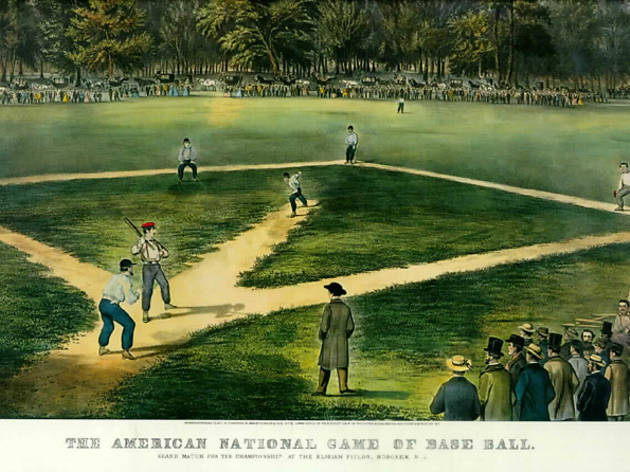 2/24
Currier & Ives, The American National Game of Baseball: Grand match for the championship at the Elysian Fields, Hoboken, N.J., 1866This forerunner of the World Series was probably played without the benefit of steroids.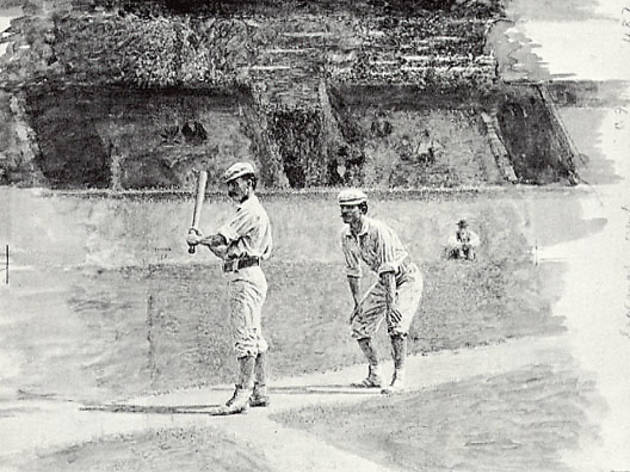 3/24
Rhode Island School of Design
Thomas Eakins, Baseball Players Practicing, 1875While uniforms may have changed over the years, handlebar mustaches remain a fashion statement for some of today's players.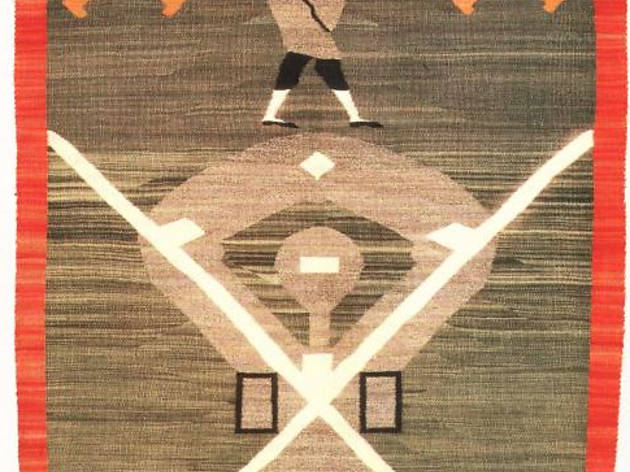 4/24
Courtesy David Cook Fine American Art
Unidentified Navajo artist, Babe Ruth, 1920–23This rug from Gallup, New Mexico depicts the sultan of swat sending one over the centerfold wall.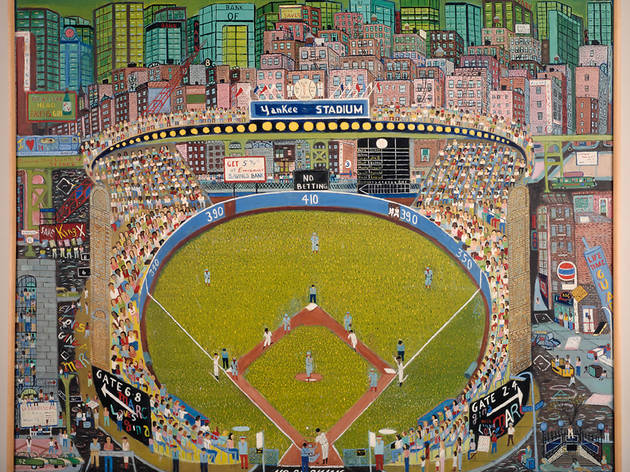 5/24
Fenimore Art Museum
Ralf Fasanella, Night Game-Yankee Stadium, 1981This painting is one of the largest by this self-taught painter from the Bronx, who often peppered his dense compositions with references to social injustice. The scene here, for example, includes a view of a jail full of African Americans just beyond the stadium walls, as well as a construction crane emblazoned with the names of the Rev. Martin Luther King Jr, and Malcolm X.
6/24
Clara Schmitt Rothmeier, My Favorite Baseball Stars, 1954–1964This quilt was stitched over a ten-year period by Rothmeier, a Missouri woman who was the daughter of a minor-league player. She also played baseball herself, as first baseman for a woman's softball team from Springfield Illinois. Each of the players depicted here contributed their autograph to the piece.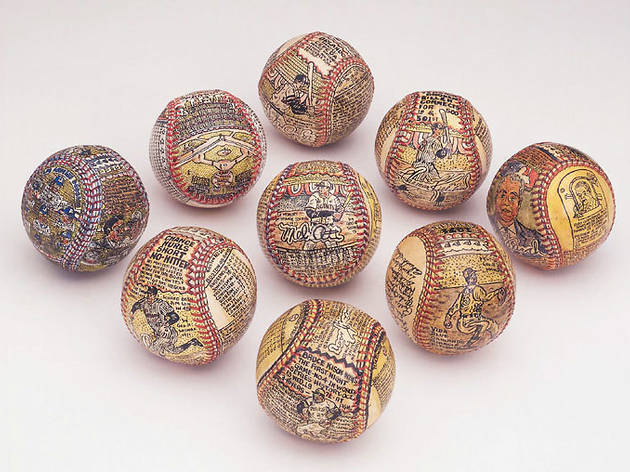 7/24
Collection of Gary Green
George Sosnak, Decorated Baseballs, c.1962–1992A minor-league umpire, Sosnak is believed to have inscribed over 800 of his richly-decorated baseballs over three decades. They commemorate important episodes of Major League history, such as Harmon Killebrew's 501st home run and the inaugural season of the New York Mets.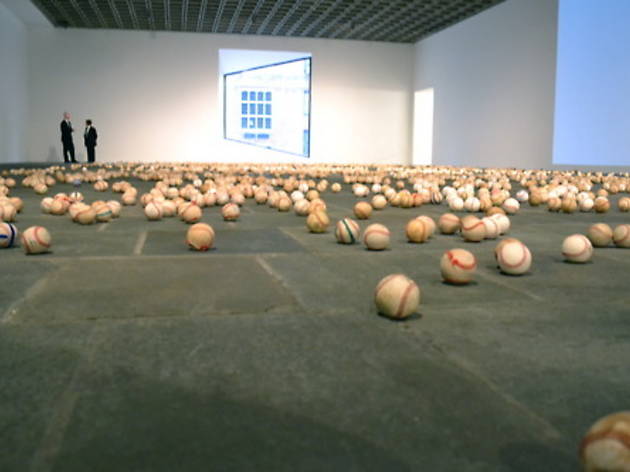 8/24
Lutz Bacher, Baseballs II, 2011Bay area artist Lutz Bacher created this field-of-dreams installation for the 2012 Whitney Biennial.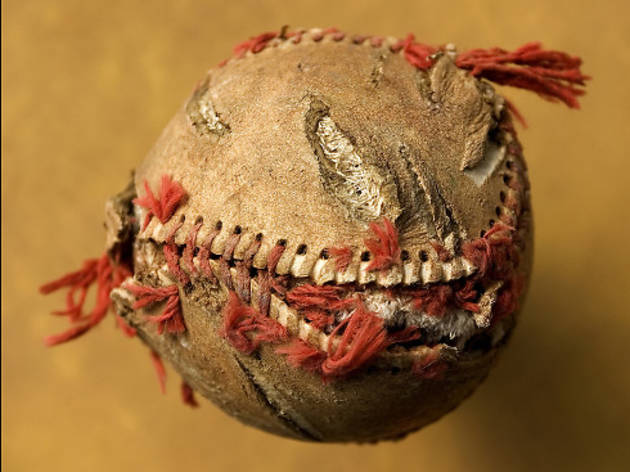 9/24
© Don Hamerman
Don Hamerman, GrrHamerman, a photographer from Connecticut, collects old baseballs from a Little League field near his house and uses them as subjects for close-up portraits.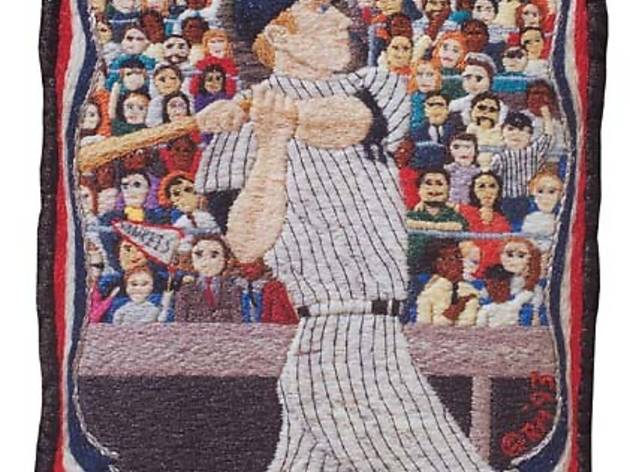 10/24
Ray Materson, Mickey Mantle: 1963 New York Yankees, 1993Materson found his calling as a self-taught artist during a 15-year prison term on drug-related charges. He began to use thread from unraveled socks to weave miniature tapestries like the one here of the famed Yankee powerhouse.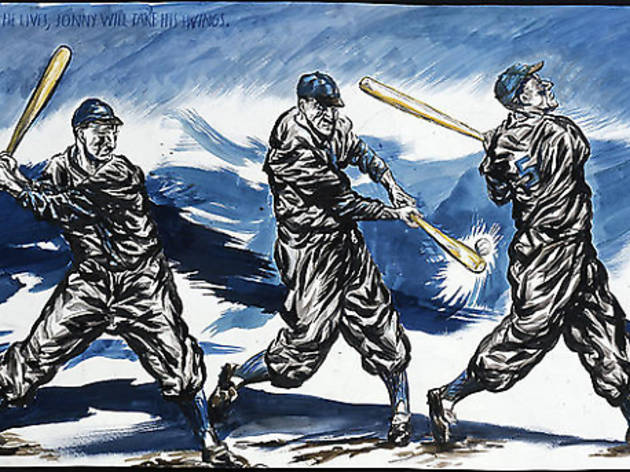 11/24
Raymond Pettibon, No Title (While he lives), 2006Dark satires of American life are the specialty of this Los Angeles artist, who, as an avid baseball fan, has also featured the game in his work on numerous occasions.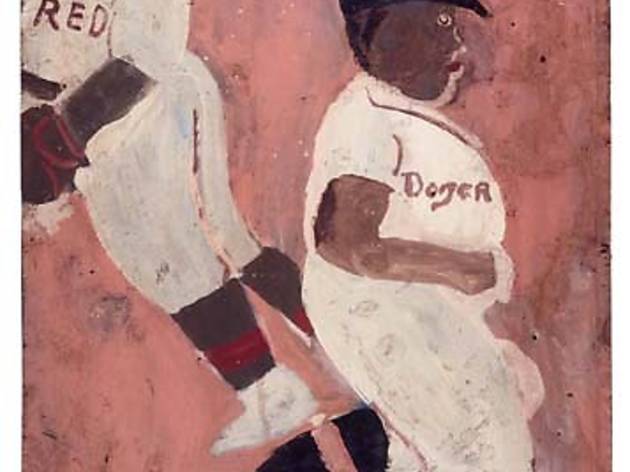 12/24
Sam Doyle, Jackie Robinson Stealing Home, 1978-1981As the player who broke baseball's color barrier Jackie Robinson has achieved a mythic status, one reflected by his frequent appearances in baseball-related artworks, such as in this painting on tin by Doyle, a folk artist from Saint Helena Island, South Carolina.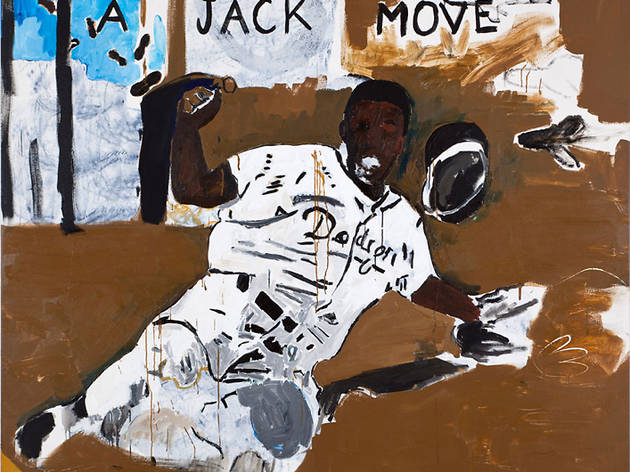 13/24
Courtesy Blum & Poe
Henry Taylor, A Jack Move–Proved it, 2011This painting by L.A. artist Henry Taylor offers another view of Robinson's storied career.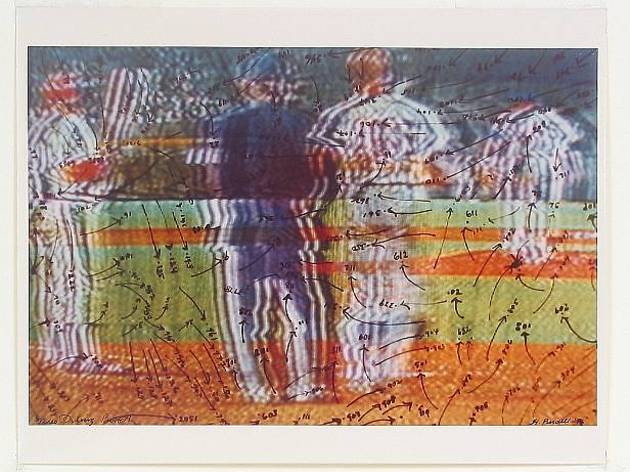 14/24
Howardena Pindell, from "Video Drawing: Baseball Series," 1976The notations covering this scene at home plate are deliberately nonsensical, but they have the effect of evoking baseball as a game of statistics.
15/24
Alison Saar, Bat Boyz, 2001The heads carved on these bats are meant to represent players from the time of the Negro League, when professional baseball was officially segregated.
16/24
©Peter Schyuff 2005
Peter Schuyff, from the series "Dutch Baseball"Schuyff takes a fanciful approach to carving bats as a sculptural medium. The artist was born in Holland, and the title refers to the little-known fact that baseball has been played in the Netherlands as a organized sport since 1911.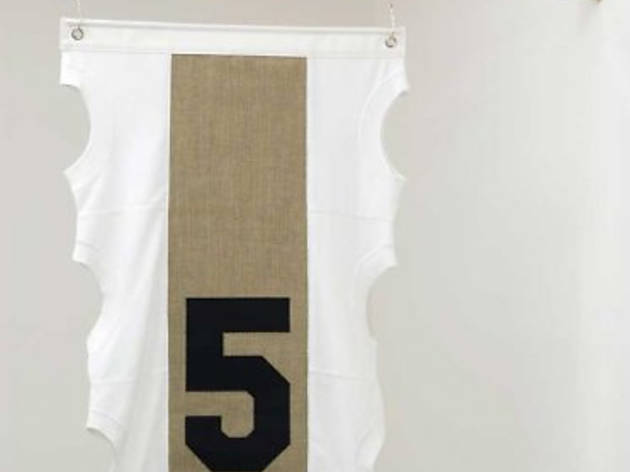 17/24
Courtesy the artist and Lüttgenmeijer
Ryan McLaughlin, Young Man, 2008A young American artist based in Berlin, McLaughlin is known primarily as a painter who often takes inspiration from sports, especially baseball. He also makes the occasional object, like this banner-like salute to the boys of summer.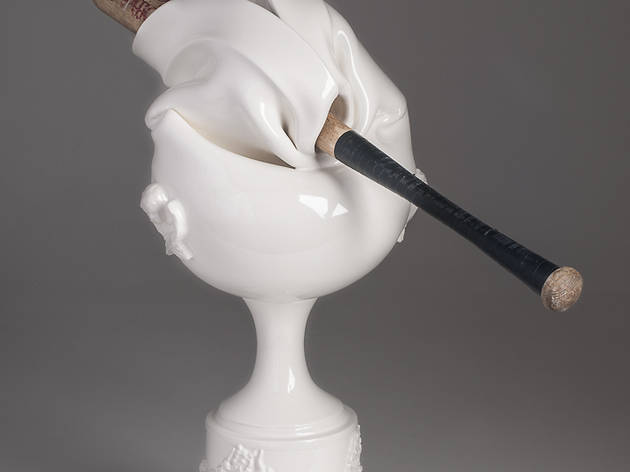 18/24
Courtesy Galerie SAS
Laurent Craste, Iconocraste au bat IV, 2012This work by Craste, a French artist, isn't really about baseball; it's about the insurrectionary violence and political revolution. Still, it does recall another frequent purpose for the bat.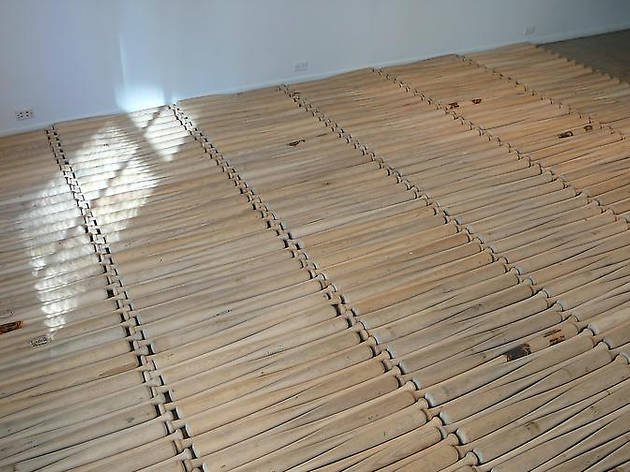 19/24
Courtesy Peter Freeman
David Adamo's Untitled (rite of spring), 2008In this installation, the season of renewal and pennant dreams is summoned with a carpet of bats instead of spring flowers.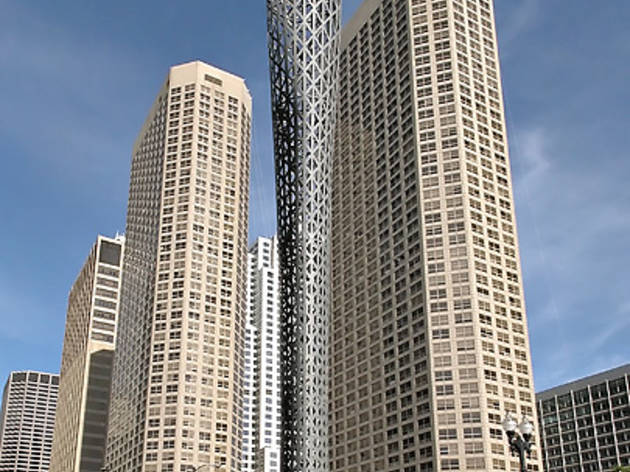 20/24
Claes Oldenburg, Batcolumn, 1976The Pop sculptor erected this 101-foot-tall public monument for the city of Chicago as a symbol of Chi-Town's "ambition and vigor." Made of Corten steel, the Batcolumn was originally meant to be painted red, but Oldenburg decided against it in order to distinguish his work from another outdoor sculpture—by Alexander Calder—a few blocks away.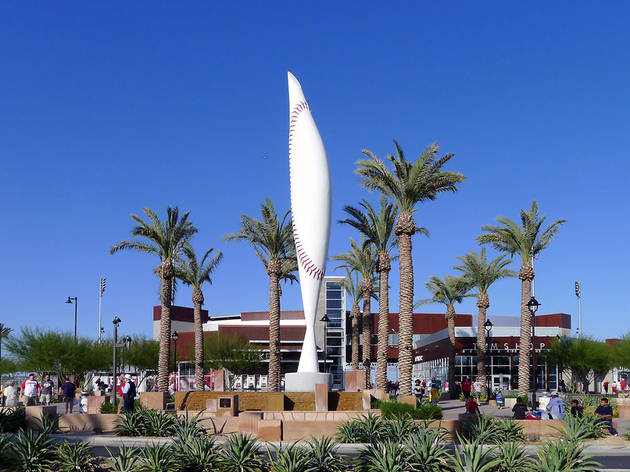 21/24
Donald Lipski, The Ziz, 2009Fashioned out of fiberglass, Lipski's work stands outside the Spring Training ballpark of the Cincinnati Reds and Cleveland Indians in Goodyear, Arizona. The tapering form is taken from Bird In Space, the early Modern masterpiece by sculptor Constantin Brancusi. In Lipski's hands, Brancusi's homage to flight becomes a salute to the fastball and change-up. The work's height with pedestal, in fact, measures 60 feet, six inches—the exact distance between home plate and the pitcher's mound.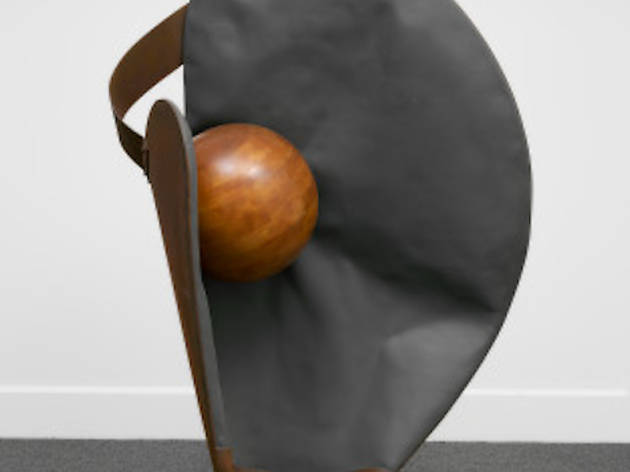 22/24
National Gallery of Art
Claes Oldenburg, Standing Mitt with Ball, Half Scale, 6 Feet, 1973Predating Oldenburg's Batcolumn by a few years, this stylized rendering of a mitt is a half-size model of the original monumental work commissioned from the artist by MoMA trustee Agnes Gund.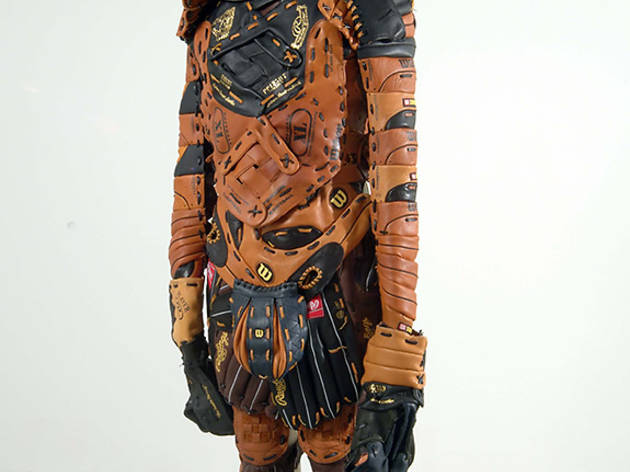 23/24
Adam Reich
Brian Jungen, The Prince, 2006Jungen, a Vancouver artist of Swiss and Native Canadian ancestry, created this effigy of an Indian warrior out of baseball gloves. The work may be pointing to the practice of naming baseball teams after Indian tribes—a sore point for native rights activists.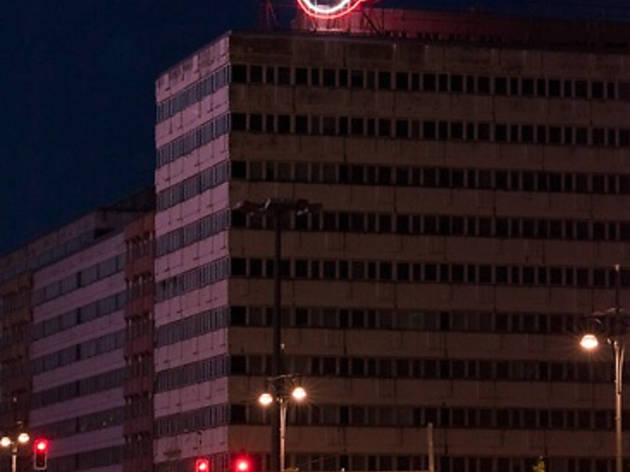 24/24
Courtesy Sprüth Magers
Cyprien Gaillard, Neon Indian, 2011, installation view atop the Haus der Statistik (House of Statistics), Alexanderplatz, BerlinWhat is Chief Wahoo, mascot of the Cleveland Indians, doing on top of an old government building from the former Communist East Germany? Good question. Gaillard, a French artist based in Berlin, is a sort of Romantic landscape artist for the age of globalism. He uses references to failed societies—like East Germany and rust-belt Ohio—as landmarks in a sort of conceptual terrain of historical memory. It's complicated, but it makes sense we you consider that MLB has made the good chief a world-wide ambassador of baseball (if not necessarily Cleveland) through international marketing.
Opening Day Tribute: Baseball in art (slideshow)
From medieval manuscripts to contemporary installations, TONY rounds the bases for this art-historical homage to America's pastime.